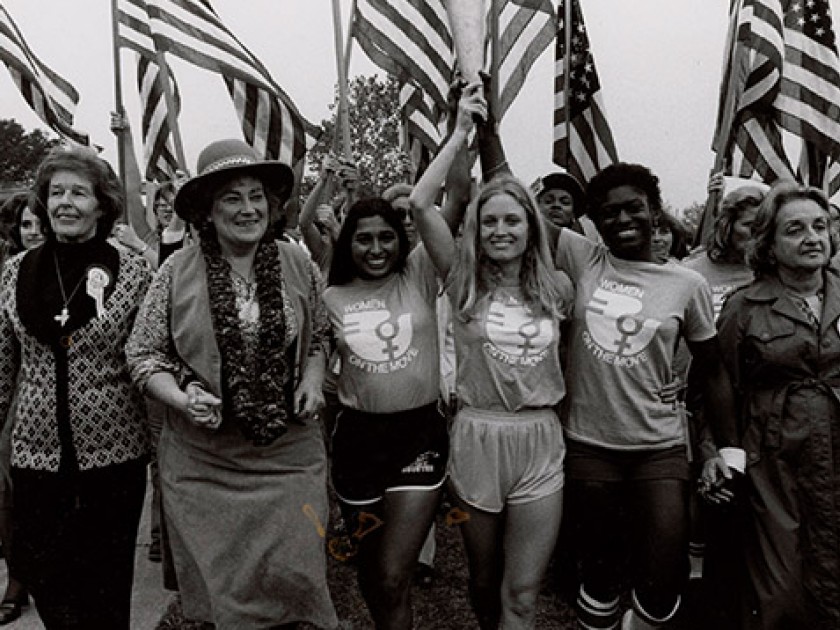 Joyce Antler is the author of Jew­ish Rad­i­cal Fem­i­nism: Voic­es from the Wom­en's Lib­er­a­tion Move­ment, forth­com­ing from NYU Press.
Jew­ish women were a promi­nent pres­ence in the rad­i­cal wing of the fem­i­nist move­ment of the 1960s, 70s, and 80s — only no one knew it. Par­tic­i­pants in this fiery and trans­for­ma­tive move­ment known as wom­en's lib­er­a­tion talked about every aspect of social and sex­u­al life as they raised con­scious­ness togeth­er; but in some wom­en's groups, although many mem­bers were Jew­ish, there was one sub­ject they nev­er addressed — their Jew­ish back­grounds. ​"We nev­er talked about it," said Nao­mi Weis­stein of Chicago's West Side Group, the first wom­en's lib­er­a­tion group in the coun­try. Nei­ther did historians.
In good part, this omis­sion was due to the fact that Jew­ish women par­tic­i­pat­ed in the move­ment not as Jews — as mem­bers of an eth­nic minor­i­ty — but as uni­ver­sal­ists pro­mot­ing a com­mon sis­ter­hood. ​"Why would we iden­ti­fy our­selves as Jews when we want­ed to pro­mote a vision of inter­na­tion­al­ism and inter­faith and inter­ra­cial sol­i­dar­i­ty? asks Vivian Roth­stein, anoth­er West Side member.
Despite his­tor­i­cal inat­ten­tion to Jew­ish women in rad­i­cal fem­i­nism, in some wom­en's lib­er­a­tion col­lec­tives in such cities as New York, Boston, and Chica­go, per­haps two-thirds to three-quar­ters of mem­bers were Jew­ish. Jew­ish wom­en's arti­cles and books became clas­sics of the move­ment, pro­vid­ing influ­en­tial ideas and mod­els for rad­i­cal change. Even a par­tial hon­or roll of Jew­ish women's lib­er­a­tion pio­neers needs to include such fig­ures as Shu­lamith Fire­stone, Ellen Willis, Robin Mor­gan, Alix Kates Shul­man, Nao­mi Weis­stein, Heather Booth, Susan Brown­miller, Ros­alyn Baxan­dall, Mar­i­lyn Webb, Mered­ith Tax, Lin­da Gor­don, Ellen DuBois, and Ann Sni­tow. These women's visions and actions helped gen­er­ate wide­spread revolts against sex­ism that ulti­mate­ly became a mass movement.
My inter­views with dozens of pio­neer wom­en's lib­er­a­tionists reveal that Jew­ish back­grounds and Judais­m's eth­i­cal imper­a­tives played a major part in shap­ing Jew­ish wom­en's fem­i­nist activism. The women grew up in Reform, Con­ser­v­a­tive, Recon­struc­tion­ist, and even Ortho­dox con­gre­ga­tions, attend­ing syn­a­gogues, Hebrew school class­es, Jew­ish sum­mer camps and com­mu­ni­ty cen­ters. Oth­ers went to Yid­dish shules. They were inspired by par­ents, oth­er rel­a­tives, and immi­grant ances­tors (includ­ing Social­ist and Com­mu­nist Par­ty mem­bers). Fam­i­ly and com­mu­ni­ty mem­bers' direct expe­ri­ence and his­tor­i­cal mem­o­ries of the Holo­caust deeply affect­ed them.
With­in a few years, oth­er Jew­ish women, more open­ly iden­ti­fied with Jew­ish reli­gion and cul­ture, began to rebel against inequities in Jew­ish life. In 1972, a reli­gious wom­en's study group, Ezrat Nashim, dis­rupt­ed the Annu­al Meet­ing of the Rab­bini­cal Assem­bly with demands for more equal treat­ment of women. Assertive­ly Jew­ish, they opened the door to a new kind of iden­ti­ty pol­i­tics. Oth­er Jew­ish-iden­ti­fied fem­i­nists chal­lenged assim­i­la­tion, assert­ing the need for Jew­ish women to pro­claim their dis­tinc­tive­ness rather than try­ing to ​"pass." For some women alien­at­ed from their pasts and inter­est­ed in explor­ing woman/​woman rela­tion­ships, les­bian­ism became a chan­nel into a deep­en­ing Jew­ish­ness; becom­ing vis­i­ble as both Jews and as les­bians were linked process­es. Although efforts to meld fem­i­nist ideas with Jew­ish iden­ti­ties could entail con­sid­er­able strug­gle, Jew­ish fem­i­nists suc­cess­ful­ly brought fem­i­nism to the Jew­ish main­stream and Jew­ish fem­i­nism to the Left.
The com­plex iden­ti­ties of both Jew­ish wom­en's lib­er­a­tionists and iden­ti­fied Jew­ish fem­i­nists should be rec­og­nized as impor­tant parts of the his­to­ries of fem­i­nism and Judaism. Today, when the pol­i­tics of iden­ti­ty are fre­quent­ly derid­ed as diver­sion­ary or labeled dele­te­ri­ous group­think, the lega­cy of these pio­neer­ing fem­i­nists is instruc­tive. Their con­tri­bu­tions show that activism root­ed in eth­nic or faith tra­di­tions can insti­gate broad-based social change. Rather than frag­men­ta­tion, these wom­en's pol­i­tics embody goals shared with­in and across social groups.
The Jew­ish lega­cy that helped to spur these women's activism was a prod­uct of the uni­ver­sal­ism embed­ded in the Jew­ish cre­do, an ethos that regard­ed Jew­ish val­ues as uni­ver­sal truths and pos­i­tive social norms. In its con­cern for eth­i­cal val­ues and con­scious­ness of human com­mon­al­i­ties, this Jew­ish vision har­mo­nized well with the plu­ral­ist pol­i­tics of the 1960s and 70s. In the social move­ments of those decades, Jew­ish par­tic­i­pants pro­ject­ed the racial lib­er­al­ism of col­or­blind­ness and empa­thy toward the oppressed, val­ues that their fam­i­lies had taught them and which found roots in Jew­ish thought and experiences.
The rev­o­lu­tions start­ed by women's lib­er­a­tionists and Jew­ish fem­i­nists pro­vid­ed a touch­stone for the next gen­er­a­tions' attempts to come to grips with the some­times-con­found­ing ele­ments of their own Jew­ish iden­ti­ties. Con­nec­tions to roots pro­vid­ed pow­er­ful incen­tives for social action. So inspired, the women cre­at­ed change for the entire world.
Joyce Antler is the Samuel J. Lane Pro­fes­sor Emeri­ta of Amer­i­can Jew­ish His­to­ry and Cul­ture and Pro­fes­sor Emeri­ta of Wom­en's, Gen­der, and Sex­u­al­i­ty Stud­ies at Bran­deis Uni­ver­si­ty. She is the author of You Nev­er Call! You Nev­er Write! A His­to­ry of the Jew­ish Moth­er (2007) is the author or edi­tor of many oth­er books on Amer­i­can Jew­ish his­to­ry and wom­en's history.