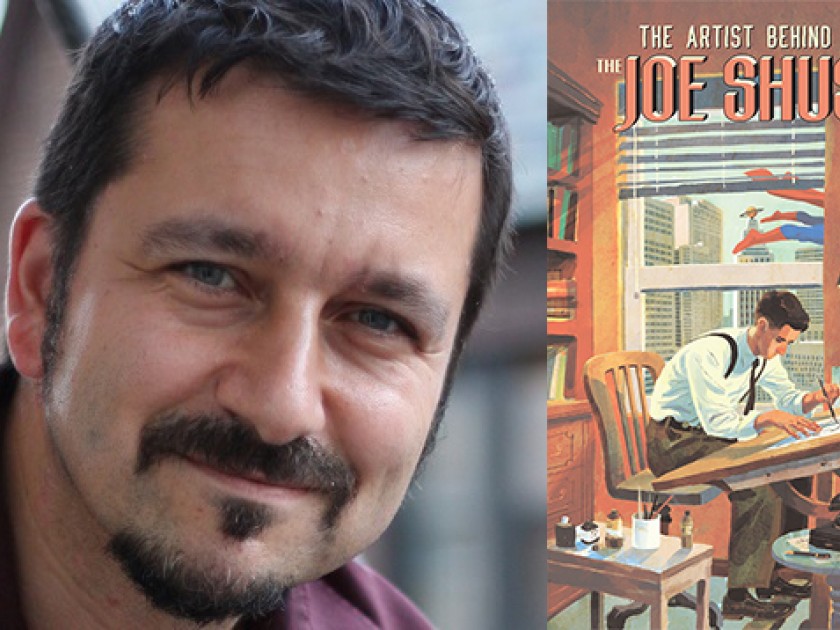 This month cel­e­brates the eight­i­eth anniver­sary of Superman's first appear­ance in Action Comics #1. What was meant to be ephemer­al and cheap enter­tain­ment for a nation starved of dreams soon became one of the great­est pop­u­lar cul­tur­al behe­moths in his­to­ry. But jus­tice and the Amer­i­can way nev­er tru­ly caught up for Superman's cre­ators — two Jew­ish boys from Cleve­land named Jer­ry Siegel and Joe Shus­ter. Although the lega­cy of their cre­ation endures stronger than ever, Jer­ry and Joe were forced into penury, law­suits, and near-obscurity.
While the sto­ry of Super­man is well-known through­out the world, the true sto­ry of his cre­ators and their plights hasn't received as much pop­u­lar scruti­ny. A forth­com­ing com­ic focus­ing on the life and tra­vails of Shus­ter aims to rem­e­dy this imbal­ance. The Joe Shus­ter Sto­ry: The Artist Behind Super­man, writ­ten by Julian Voloj (Ghet­to Broth­er) with art by Thomas Campi (Magritte: This Is Not a Biog­ra­phy), is not only an author­i­ta­tive account of Shuster's life grow­ing up as a poor kid in Cleve­land, but also a riv­et­ing play-by-play of the ear­ly years of Amer­i­can com­ic books.
AJ Frost chat­ted with the author and illus­tra­tor before the book's release. In this install­ment, author Julian Voloj shares some thoughts about writ­ing and col­lab­o­rat­ing on the book with illus­tra­tor Thomas Campi.

___
AJ Frost: Hi, Julian. I've been antic­i­pat­ing this book since it was first announced a while ago. Where did the idea to tell the sto­ry of Joe Shus­ter originate?
Julian Voloj: I feel like there are many peo­ple who vague­ly know about Joe Shus­ter, but don't know the whole sto­ry. A graph­ic nov­el is the per­fect medi­um to tell that sto­ry in an enter­tain­ing way that can reach a lot of peo­ple. I come from a jour­nal­is­tic and aca­d­e­m­ic back­ground. Three years ago, I released Ghet­to Broth­er —my first graph­ic nov­el — but before that I had writ­ten close to twen­ty books on aca­d­e­m­ic top­ics. I knew the com­ic book his­to­ry, but I delved into it much more after read­ing Ger­ard Jones's books, like Men of Tomor­row; I real­ly tried to study as much of the sto­ry as I could.
I've been wait­ing for some­one to do such a book, because it's a great sto­ry. I couldn't believe that nobody came up with the idea to tell it as a com­ic book. If you're a fan of comics, at least in the Unit­ed States, you prob­a­bly know the sto­ry, but most com­ic book fans abroad are prob­a­bly not aware of it. [Ed. note: The book is being released in around ten coun­tries this year.) But, you know, while Amer­i­cans are aware of the sto­ry, they're not nec­es­sar­i­ly going to read a 300-page aca­d­e­m­ic book on the sub­ject. A graph­ic nov­el makes the sto­ry of Shus­ter so much more accessible.
AJF: What was the research like when you were start­ing this book? You were always inter­est­ed in the ​"real-life" sto­ry. Was there ever a point when you thought your book would be more like a fic­tion­al­ized retelling à la Chabon's The Amaz­ing Adven­tures of Kava­lier and Clay?
JV: It's not that I'm specif­i­cal­ly writ­ing non­fic­tion graph­ic nov­els. My inter­est is non­fic­tion sto­ries. I come from an aca­d­e­m­ic back­ground and from journalism…that's what I'm trained in. I real­ly want­ed to tell this sto­ry, and I was con­cerned about real­ly doc­u­ment­ing every scene; every scene in the book is based on some­thing that I've found, be it in aca­d­e­m­ic books, legal doc­u­ments, or inter­views. Every­thing is based on some­thing. Now, that doesn't nec­es­sar­i­ly mean that it's all true, because peo­ple have dif­fer­ent ver­sions of mem­o­ries, and this ver­sion is writ­ten from the per­spec­tive — or the imag­ined per­spec­tive — of Joe Shus­ter. But it was pret­ty clear that it should be a non­fic­tion book, which, in the­o­ry, has a small­er mar­ket, but I think that if it's well done, read­ers will appre­ci­ate it.
AJF: It was inter­est­ing, while read­ing the book, to see so many promi­nent fig­ures from comics his­to­ry fea­tured, includ­ing peo­ple who are still alive. For exam­ple, you fea­ture the leg­endary comics fig­ure Neil Adams lat­er in the book, as well as the more insider‑y Jay Emmett, who passed away a few years ago, unfor­tu­nate­ly. What was it like hear­ing those first-hand stories?
JV: In a way, it was a lit­tle too late, because a lot of the key peo­ple had already passed, so it was pret­ty much just read­ing inter­views with them. But also it was per­fect tim­ing because, thanks to the inter­net, there are now so many resources avail­able: inter­views, videos, Super­man audio, the radio show, and all 17 episodes of the [1941 – 43 Fleis­ch­er Stu­dios Super­man] car­toons. So you actu­al­ly could access a lot of the stuff for free, which was amazing.
One cool thing, for exam­ple: Jer­ry Siegel was invit­ed on a radio show, and you can hear his voice; he had such a squeaky, boy­ish voice, but he was already suc­cess­ful, and this was at the height of his pop­u­lar­i­ty. I wouldn't have had access to these amaz­ing resources ten years ago. So even though all of these peo­ple passed a long time ago, you actu­al­ly have a lot of these things you can pull from, which is great.
AJF: What was it about Joe Shuster's sto­ry that real­ly res­onat­ed with you? Did your per­cep­tion of him change while you were research­ing and writ­ing the book?
JV: In 2013, my wife and I were in Detroit with our two kids and my in-laws offered to babysit while we were there. We decid­ed to go for a week­end get­away from Detroit (with­out the kids). And we went to Cleve­land, because it's around the cor­ner, and I was inter­est­ed in the Super­man sto­ry. I'm also a pho­tog­ra­ph­er, so I've always been inter­est­ed in these for­mer Jew­ish neigh­bor­hoods. Glenville, which is where Siegel and Schus­ter met for the first time, is the same kind of place. The major­i­ty of the peo­ple there were Jew­ish, and now it's pre­dom­i­nant­ly an African-Amer­i­can neigh­bor­hood. So one morn­ing, I decid­ed to explore Glenville. I saw some for­mer syn­a­gogues, and the place where Siegel's house still stands, and the place where the Shus­ter res­i­dence once stood. I thought I would be more inspired by it, but it's just a run­down neigh­bor­hood, which is unfor­tu­nate, because I think it could be such a tourist attrac­tion. I love neigh­bor­hoods like this, and I'm always curi­ous, so I spoke with some locals, who I think were sur­prised that I was white, but also sur­prised that I decid­ed to park my car and just walk from the old Shus­ter res­i­dence to the Siegel res­i­dence. It's less than a mile. I just want­ed to expe­ri­ence the walk that they took every time they went to see each oth­er. Around the same time, I spoke with my agent about how I real­ly want­ed to do a graph­ic nov­el on this. Half a year lat­er, Colum­bia Uni­ver­si­ty got a dona­tion of let­ters writ­ten by Joe Shus­ter. They gave me access to this box of let­ters even before it was cat­a­loged, which was amaz­ing. It was just sit­ting there, not even in Columbia's sys­tem yet.
These letters…they were heart­break­ing. There was stuff about the time Shus­ter had med­ical bills he couldn't pay, his mom was dying; he even writes about Super­man gen­er­at­ing $50 mil­lion and not get­ting one cent of it. He writes let­ters to friends — I think all of them were Jew­ish — and he writes about when he had mon­ey that he was donat­ing to Jew­ish char­i­ties. Real­ly, it was just heart­break­ing. And read­ing it in his voice, too. I mean, you think about how at the same time, peo­ple were mak­ing mil­lions from Super­man even before the movie came out, and mean­while this guy can't even pay his med­ical bills. And so, for me, it was clear that I want­ed to write from his per­spec­tive, because in the duo of Siegel and Shus­ter, Siegel was def­i­nite­ly the spokesper­son. He was the one nego­ti­at­ing the deals, he was the one going on talk shows, he was the one push­ing for the tri­als and the legal claims. He was the dom­i­nant one in this rela­tion­ship. I think Joe Shus­ter was more of a trag­ic fig­ure. He also has a bit more of the unknown fac­tor. I feel like often with illus­tra­tors, espe­cial­ly with graph­ic nov­els, they're doing the major­i­ty of the work but they're often in the back­ground. Even for this book, it took me a few years to write the text, but it also took Thomas Campi a few years to illus­trate it.
Read­ing those let­ters, I felt that there were things peo­ple actu­al­ly got wrong. In one of the box­es of Shuster's let­ters, there was a copy of the play­bill from the Super­man Broad­way show [It's a Bird…It's a Plane…It's Super­man which debuted in 1966], and every­body wrote that he was too poor to go see it in the the­ater, but I found that he actu­al­ly was invit­ed to the par­ty and met the actors. And this was at the time when they were try­ing to come to terms with DC Comics. He even writes that they treat­ed him well, and nobody knew about this because it just came out of this box.
There were just these lit­tle things that most of us got wrong because there were no inter­views with Joe Shus­ter — he was more of a shy guy. And so, in a way, I give him a voice with this book. And where it's pos­si­ble, I'm using some inter­views, and it's real­ly the way he would speak. In a way, I feel like it's ele­vat­ing a mar­gin­al­ized voice who's not known as much as Jer­ry Siegel. There are just more inter­views with Jer­ry Siegel. Even when they had inter­views togeth­er, Jer­ry was the one talking.
AJF: How was the aes­thet­ic sense of the book informed by your writ­ing, and how much of it was Thomas tak­ing what you wrote and just going with it?
JV: When I was writ­ing it, and pitch­ing it to my edi­tor, he sent me a lot of port­fo­lios. And there were real­ly a whole range of pos­si­bil­i­ties. Some looked very Amer­i­can, even like a super­hero com­ic, and I felt like I didn't want it to be like that. My agent met Thomas in Chi­na, which is crazy because he's Ital­ian, and told me he met this guy and thought I'd like what he's doing. The moment I saw his port­fo­lio I knew he was it. It was this Amer­i­cana feel to it; it real­ly was a per­fect fit. I was jok­ing with Thomas, because we both love the show Mad Men, so we were say­ing that this is the Mad Men of comics. Some of the aes­thet­ics are real­ly like Mad Men, so I feel like the style per­fect­ly fits.
We did things like Skype, and Drop­box, and we trans­ferred things over the inter­net. It's a lot of stuff he got from me to work with online. The fun­ny thing is that while he was work­ing on it, he was mov­ing from Chi­na to Aus­tralia, so the time dif­fer­ence was a chal­lenge too. If we had done this book ten or fif­teen years ago, we prob­a­bly wouldn't have found each oth­er. The fact that I can work with an Ital­ian artist in Aus­tralia worked per­fect­ly. I think it's real­ly like a fine art book. It's def­i­nite­ly strong­ly his style, but it also fits per­fect­ly with my vision.
AJF: How and why does the sub-genre of bio­graph­i­cal comics speak to you as a read­er, writer, and academic?
JV: I write fre­quent­ly for a Swiss Jew­ish mag­a­zine, so I'm inter­est­ed in Jew­ish cul­ture sto­ries and Jew­ish con­tri­bu­tion to cul­ture. I find sto­ries that fas­ci­nate me, real sto­ries, and tell them in a jour­nal­is­tic form. So the fas­ci­na­tion with real life sto­ries and Jew­ish his­to­ry def­i­nite­ly was part of it. And I feel like there is a grow­ing demand for it. I feel like telling the real sto­ry is my way to hon­or the pio­neers. The first gen­er­a­tion of com­ic book artists are sto­ries of a lot of bro­ken hearts, peo­ple who were screwed over by pub­lish­ers. Telling sto­ries like this is impor­tant, to hon­or those peo­ple who can't tell their sto­ries any­more. Even if it's just a sto­ry about the Super­man cre­ators, I put it in the wider con­text of the com­ic book indus­try. That's why a lot of peo­ple are also hon­ored in it, and have guest appear­ances, and can sort of tell their own sto­ries. It's history.
AJF: You said it's Jew­ish history?
JV: It is. The com­ic book indus­try was 90 per­cent Jew­ish. And even the tri­als in the ​'50s [The Kefau­ver com­mit­tee hear­ings, which linked com­ic book read­ing to juve­nile delin­quen­cy] had some anti-Semit­ic under­tones. So, yeah, it's a fas­ci­nat­ing piece of Amer­i­cana, but also of Jew­ish history.
AJF: Okay, last ques­tion: What does the sto­ry of Super­man and Joe Shus­ter mean to you as a lover and writer of comics?
JV: Super­man is real­ly just a part of Amer­i­can folk­lore now, and in a way, the Siegel and Shus­ter sto­ry and the bad deal they made is almost like the orig­i­nal sin, in a way, of the com­ic book indus­try. So, I think it should be told not to for­get where it comes from. Hope­ful­ly with my book, the orig­i­nal sin of the com­ic book indus­try will be more known, and the cre­ators more appre­ci­at­ed. I feel like it's some­thing that is con­tem­po­rary. A lot of peo­ple think that the com­ic book indus­try is just these two big com­pa­nies, but of course there are many peo­ple who want to do their own thing, and there's a grow­ing mar­ket for inde­pen­dent artists. Hope­ful­ly peo­ple will appre­ci­ate the inde­pen­dent artists and give them a chance when they go to a con­ven­tion and see things that are not like the char­ac­ters that you see every­where, but artists try­ing to fig­ure out things that are not in the mainstream.
AJ
Frost is a writer/​editor based in Phoenix,
AZ
.