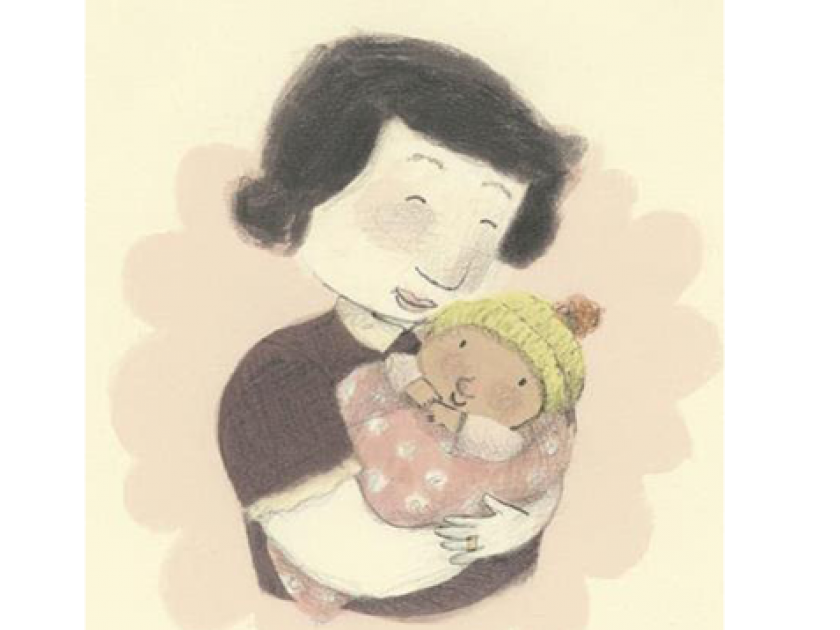 Michelle Edwards, author of A Hat for Mrs. Gold­man, will be guest blog­ging this week for the Jew­ish Book Coun­cil as part of the Vis­it­ing Scribe series.
"Why did you make Sophia Latina?"
That's a ques­tion I have been asked sev­er­al times in inter­views about Sophia Her­nan­dez, the pro­tag­o­nist in my newest book, A Hat For Mrs. Gold­man. At first, I was sur­prised by that ques­tion. I hadn't thought about why I made Sophia Lati­na. I just thought of her that way. Why wouldn't I? Why wouldn't Sophia be Lati­na or Hmong or from the Con­go like many of the stu­dents my hus­band now works with at our local high school? They are here. They live with us. Our lives inter­sect, and at that inter­sec­tion is a sto­ry. Why wouldn't Sophia be a char­ac­ter in my books?
Still, I know why I am asked that ques­tion. But equal­ly impor­tant, I think, to hav­ing a diverse char­ac­ter, is the depic­tion. The round­ness and believ­abil­i­ty of that char­ac­ter. If I had been asked about that, how I was able to make her uni­ver­sal in her needs and wants, I would have a very dif­fer­ent answer. It turns out that although I have always been inter­est­ed in cre­at­ing books that show diver­si­ty, I didn't always under­stand what that meant. Many years ago, when I was work­ing on La Pa Lia's First Day, the first book of my Jack­son Friends series, I had a chance to read an ear­ly draft to a small group of St. Paul school kids. The kids were part of Meera's class — my old­est daugh­ter — and includ­ed her Hmong friend, Kabo. In the ways that we share our lives with our school bud­dies, Meera told Kabo that I was writ­ing a book about a Hmong girl. At that time, there were no children's books with Hmong char­ac­ters. Before I met with the group, I knew Kabo was anx­ious for my sto­ry. I had not real­ly under­stood until I saw her antic­i­pa­tion that I was about to dis­ap­point her. As I read my draft, I real­ized I had cre­at­ed a flat, almost folk­tale char­ac­ter. How had I missed that? After, I would change Pa Lia, make her wor­thy like Kabo. When I wrote A Hat For Mrs. Gold­man, I knew that Sophia was Lati­na. I didn't wor­ry about her wor­thi­ness because I had learned a great les­son from writ­ing about Pa Lia. I knew I could get Sophia right if I lis­tened to her sto­ry, and fol­lowed her emotionally.
Of course, Amer­i­cans need diverse books. We need to read about Pa Lia's first day of school wor­ries and Sophia's rela­tion­ship with Mrs. Gold­man. We need the every­day in our books to reflect our every­day world. That means we also need diverse books for our young Jew­ish read­ers. Our Jew­ish com­mu­ni­ties are diverse, and our world, our coun­try, our towns, and the neigh­bor­hoods we live in are diverse. We need books that tell all our sto­ries and show us how we all connect.
That's why Sophia is Latina.
Michelle Edwards is an award-win­ning author and illus­tra­tor of many books for chil­dren, one book for adults, and near­ly one hun­dred essays for knit­ters. Her sto­ries are about fam­i­ly, friend­ship, and com­mu­ni­ty. They chron­i­cle the large and small vic­to­ries and defeats of every­day life. Michelle fre­quent­ly shares her paint­ings and thoughts on Insta­gram, Face­book, and her website.