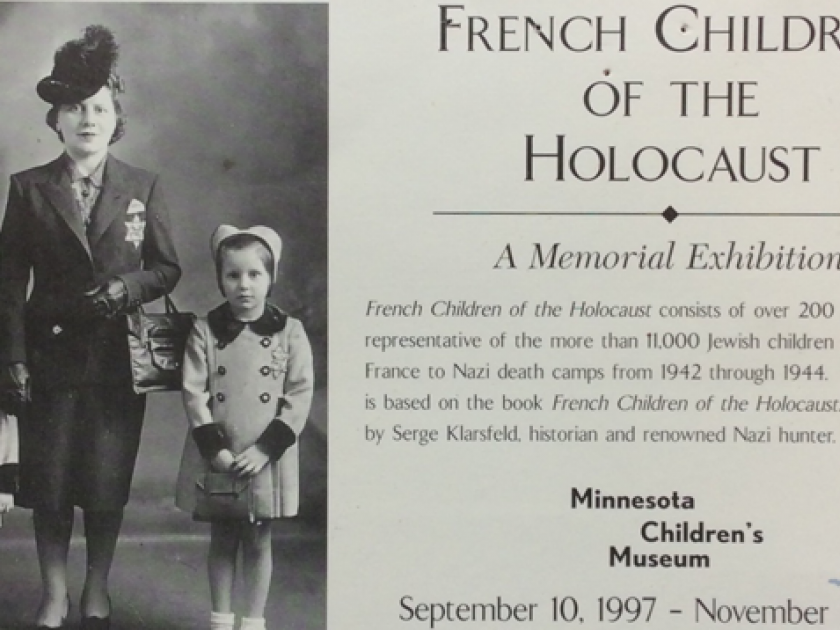 Michelle Edwards, author of A Hat for Mrs. Gold­man, will be guest blog­ging this week for the Jew­ish Book Coun­cil as part of the Vis­it­ing Scribe series.
I have been knit­ting all my life, since the age of five or so. Much of what I have done, I have done with my nee­dles at the ready. So, it makes sense that I would have some sto­ries to tell about knit­ting and life. Still, it took me a long time to real­ize this, and to tap into the well, which now often feels bottomless.
It was 1997 and I was at a small exhib­it with Serge Klarsfeld's col­lec­tion of pho­tos of French chil­dren who per­ished in the Holo­caust, when I dis­cov­ered how much of life I had viewed as a knit­ter. The show was in St. Paul, Min­neso­ta, where my fam­i­ly lived back then. My kids were young — too young, I thought, for the big­ger ques­tions and sto­ries about the chil­dren. So they stayed home. Instead, I asked my hus­band to join me. We went out to lunch first, then we walked to the exhib­it. There were many noisy school kids there. Look­ing back on it, I won­der how they felt when they saw the black and white pho­tos from decades before, clear­ly not Amer­i­can kids like them­selves. Well, that's anoth­er top­ic. Let's make this one about knitting.
What I am sure of now, though, is that we each saw some­thing deeply per­son­al. And, in my case, knit­ter­ly. Among the pho­tos, there were snap­shots of the Jew­ish French chil­dren, some­times with their moth­ers, clear­ly wear­ing some hand-knit item, like a sweater. I knew what hav­ing some­thing hand­made just for you meant. In the long and cold Min­neso­ta win­ters, I had knit plen­ty of warmth for my own chil­dren. They came with me to yarn stores and cud­dled skeins to test for soft­ness and spring. They helped me some­times, wind­ing the wool into balls, so that they were eas­i­er to knit from. They took off their socks and let me mea­sure their feet for more socks that I was knit­ting them. They allowed me to mess up their hair, all for the sake of get­ting the hat to fit.
We had a unique rela­tion­ship that was all about mak­ing for them, lov­ing them in a wooly way. That is what I saw in those pic­tures. Clear­ly, the child in the beau­ti­ful sweater was loved the way I loved my daugh­ters. Fierce­ly. This child had been to yarn stores the way mine had. Maybe, on a bit­ter­ly cold day she might have picked the soft­est, warmest wool in the store, an expen­sive alpaca indul­gence reserved for our heart-songs. As it was being knit, she might have tried that sweater on end­less­ly, so the knit­ter, the mom, the grand­moth­er, could get the fit just right.
I could see their lives through my knitter's eye. I felt their untold sto­ries in those pic­tures so deeply I could bare­ly move. Even­tu­al­ly, I start­ed to write about knit­ting, shy­ly, at first. Then came many, many sto­ries. In fact, some­times I need to but­ton-up when I am in yarn stores, at fiber gath­er­ings, or around oth­er knit­ters. They men­tion a knit­ting prob­lem or a wooly dis­cov­ery, an entan­gle­ment with yards offine­ly spun what­ev­er, and I smile instead of let­ting them know how I wrote about that once.
I had planned this post to be a knit­ting sto­ry some­how tied to my lat­est book, A Hat For Mrs. Gold­man: A Sto­ry About Knit­ting And Love. But here I am, near­ly at the end of the sto­ry I had want­ed to tell, and only now, through final­ly writ­ing down about that day, do I real­ize how the two sto­ries con­nect. Knit­ting and Love. That's it.
Michelle Edwards is an award-win­ning author and illus­tra­tor of many books for chil­dren, one book for adults, and near­ly one hun­dred essays for knit­ters. Her sto­ries are about fam­i­ly, friend­ship, and com­mu­ni­ty. They chron­i­cle the large and small vic­to­ries and defeats of every­day life. Michelle fre­quent­ly shares her paint­ings and thoughts on Insta­gram, Face­book, and her website.