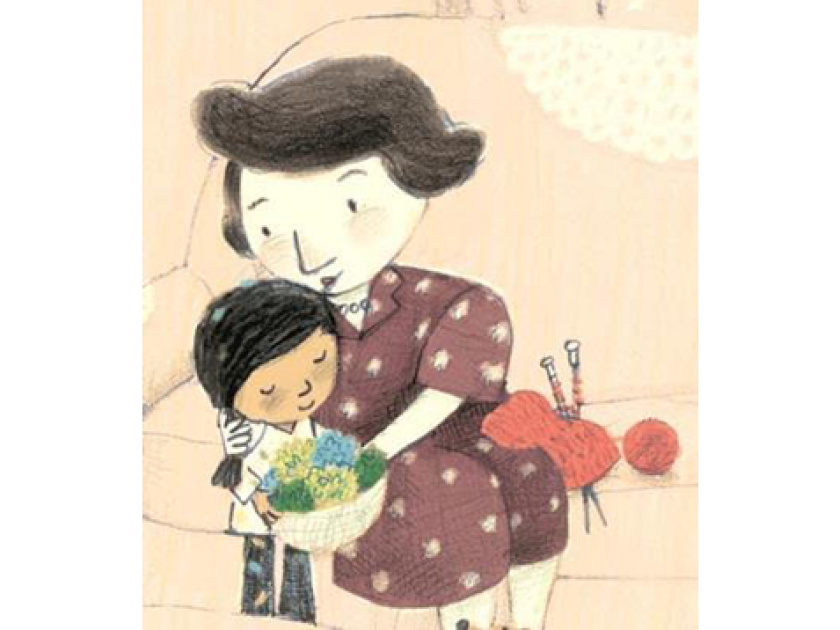 Michelle Edwards, author of A Hat for Mrs. Gold­man, has been guest blog­ging this week for the Jew­ish Book Coun­cil as part of the Vis­it­ing Scribe series.
Many years ago, when we still lived in St. Paul, Min­neso­ta, my old­er daugh­ters had the priv­i­lege of attend­ing Jack­son Mag­net — at the time, a K‑6 school with a large pop­u­la­tion of stu­dents from South­east Asia. I nev­er ceased to be awed by the cul­tur­al rich­ness of Jack­son Mag­net, so unlike the homo­gene­ity of School 18, the neigh­bor­hood gram­mar school I attend­ed as a child grow­ing up in Troy, New York. My daugh­ters had sev­er­al Hmong friends there. Like the great-grand­par­ents they nev­er knew, these friends were immi­grants who fled their home­lands. Through them, my daugh­ters caught a feel of their own history.
What's more, Jack­son Mag­net inspired me to write an ear­ly chap­ter book series called The Jack­son Friends. It cen­tered on the friend­ship of three girls: Pa Lia, Howie, and Cal­liope. Pa Lia, as you might guess, is Hmong. Howie is African Amer­i­can. Cal­liope James, with freck­les and a gap between her two front teeth, is a North­ern Euro­pean mix. Pa Lia, Howie, and Cal­liope sprang forth as char­ac­ters direct­ly from the world I observed at Jack­son Magnet.
Here's an inter­est­ing anec­dote, and the rea­son I bring The Jack­son Friends into this post. One sum­mer, while I was work­ing on the series, my youngest daugh­ter Leila, who did not go to Jack­son Mag­net, attend­ed a day camp held at St. Thomas Uni­ver­si­ty near our home back then.
"Mom, there's a girl in my group who looks just like Howie," she kept telling me. ​"You have to meet her." One day, I did. Howie's twin was Cau­casian. What Leila saw was a kid like Howie, kind with a warm smile. This sur­prised and delight­ed me on many lev­els. Lelia was already so well-versed in reli­gious inter­mar­riage that when she met a Jew­ish kid at camp, she always asked ​"half or whole?" [I promise you she did not learn that from her par­ents.] Still, when she thought of Howie, she did not think about the col­or of her skin — half, whole, or any oth­er percentage.
When I wrote A Hat for Mrs. Gold­man, I thought a lot about Mrs. Gold­man and Sophia. I want­ed to explore their rela­tion­ship and the love they had for each oth­er. The details of their back­grounds were, at first, inci­den­tal to the larg­er sto­ry of their friend­ship just the way they were to Pa Lia's, Howie's and Calliope's friend­ship in The Jack­son Friends.
There are obvi­ous signs of eth­nic­i­ty through­out The Jack­son Friends. Mrs. Goldman's wool is scent­ed with the smell of her chick­en soup. Her speech is pep­pered with mitz­vahs and kep­pies. Then there's the scratchy hat that Sophia finds when she looks through the hall clos­et. It's one that her abuela wore in Mex­i­co. Aside from those men­tions, the read­er can visu­al­ize oth­er dif­fer­ences through the ten­der images offered by Bri­an Karas, the book's illustrator.
What does inter­sec­tion­al­i­ty like this mean for the Jew­ish community?
Well, I am mere­ly a moth­er, and a children's book writer, not a soci­ol­o­gist, a his­to­ri­an, or even a polit­i­cal com­men­ta­tor. So what I can tell you from my dusty cor­ner of the uni­verse is that for me, inter­sec­tion­al­i­ty means hope. For all of us. That's why I find myself revis­it­ing it in my sto­ries. There is great hope when we see beyond race, gen­der, and age. There is great hope when we open up to each other's wor­ries and march for our col­lec­tive justice.
In my heart, and in my book, A Hat for Mrs. Gold­man, anoth­er great hope comes from the kind­ness of wool and two sticks. Sophia Her­nan­dez strug­gles through knit­ting a hat because some­one has a very cold kep­pie. Some­one she loves. She and Mrs. Gold­man are more than neigh­bors, their lives are inter­sect­ed. It is that inter­sec­tion which makes their sto­ry about knit­ting and love.
Michelle Edwards is an award-win­ning author and illus­tra­tor of many books for chil­dren, one book for adults, and near­ly one hun­dred essays for knit­ters. Her sto­ries are about fam­i­ly, friend­ship, and com­mu­ni­ty. They chron­i­cle the large and small vic­to­ries and defeats of every­day life. Michelle fre­quent­ly shares her paint­ings and thoughts on Insta­gram, Face­book, and her website.