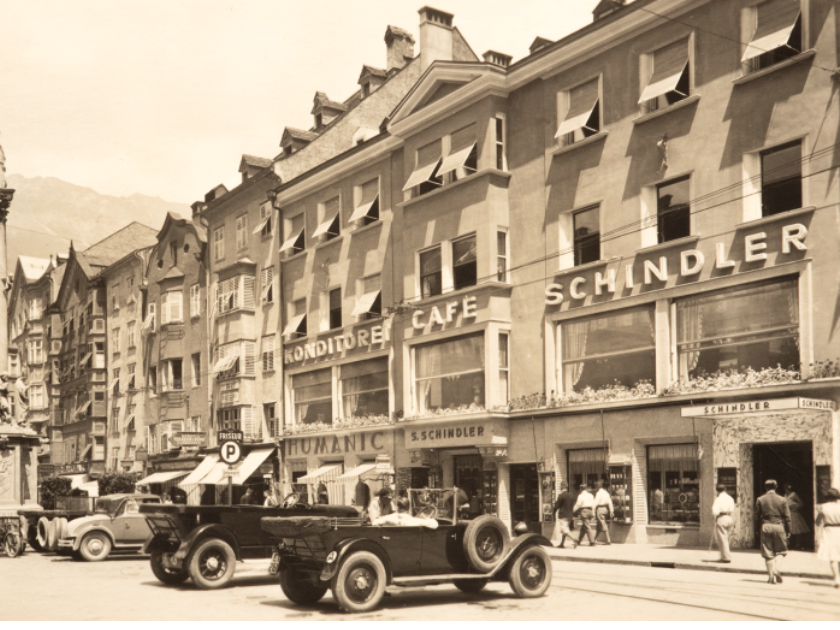 I am an acci­den­tal author. The Lost Café Schindler start­ed as a pri­vate project: I told myself that I was writ­ing up my fam­i­ly his­to­ry for my chil­dren. It was a way to tidy up a messy past and an attempt to under­stand my Jew­ish fam­i­ly his­to­ry — in par­tic­u­lar, my father, with whom I had a dif­fi­cult rela­tion­ship. I knew some frag­ments of my father's his­to­ry. I knew that in 1938, my thir­teen year old father fled Aus­tria to escape the Nazis and arrived in Lon­don. My father had many sto­ries about this peri­od and our fam­i­ly but I was nev­er sure whether they were true. As I embarked on my research project every loose thread I tugged on exposed anoth­er mys­tery, and it was not long before I devel­oped a full-blown obses­sion with the fate of the Jews of West­ern Aus­tria. Mean­while, my fam­i­ly wait­ed patient­ly on the side­lines as I dis­ap­peared into the past.
A white water raft­ing hol­i­day in Slove­nia? That was cov­er for vis­it­ing the moun­tains in which my grand­fa­ther had fought in World War I. A trip to a yoga class with a friend in Inns­bruck? This was a mis­sion to see the site of my fam­i­ly's nine­teenth-cen­tu­ry dis­tillery. A vis­it to an antique shop in Tri­este? I need­ed to try on an Aus­tro-Hun­gar­i­an reg­i­men­tal hat com­pete with shiny black roost­er feath­ers. Very fetch­ing it was too — although I was not sure what Easy­jet would say if I tried to trans­port it back to the UK. By the time I end­ed up under cov­er in a pole danc­ing class in my grand­par­ents' old flat in Inns­bruck, I knew there was no going back. As I found myself gyrat­ing inept­ly round a pole to the sound of thump­ing night club music, I realised that I was going to have to write ​"a prop­er book."
I nego­ti­at­ed a sab­bat­i­cal from my work as a lawyer in Lon­don so I could focus on research­ing and writ­ing. I was ner­vous as I flew from Lon­don into the Alpine city of Inns­bruck in Aus­tria in 2019. There is always risk involved in trawl­ing the past. Some­times painful mem­o­ries are best left boxed up on a shelf and labelled ​"do not open."
I had a tur­bu­lent child­hood in the 1970's and ​'80's. We rode in expen­sive cars, lived in lux­u­ry hous­es, stayed at expen­sive hotels, and attend­ed pri­vate schools. Yet I under­stood from an ear­ly age that it was all built on sand. Time and again we were beset by cri­sis — there were bailiffs at the door, evic­tions, attempts to run from cred­i­tors. The cara­pace of lux­u­ry fell away and we lived on our wits, flee­ing from one coun­try to anoth­er. It was as if my father's own teenage flight from the Nazis was being played out again and again. At the age of fif­teen I was uproot­ed from my cen­tral Lon­don day school and sent to a provin­cial Aus­tri­an con­vent school. I spoke no Ger­man. It was a pro­found­ly alien­at­ing experience.
We lived under siege. My father always main­tained that the house was bugged and so we could nev­er ask ques­tions or dis­cuss any­thing with him whilst in the house. Even if we went out for a walk he did not like answer­ing ques­tions in case some­one was lis­ten­ing in. So those ques­tions remained unan­swered and chased each oth­er round my head after he died.
We lived under siege. My father always main­tained that the house was bugged and so we could nev­er ask ques­tions or dis­cuss any­thing with him whilst in the house.
To answer those ques­tions I had to trawl through the stacks of Nazi era doc­u­ments I inher­it­ed from my father, as well as thir­teen extra­or­di­nary fam­i­ly pho­to albums con­tain­ing images stretch­ing back to before World War I. One album was devot­ed to the Café Schindler: a grand Vien­nese-style cof­fee house. It was found­ed by my grand­fa­ther as an anti­dote to the hor­rors of fight­ing in World War I. He fought against the Ital­ians on the near ver­ti­cal slopes of the Alps, a part of the South­ern Front of the Aus­tro-Hun­gar­i­an Empire. Here con­di­tions were inti­mate, bru­tal, and dan­ger­ous; the sol­diers faced their ene­mies who were often only yards away in inhos­pitable ter­rain. In win­ter, sol­diers were under con­stant threat of being swept away by avalanches.
My grand­fa­ther's café was a glit­ter­ing suc­cess: it was a place where peo­ple could for­get the eco­nom­ic and emo­tion­al pri­va­tions of post-war Aus­tria and enjoy good cof­fee, live music, danc­ing, and some of the best cakes in Aus­tria until the Nazis arrived.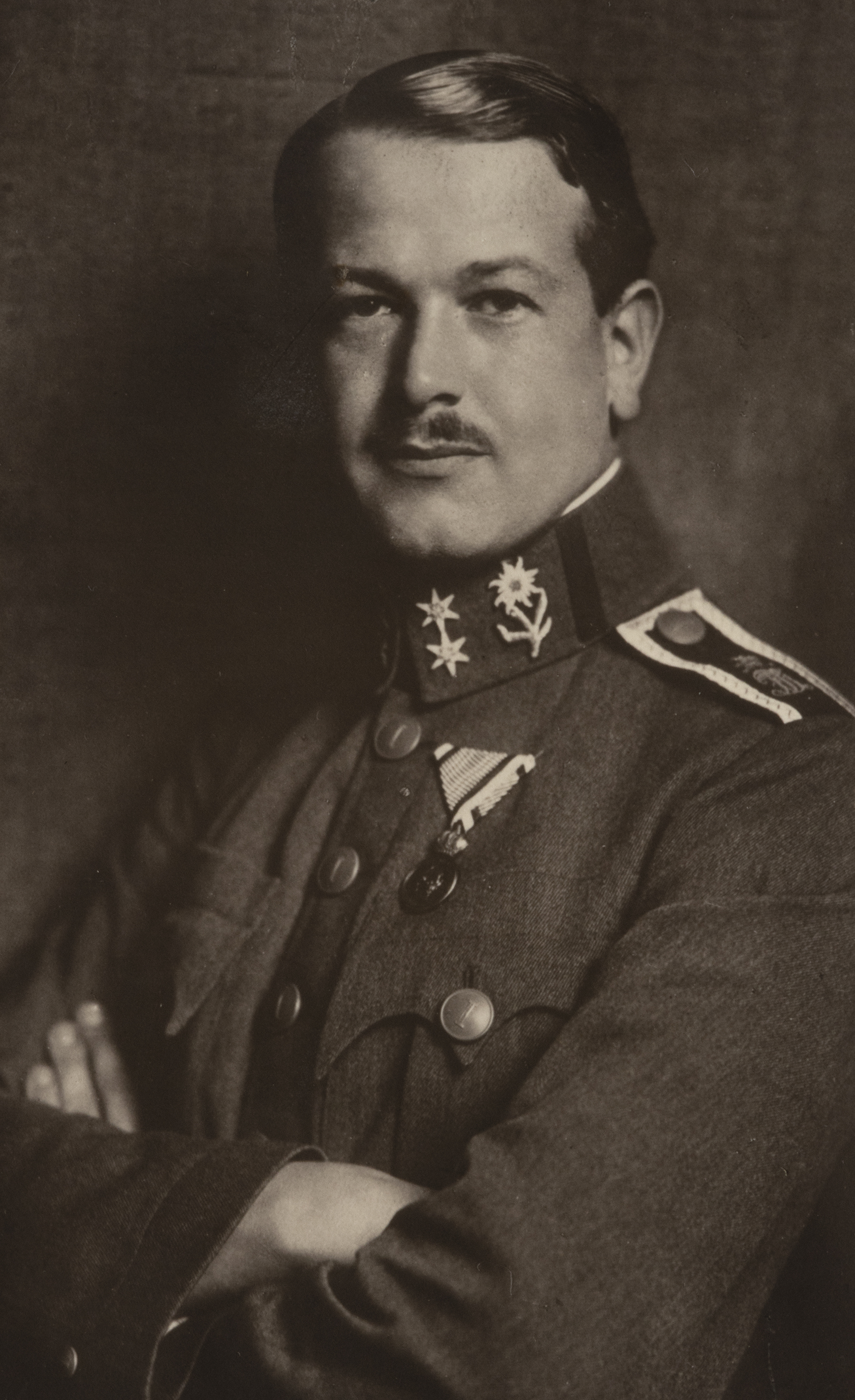 Dur­ing my research, I was most struck by how anti­semitism could take root in a city where there were so few Jews: Inns­bruck had few­er than 500 Jews in 1938. They were mid­dle-class, high­ly assim­i­lat­ed busi­ness­peo­ple; in my grand­fa­ther's case, all he ever want­ed was to serve the best apple strudel in town. Yet on Kristall­nacht in Novem­ber 1938, my grand­fa­ther was beat­en up and left for dead by peo­ple he knew. This pogrom in this provin­cial Aus­tri­an town with its small high­ly assim­i­lat­ed Jew­ish pop­u­la­tion was one of the most vicious and lethal of the entire Ger­man Reich.
When I first met my edi­tor he decreed that I would need to know when to stop writ­ing as the sub­ject I was tack­ling was so huge. I left our lunch with his words ring­ing in my ears: ​"I don't want a 400 page tome." I squealed to a halt at 408 pages know­ing that there was much I had left out or deserved fuller cov­er­age. On the edit­ing floor I regret­ful­ly aban­doned a series of let­ters between fam­i­ly mem­bers in Prague and Lon­don in 1939. As I read them I feel them pul­sat­ing with pan­ic as the net clos­es in. To do them jus­tice I will need to learn Czech and spend time in Prague — maybe that is a project for anoth­er day.
In the mean­time, for those who have enjoyed my book there are plen­ty of oth­er inter­est­ing ones on relat­ed top­ics. My favourites include:
The Rat­line by Philippe Sands
The Hare with Amber Eyes by Edmund de Waal
Last Waltz in Vien­na by George Clare
Meriel Schindler spent the first fif­teen years of her life in Lon­don before spend­ing five for­ma­tive years in Inns­bruck, Aus­tria. Schindler, now based in Lon­don, is an employ­ment lawyer, part­ner, and head of a team at With­ers LLP, a law firm, and a trustee of Arvon, the writ­ing char­i­ty. The Lost Cafè Schindler is her first book.