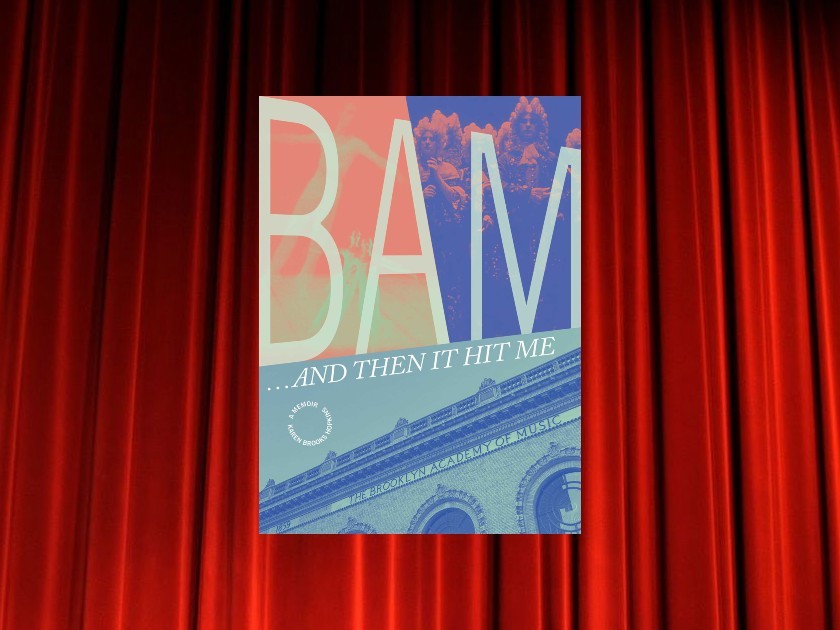 A Hanukkah Extravaganza
I served as pres­i­dent of the Brook­lyn Acad­e­my of Music ("BAM"), America's old­est per­form­ing arts cen­ter for six­teen years and, believe me, when you run a large com­plex orga­ni­za­tion, every day is an adven­ture. As I reflect on those remark­able years, the hol­i­days were always very active both on and off stage!
In addi­tion to movies and per­for­mances, Decem­ber was filled with all kinds of par­ties and spe­cial events. One of the most unusu­al, for a the­atri­cal enter­prise such as we were, was the Great Latke Com­pe­ti­tion of 2011.
Latkes (for the few unlucky souls who has nev­er expe­ri­enced this del­i­ca­cy) are deep fried crispy deli­cious pota­to pan­cakes that are tra­di­tion­al­ly served with sour cream and apple sauce dur­ing the Chanukah cel­e­bra­tion. This is def­i­nite­ly not a health food item, and one latke prob­a­bly has more calo­ries and trans fats than most of us con­sume in a month.
Nev­er­the­less, latkes are a hot item and very pop­u­lar with New York­ers of all ages.
The Great Latke Com­pe­ti­tion was the brain­child of Liz Neu­mark, the head of Great Per­for­mances cater­ers which han­dled all of the food ser­vice at BAM. Food ser­vice for an arts cen­ter, by the way, is a thank­less job. No mat­ter what you serve, peo­ple com­plain. Sim­ply put, New York­ers are obsessed with food.
I used to say that some­one could spend $150 on an opera tick­et, hate the show and you nev­er hear anoth­er word about it. But if they don't like their pre-per­for­mance appe­tiz­er —beware — you may get a death threat in the mail!
There were latkes with peanut but­ter and jel­ly; deeply unkosher latkes with short ribs and bacon; latkes piled high with fried rice and Chi­nese cabbage.
But I digress — let's go back to the latkes. Liz Neu­mark decid­ed that some­thing was miss­ing among the crowd­ed array of hol­i­day activ­i­ties avail­able in the City. ​"Bah hum­bug," she declared, ​"I have had it with danc­ing sug­ar plums, the Grinch, mistle­toe, Scrooge and even drei­dels. We need some­thing new and excit­ing." She thought and thought and then con­clud­ed, after deep con­tem­pla­tion, that what was required was a giant cre­ative latke con­test, where chefs and restau­rants of all kinds would com­pete for ​"the cov­et­ed gold­en latke pan." She asked me if BAM would agree to host the event and I thought, why not? It sound­ed like fun and our sup­port­ers would prob­a­bly like it and it seemed orig­i­nal and worth­while. Then … the latkes arrived. They lit­er­al­ly took over the build­ing. The BAM café host­ed about twelve latke sta­tions and there were anoth­er twelve in the lob­by. For an admis­sion fee of $20, you could buy a tick­et and sam­ple as many dif­fer­ent latkes as you could eat. It was big­ger than the Nut­crack­er! Who knew? The audi­ence of latke tasters wrapped around the build­ing. Hun­dreds of peo­ple shiv­ered in the cold wait­ing to expe­ri­ence their latke moment.
The choic­es were mind blow­ing. There were latkes with peanut but­ter and jel­ly; deeply unkosher latkes with short ribs and bacon; latkes piled high with fried rice and Chi­nese cab­bage; cur­ried latkes; latkes with veg­gies; choco­late latkes; latkes with gefilte fish, shred­ded cheese and tabas­co. It was, in a word, over­whelm­ing. And, this event was not only a hit with audi­ences — our major donors went crazy! The phone was ring­ing off the hook for days in advance with donors on the line clam­or­ing for patron tick­ets and the oppor­tu­ni­ty to be ​"first latke responders."
As the big day got clos­er, not only were tick­ets fly­ing out the door but there was an accom­pa­ny­ing media fren­zy. The New York Post, for exam­ple, couldn't get enough of The Great Latke Com­pe­ti­tion. As I recall, they demand­ed free tick­ets for an army of latke crit­ics who insist­ed on cov­er­ing the event.
It was latke mad­ness. We brought in legions of new patrons who were will­ing to sup­port BAM in order to gain ear­ly latke access.
On the night of the event, my role was to serve as a judge. This, I thought, would be fun but let's just say it took its toll. First, the oth­er judges were seri­ous food peo­ple. Mimi Sher­a­ton, for exam­ple, a renowned food crit­ic and writer, was hor­ri­fied that I, a low­ly arts admin­is­tra­tor who had nev­er con­sid­ered mak­ing a latke (or even din­ner for that mat­ter), was a co-judge. I vowed to prove my worth and give each latke my full atten­tion. That was fine for the first five or six tast­ings but by the eighth latke I was suf­fer­ing phys­i­cal­ly and men­tal­ly. By the tenth latke, a revolt­ing com­bi­na­tion of latke, baloney and mus­tard, I had to hold back the tears. Some­how, I sur­vived but, at the end of the night, I took an oath in front of the eight can­dles of the Meno­rah swear­ing that I would nev­er eat anoth­er latke again.
The win­ner (I think it was the shred­ded chick­en, gua­camole, and sal­sa com­bo) was thrilled and held the gold­en pan in the air for all to see when her name was announced.
I was relieved that it was over. But was it … real­ly over? The smell of latkes per­me­at­ed the entire build­ing for days. And, in fact, when the audi­ences for the Nut­crack­er lined up at the food con­ces­sions dur­ing inter­mis­sion, they shunned the Christ­mas cook­ies and fes­tive treats. They inhaled the odor and chant­ed, ​"We want latkes. We want them now."
I sighed. It was going to be a very long Hol­i­day Season.
Karen Brooks Hop­kins is the pres­i­dent emeri­ta of The Brook­lyn Acad­e­my of Music, where she worked for
36
years, serv­ing six­teen as its pres­i­dent. As pres­i­dent, Hop­kins over­saw the insti­tu­tion's
230
full-time employ­ees and its mul­ti­ple the­aters and cin­e­mas, rang­ing from the
2
,
100
-seat
BAM
Opera House to the flex­i­ble
250
seat Fish­man Space. Hop­kins served as the chair of the Cul­tur­al Insti­tu­tions Group, has been a mem­ber of the May­or's cul­tur­al affairs Advi­so­ry Com­mis­sion, the New York State Board of Regents, and on the Boards of
NYC
&
Com­pa­ny, the Down­town Brook­lyn Part­ner­ship, and cur­rent­ly serves on the Trust for Gov­er­nors Island. She was des­ig­nat­ed a ​
"
Woman of Achieve­ment" by the pro­fes­sion­al asso­ci­a­tion Women in Devel­op­ment in
2013
and named one of the ​
"
50
Most Pow­er­ful Women in
NY
" by Crain's Busi­ness. Among the many hon­ors
BAM
has received dur­ing her tenure is the
2013
Nation­al Medal of Arts, the high­est award giv­en to artists and arts orga­ni­za­tions by the U.S. gov­ern­ment. Pres­i­dent Oba­ma pre­sent­ed the medal to Hop­kins at the White House cer­e­mo­ny. And in
2014
,Hopkins was one of ten esteemed busi­ness lead­ers appoint­ed to the inau­gur­al Crain's Hall of Fame. A grad­u­ate of the Uni­ver­si­ty of Mary­land, she received her
MFA
from George Wash­ing­ton Uni­ver­si­ty in Wash­ing­ton,
DC
. She has received hon­orary degrees from St. Frances Col­lege, Pratt Insti­tute, Long Island Uni­ver­si­ty, and a pres­ti­gious Doc­tor of Laws from Colum­bia Uni­ver­si­ty. From
2005
 – 
2010
Hop­kins served as Brook­lyn regent for the New York State Edu­ca­tion Depart­ment Board of Regents. Fol­low­ing her retire­ment from
BAM
in June
2013
. Hop­kins recent­ly served as the Inau­gur­al Senior Fel­low in Res­i­dence at the Andrew W. Mel­lon Foun­da­tion, advi­sor to the New Jer­sey Per­form­ing arts Cen­ter, board mem­ber of the Jerome L. Greene Foun­da­tion, senior advi­sor to and board mem­ber of the Alexan­der S. Onas­sis Ben­e­fit Foun­da­tion (
USA
) and a Nash­er Haemiseg­ger Fel­low at
SMU
/​Data Arts. Hop­kins lives in Park Slope, Brook­lyn. She has one son and three beloved grand­daugh­ters and daugh­ter-in-law – all hap­pi­ly liv­ing in Brooklyn.