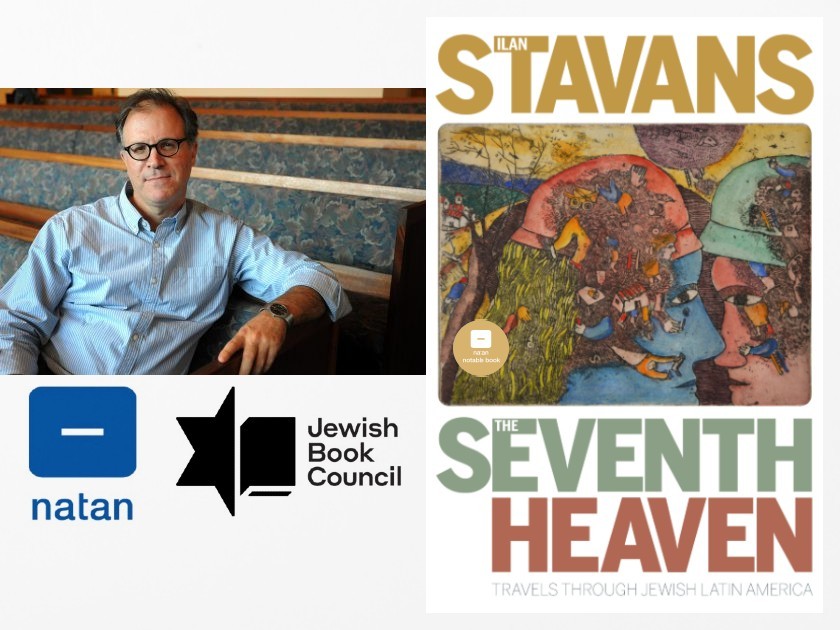 Natan and the Jew­ish Book Coun­cil are thrilled to announce the Spring 2020 Natan Notable Book: Dr. Ilan Sta­vans' The Sev­enth Heav­en: Trav­els Through Jew­ish Latin Amer­i­ca (Uni­ver­si­ty of Pitts­burgh Press, 2019).
Twice a year, Natan Notable Books rec­og­nizes recent­ly-pub­lished or soon-to-be-pub­lished non-fic­tion books that promise to cat­alyze con­ver­sa­tions aligned with the themes of Natan's grant­mak­ing: rein­vent­ing Jew­ish life and com­mu­ni­ty for the twen­ty-first cen­tu­ry, shift­ing notions of indi­vid­ual and col­lec­tive Jew­ish iden­ti­ty, the his­to­ry and future of Israel, under­stand­ing and con­fronting con­tem­po­rary forms of anti­semitism, and the evolv­ing rela­tion­ship between Israel and world Jewry.
The Spring 2020 win­ner brings the con­ver­sa­tion of Jew­ish iden­ti­ty out­side the bor­ders of North Amer­i­ca and Israel, intro­duc­ing read­ers to Jew­ish immi­grants, cul­tures, tra­di­tions and com­mu­ni­ties across Latin Amer­i­ca. In the hands of a lead­ing schol­ar and writer on Latin Amer­i­ca — him­self from a Mex­i­can Jew­ish com­mu­ni­ty — read­ers trav­el from Argenti­na to the Ama­zon, Patag­o­nia and up to Mex­i­co, with many stops all along the way. Sta­vans' com­pelling trav­el­ogue reminds read­ers that Jew­ish sto­ries exist, and flour­ish, in places and ways far from the nar­ra­tive that is stan­dard in the minds of many North Amer­i­can Jews.
In grant­i­ng this award, the Natan Notable Books com­mit­tee is excit­ed to cat­alyze con­ver­sa­tions about the diver­si­ty of the Jew­ish peo­ple, espe­cial­ly at a time when diver­si­ty is very much part of pub­lic con­ver­sa­tion. Jew­ish com­mu­ni­ties across Latin Amer­i­ca are, of course, not mono­lith­ic; The Sev­enth Heav­en is a rich explo­ration of the var­ied mix of iden­ti­ties and con­cerns of Jew­ish com­mu­ni­ties across Latin Amer­i­ca —each with their own his­to­ry, cul­ture, tra­di­tions, chal­lenges, and oppor­tu­ni­ties. Natan, Jew­ish Book Coun­cil, and oth­er part­ners will be host­ing a series of vir­tu­al pub­lic events in the com­ing weeks to deep­en and expand con­ver­sa­tions around the book.
Pro­fes­sor Sta­vans will receive a $5,000 cash prize, as well as cus­tomized sup­port for pro­mot­ing the book and its ideas, draw­ing on Natan's and Jew­ish Book Council's exten­sive net­works through­out the Jew­ish phil­an­thropic and com­mu­nal worlds.
The dead­line for sub­mis­sion for Fall 2020 Natan Notable Books is August 15, open to non-fic­tion titles pub­lished between July 1, 2020 — June 30, 2021. For more infor­ma­tion or to sub­mit a title, click here. Inquiries can be direct­ed to natannotable@​jewishbooks.​org.