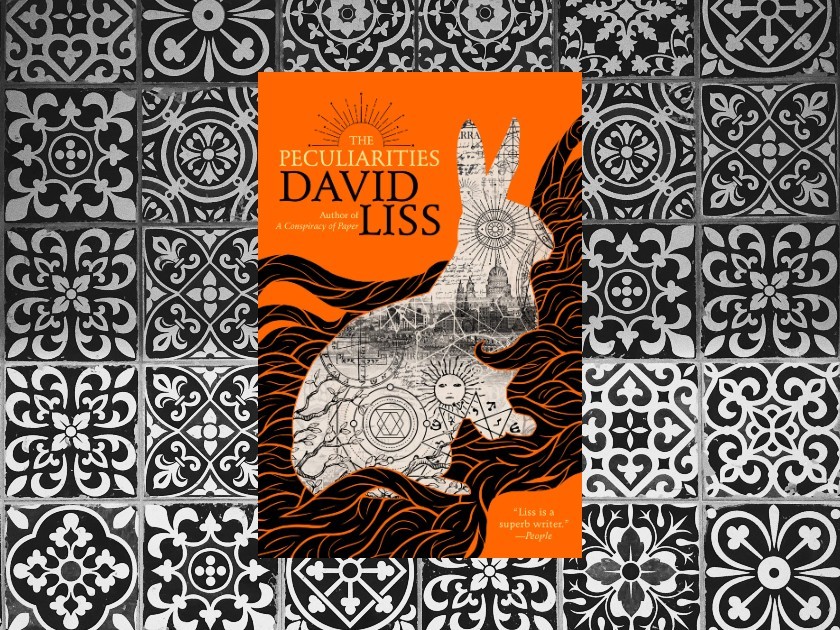 In the weeks before my lat­est nov­el, a his­tor­i­cal fan­ta­sy titled The Pecu­liar­i­ties, was pub­lished, com­plaints about my depic­tion of the Jew­ish char­ac­ters began to be post­ed on sites like Goodreads. ​"The anti-Semi­tism in the book was revolt­ing," one read­er notes. Anoth­er sug­gests I ought not to have includ­ed a Jew­ish char­ac­ter if I only meant to make ​"her a con­stant object of ridicule for the gen­tiles around her." Yet anoth­er con­sid­ers it dis­gust­ing ​"to emu­late, unchecked, the anti­semitism and oth­er prej­u­dices of the time period."
It was­n't until I saw a sim­i­lar com­plaint artic­u­lat­ed in a post-pub­li­ca­tion review — ​"I appre­ci­ate the author was prob­a­bly try­ing to reflect atti­tudes at the time the book was — set, it didn't bring any­thing to the sto­ry" — that I real­ized these respons­es are part of a larg­er prob­lem. Rather, there were two prob­lems, one new and one old. The new prob­lem is to be found in how con­tem­po­rary read­ers approach cer­tain kinds of fic­tion. The old prob­lem, it turns out, is antisemitism.
The Pecu­liar­i­ties is set in late nine­teenth-cen­tu­ry Lon­don, a time in which Jews enjoyed oppor­tu­ni­ties and free­doms impos­si­ble to imag­ine in pre­vi­ous times or oth­er places. They could become cit­i­zens, attend uni­ver­si­ties, and work along­side non-Jews. Anti­semitism, firm­ly embed­ded in the British psy­che, hadn't gone away, but it had changed shape in accor­dance with the times. Vic­to­ri­an Lon­don­ers had to learn to accept the prox­im­i­ty of for­eign­ers of all types, but Jews were always placed in a spe­cial cat­e­go­ry: they were con­sid­ered both famil­iar and unfa­mil­iar, demon­ic and pedes­tri­an, per­va­sive and elu­sive, unfor­giv­ably ret­ro­grade and dia­bol­i­cal­ly future-ori­ent­ed. There were con­spic­u­ous­ly wealthy Jews who rose to glob­al promi­nence, while the num­ber of poor Jews swelled as refugees from east­ern Europe flocked to the Unit­ed King­dom. My own fam­i­ly came to Eng­land as part of this migration.
The cul­ture of my fic­tion­al 1899 in The Pecu­liar­i­ties diverged from the real world only about ten years before the start of the sto­ry, so much of what I depict is as it would be in a non-fan­tas­ti­cal nov­el. My pro­tag­o­nist, Thomas Thresh­er, comes from a wealthy bank­ing fam­i­ly, and, accord­ing­ly, he bris­tles at con­tact with any­one not Eng­lish, not Euro­pean, and not Chris­t­ian. He dis­likes Jews in the same way he dis­likes being caught in the rain. It is a nat­ur­al reac­tion for some­one from his cul­ture, and so, at the begin­ning of the nov­el, when his old­er broth­er attempts to pres­sure him into mar­ry­ing a Jew­ish woman, he is both aghast and incred­u­lous. Any oth­er reac­tion on his part would have been ahis­tor­i­cal nonsense.
In this time and place, there is no escape from anti­semitism out­side of death, iso­la­tion, or aban­don­ing one's Jew­ish identity.
Near­ly all of my nov­els grap­ple with Jew­ish iden­ti­ty in pre­vi­ous eras, and this one is no dif­fer­ent. I could have avoid­ed anti­semitism in The Pecu­liar­i­ties either by omit­ting Jew­ish char­ac­ters or by reimag­in­ing the past to erase anti­semitism. What I could not have done was accu­rate­ly depict Jews of the peri­od with­out show­ing the relent­less anti­semitism they endured. I could have spared read­ers expo­sure to the intol­er­ance of the past only by rewrit­ing the past.
This last, ahis­tor­i­cal option points to a trend in a great deal of today's fan­ta­sy fic­tion. The genre has long since moved away from once-ubiq­ui­tous pseu­do-Euro-medieval set­tings. A spec­u­la­tive nov­el set in a world inspired by nine­teenth-cen­tu­ry Chi­na, or eighth-cen­tu­ry Ara­bia, or ancient Sub-Saha­ran Africa need not include any of the cul­tur­al, eth­nic, or gen­der bias­es of those times and places. Why not imag­ine a world with­out eth­nic strife or patri­archy, or a world in which a wide vari­ety of gen­der or sex­u­al iden­ti­ties were nor­ma­tive? It is, after all, the busi­ness of spec­u­la­tive fic­tion to spec­u­late — to play with pos­si­bil­i­ties, to game out scenarios.
The down­side to these utopi­an reimag­in­ings is what I per­ceive as a grow­ing intol­er­ance of unide­al­ized por­tray­als of the past. Some of this can be seen in the back­lash to tele­vi­sions shows like Game of Thrones and the fic­tion that inspired them, which casu­al­ly traf­ficks in sex­u­al vio­lence. A gen­er­al dis­taste for eroti­cized vio­lence is long over­due. There is, how­ev­er, a dif­fer­ence between rev­el­ing in bru­tal­i­ty and nam­ing it. Depict­ing women in nine­teenth-cen­tu­ry Lon­don liv­ing with­out fear of sex­u­al vio­lence under­mines the expe­ri­ence of the women who lived in those times and whose vul­ner­a­bil­i­ty is part of our col­lec­tive sto­ry. The desire to depict women of the past as safe might com­fort con­tem­po­rary read­ers, but it does vio­lence to the past.
This desire to police his­tor­i­cal pow­er inequities is hard­ly lim­it­ed to gen­der issues, yet I don't believe we can under­stand these read­er objec­tions to The Pecu­liar­i­ties sim­ply in the con­text of utopi­an yearn­ings. I sus­pect read­ers' com­plaints are not about any depic­tion of cul­tur­al big­otry, but rather about Jews and Jew­ish­ness. I refer back to the review­er who felt the descrip­tion of cul­tur­al anti­semitism ​"didn't bring any­thing to the sto­ry." This review­er want­ed the nar­ra­tive ener­gy of anti­semitism to build toward some­thing — a storm­ing of the cas­tle of anti­semitism, in which the anti­se­mit­ic char­ac­ters would get their come­up­pance or reform their views. This expec­ta­tion that suf­fer­ing must inevitably lead to redemp­tion is a fun­da­men­tal­ly Chris­t­ian perspective.
Naive­ly, it nev­er occurred to me that in writ­ing about Vic­to­ri­an Jews, I was cre­at­ing a plot thread that required res­o­lu­tion. My prin­ci­pal Jew­ish char­ac­ter exists in a world in which her Jew­ish­ness makes her an object of scorn. That is the ​"mes­sage." In this time and place, there is no escape from anti­semitism out­side of death, iso­la­tion, or aban­don­ing one's Jew­ish iden­ti­ty (and even then, it would take decades, pos­si­bly gen­er­a­tions, for the taint of Jew­ish­ness to fade).
As David Bladiel argues in Jews Don't Count, anti­semitism is often posit­ed as a thing that hap­pened in the past, no longer exist­ing in any mean­ing­ful way. I sup­pose a read­er who imag­ines anti­semitism to have been resolved in real life might want to see that res­o­lu­tion hap­pen in lit­er­a­ture, too. I would counter that to depict Vic­to­ri­an Jews with­out includ­ing the unavoid­able and casu­al anti­semitism they endured is a kind of denial­ism, an assault upon the past. It is a way of sooth­ing our­selves today, so we don't have to con­front the dis­com­forts of yes­ter­day. Frankly, that might be putting too pos­i­tive a face on it. Demand­ing that a sto­ry either erase his­tor­i­cal anti­semitism or make it serve a nar­ra­tive ​"point" is, in fact, antisemitic.
Every mem­ber of every out­group must con­stant­ly make deci­sions about which offens­es to con­front and which to ignore. I'm a Jew who writes about his­tor­i­cal Jews, and I have run out of patience with review­ers and read­ers telling me what I should and should not write about the his­to­ry of my own people.
David Liss is the best­selling author of eleven nov­els, includ­ing the Ran­doms space-opera tril­o­gy and A Con­spir­a­cy of Paper, which is being devel­oped for tele­vi­sion. He is also the author of numer­ous super­hero and sci­ence-fic­tion comics, includ­ing Mys­tery Men, Black Pan­ther: The Man With­out Fear!, and Angel­i­ca Tomor­row.