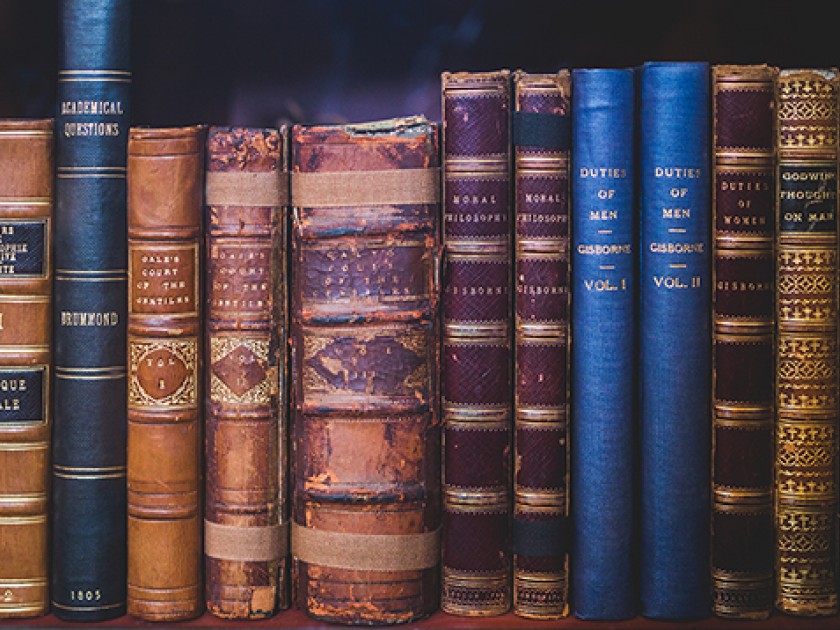 Anders Rydell is the author of The Book Thieves: The Nazi Loot­ing of Europe's Libraries and the Race to Return a Lit­er­ary Inher­i­tance. We couldn't resist draw­ing read­ers' atten­tion to the Paper Brigade of the Vil­na Ghet­to, for which Jew­ish Book Council's annu­al print jour­nal is named! Anders will be guest blog­ging for the Jew­ish Book Coun­cil all week as part of the Vis­it­ing Scribe series here on The ProsenPeo­ple.
My inter­est in loot­ed cul­tur­al prop­er­ty dur­ing World War II start­ed around 2009, with a mas­ter­work hang­ing at the walls of Mod­ern Muse­um in Stock­holm. ​"Blu­men­garten", paint­ed by the Ger­man expres­sion­ist Emil Nolde, had been bought by the Museum's founder in the 1960s from an art deal­er in Switzerland.
For forty years, no one both­ered to dig into the his­to­ry of this paint­ing until the Muse­um received a let­ter in 2001, sent by an heir to the Jew­ish-Ger­man busi­ness­man Otto Nathan Deutch, who had been forced to flee Nazi Ger­many with his fam­i­ly in the 1930s, end­ing up in Ams­ter­dam. But his large art col­lec­tion, which was sent with a Ger­man trans­port firm, nev­er arrived. After the war, some of the sur­viv­ing fam­i­ly mem­ber tried to inves­ti­gate the fate of the fam­i­ly col­lec­tion but were informed by the trans­porter that the ware­house where their prized pos­ses­sions had been held was destroyed dur­ing an Allied bomb­ing raid. The fam­i­ly lat­er received a small sym­bol­ic com­pen­sa­tion from the Ger­man state.
Almost a half cen­tu­ry lat­er, it was revealed that the col­lec­tion had in fact nev­er been destroyed. The Emil Nolde paint­ing that was hang­ing on the walls of Sweden's most pres­ti­gious muse­um had been part of Otto Nathan Deutch's collection.
The let­ter from the heir to Mod­ern Muse­um was not the end of this trag­ic sto­ry, but the unfor­tu­nate­ly the begin­ning of a new one. The Mod­ern Muse­um refused to return the paint­ing to its right­ful own­ers until 2009. The rea­son­ing behind the Museum's claim to the paint­ing changed over time. They argued that they had pur­chased the paint­ing in ​"good faith" and that that there were no legal grounds to force a return of the paint­ing, despite the fact that Swe­den had signed the Wash­ing­ton prin­ci­ples. The Muse­um even pro­posed that, if the paint­ing should be returned, the heir should com­pen­sate the Muse­um for hav­ing kept if safe.
These argu­ments where both ground­less and absurd to any­one with any knowl­edge of the resti­tu­tion issue. Final­ly, after addi­tion­al pres­sure from the media and inter­na­tion­al orga­ni­za­tions, the Muse­um was forced to return the painting.
The tac­tics of the Mod­ern Muse­um in Stock­holm were not uncom­mon. We have seen this play out again and again in civ­il cas­es between heirs and muse­ums and some­times even states. The most well-known case is prob­a­bly The Repub­lic of Aus­tria v. Maria Alt­mann, adapt­ed into sev­er­al books and recent fea­ture film star­ring Ryan Reynolds and Helen Mirren.
In my first book on this sub­ject, I inves­ti­gat­ed resti­tu­tion cas­es by focus­ing on muse­ums and art. It wasn't easy to get behind the thick walls of our muse­ums. Few want­ed to talk about the con­flict and the response I got was often hos­tile and sus­pi­cious, whether I was in Budapest, Berlin, Paris, Lon­don or New York. I came to real­ize that these insti­tu­tions, most­ly found­ed dur­ing the nine­teenth cen­tu­ry, were ill-suit­ed to han­dle the com­pli­cat­ed issue of resti­tu­tion. They were built on col­lect­ing — often in a time when this meant loot­ing or even buy­ing from black mar­kets in the colo­nial world. It was in their DNA to take, not to give back. In fact, the reac­tion I often got was that resti­tu­tion of a cer­tain paint­ing was just the first straw, and that the muse­um would soon cease to exist. This was of course ridiculous.
When I start­ed work­ing on my sec­ond book, The Book Thieves: The Nazi Loot­ing of Europe's Libraries and the Race to Return a Lit­er­ary Inher­i­tance, I expect­ed the same response from libraries and archives. But as I trav­eled around Europe vis­it­ing libraries in Berlin, Weimar, Munich, Ams­ter­dam, Paris, Rome, Thes­sa­loni­ki, Prague, and Vil­nius I was sur­prised by the response I received. I was­n't just invit­ed, I was encour­aged to help in the resti­tu­tion process. And here I found some­thing that I rarely came across in the world of muse­um — insti­tu­tions that want­ed to return part of their col­lec­tions. In a library in Berlin, where there is thought to be 250,000 loot­ed books, I found a small group of librar­i­ans that had tak­en on the task of return­ing as many of these books as they could. They had start­ed the immense process of going through a col­lec­tion of sev­en mil­lion books.
Why was the phi­los­o­phy towards resti­tu­tion so dif­fer­ent in the library world? I think it has some­thing to do with the libraries them­selves. Libraries have always been more open insti­tu­tions. While in muse­ums the pub­lic has to stand behind a rope, in the library the pub­lic par­tic­i­pate: they request and con­tribute books to be part of the collection.
But most impor­tant­ly, a library is about shar­ing infor­ma­tion. Open­ness is a huge­ly impor­tant part of this philosophy.
Anoth­er rea­son that should not be over­looked, is that books rarely have an eco­nom­i­cal val­ue com­pa­ra­ble to that of art. Mon­ey, as always, com­pli­cates things. But this doesn´t mean that return­ing these books is any less impor­tant. The resti­tu­tion issue is not just about eco­nom­i­cal com­pen­sa­tion; it's about mem­o­ry and his­to­ry. To restore some­thing, even a lit­tle piece, of lives lost, cul­tures destroyed and his­to­ry forgotten.
I met a new gen­er­a­tion of librar­i­ans that real­ized this. Their biggest con­cern was­n't that they would lose part of their col­lec­tions; their great­est con­cern was how to find the orig­i­nal, and right­ful own­ers of these books. As one of the librar­i­ans in Berlin told me, ​"These books are ghosts, if we don't return them they will haunt us forever."
Anders Rydel­lis a jour­nal­ist, edi­tor, and author of non­fic­tion. As the Head of Cul­ture at a major Swedish media group, Rydell directs the cov­er­age of arts and cul­ture in 14 news­pa­pers. His two books on the Nazis, The Book Theives and The Loot­ers, have been trans­lat­ed into 16 lan­guages. The Book Thieves is his first work pub­lished in English.