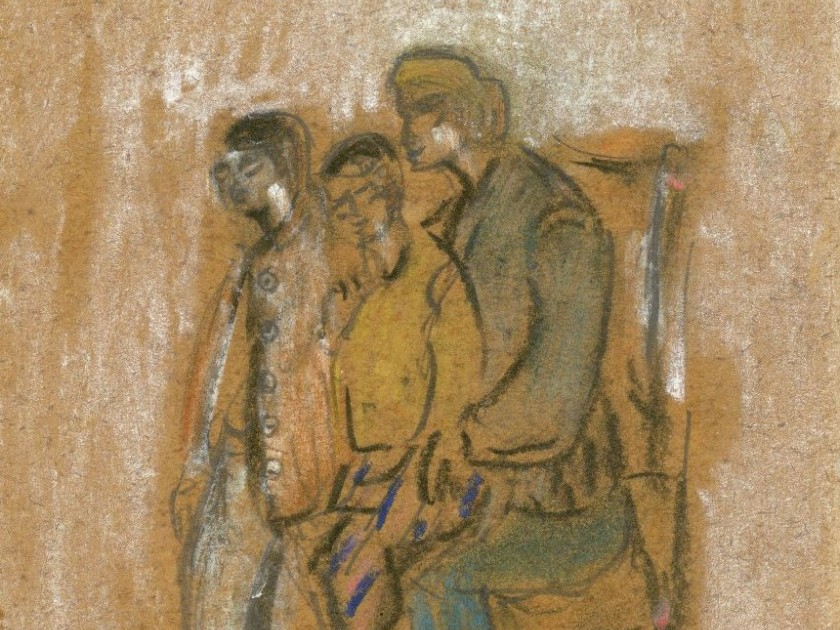 When I moved from Lon­don to Berlin in 2006, I arrived with con­ver­sa­tion­al yet gram­mat­i­cal­ly impaired Ger­man. To final­ly pick apart my der die das from my dem der dem I enrolled at a lan­guage school in the Schöneberg dis­trict, the Hart­nackschule (and yes, the Eng­lish-speak­ing stu­dents called it the ​"School of Hart Nacks"). Next to the school was a hotel, guard­ed by a plaque bear­ing the name of a woman who cer­tain­ly knew the Hart Nack life: Else Lasker-Schüler.
It was a name I bare­ly rec­og­nized at the time, but as I turned to lit­er­ary trans­la­tion some years lat­er, the writer and artist who wit­nessed almost the entire Weimar Repub­lic from room sev­en­ty-four of the Hotel Sach­sen­hof also took up lodg­ings in my imag­i­na­tion. The lat­est prod­uct of this obses­sion over Else Lasker-Schüler is a trans­la­tion project, Three Prose Works. It col­lates auto­bi­o­graph­i­cal­ly charged pub­li­ca­tions that Lasker-Schüler orig­i­nal­ly issued pri­or to World War I — sketch­es, sto­ries, and fables which togeth­er rep­re­sent a kalei­do­scop­ic account of her devel­op­ment as an inde­pen­dent woman and cre­ative force.
Born in 1869 to an assim­i­lat­ed Jew­ish fam­i­ly in Wup­per­tal — an indus­tri­al west­ern Ger­man city — Lasker-Schüler made her own entrée to Berlin in 1894 with her physi­cian hus­band, Berthold Lasker. How­ev­er, as the twen­ti­eth cen­tu­ry dawned Lasker-Schüler had a child with anoth­er man and left the bour­geois secu­ri­ty of her old life, throw­ing her lot in with Berlin's cre­ative under­ground. She was par­tic­u­lar­ly close to the apos­tolic arch-bohemi­an writer Peter Hille; he called her ​"Tino" and the ​"Black Swan of Israel", and she immor­tal­ized her men­tor in her first book of prose, The Peter Hille Book.
Along with her sec­ond hus­band Her­warth Walden, Lasker-Schüler was at the fore­front of Expres­sion­ism, almost a lone female voice in the emerg­ing lit­er­ary movement.
Lasker-Schüler was also a high­ly accom­plished visu­al artist but it is verse for which she was best known, and her read­ers, a select few to begin with, rec­og­nized her as an uncom­mon­ly bril­liant poet — fear­less, orig­i­nal, pas­sion­ate. Vers­es like ​"End of the World", with its erot­ic escha­tol­ogy, fore­told a new mode in Ger­man let­ters. Com­mon to all her means of expres­sion was an elab­o­rate world-build­ing inspired by the Torah, 1001 Nights, and the Ori­en­tal­ist motifs ubiq­ui­tous through­out ear­ly twen­ti­eth-cen­tu­ry Ger­man cul­ture. In a time of ris­ing anti­semitism she defi­ant­ly adopt­ed the offen­sive label of ​"Ori­en­tal" for her­self, propos­ing the rebel­lious fig­ure of the ​"wild Jew" as a counter-argu­ment to assim­i­la­tion. In her work she adopt­ed evoca­tive sig­ni­fiers of lands she had nev­er seen, and refash­ioned them at will. Asso­ciates found them­selves thin­ly fic­tion­al­ized in Lasker-Schüler's Semit­ic realm while the writer's own avatars cycled through gen­der, sex­u­al­i­ty, and eth­nic­i­ty, the most con­sis­tent per­sona being the Bagh­da­di war­rior princess, ​"Tino". It was a role she lived day to day, dressed in harem pants and cos­tume jew­el­ry; while it would be tempt­ing to claim that her per­sona was her great­est cre­ation, that would dimin­ish both the stature of her art and the flu­id­i­ty of the bor­ders between arti­fice and the actu­al in her life.
Along with her sec­ond hus­band Her­warth Walden, Lasker-Schüler was at the fore­front of Expres­sion­ism, almost a lone female voice in the emerg­ing lit­er­ary move­ment. Lasker-Schüler nev­er remar­ried after they divorced in 1912, and with the noto­ri­ous­ly low pay scale attached to the posi­tion of bohemi­an poet, her life assumed a pat­tern of habit­u­al pover­ty, beg­ging let­ters, and brief peri­ods of respite. As World War I end­ed and the Weimar Repub­lic began, Lasker-Schüler entered a pro­duc­tive peri­od which yield­ed verse, fic­tion, dra­ma, essays and art­works. But life slowed as her son Paul fell ill, stop­ping com­plete­ly when he died in 1927, aged just twen­ty-eight. And then just as she received a pres­ti­gious lit­er­ary prize in 1932, sig­nal­ing long-with­held recog­ni­tion from the estab­lish­ment, that estab­lish­ment under­went a cat­a­stroph­ic trans­for­ma­tion: the Nazi regime.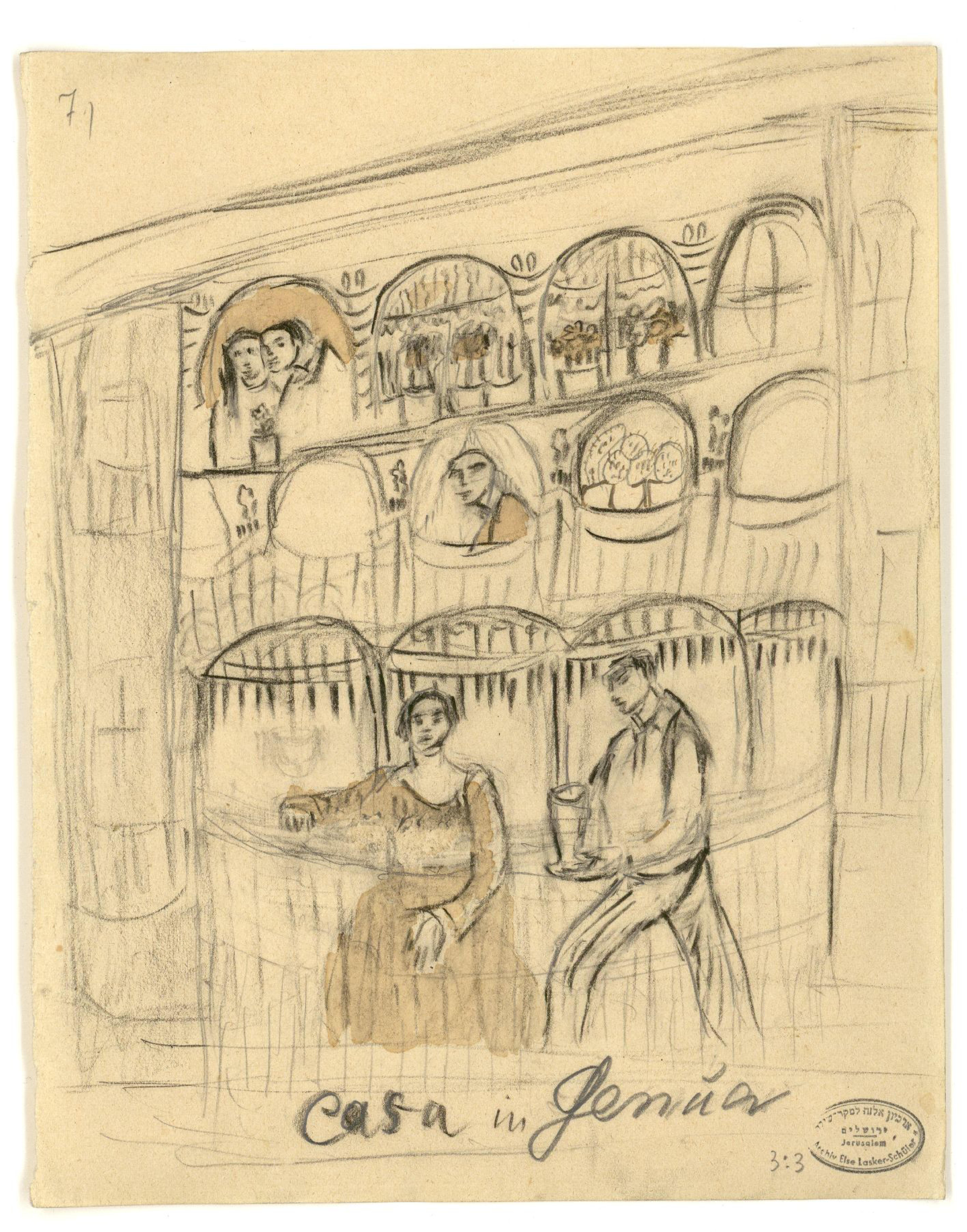 Short­ly after the Nazi takeover in 1933, Lasker-Schüler checked out of the Hotel Sach­sen­hof and left Ger­many, nev­er to return. After liv­ing in Zurich under harsh con­di­tions and the con­stant threat of depor­ta­tion, she was vis­it­ing Pales­tine in 1939 when World War Two broke out. With return to Switzer­land now barred to her, she was final­ly expe­ri­enc­ing the lands to which her imag­i­na­tion had so often grav­i­tat­ed, but with the lux­u­ry of recast­ing them no longer avail­able. Instead it was her fam­i­ly, her child­hood home, a whole van­ished world that now became the unat­tain­able ide­al, a long­ing dis­tilled in the heart­sick late verse, ​"My Blue Piano". With just thir­teen lines and com­plete mas­tery of form, the poet imag­ines the rats of the Reich danc­ing across the strings of her aban­doned instru­ment. Sad­ly she didn't live long enough to see the rats van­quished; Else Lasker-Schüler died in Jerusalem in Jan­u­ary 1945 and she was laid to rest on the Mount of Olives.
In Ger­many Else Lasker-Schüler is now cel­e­brat­ed as one of the country's finest poets, her verse set in school cur­ric­u­la and col­lect­ed in dozens of dif­fer­ent edi­tions. Yet she remains large­ly unknown in the Anglos­phere. The only Eng­lish-lan­guage biog­ra­phy of note appeared almost twen­ty years ago and her works — fit­ful­ly trans­lat­ed — tend to be issued by small­er uni­ver­si­ty press­es. Yet Lasker-Schüler's writ­ing is not ​"dif­fi­cult" or will­ful­ly obscure, instead offer­ing pow­er­ful emo­tion­al imme­di­a­cy and uni­ver­sal themes: roman­tic love and sen­su­al desire, the quest for home and solace, pur­pose and transcendence.
Else Lasker-Schüler nev­er wrote her mem­oirs, but in the glit­ter­ing mosa­ic of Three Prose Works we have the ori­gin sto­ry of a blaz­ing­ly unique life which deserves far greater recognition.
James J. Con­way was born in Syd­ney and now lives in Berlin where he is a trans­la­tor from Ger­man to Eng­lish, both com­mer­cial and lit­er­ary. He has trans­lat­ed and pub­lished eight books for Rix­dorf Edi­tions, includ­ing Berlin's Third Sex (Mag­nus Hirschfeld), Anti­semitism (Her­mann Bahr) and Death (Anna Crois­sant-Rust). He has writ­ten for out­lets such as the Times Lit­er­ary Sup­ple­ment, the Los Ange­les Review of Books, and The Pub­lic Domain Review, as well as his own repos­i­to­ry of alter­na­tive cul­tur­al his­to­ry, Strange Flow­ers.