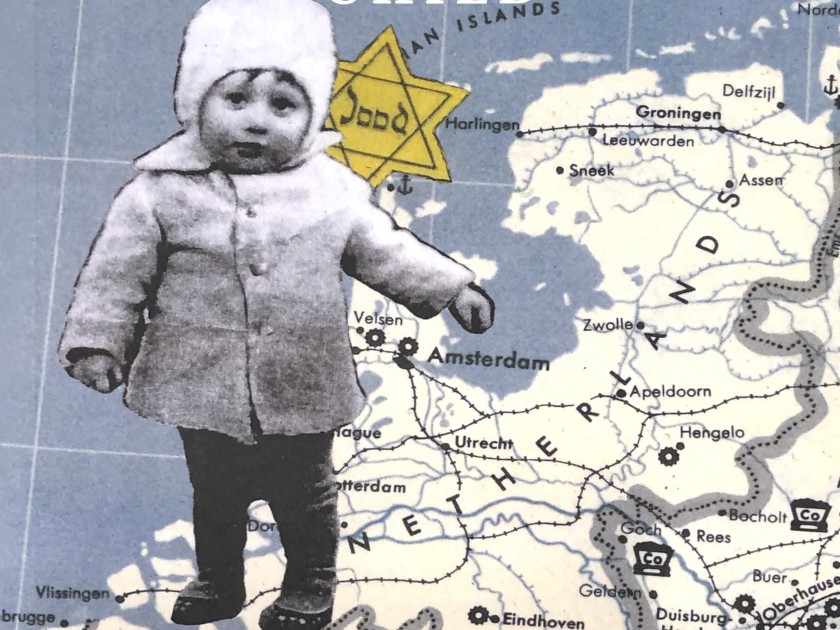 I was born on July 27th, 1942, to Hen­ri­ette Swart­berg-Gosler and Mau­rice Gosler in the provin­cial cap­i­tal of Gronin­gen (The Nether­lands). My moth­er tells me the day I was born was a Mon­day morn­ing, not real­ly dis­tin­guished by any­thing unusu­al except for the British bombers fly­ing over­head. My birth cer­tifi­cate notes the birth name of Joseph Gosler, but my name would change sev­er­al times dur­ing and after WWII. Every new name of mine rep­re­sent­ed a lay­er or por­tion of my life, ever con­nect­ed like the canals that criss­crossed my birth city of Gronin­gen. Each expe­ri­ence and iden­ti­ty meld­ed into the per­son I am today.
In ret­ro­spect, it seems strange to have a child dur­ing wartime, but I believe the Dutch, includ­ing my par­ents, were deter­mined to hold on to a sense of nor­mal­cy, even if it was out of des­per­a­tion. It could also have been a form of unin­tend­ed per­son­al resis­tance to have a child, in con­trast to the Nazi night­ly raids which sur­gi­cal­ly removed whole fam­i­lies, or some­times just the grand­par­ents. That was the para­dox of life in Hol­land, at least through 1942, and since I nev­er heard oth­er­wise, I must assume that my par­ents felt secure enough to have me.
On the sur­face, my birth and infan­cy were no dif­fer­ent than any oth­er young child's except that I was Jew­ish. At my birth, my father Mau­rice, was already impris­oned in a forced labor camp near Kloost­er­veen, where he worked 16 hour days and could only imag­ine what his young son looked like. To share the expe­ri­ence of my birth, my moth­er sent a let­ter to the camp, stat­ing that she was ill and asked if there was a way for Mau­rice to come to her. Although the Nazi stran­gle­hold on every­day life was becom­ing crys­tal clear, here was an exam­ple of the schiz­o­phre­nia of wartime Hol­land, because my father was giv­en a three-day pass.
After the three days, my father was ready to return to the camp, but my moth­er noticed that there was no return date stamped on his pass. They argued vocif­er­ous­ly about the error. My father, ever true to his word, had every inten­tion of return­ing to the camp, until my moth­er con­vinced him oth­er­wise. My father's typ­i­cal­ly Dutch sense of civic duty, evi­dent through every stra­ta of soci­ety, would have cost him his life. Wor­ry­ing that the camp's admin­is­tra­tion would find the omis­sion, my par­ents and my wid­owed mater­nal grand­moth­er, Martha, left Gronin­gen and trav­elled to Amsterdam.
The Jor­daan or Joden­bu­urt (Jew­ish neigh­bor­hood) of Ams­ter­dam was still a thriv­ing quar­ter of near­ly 80,000 Jews. Many fam­i­lies could trace their Ams­ter­dam roots back four cen­turies. The Nazis had effec­tive­ly turned the Jew­ish sec­tor into a ghet­to, forc­ing var­i­ous restric­tions on move­ment for both day and night. It was Octo­ber, 1942, and though life was more sober­ing, we found a place to live and my father took on day labor. How­ev­er, it became depress­ing­ly clear to my par­ents that they need­ed to remain mobile and flex­i­ble and that I under­mined that possibility.
The Jor­daan or Joden­bu­urt (Jew­ish neigh­bor­hood) of Ams­ter­dam was still a thriv­ing quar­ter of near­ly 80,000 Jews. Many fam­i­lies could trace their Ams­ter­dam roots back four centuries.
Much lat­er in my life my par­ents told me their feel­ings of being in a state of con­trolled fear and numb­ness. Full of remorse and yet relieved, they hoped I would be safe, like Moses drift­ing in the reeds, there was no guar­an­tee they would ever see me again.
With­in months there­after, my par­ents and grand­ma decid­ed to trav­el to Gelder­land, an agri­cul­tur­al province south­east of Ams­ter­dam. They hoped to work and hide on one of the many small farms that dot­ted the fer­tile plains like tiny white mush­rooms. Each day, they trav­elled at dawn, car­ry­ing valis­es filled with their mea­ger belong­ings. One night, while sleep­ing in a small barn, my moth­er woke up con­vinced that their host had informed on them. The gut feel­ing meant they had to leave imme­di­ate­ly. Need­ing more time to rest, my grand­ma resist­ed and stat­ed she would meet them lat­er in the day. They nev­er saw her again, and lat­er learned she was tak­en by the SS, deport­ed and mur­dered at Sobi­bor. When I was much old­er, I became painful­ly aware, as had my par­ents, that instinct and tim­ing spelled the dif­fer­ence between life and death, and, iron­i­cal­ly, that we were born under lucky stars.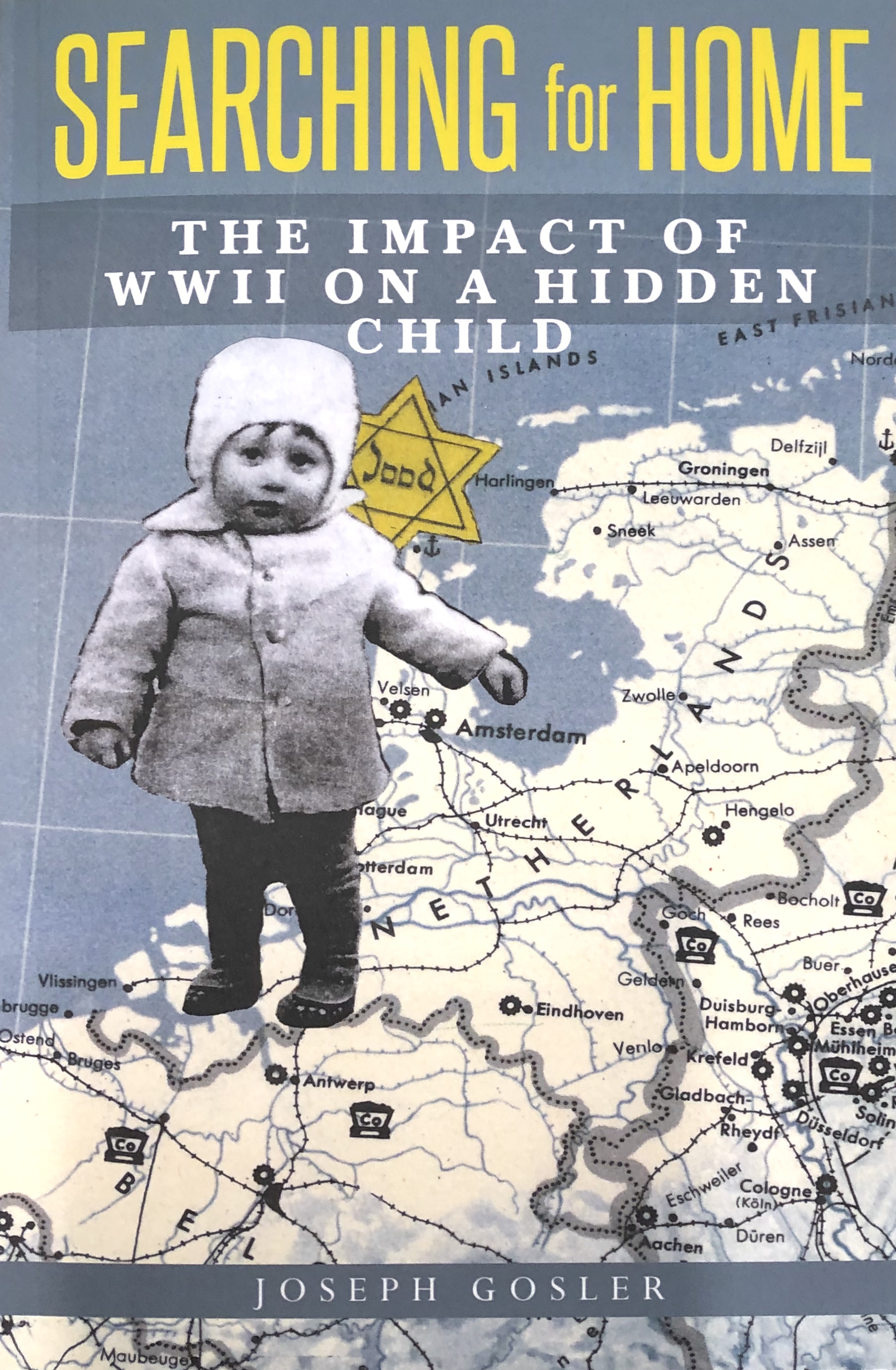 When I was much old­er, I became painful­ly aware, as had my par­ents, that instinct and tim­ing spelled the dif­fer­ence between life and death, and, iron­i­cal­ly, that we were born under lucky stars.
My jour­ney was gen­tle as com­pared to my par­ents and grand­ma. I was placed with Menier and Mevrouw Dijk­stra, a Chris­t­ian fam­i­ly in Wagenin­gen, a small city near the Rhine Riv­er, and by coin­ci­dence also in Gelder­land. My war time fam­i­ly con­sist­ed of ​"Vad­er", a land­scape archi­tect, ​"Moed­er", a house­wife, and two daugh­ters, Anneke and Folie, who were four­teen and eleven years old respec­tive­ly. Both girls had straight blond hair and blue eyes, in con­trast to my wavy dark hair and hazel-green eyes. Not long after, I was added to their fam­i­ly reg­is­ter and was called Peter Dijk­stra, or Piet­je. Safe and con­tent with the only fam­i­ly I knew, I can­not remem­ber whether I missed my moth­er, or the famil­iar­i­ty of my par­ents' home, or the warmth of my mother's breast or the smell of her skin, but my child­hood with the Dijk­stras was as whole­some as wartime would allow. Some neigh­bors assumed I was Jew­ish and this aware­ness fright­ened Moed­er and Vad­er, and they con­stant­ly remind­ed their daugh­ters not to reveal my story.
One day, while play­ing with oth­er young chil­dren in the street, a pla­toon of Nazi sol­diers and tanks, rolled by. The oth­er chil­dren scam­pered to the sides, but whether numb, curi­ous, dumb or defi­ant, I remained entrenched. The oth­er chil­dren motioned for me to move, but I didn't. Mirac­u­lous­ly, the troops divid­ed into two streams as they passed me by. These were dan­ger­ous times, but from my two-year-old eyes it was part of my every­day life. I recall anoth­er, even more hor­ri­fy­ing event, for Vad­er, when I went to the bar­ber­shop for the first time. I saw my soft curls falling to the ground, it star­tled me and I began to cry, but then I heard and smelled the diesel fed trucks, the rolling tanks and the rhyth­mic thud of leather boots, and every­one in the shop turned to the win­dow, ​"Rot­mof­fen!", I screamed. A mul­ti­tude of hands cupped my mouth and whisked me to the back of the store, until the parade of Nazi hel­mets and boots went by. Yelling rot­ten Nazis, even by a child, was grounds for cer­tain murder.
By mid 1944, the harsh Russ­ian win­ter and the Red Army halt­ed the Nazi advance in the East, while in the West, occu­pied Hol­land, suf­fered extreme food short­ages and night­ly Cana­di­an bomb­ing raids. Dur­ing those evenings, we went down to the cel­lar and I sat qui­et­ly on Moeder's lap, while Anneke and Folie sat between her and Vad­er. We wore extra lay­ers of cloth­ing to ward off the damp cold, and a sin­gle flick­er­ing bulb bathed us in light. Vad­er or Anneke would read books to us, songs were sung, and the col­lec­tive hum of air­plane engines over­head blend­ed to cre­ate white noise that lulled me to sleep.
In the begin­ning of Spring, 1945, in the south of Hol­land, near Maas­tricht, the fight­ing ceased and the peo­ple were free to walk the streets. A cou­ple of months lat­er the rest of Hol­land was freed. It was a peri­od of eupho­ria, hys­te­ria, hate and vengeance. These were fran­tic times, made more so, because it took my par­ents anoth­er six weeks to find me.
Three years had passed. The infant they remem­bered had not only changed phys­i­cal­ly, but had wrapped him­self, emo­tion­al­ly and psy­cho­log­i­cal­ly, in the arms of the Dijk­stra fam­i­ly. My par­ents were strangers, I did not rec­og­nize them and I want­ed to return to my ​"real" par­ents. We were togeth­er again, but each mem­ber was for­ev­er dam­aged by the expe­ri­ence of war. For my par­ents, each day bled into the next, splat­tered with painful mem­o­ries. They were in an end­less state of mourning.
As for me, I was still wrapped, tight­ly, in my own inno­cence, but cracks were begin­ning to form on my porce­lain psy­che. Although reunit­ed with my real par­ents, I felt aban­doned by the only fam­i­ly I knew. I cried for Moed­er. I was angry, anx­ious, dis­tant and con­fused. I trust­ed no one.
Joseph Gosler was born in Gronin­gen, theNether­lands dur­ing WWII and after the war he emi­grat­ed to Israel with his fam­i­ly and sub­se­quent­ly to the Unit­ed States, where he has lived since. His life's jour­ney has been a cir­cuitous one and as a result he has often mean­dered off the main road. This is best exem­pli­fied by the 20 plus years it took him to achieve his BA in His­to­ry and MBA in cor­po­rate finance through the City Uni­ver­si­ty of New York.
For near­ly 40 years he has worked in edu­ca­tion­al set­tings rang­ing from day care cen­ters to pri­vate schools in the capac­i­ty of Busi­ness Man­ag­er. He and his wife found­ed a pre-school called Begin­nings Nurs­ery, have one son and live in New York City. Mr. Gosler retired from Friends Sem­i­nary in 2004, and today is active­ly involved in sev­er­al Quak­er projects, writ­ing, gar­den­ing, trav­el­ing and walk­ing his dog. ​"Search­ing for Home", describ­ing his life as a Hid­den Child, is his inter­na­tion­al debut.