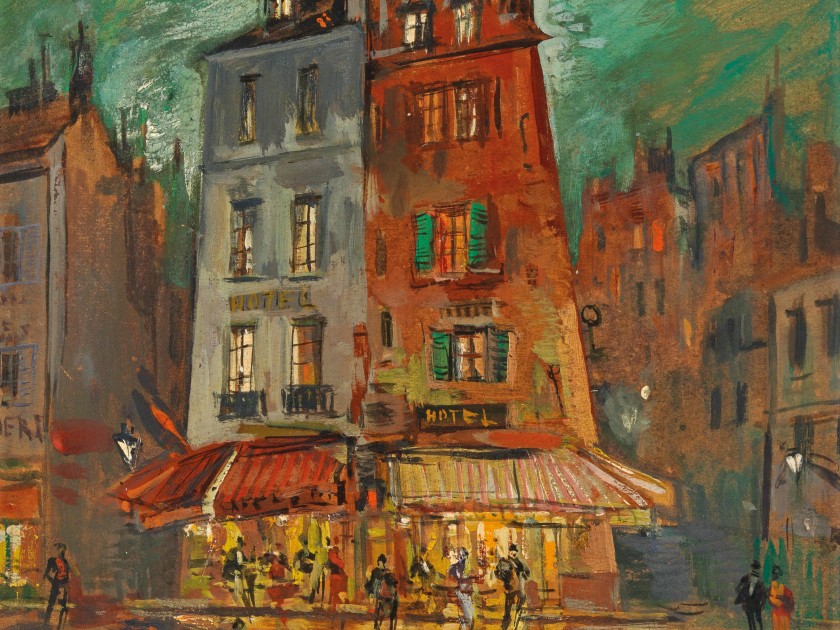 JBC pro­gram asso­ciate Michelle Zau­rov talks with author Mam­ta Chaudhry about mem­o­ry, place, belong­ing, and the Holo­caust. Chaudhry's book, Haunt­ing Paris: A Nov­el, is an ele­gant and prob­ing explo­ration of love, resilience, and the role of mem­o­ry — of a coun­try and of a loved one.
Michelle Zau­rov: Tell me a bit about what prompt­ed you to write this book. Why the Holocaust?
Mam­ta Chaudhry: This is a ques­tion I get asked a lot because I'm nei­ther French nor Jew­ish, nei­ther man nor ghost. How I came to write this is as mys­ti­fy­ing to me as it is to you. I grew up in Cal­cut­ta, I live in Mia­mi, and I've writ­ten about both. I didn't set out to write about Paris and cer­tain­ly not from this per­spec­tive. But you don't always choose your sto­ries, some­times they come look­ing for you. I spent a great deal of time in Paris and I want­ed to write some­thing set in the city that was real­ly light and fun — essen­tial­ly a love let­ter to the city of music, art, and light. But a friend of mine in Mia­mi had lived in Paris, and she told me that I had to vis­it the Depor­ta­tion Memo­r­i­al. It's behind Notre Dame, which soars up into the sky and this memo­r­i­al sinks down into the earth. There was a bronze cir­cle chis­eled with the words ​"they went to the end of the earth, and they did not return" and my hair rose as I remem­bered the French word for ghost: revenant, one who returns. That became the first line in my book: ​"They call us revenants, those who return." I heard this voice and I was com­pelled to fol­low it wher­ev­er it took me and that was the voice of Julien, the ghost.
MZ: How did you go about research­ing and gath­er­ing his­tor­i­cal facts?
MC: It was a gift to me that I met peo­ple in Paris who had actu­al­ly expe­ri­enced this. For exam­ple, I went to the Shoah memo­r­i­al to do research in its archives, and talk to the archivist and librar­i­an who rec­om­mend­ed books about the mass roundups of the Jews in Paris in 1942. As I was read­ing a book they rec­om­mend­ed, an elder­ly gen­tle­man came in and sat across the table from me. He had the sad­dest eyes I've ever seen and I asked him, ​"Are you doing research, too?" ​"No," he said ​"Témoignage," which is French for tes­ti­mo­ny. He was there to give tes­ti­mo­ny about that time and he looked at the book that I was read­ing, point­ed to it, and said, ​"that, I know." I was absolute­ly speech­less because this was just research to me, and it was a lived life to him. I asked him, ​"Isn't it hard for you to recall that time, even in ret­ro­spect?" He told me that it's very hard, but nec­es­sary. And that's when I knew I had to tell this sto­ry — there were a lot of peo­ple who didn't want to or couldn't tell it. When you're giv­en a sto­ry to tell, whether it's yours or not, you want to do it jus­tice. That's what's real­ly impor­tant. When I wrote it, I thought I was writ­ing about a time in his­to­ry that was tru­ly in the past, and now I see omi­nous signs that make me think it's more impor­tant than ever that peo­ple should know about this.
MZ: Do you think that writ­ing this book made you more aware of the Jew­ish plight and trau­ma back then and even the fear of anti­semitism now?
MC: It cer­tain­ly did. Since I'm Indi­an, I am a for­eign­er when I go to Paris and, obvi­ous­ly, I had not expe­ri­enced anti­semitism. But I have Jew­ish friends who ask, ​"Oh, isn't Paris anti­se­mit­ic?" In research­ing this book, I real­ized how long that his­to­ry is. Some­thing that the Auschwitz muse­um said which I found real­ly per­ti­nent was that the Holo­caust did­n't start with the gas cham­bers, it start­ed with lan­guage and dehu­man­iz­ing peo­ple. When you call peo­ple ver­min, rats, cock­roach­es, you make it seem okay for them to be exter­mi­nat­ed. It goes back much deep­er than just its most hor­ri­fy­ing man­i­fes­ta­tion. I guess this is also a project to edu­cate peo­ple — of course, every­body knows about the Holo­caust, but there are peo­ple who may not have a very clear idea. Some­one told me, ​"I knew what hap­pened. I knew they were round­ed up, but I did not feel it in this vis­cer­al way." That's some­thing that lit­er­a­ture can do that jour­nal­ism, per­haps, is unable to because it doesn't take you into the lives and minds of peo­ple the way lit­er­a­ture does.
MZ: What I love about your book is the way you wrote some­what of a love let­ter to Paris, yet you expressed such a deep crit­i­cism of not only its past but also the people's col­lec­tive amne­sia about it. Did you feel as though after writ­ing this book and learn­ing all that you did, it taint­ed your con­cep­tion of Paris?
MC: It showed me the dark under­side of the City of Light. I think that's true of any place as you learn more about its his­to­ry — it's always accom­pa­nied by a shad­ow. My nov­el is a love let­ter to Paris, the kind of love that is deep, rich and pro­found — but also involves heart­break and betray­al. It was such a betray­al for Julien that the city he thought of as home would turn on him in that way, but he still didn't stop lov­ing the city. It's nei­ther my city nor my betray­al, but this is the sto­ry of his­to­ry in many coun­tries and eras. I learned so much in the research, but in the end, I had to put it all aside. I want­ed to write it as some­one who's expe­ri­enced it and not shoe­horn in all the infor­ma­tion I learned unless it fit. There's a book about film edit­ing and it says that even when you cut things out, some­how traces remain in what is left, and I feel that way about writ­ing. You can cut out a lot of the ancil­lary stuff, but because you've done the research, it's still there giv­ing weight to what remains.
MZ: Is Julien's sto­ry based on any­one else's life or is his nar­ra­tive some­thing you created?
MC: A lot of peo­ple have a whole idea for a sto­ry — they just have it in their mind from the first sen­tence to the last. How I wish I were one of those peo­ple! Where I begin is with either an image that I can't get out of my mind, or a snatch of con­ver­sa­tion that I've heard, or some­thing that I become obsessed with that I can't stop think­ing about. In this case, I was walk­ing around by the riv­er and I heard a bit of music drift­ing down from a light­ed win­dow. I could­n't see who was play­ing the piano, but I got this glimpse of a man lean­ing for­ward lis­ten­ing very intent­ly to the music, and I couldn't shake that image. That lit­tle moment cre­at­ed a thread that I fol­lowed all the way to the end of the sto­ry. I thought, ​'what would be so strong to draw some­one back to this world?' That's how I got the idea for Julien. Dur­ing my research, I met my friend's rel­a­tives for tea in Paris, and one was a young girl dur­ing the Nazi occu­pa­tion who escaped the roundups while the rest of her fam­i­ly did not. Her son wrote a beau­ti­ful mem­oir about the fam­i­ly, which he gave me to read. It doesn't have to do with Julien but some of the things I got from the book applied to Julien's father's pro­fes­sion: he was a fur­ri­er. I had spent some time in Alsace, prob­a­bly the old­est Jew­ish com­mu­ni­ty in France, and that also worked its way in. I'm like a mag­pie, I'll find any­thing and bring it back to the nest and sit there and wor­ry over it until I can fig­ure out a way to use it or to trans­form it in some way.
MZ: Why did you decide to make Julien's char­ac­ter dead yet still have a voice in the book?
MC: I was a radio announc­er for many years, which gave me the expe­ri­ence of going out as a dis­em­bod­ied voice into cor­ners of cities that I would nev­er have gone to oth­er­wise, or inside homes that I would nev­er have vis­it­ed. This remind­ed me of a free­dom that allows you to know much more than you could know phys­i­cal­ly, which Julien pos­sess­es since he is able to be in the present and trav­el back in time to be absorbed into moments in the past. I also think that sense of yearn­ing and want­i­ng to return to this world was impor­tant to the whole notion of the book — that he had unfin­ished busi­ness which drew him back. If he were alive, then it would­n't be unfin­ished busi­ness, he could still pur­sue it. A ques­tion I get asked a lot is whether I believe in ghosts. Of course I don't. Yet, when you're in Paris or any oth­er city that's old and redo­lent of his­to­ry, you can't help but feel that ghosts are all around you. When I think about any his­to­ry or place or life, who can know it total­ly? Every­thing is a mys­tery, even the peo­ple we love; there's a mys­tery at the core of what­ev­er sto­ries we tell about them or what know about them. I like to think that only its ghosts know Paris.
MZ: Now that you said that, I real­ize that each char­ac­ter is inquis­i­tive about one anoth­er in some way. Sylvie is not only curi­ous about Julien's life, but also that of his ex-wife, Isabelle's, and Will's char­ac­ter is intrigued by Sylvie. There's this cir­cle of peo­ple won­der­ing about each oth­er and feel­ing mys­ti­fied by every­one else.
MC: Yes, that's true, and it's sim­i­lar to how we are in real life. We're quick to slap labels on peo­ple, like Isabelle who thought of Sylvie as just a com­mon young girl, when in fact she had a rich­ness of life and com­pas­sion that Isabelle could nev­er com­pre­hend. The Amer­i­cans in Paris are inter­est­ing because it's a sub­ver­sion of the com­mon ​"Amer­i­can in Paris" sto­ry — the Amer­i­can going there, hav­ing this trans­for­ma­tive expe­ri­ence and mak­ing Paris just become a back­ground. I want­ed it to be so that the Amer­i­cans are a back­ground for the sto­ry about the Parisians, because their lives will go on when the out­siders leave, the Amer­i­cans are not cen­tral to their life in any way. Will is intrigued by Sylvie because he thinks that if he gets to know her, he'll get to know the city. So, you're absolute­ly right about each char­ac­ter just won­der­ing about the oth­er and not ful­ly know­ing them but still reach­ing for an understanding.
MZ: In one pas­sage, Julien was walk­ing around and said: ​"Those glow­ing lights are like the unwink­ing gaze of his­to­ry, before which I low­er my eyes, ashamed that so many of my coun­try­men thought a moral reck­on­ing with our own cul­pa­bil­i­ty would tear us apart and chose amne­sia instead." Is this a cri­tique of people's mem­o­ry with tragedy and their accountability?
MC: Yes, absolute­ly. I think that what Julien was feel­ing about avoid­ing that moral reck­on­ing was that silence is a kind of com­plic­i­ty. I've often won­dered this about myself, would I have the courage to be the lone voice in the room to speak up when I know some­thing is wrong? We try too hard to believe, as the French did, that it's all in the past, that it'll tear the coun­try apart if we go back and deal with it, that it's more impor­tant to move for­ward and heal. Even when you're heal­ing, it is still there under­neath and it splits apart at moments of stress. If you don't deal with it, then it fes­ters, and it will bub­ble to the sur­face again. The French are so proud of their mot­to: lib­er­ty, equal­i­ty, fra­ter­ni­ty. Was there lib­er­ty and equal­i­ty in 1942? No there was­n't. So that's what I was talk­ing about with amne­sia — they want­ed to forget.
MZ: Do you feel as though your Indi­an roots play any role in writ­ing this book?
MC: I was born and brought up in Cal­cut­ta, so it's in me, and you can't help but take your­self wher­ev­er you are. One spe­cif­ic way that I con­nect my Indi­an roots to this is when Britain left, India was par­ti­tioned into two coun­tries: India and Pak­istan. My par­ents were Indi­an, specif­i­cal­ly Pun­jabi and lived in the part of Pun­jab which became Pak­istan, and this overnight divi­sion made them for­eign­ers liv­ing in inter­nal exile in their own coun­try. That's some­thing that stuck with me, espe­cial­ly when I was writ­ing about peo­ple who thought they were French their entire lives and sud­den­ly had their cit­i­zen­ship revoked. You are where you think you belong, and then sud­den­ly you no longer belong. I don't know that I could have writ­ten this if I had always lived in India and didn't gain this out­sider per­spec­tive from liv­ing in anoth­er country.
MZ: It seems like the expe­ri­ence of hav­ing a few places you call home real­ly man­i­fest­ed in this book since you include sev­er­al dif­fer­ent per­spec­tives and nar­ra­tive voices.
MC: It absolute­ly has, since I have been exposed to dif­fer­ent voic­es and tongues every­where. One of the things that real­ly affect­ed my writ­ing is my pas­sion for clas­si­cal music. I don't have a shred of musi­cal tal­ent, but I was a radio announc­er for a clas­si­cal music sta­tion. I spent my days just lis­ten­ing to music, being absorbed in it, and that has to do a lot with the voic­es, too. You can't have this mish­mash where every instru­ment sounds the same. That influ­enced my deci­sion to have my char­ac­ters' voic­es be dis­tinct. For instance, the concierge, Ana Car­val­ho, sounds very dif­fer­ent from Isabelle because clear­ly their sta­tion in life and class are reflect­ed in the way that they speak.
MZ: What are you work­ing on now?
MC: I'm work­ing on anoth­er man­u­script and the only thing I can tell you is that it's very dif­fer­ent from Haunt­ing Paris. I'm also try­ing to devote some time get­ting my book out in the world. I'm grate­ful for all the read­ers who have respond­ed so pro­found­ly and so per­cep­tive­ly to it, and I'm hop­ing it will make its way into the hands of more readers.
Michelle Zau­rov is Jew­ish Book Coun­cil's pro­gram asso­ciate. She grad­u­at­ed from Bing­ham­ton Uni­ver­si­ty in New York, where she stud­ied Eng­lish and lit­er­a­ture. She has worked as a jour­nal­ist writ­ing for the Home Reporter, a local Brook­lyn pub­li­ca­tion. She enjoys read­ing real­is­tic fic­tion and fan­ta­sy nov­els, espe­cial­ly with a strong female lead.