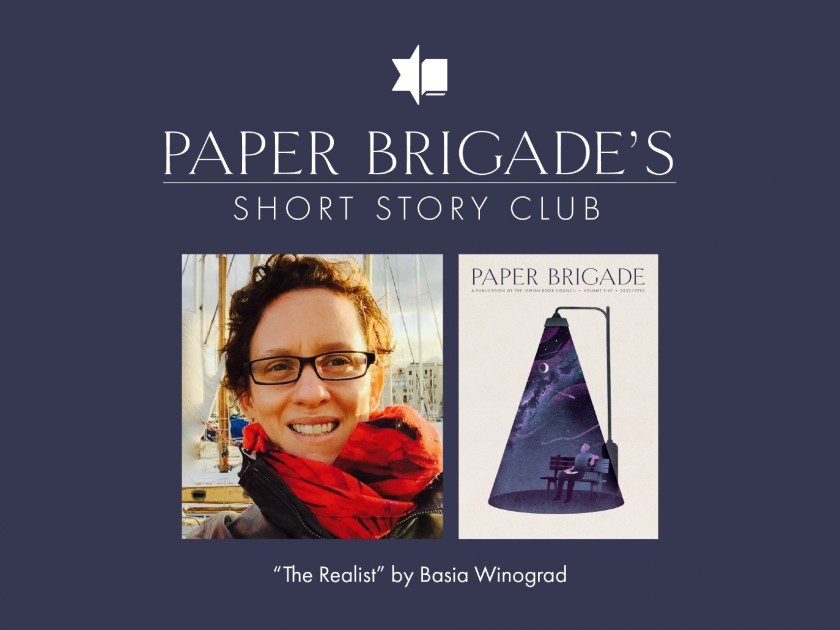 This month, Paper Brigade​'s Short Sto­ry Club had the plea­sure of host­ing Basia Wino­grad for a dis­cus­sion of ​"The Real­ist" – a sto­ry that fol­lows a young Pol­ish Jew­ish sol­dier as he strug­gles to rec­on­cile his patri­o­tism with mem­o­ries of his lost fam­i­ly after World War II.
Basia gen­er­ous­ly answered the attendee ques­tions we didn't have time to address dur­ing the meet­ing itself. Check them out – and watch a clip from the event – below!
Reg­is­ter for the last meet­ing of Paper Brigade​'s Short Sto­ry Club of 2022, fea­tur­ing Abi­gail Weaver, here.
I'm inter­est­ed in how Felix's expe­ri­ence of post-trau­mat­ic growth fig­ures into the sto­ry. Giv­en your prac­tice of inter­view­ing fam­i­ly mem­bers about your family's col­lec­tive sto­ry, I'm won­der­ing about the role of mem­o­ry in shap­ing Felix's growth.
Much of my inter­view­ing has been about the events of the 1960s that led to my family's emi­gra­tion. The emi­gra­tion is most­ly spo­ken of as a for­tu­nate event. Life in com­mu­nist Poland was grim com­pared to life in Queens, New York in the 1970s. For immi­grants from East­ern Europe like my fam­i­ly — high­ly edu­cat­ed, hard­work­ing, and white — Amer­i­ca real­ly was a land of oppor­tu­ni­ty. My grand­fa­ther — Hen­ryk Wino­grad, on whom Feliks is loose­ly based — became a sil­ver­smith and worked large­ly in Judaica. His work is still for sale in Judaica shops! (I've con­sid­ered using a sto­ry I've writ­ten about his life in 2010 as an epi­logue to the nov­el.) My father was a math­e­mati­cian in Poland and he became a taxi dri­ver here, but he will tell you he is very pleased with his life's tra­jec­to­ry. He has moved back to Poland in recent years, and he's seen as ​"the Amer­i­can" by his friends there. Per­son­al­ly, I do think the emi­gra­tion had to have been a trau­ma of sorts, but it's not spo­ken of in that way in my fam­i­ly. The Pol­ish com­mu­ni­ty in New York was incred­i­bly tight-knit when I was grow­ing up, and we lived our lives most­ly in Pol­ish. My own mem­o­ries of it are very hap­py. Some­times I think I write about those times out of nostalgia.
As for the pre­vi­ous gen­er­a­tion, Feliks's gen­er­a­tion: I was always told that my grandfather's moth­er and sib­lings died in the Holo­caust. I was also named after my grandfather's moth­er. So there was an aware­ness that we had a trag­ic past, but it was nev­er dwelt on. We didn't cel­e­brate Jew­ish hol­i­days, though matzah always appeared in the house around Passover (my grandfather's broth­er did remain reli­gious and I think it was his fam­i­ly that sent the matzah). My grand­fa­ther was a very hard­work­ing man. He did his sil­ver­smithing in the base­ment of his house in Queens. Oth­er than that, he watched a lot of news in his reclin­er in the liv­ing room. And he told sto­ries of the war, but not of life before the war. It was his wife, my grand­moth­er, whom I record­ed and still lis­ten to today. My father is also a sto­ry­teller and I grew up hear­ing his sto­ries about life in Poland, and his ear­ly years in Amer­i­ca. Both of his broth­ers, my uncles, have also told me their ver­sions in recent years.
I would love to hear about devel­op­ments in your writ­ing since this sto­ry was pub­lished in last year's issue of Paper Brigade.
In 2021, I got the great news that the Memo­r­i­al Foun­da­tion for Jew­ish Cul­ture would sup­port the com­ple­tion of the nov­el. This gave me a lot of con­fi­dence, and funds to trav­el to Poland to do some final research. Since then, I've com­plet­ed a first draft of the nov­el, made up of six chap­ters. Chrono­log­i­cal­ly, it starts with ​"The Real­ist," and ends in 1968, dur­ing that year's anti­se­mit­ic purges in Poland.
I plan to have the next, and hope­ful­ly final, draft ready in Octo­ber 2022.
When will the nov­el be published?
I'm keep­ing my fin­gers crossed that it will be soon!
What is the name of the novel?
The work­ing title of the nov­el is Noble Delu­sion­ists; the noble delu­sion being referred to is Feliks's cer­tain­ty that his loy­al­ty to Poland will help bring about a bet­ter, stronger Poland in which he will be seen as ful­ly Polish.
Please dis­cuss your short sto­ry writ­ing process. How many drafts did you go through to get to the final version?
I would have to guess at this, but I would say there were at least four full rewrites, where the sto­ry was restruc­tured com­plete­ly, and then lit­er­al­ly hun­dreds of hours of small­er line-lev­el rewrites. After the pub­li­ca­tion in Paper Brigade, I decid­ed to braid Feliks's sto­ry with that of his future wife, Lil­ka, who also arrives in War­saw in 1945. This took weeks.
"The Real­ist," for me, poignant­ly and with appro­pri­ate com­plex­i­ty, por­trays sur­vival. It is suc­cess, on one lev­el, but also uncov­ers the ongo­ing chal­lenges of sur­vival; a real­ist view of sur­vival. Was this your vision of the sto­ry as you wrote it?
Feliks tries so hard to ratio­nal­ize every­thing that has hap­pened in the pre­vi­ous five years. I imag­ine this is what any Jew in Poland (or any­one in Poland, for that mat­ter) had to do in 1945. There is a bit of irony in the title of the sto­ry, because Feliks's ​"real­ism" slips despite his best intentions.
As for whether Feliks's sur­vival was a suc­cess: When I start­ed writ­ing Feliks, he was a sec­ondary char­ac­ter in the sto­ry of his son, Tomasz, and there he is not the most lik­able char­ac­ter. He's not a bad per­son, but he's very com­pro­mised. He's had to make peace with the author­i­tar­i­an regime that he serves as an offi­cer of the army, for exam­ple. He's depict­ed as a sort of goofy, joke-crack­ing mid­dle-aged man who deflects seri­ous conversation.
So, life in Poland does com­pro­mise him. (He might tell you life any­where would have com­pro­mised him, though.)
I feel that Feliks feels like he's a Pole as much as he's a Jew. I feel like most of the Euro­pean Jews who I've known iden­ti­fy them­selves as Jew­ish, not Pol­ish or Lithuan­ian or Ger­man or Dutch, etc. Of course, my entire Jew­ish com­mu­ni­ty has been the chil­dren of Amer­i­can Jew­ish immi­grants. So, they are unlike Feliks?
Absolute­ly: the small minor­i­ty of Jews who remained in East­ern Europe after the war were a self-select­ed bunch who iden­ti­fied pri­mar­i­ly with their coun­tries. They were patri­ots. Many of them were very ide­al­is­tic, or even com­mu­nists. Some were artists of the avant-garde, who thought reli­gion was out­mod­ed. They were look­ing for­ward to a bright new real­i­ty free of super­sti­tion and eth­nic prej­u­dice. Mar­ci Shore wrote a fas­ci­nat­ing his­to­ry called Caviar and Ash­es about these Jews. To me, it's heart­break­ing that all their ideals went up in smoke when it became increas­ing­ly clear between the 1950s and the 1980s that Com­mu­nism was not going to work, at least in the East­ern Euro­pean con­text. Noble Delu­sion­ists, in its lat­er chap­ters, touch­es on this.
The Jews we know here in the US tend­ed to be those who iden­ti­fied pri­mar­i­ly as Jews, and there­fore had no desire to stay in East­ern Europe after the Holocaust.
In this sto­ry, how far from Łódź does Feliks live?
Feliks lives in War­saw, which is about eighty-five miles from Łódź.
You note that Felix had not heard Yid­dish since Pales­tine. I assume he left to fight in Europe. Can you com­ment on this part of his life?
Before 1939, Feliks would have spo­ken Yid­dish and Pol­ish in Łódź. As a sol­dier of the Pol­ish Army, he'd have spo­ken only Pol­ish with his fel­low sol­diers between 1939 and 1945. How­ev­er, Anders' Army stopped in Pales­tine for a spell before con­tin­u­ing on to Italy, so he would have heard some Yid­dish there.
For how long did Feliks live in Pales­tine? In what year does ​"The Real­ist" take place?
I read about Anders' Army in Nor­man Davies' book Trail of Hope, which is asso­ci­at­ed with this web­site: http://​ander​sarmy​.com. Anders' Army was in Pales­tine in 1943. Feliks would have been there a few months before being sent to the front in Italy.
Feliks comes back to Poland in 1945, a few months after the Ger­mans retreat­ed from War­saw. This sto­ry takes place in the fall of 1945.
What is the sig­nif­i­cance of the voice that Feliks hears through­out the story?
I stud­ied film direct­ing at the Pol­ish Nation­al Film School in Łódź. Part of my course­work there involved watch­ing hun­dreds of Pol­ish films. I noticed a pat­tern in the cred­its: in films made before 1968, a sig­nif­i­cant per­cent­age of the cast and crew had Jew­ish sur­names. After 1968, those names com­plete­ly dis­ap­peared. They dis­ap­peared for the same rea­son my fam­i­ly dis­ap­peared from Warsaw's phone book: in 1968, there was a gov­ern­ment-spon­sored anti­se­mit­ic cam­paign that purged Jews from work­places and universities.
I came to real­ize that much of Pol­ish film, music, aca­d­e­m­ic writ­ing, and oth­er forms of cul­ture from the inter­war peri­od through the 1960s was cre­at­ed by Jew­ish Poles. In ​"The Real­ist," Feliks's hal­lu­ci­na­tion begins with his mother's voice singing a song by Julian Tuwim, a Jew­ish poet whose poems are still mem­o­rized today by school­child­ren in Poland. (I recent­ly came across an Eng­lish trans­la­tion of one of his children's poems in a Man­hat­tan book­shop.) The fact that Tuwim was Jew­ish is either not wide­ly rec­og­nized or not wide­ly acknowl­edged in Poland. It's hard to say if peo­ple don't know about his eth­nic roots, or if men­tion­ing them is just sort of frowned upon. In any case, what this dis­com­fort with real­i­ty results in is a for­get­ting of how Jew­ish Poland real­ly is. Recent­ly I began to think of all the exist­ing films and music and art by Jews as a sort of ​"whis­per" that still sounds in the heads of all Poles today. Of course, as time pass­es, those whis­pers grow fainter.
The hum that Feliks hears through­out the sto­ry is a vari­a­tion on this ​"whis­per." It's his mother's voice, but it's also his con­science. It's say­ing ​"remem­ber me."