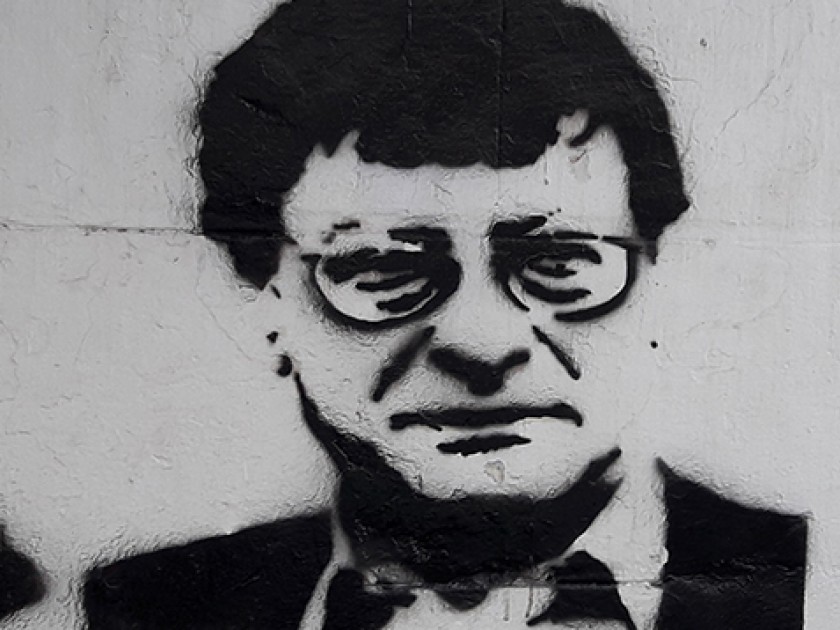 Moriel Roth­man-Zech­er is the author of Sad­ness Is a White Bird. He is blog­ging here as part of Jew­ish Book Coun­cil's Vis­it­ing Scribe series.
The first page of my nov­el, which is one of my favorite pages, owes every­thing to poet­ry. I wrote this page ear­ly in my process of sec­ond-draft­ing, and then revised it well over a hun­dred times: some of these revi­sions just entailed chang­ing one or two words, or alter­ing the spac­ing, but each of them felt extreme­ly con­se­quen­tial. It felt, in oth­er words, like edit­ing a poem. (I can recite the entire page by mem­o­ry, and would often revise out loud, while walk­ing or run­ning or rid­ing the bus: like in poems, the cadences and rhythms and sounds of the words all felt like they mat­tered as much as — if not more than— their lit­er­al mean­ings.) Beyond that, con­tained in this page are mul­ti­ple ref­er­ences to poems by Mah­moud Dar­wish and Yehu­da Amichai, a half-ref­er­ence to the poet­ry of the Book of Judges, and two lines that were par­tial­ly can­ni­bal­ized from my own unfin­ished poems, which now lie chewed up and for­sak­en in a dusty dig­i­tal fold­er some­where deep in the recess­es of my desk­top, nev­er to be opened again. (Sor­ry, lit­tle poems).
My novel's debt to poet­ry does not end there: the poem by Mah­moud Dar­wish, ​"A Sol­dier Dreams of White Lilies," plays a major role in the nar­ra­tive, and the novel's title is derived from one of the lines of this poem ("Sad­ness is a white bird that does not come near a battlefield/​Sol­diers com­mit a sin when they feel sad.") Oth­er poems by Dar­wish, ​"Iden­ti­ty Card" and ​"The Earth is Clos­ing On Us," are also quot­ed, and play impor­tant roles in the sto­ry, as do ​"My Moth­er Baked the Whole World for Me," by Yehu­da Amichai, and an unti­tled poem by the narrator's Saloni­can great-uncle Jacko Sadi­cario (which was also most­ly tak­en from an unfin­ished poem of my own). And then there are the ref­er­ences to the poet­ry of the Bible, and the sec­tions that seek to emu­late poetry's pac­ing and poetry's word-pair­ings and even poetry's ​'about'lessness. And indeed, the nov­el has been called ​"poet­ic," which I appre­ci­ate. But what about poet­ry itself: not poet­ic-but-ulti­mate­ly-plot­ted prose, or pieces of poems, or poet­ry-like rhythms, but actu­al poetry?
While writ­ing this book, I encoun­tered the fol­low­ing pas­sage from Ben Lerner's nov­el, Leav­ing the Atocha Sta­tion, quot­ed in his essay on poet­ry called ​"The Hatred of Poet­ry": ​"I tend­ed to find lines of poet­ry beau­ti­ful only when I encoun­tered them quot­ed in prose, in the essays my pro­fes­sors had assigned in col­lege, where the line breaks were replaced with slash­es, so that what was com­mu­ni­cat­ed was less a par­tic­u­lar poem than the echo of poet­ic pos­si­bil­i­ty." (Inci­den­tal­ly, Ben Lern­er is one of my favorite fic­tion and essay writ­ers, and I have been unable to res­onate with any of his poems I've read.) I found Lerner's pas­sage to be both indict­ing, and right-on. And it led to me the ques­tion: what debt do I, as a writer, owe poetry?
As a start, I declared a pri­vate micro-war on ital­ics, at least when it came to poet­ry, in my nov­el. At the very least, I decid­ed — know­ing my own instinct as a read­er to see poet­ry ital­i­cized in a book and skip over it, deem­ing it nonessen­tial, dec­o­ra­tive, uncrit­i­cal to the plot—I would de-ital­i­cize all poem frag­ments, in hope that the snip­pets of poet­ry embed­ded in the nov­el would not be skipped over so eas­i­ly. (This micro-war grew to include translit­er­a­tions that appear in the book as well. As poet­ry reminds us, words are not only mean­ings: they are also a col­lec­tion of scat­tered syl­la­bles and crunched-togeth­er con­so­nants. I hope the read­er will be a mote less like­ly to skip over uni­tal­i­cized frag­ments of Ara­bic or Hebrew or Judeoes­pany­ol, even if she speaks none of these lan­guages). And next, I hope that folks who res­onate with parts of this book will decide to read (or reread), in full, some of the poet­ry ref­er­enced in it, start­ing with Dar­wish and Amichai, and then con­tin­u­ing onwards, per­haps, to oth­er favorites of mine, both from the region — Taha Muham­mad Ali, Sami Shalom Shitrit, Yona Wal­lach, Nizar Qab­bani, Hezy Leskly — and from else­where — Ter­rance Hayes, Osip Man­del­stam, Allen Gins­berg, Robin Coste Lewis, Frank O'Hara, Rokhl Korn, Jacob Glat­stein, Mary Oliv­er, William Stafford, Ocean Vuong, Philip Levine. Or any oth­er com­plete poems, real­ly: my poetical/​polemical hope is that all of us read­ers of fic­tion and non­fic­tion and his­to­ry and essays and blogs — myself includ­ed — read a bit more poet­ry, for poetry's sake.
Moriel Roth­man-Zech­er is the author of the nov­el Sad­ness Is a White Bird (Atria Books, 2018), which was a final­ist for the Day­ton Lit­er­ary Peace Prize and the Nation­al Jew­ish Book Award, among oth­er hon­ors. His sec­ond nov­el, which fol­lows two Yid­dish speak­ing immi­grants from a fic­tion­al shtetl to Philadel­phia of the 1930s, is forth­com­ing from Far­rar, Straus and Giroux. Moriel's work has been pub­lished in The New York Times, the Paris Review's Dai­ly, Zyzzy­va Mag­a­zine, and else­where, and he is the recip­i­ent of the Nation­al Book Foun­da­tion's ​'5 Under 35' Hon­or, two Mac­Dow­ell Colony Fel­low­ships for Lit­er­a­ture (2017 & 2020), and a Wal­lis Annen­berg Helix Project Fel­low­ship for Yid­dish Cul­tur­al Stud­ies (2018−2019). Moriel lives in Yel­low Springs, Ohio, with his family.
Moriel is the cre­ator of the fic­tion­al char­ac­ters Math­ew L. Cohn, Marky Miller, and M. Pin­sky-Appel­baum as part of the series, What We Talk About When We Talk About the Golem.