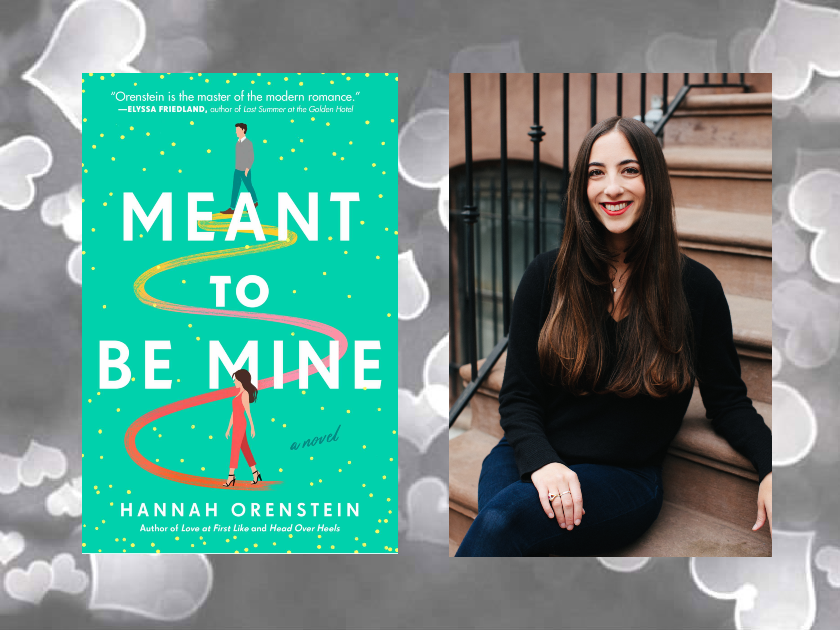 Simona Zaret­sky spoke with Han­nah Oren­stein about the influ­ences and inspi­ra­tions behind her lat­est nov­el Meant to Be Mine—a sto­ry of Jew­ish New York City, nav­i­gat­ing famil­ial pres­sures, and liv­ing with roman­tic uncertainty.
Simona Zaret­sky: New York City is so vivid­ly and lov­ing­ly por­trayed. Could you speak to the inte­gral role of set­ting in the novel?
Han­nah Oren­stein: This is such a com­pli­ment, thank you. My favorite books feel immer­sive, like I'm on vaca­tion some­where, and so set­ting is always impor­tant to me when I write. I began writ­ing this book dur­ing the first few weeks of the pan­dem­ic. Because it was such a bleak time, I want­ed to cre­ate some­thing that felt vibrant and burst­ing with glam­or. Edie is a roman­tic; she sees life through rose-col­ored glass­es, and she's cre­ative and styl­ish. It makes sense for her nar­ra­tion to pick up on the details of her sur­round­ings. It's also no coin­ci­dence that Edie lives in my own neigh­bor­hood, Williams­burg, and fre­quents all my favorite spots!
SZ: The Mey­ers' fam­i­ly lore is woven through­out the sto­ry and helps Edie to sit­u­ate her­self in the larg­er world. Even while Edie strug­gles with her feel­ings for Theo, she is bol­stered by her family's love. Can you speak on the family's impact here?
HO: Edie grew up in a close-knit fam­i­ly helmed by her grand­moth­er Glo­ria, the matri­arch. Glo­ria has a gift: she's accu­rate­ly pre­dict­ed the date that each mem­ber of the fam­i­ly will meet the love of their life. Her prophe­cies have shaped three gen­er­a­tions of the Mey­er fam­i­ly, and each mem­ber reacts to her pre­dic­tions in their own way. Some — like Edie's mom, Lau­rie — ini­tial­ly reject­ed the prophe­cy, only to wind up meet­ing their soul­mate exact­ly when Glo­ria pre­dict­ed. Oth­ers — like Edie — cling tight­ly to Glo­ri­a's word. This com­plete­ly shapes how Edie under­stands rela­tion­ships. She believes that hap­pi­ly-ever-afters real­ly exist (at least, for her fam­i­ly). Ulti­mate­ly, as Edie faces chal­lenges, her love for her fam­i­ly forces her to explore how she can hon­or beloved old tra­di­tions while still stay­ing true to herself.
SZ: Glo­ria in par­tic­u­lar is a huge force in Edie's life, loom­ing larg­er even than her moth­er at times. Can you speak on their relationship?
HO: Glo­ria is one of my favorite char­ac­ters I've ever writ­ten. She leapt onto the page and spoke so clear­ly to me right from the begin­ning. She's a glam­orous, eccen­tric, strong-willed woman with a bit of a sharp tongue and a fierce love for her fam­i­ly. She likes mar­ti­nis and Shal­i­mar and the New York City Bal­let. In many ways, she's inspired by my pater­nal grand­moth­er, Rose Orenstein.
With Glo­ria and Edie's rela­tion­ship, I was inter­est­ed in a few things: Grand­moth­er-grand­daugh­ter rela­tion­ships can some­times be smoother than moth­er-daugh­ter rela­tion­ships. Daugh­ters can chafe against their moth­ers, who in turn chafe against their moth­ers, leav­ing the youngest and old­est gen­er­a­tion with a bet­ter chance of find­ing com­mon ground. Edie strives to be just like Glo­ria — cos­mopoli­tan, solid­ly in love, fam­i­ly-ori­ent­ed, not so much of a house­wife but just tra­di­tion­al enough to make a knock­out mat­zo ball soup — and so there's a lot of affec­tion between them. You also see her roman­ti­cize her grand­par­ents' rela­tion­ship and the era they came of age in.
Final­ly, I want­ed their rela­tion­ship to show­case how spe­cial it is to be an adult with a healthy, liv­ing grand­par­ent. It's a dif­fer­ent kind of dynam­ic than the one you have as a kid, when you might take your grand­par­ents' exis­tence for grant­ed. I wrote this with my own mater­nal grand­par­ents in mind, who lived into my late twen­ties. As I was fin­ish­ing the first draft, they died less than a month apart. They had been togeth­er for six­ty-five years. Los­ing them — espe­cial­ly dur­ing a pan­dem­ic — ulti­mate­ly shaped this book in a few dif­fer­ent ways.
SZ: The idea of choos­ing roman­tic love is inex­tri­ca­bly linked with the pos­si­bil­i­ty of loss, yet Gloria's gift of pre­dic­tion removes this uncer­tain­ty. Could you dis­cuss this inter­est­ing dynam­ic, and how the known here actu­al­ly cre­ates ten­sion and unease for Edie?
HO: Edie views Glo­ri­a's prophe­cy as a gift, even as it brings pres­sure and new kinds of loss into her life. Six months pri­or to the events of this nov­el, she breaks up with her boyfriend because she knows he isn't The One, even though she tru­ly loves him. And when she does meet The One, things don't go quite as per­fect­ly as she hoped they would, which leads to plen­ty of stress.
When I was plan­ning this book in April 2020, we were sur­round­ed by ter­ri­ble uncer­tain­ty, and so the idea of being very cer­tain about one aspect of your life felt very appeal­ing to me. I thought that if I were in Edie's shoes, I'd want to know exact­ly when I'd meet my soul­mate. But as I dug into writ­ing her sto­ry, I real­ized how com­pli­cat­ed and dif­fi­cult it would be. Now, I would­n't want to know. Would you?
When I was plan­ning this book in April 2020, we were sur­round­ed by ter­ri­ble uncer­tain­ty, and so the idea of being very cer­tain about one aspect of your life felt very appeal­ing to me.
SZ: Edie's twin sis­ter, Rae, is viva­cious and seems to be glo­ri­ous­ly in love, at times act­ing as a foil to Edie and her own search for love. What was it like con­struct­ing their relationship?
HO: I want­ed them to share some com­mon val­ues while still hav­ing dis­tinct per­son­al­i­ties — part­ly because, as twins, they had to find ways to dif­fer­en­ti­ate them­selves and main­tain their sense of indi­vid­u­al­i­ty. In fam­i­lies, we often fall into cer­tain roles in rela­tion­ship to each oth­er, and that's cer­tain­ly the case here with Edie and Rae. Edie is intro­spec­tive and cre­ative; Rae is bois­ter­ous and prac­ti­cal. Rae prob­a­bly would've appre­ci­at­ed more time rev­el­ing in sin­gle life before set­tling down, but she met her match at just eigh­teen, where­as Edie was twen­ty-nine. So, while Edie has a rosy view of the prophe­cy, Rae strug­gled with it, even as she was falling deeply in love.
SZ: Edie's con­nec­tion to Judaism and Jew­ish iden­ti­ty is ren­dered through inti­mate Rosh Hashanah din­ners, Mahjong games, and oth­er small moments of rit­u­al and con­ver­sa­tion with fam­i­ly mem­bers. How did the char­ac­ters' Jew­ish back­ground inform the sto­ry and the tex­ture of who they are?
HO: I want­ed the Mey­er fam­i­ly to reflect my own. They aren't very reli­gious, but Jew­ish cul­ture shines through so many aspects of their life. There's a sprin­kling of Yid­dish through­out the book; Glo­ri­a's talk about soul­mates echoes the Jew­ish con­cept of bash­ert; the mat­zo ball soup recipe (print­ed at the back of the book!) is a direct copy of my own fam­i­ly's recipe.
My pre­vi­ous books have had Jew­ish pro­tag­o­nists, too, but their Jew­ish iden­ti­ty was much less present on the page. This time around, I want­ed the book to feel explic­it­ly Jew­ish. I won­dered if that might put off read­ers from oth­er back­grounds, but truth­ful­ly, every cul­ture is cen­tered around fam­i­ly and cares a lot about tra­di­tion and food. We have more in com­mon than we might think.
SZ: Cre­ativ­i­ty is such an inte­gral part of Edie's life and work as a styl­ist. What was it like to write about fash­ion and what drew you to it?
HO: I've always been inter­est­ed in fash­ion — I once interned for a wom­enswear design­er and have writ­ten about fash­ion as a jour­nal­ist. I decid­ed Edie would be a styl­ist sim­ply because I was sick of wear­ing sweat­pants and want­ed an excuse to write about a glam­orous indus­try. (And yet, I prob­a­bly wrote eighty per­cent of this nov­el while vol­un­tar­i­ly wear­ing sweat­pants.) I inter­viewed Audree Kate López, a styl­ist in New York City, and her insight was invalu­able when it came to craft­ing Edie's career.
SZ: What's the dat­ing advice you wish you received?
HO: My aunt mar­ried and divorced in her twen­ties. She did­n't remar­ry for anoth­er decade. Dur­ing that time, she lived with her best friend, she trav­eled the world, she found suc­cess in her career. I thought she had the most glam­orous life. I remem­ber her telling me to real­ly enjoy being sin­gle. That got some­what drowned out by oth­er sources over the years — who else remem­bers tak­ing those ​"Does he like me back?" quizzes in Sev­en­teen? — but now, I appre­ci­ate it very much.
SZ: What are you cur­rent­ly read­ing and writing?
HO: I'm read­ing Pat­sy by Nicole Den­nis-Benn and real­ly enjoy­ing it. The last book I read and loved by a Jew­ish author was The Matchmaker's Gift by Lyn­da Cohen-Loigman, which comes out in Sep­tem­ber. I'm writ­ing my next book and, while I can't say too much about it, I will say there's anoth­er unique Jew­ish fam­i­ly at the cen­ter of it.
Simona is the Jew­ish Book Coun­cil's man­ag­ing edi­tor of dig­i­tal con­tent and mar­ket­ing. She grad­u­at­ed from Sarah Lawrence Col­lege with a con­cen­tra­tion in Eng­lish and His­to­ry and stud­ied abroad in India and Eng­land. Pri­or to the JBC she worked at Oxford Uni­ver­si­ty Press. Her writ­ing has been fea­tured in Lilith, The Nor­mal School, Dig­ging through the Fat, and oth­er pub­li­ca­tions. She holds an MFA in fic­tion from The New School.