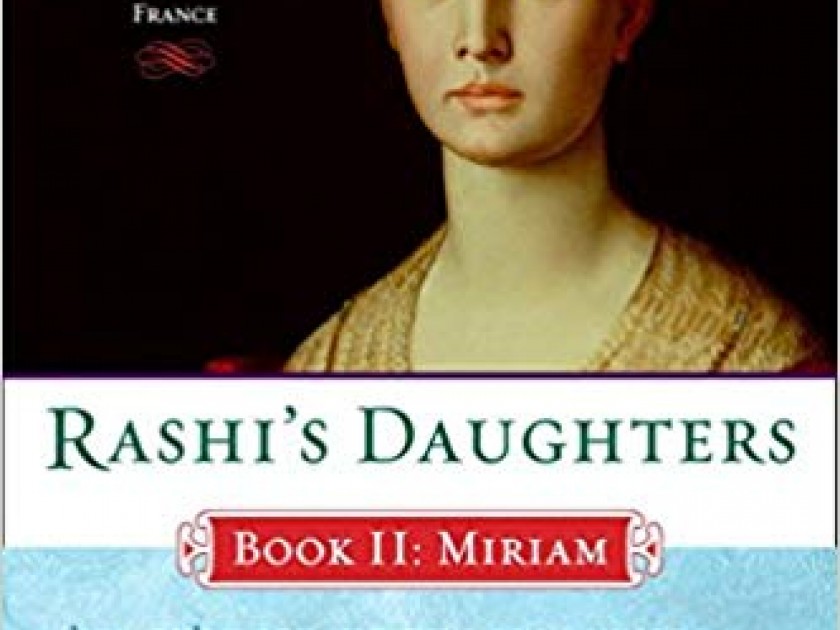 In her last posts Mag­gie Anton, the author of the Rashi's Daugh­ters tril­o­gy, reviewed Elie Wiesel's Rashi and wrote on being a his­tor­i­cal nov­el­ist.
When I first decid­ed to write a tril­o­gy of his­tor­i­cal nov­els about Rashi's daugh­ters, one for each, I knew that the third book, on Rachel, would con­tain scenes occur­ring in the First Cru­sade. In par­tic­u­lar I would be writ­ing about the destruc­tion of Rhineland Jew­ry in the Spring of 1096. Antic­i­pat­ing that research­ing this sub­ject could be painful, I delib­er­ate­ly put it off as long as pos­si­ble. And while some ​'eye­wit­ness' accounts were indeed hor­rif­ic, I dis­cov­ered that much of what I thought I knew about how the First Cru­sade affect­ed Euro­pean Jew­ry was more mis­con­cep­tion than reality.
The biggest mis­con­cep­tion Jews have about the First Cru­sade is that it direct­ly caused the destruc­tion of medieval French and Ger­man Jew­ry. But it is only with 20 – 20 hind­sight that we can see Euro­pean Jews begin­ning to lose sta­tus and anti-Semi­tism ris­ing after the First Cru­sade. Judg­ing by its almost com­plete absence in con­tem­po­ra­ne­ous Jew­ish writ­ings, most Jews took lit­tle notice of events in the Rhineland in 1096, just as they had ignored the Berbers' destruc­tion of Jew­ish life in Tunisia fifty years ear­li­er. A large num­ber of peo­ple were killed dur­ing the First Cru­sade, and the 10,000 Ger­man Jews who died, either by their own hand or at the hands of cru­saders, was dwarfed by the over 100,000 peas­ants of the People's Cru­sade who per­ished with­out reach­ing the Holy Land and tens of thou­sands of knights who died on the journey.
Yet I firm­ly believe that the First Cru­sade was instru­men­tal in bring­ing about the Jews' decline – first for eco­nom­ic rea­sons. Until the cru­saders came en masse to Byzan­tium and the Holy Land, Jews had a monop­oly on long dis­tance trade between Chris­t­ian Europe and the Mus­lim Lev­ant, buy­ing sur­plus pro­duce cheap in one locale and sell­ing at a prof­it in the oth­er. Franks and Ger­mans paid high prices for silk and spice, just as Egyp­tians and Arabs paid high prices for woolens and wine, with nei­ther group know­ing how lit­tle these items cost in their native lands.
Once Chris­tians reached the Lev­ant, two things hap­pened: 1) they grew angry at how the Jews had ​'over­charged' them; 2) they real­ized how prof­itable the busi­ness was and [Ital­ians in par­tic­u­lar] became mer­chants them­selves. In less than 100 years, the great Ital­ian city-states had not only bro­ken the Jew­ish trad­ing monop­oly, they had sup­plant­ed the Jews as the chief finan­cial pow­ers in Europe. Over the same time peri­od, the rise of craftsman's guilds affil­i­at­ed with spe­cif­ic church­es [which obvi­ous­ly exclud­ed Jews] led to fur­ther lim­it­ing of Jews' choice of occu­pa­tions. Giv­en a choice between doing busi­ness with Jews and Chris­tians, most Euro­peans patron­ized their com­pa­tri­ots, fur­ther erod­ing the Jews' income.
But the mas­sacres of the First Cru­sade had anoth­er, more insid­i­ous, effect on rela­tions between Chris­tians and Jews. Chris­tians were hor­ri­fied to see Jews kill them­selves to avoid bap­tism. They were out­raged that Jews would kill their own chil­dren rather than let them be cap­tured, and the only expla­na­tion Chris­tians could imag­ine was that Jews were some­how lack­ing in human feel­ings. It was only a small step to believe that Jews must be some­thing oth­er than human, some­thing less than human, demon­ic even. Judaism was no longer Christianity's ​'lit­tle broth­er' who shared the same Bible, but an ene­my of Chris­tian­i­ty with its own hereti­cal text, the Tal­mud.
Jews, know­ing that Ger­man burghers opened their city gates to the cru­sad­ing hordes and joined in their attacks, began to dis­trust Chris­tians in gen­er­al. Each side viewed the oth­er with increas­ing enmi­ty. When many Ger­man Jews who were forced to apo­s­ta­tize returned to Judaism [and were viewed as heretics by the Church], those who remained Chris­tians were nev­er quite accept­ed. The expan­sion of the Inqui­si­tion, orig­i­nal­ly cre­at­ed to root out Cathars and Albi­gen­sians, focused the Church's atten­tion not only on con­vert­ed Jews sus­pect­ed of being Chris­tians in name only, but also on Jews who encour­aged their for­mer core­li­gion­ists to back­slide. No one with Jew­ish ​'blood' was safe from their scruti­ny, and any­one with a grudge against either a Jew or for­mer Jew had only to report them to the Church to get revenge. Thus anti-Semi­tism grew into a thriv­ing enti­ty that has con­tin­ued for almost 1000 years, one that was only indi­rect­ly caused by the First Crusade.
Mag­gie Anton's newest book, Rashi's Daugh­ters, Book III: Rachel: A Nov­el of Love and the Tal­mud in Medieval France, is now avail­able. Vis­it http://​www​.rashis​daugh​ters​.com, her offi­cial website.
Mag­gie Anton is an award-win­ning author of his­tor­i­cal fic­tion, as well as a Tal­mud schol­ar with exper­tise in Jew­ish wom­en's his­to­ry. Intrigued that the great Jew­ish schol­ar Rashi had no sons, only daugh­ters, she researched the fam­i­ly and their com­mu­ni­ty. Thus the award-win­ning tril­o­gy, Rashi's Daugh­ters, was born. Since 2005, Anton has lec­tured about the research behind her sev­en books at hun­dreds of venues through­out North Amer­i­ca, Europe and Israel.