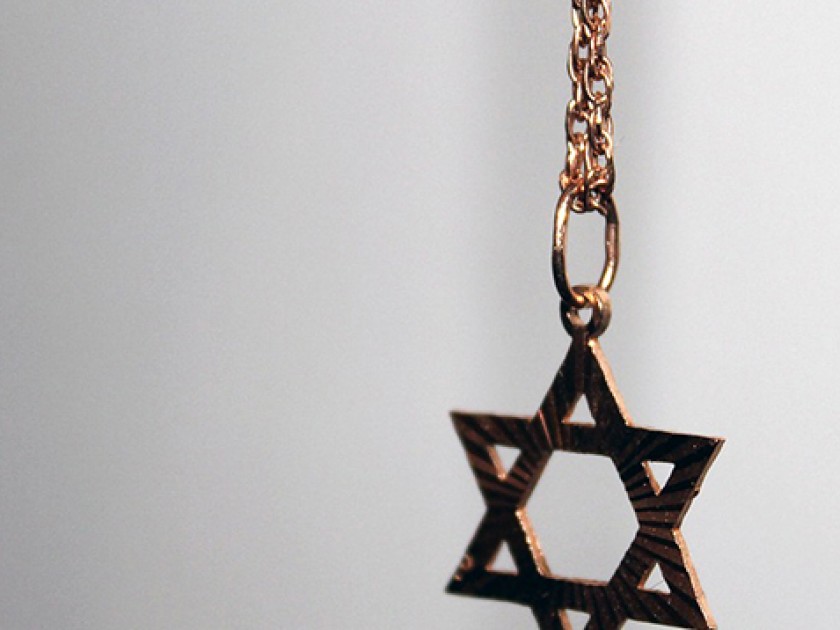 Piper Weiss is writ­ing here as part of Jew­ish Book Coun­cil's Vis­it­ing Scribe series.
When I was twelve, my father gave me a neck­lace — a pen­dant with a gold wafer, etched with a Jew­ish star. It was the per­fect length for flip­ping between my teeth dur­ing Eng­lish class, or suck­ing on dur­ing the Lord's Prayer at school assemblies.
My par­ents chose the all-girls pri­vate school I attend­ed for its aca­d­e­m­ic rig­or and rep­u­ta­tion. The week­ly prayers rit­u­al was sim­ply part of the school her­itage. I wasn't required to recite the bible vers­es or sing the hymns; at times, though, I want­ed to. A cho­rus of 600 girls chant­i­ng in uni­son was seduc­tive. It didn't mat­ter what they were say­ing — what they were say­ing, to me, was that they belonged.
My father instruct­ed me to not say the prayers. I sucked on my star in sali­vary resis­tance. The con­di­tion of being apart from the group, it seemed, was my own her­itage. We were cho­sen, my father would trump, as if we were on a win­ning team. We were per­se­cut­ed, I had read in my Hebrew school text­book, which made win­ning all the more tri­umphant. We were resilient, I had learned over Passover din­ner and on a trip to the Jew­ish Muse­um, and in doc­u­men­taries my father and I watched togeth­er — and that resis­tance is what kept us alive. Resis­tance was how I existed.
So, at age twelve, my star neck­lace became a sym­bol of team spir­it — not unlike a Boston native might wear a Red Sox hat — as a stake in my own inher­it­ed identity.
"I wouldn't wear that to school every day," my moth­er said one day, point­ing to the neck­lace. It wasn't the right place for that, she explained, and I under­stood enough to remove it and return it to the box in which my father had pre­sent­ed it. That was no longer my team, but a sym­bol of strad­dling between two ideas: Be proud, be qui­et. It was a reminder that I didn't know where I belonged.
My par­ents were grad­u­ates of For­est Hills High School in Queens, where the stu­dent body in the late ​'50s was large­ly Jew­ish. But as chil­dren of immi­grants, they were treat­ed as out­siders by the world beyond their com­mu­ni­ty. My father was reg­u­lar­ly threat­ened because of his back­ground (his col­lege room­mate asked to see his horns), which only embold­ened his Jew­ish pride. My moth­er, no less proud, had a dif­fer­ent reac­tion to anti-Semit­ic sen­ti­ment. She was raised to iron her hair smooth, to down­play her nose, to fol­low the aes­thet­ic expec­ta­tions of a cul­ture she was expect­ed to assim­i­late to rather than shape.
Togeth­er, they moved to Manhattan's Upper East Side — a world away from their Queens upbring­ing — where they joined the geo­graph­i­cal ranks of those wealthy coun­try club mem­bers who once shunned their kind.
But belong­ing to such a com­mu­ni­ty they didn't inher­it came with unspo­ken caveats. Per­haps my moth­er wor­ried that it could all be tak­en away. Per­haps she asso­ci­at­ed wear­ing the Jew­ish star with such a risk as it had been for her own par­ents. Per­haps she didn't know that in reclaim­ing the sym­bol, the reverse might be true. I didn't know either. I just missed the sim­plic­i­ty of belong­ing to a team — the reminder of who I was or wasn't in times of doubt.
In place of the star, I was giv­en a Tiffany neck­lace, the one all the girls wore at school. The pen­dant was a hol­low sil­ver lima bean. When I sucked on it dur­ing prayers, it flat­tened out into a mis­shapen thing with teeth marks.