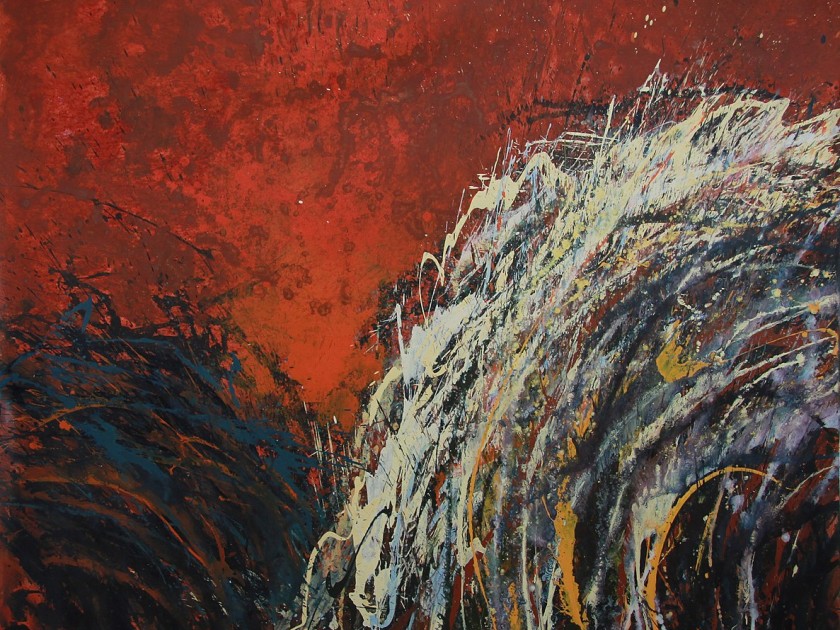 The day my chil­dren Anna and Lucas turned sev­en, I start­ed writ­ing Lilith's sto­ry, which would become The Night Trav­el­ers. The num­ber sev­en became an obses­sion. I remem­ber a sen­tence that hov­ered over a blank page for sev­er­al days about Ally, Lilith's moth­er: ​"She want­ed the days to stand still, for Lilith not to grow, for them nev­er to cel­e­brate birth­day num­ber sev­en. If only we could stop time, she thought." It was around Lilith's sev­enth birth­day that Ally's night­mares began. Mine too.
Some­times I would see myself in front of my chil­dren (I have three: Emma 17, Anna and Lucas, 13) detail­ing their fea­tures, observ­ing their pro­files, ana­lyz­ing their skin col­or, each so dif­fer­ent from each oth­er. The hues of their eyes, the tex­ture of their hair, the size of their fore­head, the shape of their nose.
I stud­ied the Nurem­berg Race Laws as part of my research for my his­tor­i­cal nov­els and I found myself won­der­ing if my chil­dren would have sur­vived. Nazi eugen­ics laws were specif­i­cal­ly based on the research of doc­tors from Pasade­na, Cal­i­for­nia. In the first half of the twen­ti­eth cen­tu­ry, the method these doc­tors devel­oped gave rise to the invol­un­tary ster­il­iza­tion of some 70,000 peo­ple in the US. Ster­il­iza­tion con­tin­ued to be prac­ticed in cer­tain states, includ­ing Vir­ginia and Cal­i­for­nia, until 1979.
It was on that sev­enth birth­day of my chil­dren that the sto­ry of The Night Trav­el­ers was born — a sto­ry that goes from 1920s Berlin to 1940s Havana, from 1970s New York and Dus­sel­dorf to present-day Berlin and Havana. A sto­ry of four gen­er­a­tions of women, sep­a­rat­ed by time and unit­ed by sacrifice.
What choic­es does a moth­er or father make in order to save their child?
When I fin­ished writ­ing The Night Trav­el­ers, we were liv­ing through the cri­sis of aban­doned chil­dren on the Mex­i­co-US bor­der. Fam­i­lies sep­a­rat­ed, chil­dren impris­oned in makeshift cages. I remem­ber, while cov­er­ing this cri­sis as a jour­nal­ist, hear­ing many times how the women who sent their young chil­dren alone were ques­tioned and condemned.
What choic­es does a moth­er or father make in order to save their child?
I thought of the par­ents who sent their chil­dren (some 10,000) to Eng­land dur­ing the Kinder­trans­port pro­gram to save them from the Nazi death camps; of the more than 14,000 chil­dren that Cuban par­ents sent alone to the US (Oper­a­tion Pedro Pan), to pro­tect them from the Com­mu­nist Party.
Sad­ly, his­to­ry tends to repeat itself.
It was in Aus­tralia, dur­ing the launch of The Ger­man Girl in 2017, that some­one in the audi­ence asked me if my nov­el was inspired by the refugee cri­sis. At the time, tens of thou­sands of Syr­i­an refugees were cross­ing bor­ders in Europe, try­ing to find a coun­try that would take them in. No, I clar­i­fied, I had fin­ished writ­ing my book two years pri­or, in 2015. I am also a refugee, I added.
Since then I have real­ized that all my nov­els in their own way exam­ine the fear we have of the ​'oth­er': the one who has a dif­fer­ent skin col­or, believes in a dif­fer­ent God, speaks with a dif­fer­ent accent, has a dif­fer­ent sex­u­al ori­en­ta­tion. The day we accept and respect our dif­fer­ences, that day, I am con­vinced, the world will be a bet­ter place.
Arman­do Lucas Cor­rea is an award-win­ning jour­nal­ist, edi­tor, author, and the recip­i­ent of sev­er­al awards from the Nation­al Asso­ci­a­tion of His­pan­ic Pub­li­ca­tions and the Soci­ety of Pro­fes­sion­al Jour­nal­ists. He is the author of the inter­na­tion­al best­seller The Ger­man Girl, which is now being pub­lished in six­teen lan­guages. For The Night Trav­el­ers, Cor­rea received the Cre­ative Writ­ing Award of the Cin­tas Foun­da­tion Fel­low­ships (2022). He lives in New York City with his hus­band and their three children.