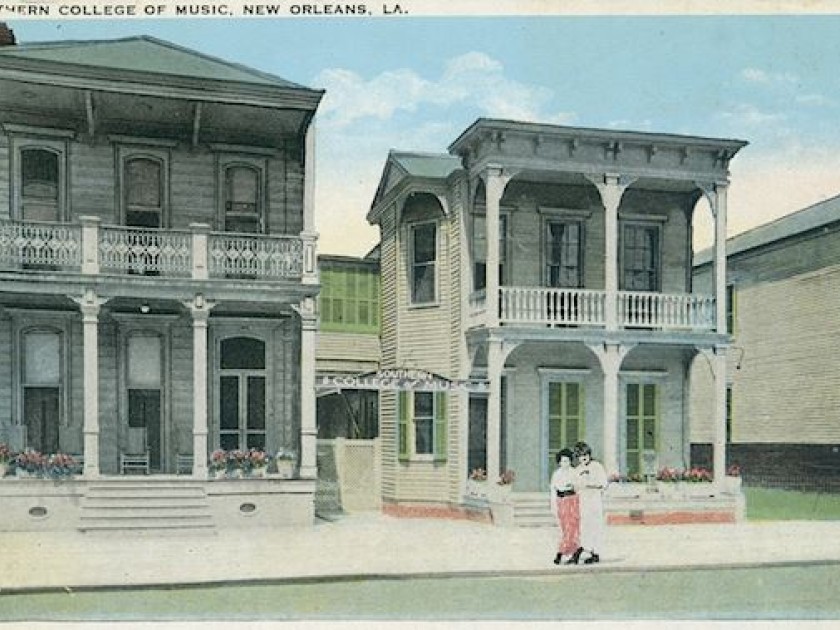 Every nov­el has at least one back­sto­ry. In the case of The Dress­mak­ers of Prospect Heights, I had two dis­tinct sto­ries in mind, and my chal­lenge was to find a way to weave them togeth­er, as if I were braid­ing challah.
The first of these takes place in New Orleans, a set­ting that is cen­tral to the back­ground of Beat­rice Carr, one of the novel's main char­ac­ters. I first vis­it­ed the city in 1988 and fell instant­ly in love. The look of it, the mélange of cul­tures — South­ern, French, Span­ish — the food, music, and his­to­ry all con­tributed to its appeal. After that trip, New Orleans was on my radar. So when I came upon the book Empire of Sin by Gary Krist, I dove right in. It was from Krist that I learned about Sto­ryville, or The Dis­trict as it was also called — a des­ig­nat­ed area in which pros­ti­tu­tion was legal dur­ing the years between 1898 and 1917. In fact, it was not only legal, but on full and lav­ish dis­play: Basin Street, sit­u­at­ed across from the rail­road sta­tion, was lined with broth­els, each more opu­lent than the next. Their own­ers — often women — became celebri­ties of the demi­monde, a class asso­ci­at­ed with men who wield­ed influ­ence and pow­er. Pros­ti­tu­tion was a huge busi­ness that in turn helped fuel oth­er busi­ness­es, since hun­dreds of musi­cians, cooks, wait­ers, and ser­vants were need­ed to keep the wheels turning.
Wide­ly avail­able guides called Blue Books were designed to inform the con­stant influx of tourists and plea­sure seek­ers about a vast array of city going­son. Although they were filled with ads for restau­rants, cafes, and clubs, the Blue Books served chiefly as a list­ing of pros­ti­tutes. One of the entries read like this: Cau­casian, twen­ty-one, Jew­ish. Jew­ish! This was news to me. As an Ashke­nazi Jew myself, I had heard many immi­gra­tion sto­ries, sto­ries in which those who were chased out of the old coun­try found their way to a new one. But the sto­ry of a Jew­ish pros­ti­tute in New Orleans was not some­thing I'd encoun­tered before; and since I am a nov­el­ist, not a his­to­ri­an, I decid­ed that I want­ed — no, need­ed — to imag­ine my way into such a life. I set about research­ing, try­ing to make the peri­od real in my own mind so that I could make it real in the minds of read­ers. I read all that I could find, looked at scores of old pho­tographs, and made anoth­er trip to New Orleans. Soon, a char­ac­ter began to emerge: a young Jew­ish woman, far from home and cut off from fam­i­ly and friends, who finds her­self preg­nant. Dis­missed from her job, and with­out a hus­band or home, she begins work in a broth­el — first as a maid, lat­er as a pros­ti­tute, and even­tu­al­ly as a madam with a house of her own.
The oth­er braid of this sto­ry comes from my grand­moth­er, Tania Bright­man. She was an unhap­py, dif­fi­cult woman, prone to ter­ri­fy­ing bursts of rage. She was also a trou­bled and even trau­ma­tized soul who did not ful­ly under­stand the impact of her trag­ic past. Her father had been mur­dered, her moth­er attempt­ed sui­cide by swal­low­ing poi­son, and the Russ­ian rev­o­lu­tion destroyed the peace and sta­bil­i­ty of her home — and that was before she arrived in the Unit­ed States and lost three of her babies, loss­es for which she was nev­er able to for­give herself.
Because of her rages, I did not like her; and as I grew up, I found it easy to dis­tance myself from her, see­ing that we lived in dif­fer­ent states. So when she died, I was whol­ly unpre­pared for the flood of grief and regret I felt. I wished I had been more patient, more under­stand­ing, more lov­ing. Of course, it was too late to make amends with her. But writ­ing, as I have long thought, is a form of redemp­tion; and it was through my prose that I could reframe her sto­ry, giv­ing her the dig­ni­ty and com­pas­sion I'd with­held from her in life. And although she nev­er became a pros­ti­tute or madam, and nev­er even vis­it­ed New Orleans, it is her spir­it that ani­mates the char­ac­ter of Beat­rice Carr — and I can only hope I have done her justice.
Born in Chadera, Israel, Kit­ty Zeld­is is the pseu­do­nym for an award-win­ning author of eight nov­els and over thir­ty-five books for chil­dren. Her essay, arti­cles and short fic­tion have been pub­lished in many nation­al and lit­er­ary pub­li­ca­tions. She is also the Fic­tion Edi­tor of Lilith Mag­a­zine. Zeld­is lives in Brook­lyn, NY.