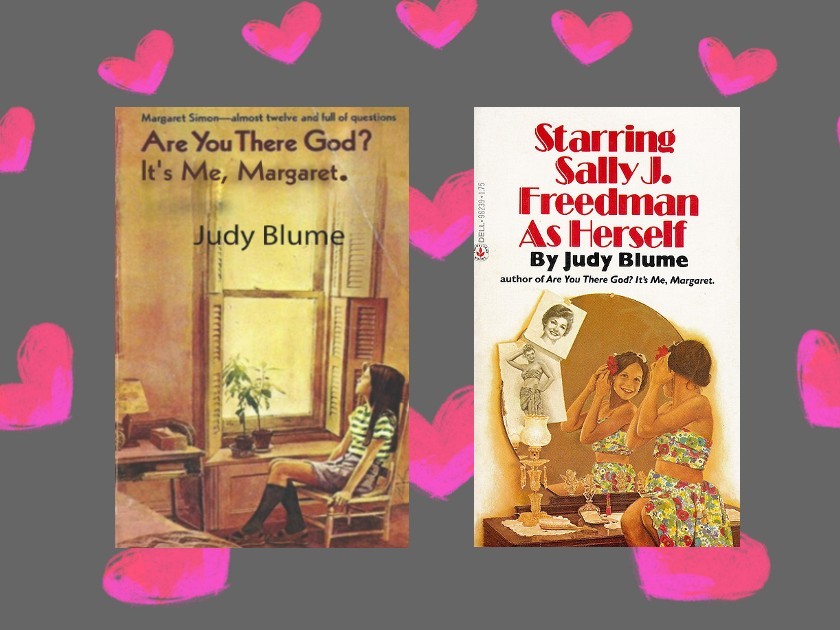 Eleven-year-old Mar­garet Simon is the pro­tag­o­nist of Are You There, God? It's Me Mar­garet., by Judy Blume. Mar­garet is the daugh­ter of an inter­faith mar­riage. When her estranged Chris­t­ian grand­par­ents vis­it, there is a tense exchange with Margaret's Jew­ish father over their granddaughter's reli­gious iden­ti­ty, which they claim is Chris­t­ian. Her father furi­ous­ly retorts that ​"Mar­garet is noth­ing!" ignor­ing his daughter's con­fu­sion and pain about who she is which is so cen­tral to the nov­el. When the book appeared in 1970, inter­faith mar­riage was increas­ing dra­mat­i­cal­ly and made Margaret's fam­i­ly sit­u­a­tion notably rel­e­vant. How­ev­er, Blume's nov­el was main­ly cel­e­brat­ed for Margaret's frank, one-sided con­ver­sa­tions with God, and the author's fem­i­nist approach to acknowl­edg­ing the phys­i­cal and emo­tion­al aspects of puber­ty. Her Jew­ish iden­ti­ty seemed over­shad­owed by oth­er issues.
Sev­en years lat­er, Blume would intro­duce a very dif­fer­ent char­ac­ter search­ing for self-def­i­n­i­tion in Star­ring Sal­ly J. Freed­man as Her­self, her most auto­bi­o­graph­i­cal children's book. Sally's fam­i­ly isn't tra­di­tion­al­ly obser­vant (like many Amer­i­can Jews of the ear­ly post­war peri­od), but close-knit fam­i­ly rela­tion­ships and the recent tragedy of the Holo­caust indeli­bly mark her as Jew­ish. Both nov­els and char­ac­ters imply ten­sion between reli­gious and cul­tur­al ways of being Jew­ish, but that divide takes on a dif­fer­ent dimen­sion in each of these com­ing-of- age sto­ries. Although there are only sev­en years between the two nov­els' pub­li­ca­tion, their set­tings are twen­ty years apart; much had changed in Jew­ish Amer­i­can life dur­ing that time.
Bar­bara and Herb Simon, Margaret's non-Jew­ish moth­er and Jew­ish father, have each reject­ed their reli­gious tra­di­tions; Mar­garet is afraid that she is ​"noth­ing." Her ques­tion to God, ​"I can't go on being noth­ing for­ev­er, can I?" is not a defi­ant chal­lenge, but an anguished plea to fill a sense of empti­ness. Today, children's books about reli­gious­ly hybrid fam­i­lies often reflect accep­tance, fea­tur­ing mul­ti­cul­tur­al cel­e­bra­tions which val­i­date both par­ents' back­grounds. Back in 1970, Mar­garet had no such luck. Reli­gious affil­i­a­tion in her New Jer­sey com­mu­ni­ty boils down to a choice of mem­ber­ship in the YMCA or the JCC. When her teacher asks stu­dents to fill out a ques­tion­naire, Mar­garet com­pletes the prompt ​"I hate" with ​"pim­ples, baked pota­toes, when my mother's mad and reli­gious holidays."
Mar­garet has only one con­nec­tion to Jew­ish life, her grand­moth­er, Sylvia. This Jew­ish matri­arch does not force feed chick­en soup to her fam­i­ly or whine about her son's neglect. Instead, she has cho­sen to make peace with Herb's deci­sion to inter­mar­ry. Unlike Barbara's par­ents, who dis­own her, Sylvia decides to adopt a prag­mat­ic approach as a par­ent and grand­moth­er, hop­ing to ensure Jew­ish con­ti­nu­ity through uncon­di­tion­al love. She is a stark con­trast to Margaret's mater­nal grand­par­ents, two-dimen­sion­al sym­bols of judg­men­tal prejudice.
We cel­e­brate Judy Blume for her bold chal­lenges to repres­sive stan­dards of expres­sion about female expe­ri­ence, but two of her cre­ations, Mar­garet and Sal­ly, also embody the com­plex ques­tion of what it has meant to be Jew­ish in America.
Yet Sylvia is only a ten­u­ous Jew­ish role mod­el. She brings deli food from the city to the Simon's New Jer­sey home, and inquires if Margaret's nonex­is­tent boyfriends are Jew­ish, but these rou­tines seem dis­con­nect­ed from the focus of Margaret's search. As part of her deci­sion to ask God for guid­ance, Mar­garet delights her grand­moth­er by ask­ing to accom­pa­ny her to ser­vices on Rosh Hashanah. This brief expo­sure to Judaism feels shal­low, no dif­fer­ent from the Pres­by­ter­ian ser­vice she lat­er attends with a friend. Both are marked by organ music and qui­et deco­rum. Even the rabbi's wel­com­ing Mar­garet with ​"Good Yom Tov…It means Hap­py New Year," feels per­func­to­ry; the phrase is a gener­ic hol­i­day greet­ing, not the ​"Shanah Tovah" used on the New Year.
Mar­garet talks to God but the cul­tur­al aspects of Judaism which her grand­moth­er rep­re­sents are not part of the con­ver­sa­tion. Blume, her­self the prod­uct of a cul­tur­al­ly Jew­ish but large­ly sec­u­lar back­ground, point­ed­ly com­ments on the dis­tance between these two aspects of being Jew­ish. She makes the most dis­tinct reli­gious event in the nov­el the Catholic sacra­ment of con­fes­sion. Mar­garet taunts her class­mate, Lau­ra, by repeat­ing nasty rumors about her, and then, while attempt­ing to apol­o­gize, fol­lows Lau­ra to her Catholic church. Pan­icked by her own cru­el­ty, Mar­garet enters a con­fes­sion­al. When the priest address­es her as ​"my child," she says she is sor­ry and runs away. Lau­ra has a clear advan­tage over Mar­garet, in her access to a rit­u­al where a pater­nal fig­ure offers solace. In con­trast, Herb and Barbara's desire to pro­tect Mar­garet from the trib­al­ism which has dri­ven their fam­i­lies apart, leaves Mar­garet feel­ing disconnected.
Many of Blume's read­ers, both in 1970 and today, undoubt­ed­ly share her sec­u­lar back­ground. The his­tor­i­cal set­ting of that sec­u­lar iden­ti­ty, how­ev­er, has changed. Blume based Star­ring Sal­ly J. Freed­man as Her­self on her own child­hood, grow­ing up after World War II as the daugh­ter of two Jew­ish par­ents. Like Mar­garet, Sal­ly is nav­i­gat­ing the unknown ter­ri­to­ry of young adult­hood and try­ing to pic­ture her own future. How­ev­er, unlike Mar­garet, this ten-year-old girl plays a fea­tured role in cin­e­mat­i­cal­ly imag­ined sce­nar­ios, in which Sal­ly res­cues rel­a­tives lost in the Holo­caust, or allows them to sur­vive by defend­ing themselves.
Sal­ly wor­ries about her per­son­hood as much as Mar­garet, but her fears have a dif­fer­ent con­text. Her beloved grand­moth­er, Ma Fan­ny, is griev­ing for rel­a­tives left behind in Europe. Unlike the assim­i­lat­ed and cul­tur­al­ly sophis­ti­cat­ed Sylvia, Fan­ny is vul­ner­a­ble and har­bors old-world super­sti­tions. Yet those qual­i­ties also pro­vide Sal­ly with a strong link to who she is and to what the Jew­ish peo­ple have lost. Sal­ly shares her fears about fam­i­ly mem­bers' frag­ile health with a Jew­ish school friend whose own father was killed in the Pacific.
Blume avoids sen­ti­men­tal­iz­ing the dev­as­tat­ing loss­es which inevitably affect Sal­ly and oth­er Amer­i­can Jews in the late 1940s, and which are absent from Mar­garet Simon's life. Sally's age-appro­pri­ate lack of self-con­scious­ness allows Blume to push bound­aries in scenes that are strik­ing­ly fun­ny, even when dead rel­a­tives and Hitler make appear­ances. Since the recent cat­a­stro­phe in Jew­ish life has lodged itself in her imag­i­na­tion, Sal­ly and her friends play ​"Con­cen­tra­tion Camp," with Sal­ly assur­ing the oth­er girls that ​"nobody has to be Hitler because he is away on busi­ness." She day­dreams about her cousin Lila, who had actu­al­ly been mur­dered by the Nazis. In the dream, Hitler is enticed by Lila's sweet-smelling per­fume, but Lila ​"whips her pis­tol out of her pock­et, points it at Hitler's gut and says, From all of us on the oth­er side." There is no ten­ta­tive search­ing for Jew­ish iden­ti­ty here; unlike Mar­garet, Sal­ly incor­po­rates his­to­ry into her oth­er – more per­son­al – anx­i­eties. Instead of being mur­dered, Jews avenge their loss­es and reverse history.
Tra­di­tion­al reli­gious obser­vance is less impor­tant than cul­tur­al iden­ti­ty, both in Sally's Flori­da com­mu­ni­ty and in Margaret's 1960s sub­ur­ban world. The one Ortho­dox fam­i­ly in the Freedman's apart­ment com­plex turns out to be judg­men­tal and puni­tive, sit­ting shi­va when their teenaged daugh­ter becomes preg­nant in a rela­tion­ship with a non-Jew. Sally's gen­tle and tol­er­ant grand­moth­er is the voice of humane Jew­ish val­ues, telling Sal­ly how shame­ful it is to equate a child's mis­take with death.
Mar­garet Simon and Sal­ly J. Freed­man are two Jew­ish girls in search of their place in the world. Their Jew­ish iden­ti­ty, Sally's unmis­tak­able and Margaret's ten­ta­tive, reflect chang­ing times. In 1947, when Star­ring Sal­ly J. Freed­man begins, the con­ti­nu­ity of Jew­ish life in Amer­i­ca was still large­ly a shared assump­tion, even among those who defined them­selves as Jew­ish more by cul­ture and his­to­ry than by faith and obser­vance. By the 1960s, most Jews were more ful­ly assim­i­lat­ed Amer­i­cans; Jew­ish iden­ti­ty was becom­ing more flex­i­ble and plu­ral­is­tic, but also more ten­u­ous. Eat­ing deli food and belong­ing to the ​"Y," as Mar­garet Simon knew, no longer guar­an­teed the secure iden­ti­ty that Sal­ly, for all her anx­i­eties, took for grant­ed. When Mar­garet asks God, ​"Why do I only feel you when I'm alone?" we can, per­haps, extrap­o­late that she is intu­it­ing that Jew­ish life is root­ed in com­mu­ni­ty, a premise which her par­ents have reject­ed based on their famil­ial predica­ment. Her mother's bland assur­ance that ​"God is a nice idea" is func­tion­al­ly use­less. Sal­ly explores ques­tions about death and sur­vival in a Jew­ish con­text: unortho­dox, incon­sis­tent, and yet ground­ed in her family's his­to­ry. We cel­e­brate Judy Blume for her bold chal­lenges to repres­sive stan­dards of expres­sion about female expe­ri­ence, but two of her cre­ations, Mar­garet and Sal­ly, also embody the com­plex ques­tion of what it has meant to be Jew­ish in America.
Emi­ly Schnei­der writes about lit­er­a­ture, fem­i­nism, and cul­ture for Tablet, The For­ward, The Horn Book, and oth­er pub­li­ca­tions, and writes about chil­dren's books on her blog. She has a Ph.D. in Romance Lan­guages and Literatures.