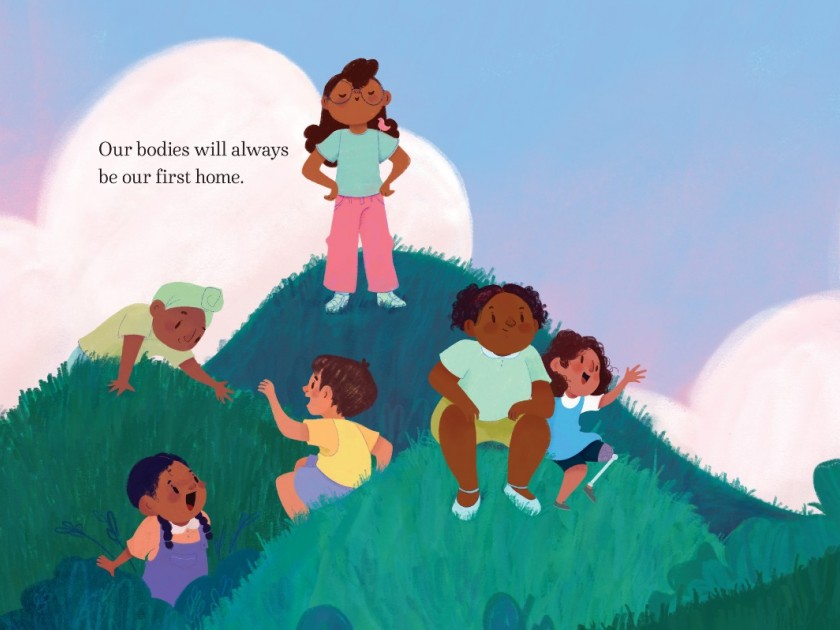 Cowrit­ing my new children's book, I Love My Body Because, was the utmost expres­sion of my Jew­ish iden­ti­ty. I am the daugh­ter of two rab­bis, and three of my four sib­lings are either rab­bis or study­ing to become rab­bis, so Judaism is ingrained in my soul.
As an adult, I don't focus on spe­cif­ic rit­u­al laws. Instead, I prize tikkun olam, repair­ing the world, as the most sacred and divine activ­i­ty in which we can engage.
My com­mit­ment to tikkun olam is inte­grat­ed into my work. I am a children's book author, and an artist who focus­es on empow­er­ing female bod­ies through pho­tog­ra­phy, a genre called boudoir. Since open­ing my stu­dio in Brook­lyn, in 2016, I have pho­tographed over eight hun­dred women and have heard the pain, shame, and dis­con­tent they feel toward their bodies.
Images in the main­stream media that cel­e­brate thin­ness as the par­a­digm of beau­ty dis­par­age thou­sands of oth­er body char­ac­ter­is­tics. This dimin­ish­es the vision of diver­si­ty and holi­ness that Judaism pro­claims in Gen­e­sis when the Torah teach­es that each per­son is cre­at­ed b'tzelem elo­him—in the image of God. I feel the need to offer a broad­er vision of beau­ty that can heal everyone's inner soul. I seek to help them to embrace the human form in all its vari­ety and cel­e­brate the things that their bod­ies have giv­en them the oppor­tu­ni­ty to do.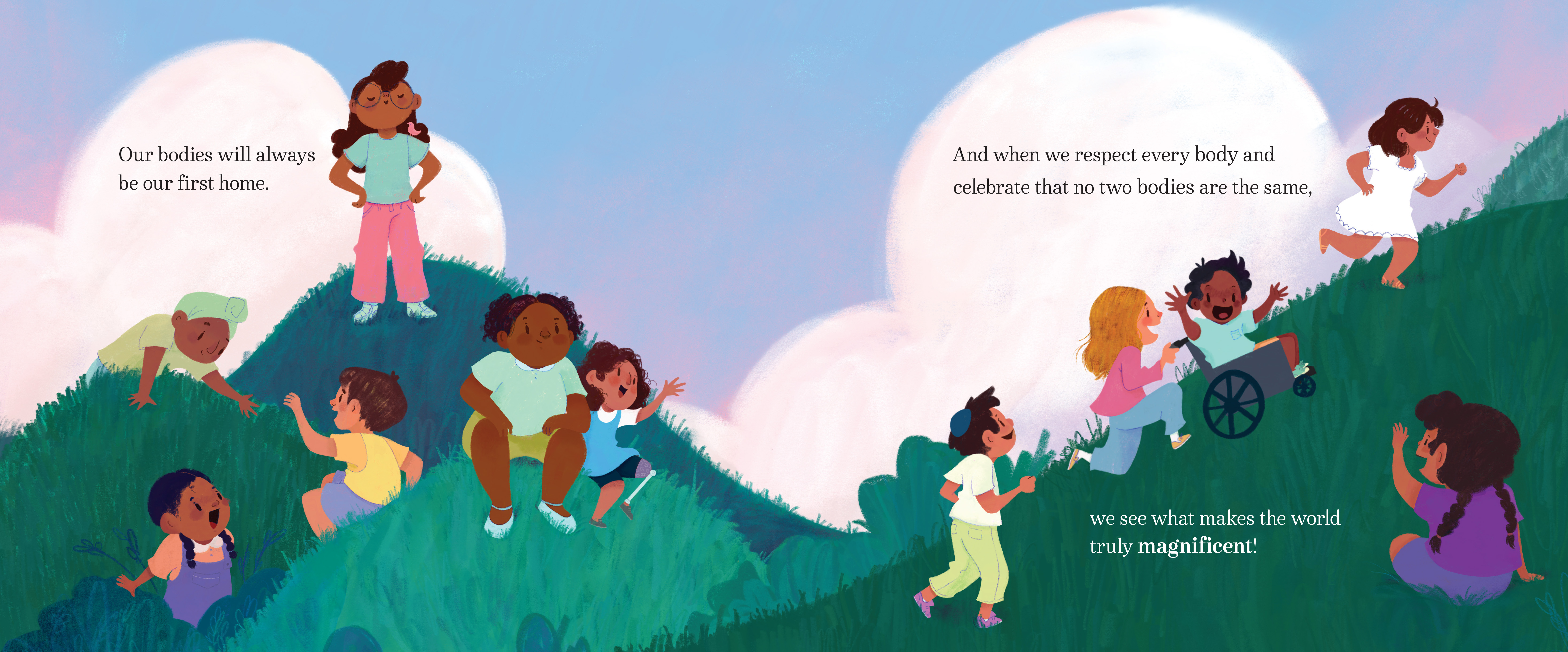 I coau­thored I Love My Body Because with my sister's best friend from col­lege, Shelly Anand. She vis­it­ed our fam­i­ly one sum­mer after­noon three years ago, when she had just sold her first children's book, Laxmi's Mooch—a sto­ry of body empow­er­ment about a lit­tle girl with a mus­tache—to a pub­lish­er. It inspired me, and we start­ed dis­cussing my work and the fact that the way we feel about our bod­ies starts at such a young age. We decid­ed to col­lab­o­rate and see what we could create.
The process from there felt holy. When we start­ed writ­ing, the words flowed through our core to the page. It was seam­less, it was ther­a­peu­tic, it was a joy. When we showed our man­u­script to Shelly's agent, she signed us, and the book was pur­chased by Simon & Schus­ter with­in a cou­ple of months. It felt like a process that was larg­er than our­selves — that it was an expres­sion of our deep­est hopes for a world that could be.
We hope that every child and adult who reads our book will under­stand that if we are all made in the image of God, we need to exer­cise more com­pas­sion for body diver­si­ty. If we bless the food before we eat, we need to also bless the body we are nurturing.
Today, the ​"com­pare and despair" envi­ron­ment is so preva­lent that we for­get to cel­e­brate what our body can do, and only focus on what it can't and what it isn't. I believe that our neshama, our soul, is housed in this human ves­sel that we indi­vid­u­al­ly have been giv­en through a divine and uni­ver­sal force. I believe it is holy to cel­e­brate this form, and to give thanks to our­selves and to the uni­verse for this pre­cious gift.
When I dream about peo­ple read­ing I Love My Body Because, I think about my bat mitz­vah speech, in which I dis­cussed the line from the Tal­mud (San­hedrin 37a): ​"Who­ev­er saves a sin­gle life is con­sid­ered by scrip­ture to have saved a whole world." If one child or adult feels bet­ter about their body by iden­ti­fy­ing with this book, then the mitz­vah of tikkun olam has been fulfilled.
Nomi Ellen­son is a boudoir pho­tog­ra­ph­er and body aware­ness artist in New York City. Her work focus­es on cel­e­brat­ing the indi­vid­u­al­i­ty and beau­ty of each woman she pho­tographs. Nomi received her BA in psy­chol­o­gy from Barnard Col­lege and splits her time between NYC and Mon­tego Bay, Jamaica. Find her boudoir pho­tog­ra­phy at www​.boudoir​byno​mi​.com