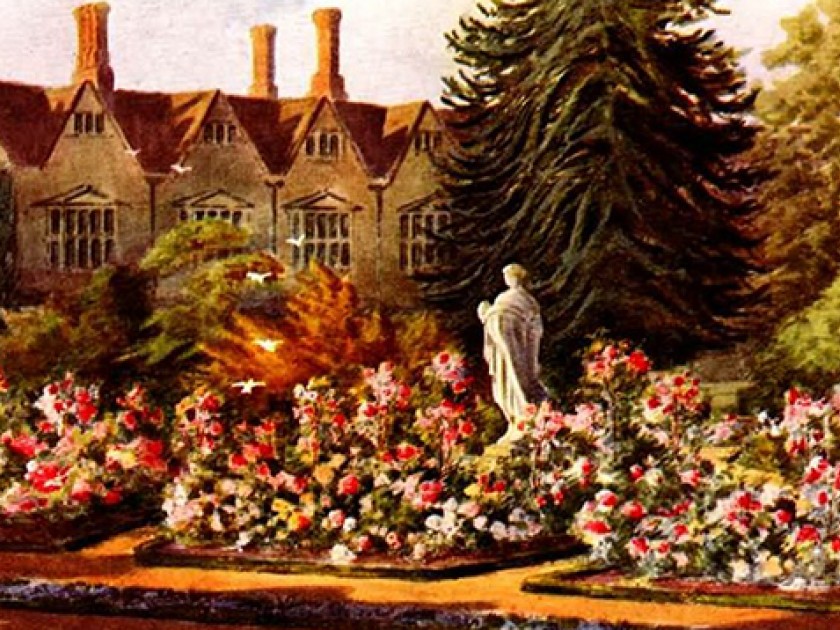 We set off on a blue-gold Sun­day morn­ing with no clear des­ti­na­tion, no defined pur­pose oth­er than to escape from the sun-baked metrop­o­lis: a tight­ly packed car­load of young peo­ple, fresh­ly mint­ed grad­u­ates, enjoy­ing our last sum­mer of free­dom before set­tling down to income-earn­ing respon­si­bil­i­ties. We had no spe­cif­ic goal. We had bathing cos­tumes and tow­els in case we reached the sea. We had an ample sup­ply of fruit and sand­wich­es. We knew that wher­ev­er we went in rur­al Eng­land we would find a pub to quench our thirst. The South Downs came to mind. Box Hill res­onat­ed for those of us who knew Jane Austen's Emma. Nev­er mind, we said, we'll see what crops up. We crossed the Thames and head­ed south-east, avoid­ing what was then, in the late 1940s, con­sid­ered a high­way and choos­ing instead the less-trav­elled lanes and byways lined with hedges where wild flow­ers grew sur­round­ing peace­ful pas­tures of calm­ly graz­ing sheep and cows. A per­fect day for aim­less ambling.
Sud­den­ly, a sign­post with the famil­iar emblem of the Nation­al Trust: Knole House. I gasped in excitement.
"We have to go there."
Willy, who'd been read­ing some of the same books as me, at once under­stood. He knew the con­nec­tion to Vir­ginia Woolf's Orlan­do. Knole was the ances­tral home of the Sackville-West fam­i­ly, the home of whose inher­i­tance Vir­ginia Woolf's lover, Vita, had been deprived only because she was a woman. The loss had been a tragedy for her. Nei­ther my broth­er nor I had pos­sessed the essen­tial back­ground knowl­edge when we first read the nov­el, spell­bound by the lus­cious prose, the twists and turns of plot, the bisex­u­al­i­ty of the pro­tag­o­nist (Vita, of course). Knole was an essen­tial part of Orlan­do. Now we had a chance of see­ing it, of vis­it­ing it and tra­vers­ing its rooms, court­yards, gal­leries and for­mal gardens.
Knole is a ​"cal­en­dar" house: 365 rooms, 52 stair­cas­es, 12 entrances, sev­en court­yards. It is sur­round­ed by 1,000 acres of wood­ed land, part of it a deer-park. At its heart lies the orig­i­nal, old­est part of the struc­ture, built in the mid­dle of the 15th cen­tu­ry, around which suc­ces­sive gen­er­a­tions added lay­er upon lay­er of accom­mo­da­tion. The long gallery is lined with por­traits of these Sackvilles. Here is, as Vir­ginia Woolf saw, a his­to­ry of Eng­land that cov­ers four cen­turies and more. We came out to the park, sat­ed: five young Jews, three of us not born in Eng­land, the oth­ers chil­dren or grand­chil­dren of immi­grants from Europe. We decid­ed to pic­nic right there, in the invit­ing shade of an enor­mous oak whose ample trunk indi­cat­ed it might well be as old as the house itself. I lay stom­ach down, my face cra­dled in my arms. Though it was well after lunchtime, I had no appetite. I breathed in the sweet scent of the grass. Unlike that of the Lon­don parks, it smelled fresh and untrod­den. For the first time in my life, I felt intense envy.
"Who is wealthy?" asked our eth­i­cal fathers, rhetor­i­cal­ly, reply­ing, ​"He who is hap­py with his lot."
It wasn't true or at least at that moment it appeared not to be true. What we had seen was true wealth, the wealth not only of prop­er­ty but of con­ti­nu­ity, of know­ing not only the names of one's great-grand­par­ents and their fore­bears but know­ing what they looked like, what they wore, what cor­ri­dors they tra­versed, where they mount­ed their hors­es, danced to the sounds of the tim­brel, made love; being able to vis­it their graves, pray in the pews in which they prayed. And us? My father had his father's Kid­dush cup. My moth­er lit her Shab­bat can­dles in the can­dle­sticks her moth­er had brought from Gali­cia. We had no pho­tographs of the shtetls in which my par­ents were born. We were fugi­tives, con­stant­ly uproot­ed, for­ev­er on the move. Willy and I even had a moth­er tongue that was not the same as that of our par­ents. Indeed, what was their moth­er tongue? Yid­dish, which their non-Jew­ish neigh­bours, born in the same coun­try, nei­ther spoke nor under­stood? Pol­ish, to which they resort­ed when they didn't want us to under­stand what they were say­ing; the lan­guage of ​"Pas devant les enfants"? Cer­tain­ly it wasn't Eng­lish, which rapid­ly became my moth­er tongue after we left Ger­many, while Willy con­tin­ued to count in Ger­man, to find plea­sure in clas­sic and con­tem­po­rary Ger­man lit­er­a­ture. Yet he nev­er was and would nev­er describe him­self as Ger­man. In Ger­many, we were Ostju­den. From after the Sec­ond World War, when we final­ly attained British cit­i­zen­ship, we were always British, nev­er specif­i­cal­ly Eng­lish. I mys­ti­fied the guard at the bor­der between Switzer­land and Italy when I pre­sent­ed my pass­port – and no won­der. It was Polish.
Oh, for the seren­i­ty, con­ti­nu­ity and sta­bil­i­ty of the Sackvilles and of Knole. Vita, ban­ished from her beloved Knole, deprived of her lega­cy because of her gen­der, could fall back on prop­er­ty ini­tial­ly less beau­ti­ful and cer­tain­ly of less­er per­son­al sen­ti­men­tal val­ue: Siss­inghurst, a manor house at which Queen Eliz­a­beth once spent three con­sec­u­tive nights. Even old­er than Knole, it had not been as well main­tained, because it nev­er remained for long in the hands of one own­er, but Vita and her diplo­mat-author hus­band Harold Nicol­son cre­at­ed there what is undoubt­ed­ly the most orig­i­nal and beau­ti­ful of Eng­lish coun­try gar­dens. It seemed a fit­ting place to which to con­tin­ue our day in the country.
The gar­dens were in full high-sum­mer flower, laid out like a series of rooms, each one with a ​"door", a gap in a hedge in between beds of tall flow­ers, through which one glimpsed a vista of a neigh­bour­ing room, as in a pic­ture gallery. Its abun­dant lush­ness, the vast vari­ety of colours and per­fumes, the tran­quil­i­ty (there were few vis­i­tors) were at one and the same time para­dox­i­cal­ly excit­ing and sooth­ing. And because the cre­ative project of recon­struc­tion and ren­o­va­tion had been under­tak­en only some 20 years ear­li­er, there was no evo­ca­tion of a cen­turies-long fam­i­ly saga. Here was some­thing I could cope with emo­tion­al­ly, though nev­er emu­late. A lit­tle gar­den of my own, even a small back­yard, a bal­cony, some­where where I could tend a few pot­ted plants. And where I could be hap­py with my lot…
From Nev­er a Native by Alice Shalvi. Copy­right © Alice Shalvi 2018. Reprint­ed with per­mis­sion from Hal­ban Publishers.
Leg­endary Israeli fem­i­nist leader, schol­ar, edu­ca­tor, and social jus­tice pio­neer, Alice Shalvi's name is syn­ony­mous with social activism and achieve­ment. Ridiculed as a child in post­war Lon­don as ​"lit­tle refugee," Alice made aliyah short­ly after Israel's inde­pen­dence and has been a lead­ing fig­ure in social jus­tice move­ments in Israel ever since.