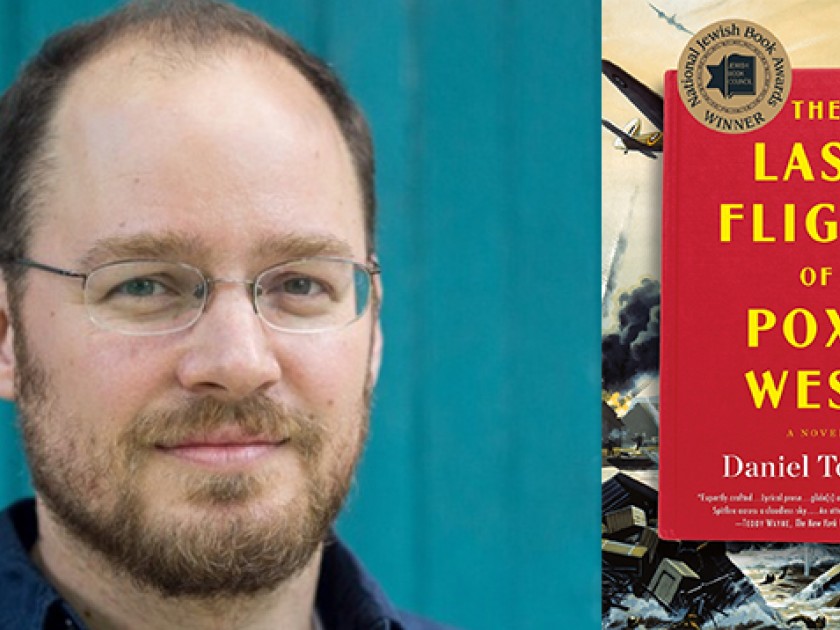 Jew­ish Book Coun­cil is proud to intro­duce read­ers to the five emerg­ing fic­tion authors named as final­ists for the 2017 Sami Rohr Prize for Jew­ish Lit­er­a­ture. Today, we invite you to learn more about Daniel Tor­day and his book, The Last Flight of Poxl West, a nov­el about a teenag­er and his rela­tion­ship with his uncle, a World War II hero of the Roy­al Air Force.
A warm con­grat­u­la­tions to Daniel and the oth­er four final­ists: Paul Gold­berg, Idra Novey, Adam Ehrlich Sachs, and Rebec­ca Schiff. Join Jew­ish Book Coun­cil on May 3, 2017 at The Jew­ish Muse­um for a dis­cus­sion with the authors and announce­ment of the recip­i­ent of the $100,000 Sami Rohr Prize for Jew­ish Lit­er­a­ture! Reg­is­ter for free tick­ets here »
What're some of the most chal­leng­ing things about writ­ing fiction?

All of it! The more time you spend writ­ing, the more you under­stand all the things that some­how won't work in a nov­el. Flan­nery O'Connor said it best: ​"You can get away with any­thing you can get away with as a writer, but nobody's ever got­ten away with much."
What or who has been your inspi­ra­tion for writ­ing fiction?
Harold Brod­key. Joan Did­ion. The Wire. Art Spiegel­man. Mar­i­lynne Robin­son, the paint­ings of Egon Schiele. Annie Dil­lard. Albert Gold­barth. Leonard Cohen, and Bob Dylan.
Who is your intend­ed audience?
I'd like to think I write for the read­er who loves to read as much as I do! I'm as hap­py re-read­ing Saul Bellow's short sto­ries, or some big thou­sand-page biog­ra­phy by Robert Caro, as I am watch­ing a base­ball game.
Are you work­ing on any­thing new right now?
I'm try­ing to put the fin­ish­ing touch­es on a new nov­el. It's ten­ta­tive­ly called BOOMER1. Though yes­ter­day it was ten­ta­tive­ly called some­thing else so who knows. It's about a guy in his ear­ly thir­ties who quits New York, moves into his par­ents' base­ment in sub­ur­ban Bal­ti­more and tries to foment a rev­o­lu­tion, spark­ing mil­len­ni­als to force baby boomers to quit their jobs.
What are you read­ing now?
Michel Houellebecq's The Ele­men­tary Par­ti­cles. Vivian Gornick's lit­tle book on Emma Gold­man, Rev­o­lu­tion as a Way of Life. Ger­shom Scholem's Sab­batai Sevi biog­ra­phy. Ron Chernow's Wash­ing­ton: A Life.
Top 5 favorite books
Anna Karen­i­na by Leo Tolstoy
Good­bye, Colum­bus by Philip Roth
Frog and Toad are Friends by Arnold Lobel
House­keep­ing by Mar­i­lynne Robinson
Rev­o­lu­tion­ary Road by Richard Yates
When did you decide to be a writer? Where were you?
Oh, I always want­ed to be a writer. At my bar mitz­vah, a suc­ces­sion of cousins and uncles sug­gest­ed I would make a great lawyer. Each, a lawyer him­self. I spent every Sep­tem­ber in my twen­ties buy­ing LSAT prep books on Ama­zon, and every Octo­ber not read­ing them. Luck­i­ly this writing/​teaching thing seems to be work­ing out, but there's always the Fall 2017 LSAT….
What is the moun­tain­top for you — how do you define success?
I was so excit­ed when I found out Michiko Kaku­tani was review­ing The Last Flight of Poxl West in the Times. I (embar­rass­ing­ly) wrote every­one I knew to tell them. My old col­lege friend, John Green, who has sold lit­er­al­ly tens of mil­lions of copies of his books, wrote back to say some­thing like, ​"That's cool, but you know what the best is? Just one per­son, some­where, tru­ly engaged with your work." So, that.
How do you write — what is your pri­vate modus operan­di? What tal­is­mans, rit­u­als, props do you use to assist you?
I for­get who but some­one smarter than me said some­thing along the lines of ​"the art of writ­ing is the meet­ing of the seat of the pants with the seat of the chair." So I try to be dis­ci­plined: sit­ting front of the com­put­er for three hours a day, all week long, when I'm at work. A whole lot of it's going to get thrown out, anyway.
What do you want read­ers to get out of your book?
I think the dream is for a read­er who feels they see the world a lit­tle more clear­ly, in a lit­tle more detail, and a lit­tle more gen­er­ous­ly, after clos­ing every nov­el they read. So if they read me, I'm just hap­py to know that's what they're doing when they do it.
Daniel Tor­day is the Direc­tor of Cre­ative Writ­ing at Bryn Mawr Col­lege. An author and for­mer edi­tor at Esquire mag­a­zine, Tor­day cur­rent­ly serves as an edi­tor at The Keny­on Review. His short sto­ries and essays have appeared in Esquire, Glim­mer Train, Harp­er Peren­ni­al's Fifty-Two Sto­ries, Har­vard Review, The New York Times, and The Keny­on Review. Tor­day's novel­la The Sen­su­al­ist won the 2012 Nation­al Jew­ish Book Award for debut fic­tion; The Last Flight of Poxl West received the 2015 Nation­al Jew­ish Book Award for Fiction.