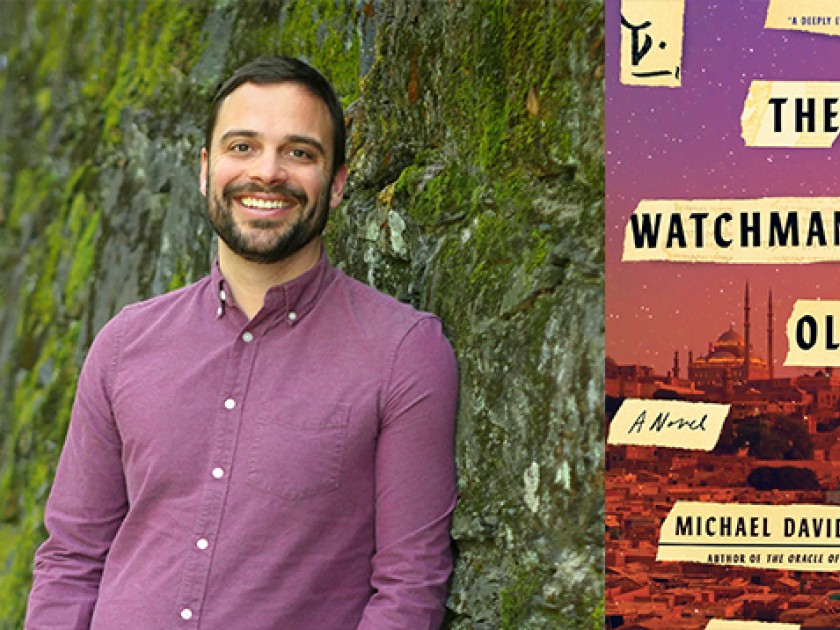 In advance of the 68th Annu­al Nation­al Jew­ish Book Awards cer­e­mo­ny on March 5th, 2019 (which you can buy tick­ets for here), Jew­ish Book Coun­cil is shar­ing short inter­views with the win­ners in each category.
Michael David Lukas's The Last Watch­man of Old Cairo is the win­ner of the 2018 JJ Green­berg Memo­r­i­al Award for Fic­tion. In a beau­ti­ful­ly writ­ten nov­el that tog­gles between Cairo in the eleventh cen­tu­ry, the nine­teenth cen­tu­ry, and the present day, Lukas has cre­at­ed a cap­ti­vat­ing sto­ry detail­ing the his­to­ry of Cairo's Ibn Ezra Syn­a­gogue, its trea­sures, and the divi­sions among peo­ple in its midst. The judges say: ​"Part fam­i­ly quest, part detec­tive sto­ry, Lukas weaves a thrilling tale that brims with intel­lec­tu­al and emo­tion­al pas­sion. This his­tor­i­cal­ly sig­nif­i­cant and dis­tinct­ly mod­ern nov­el is filled with eru­di­tion and charm."
Which three Jew­ish writ­ers, dead or alive, would you most like to have din­ner with?
That's a tough one. Part of me would want to invite Freud and Philip Roth then sit back and let them go at it. But, when it comes down to it, I think I would invite Emma Gold­man, Moses Mai­monides, and Franz Kafka.
What's your favorite book that no one else has heard of?
Not sure that no one's ever heard of it, but I'm a big fan of Wal­ter Ben­jam­in's Berlin Child­hood around 1900.
Which Jew­ish writ­ers work­ing today do you admire most?
Anoth­er tough one. But, if I'm think­ing about their influ­ence on my own writ­ing, I would go with Michael Chabon, Nicole Krauss, Etgar Keret, and Nathan Englander.
What are you read­ing right now?
Flights by Olga Tocar­czuk. I read in tran­sit, in lit­tle snips. And it's hard to imag­ine a bet­ter book for that mode of consumption.
What are your great­est cre­ative influ­ences (oth­er than books)?
My fam­i­ly, my stu­dents, and oth­er writ­ers. Also my dog, Rashi, who is almost always there with me when I'm writing.
What do you hope read­ers will take away from your book?
I hope every read­er takes from the book what they most need. As far as what I took away from the writ­ing process, the biggest thing was prob­a­bly a broad­er under­stand­ing of Jew­ish his­to­ry in gen­er­al and specif­i­cal­ly the his­to­ry of Mus­lim-Jew­ish coexistence.