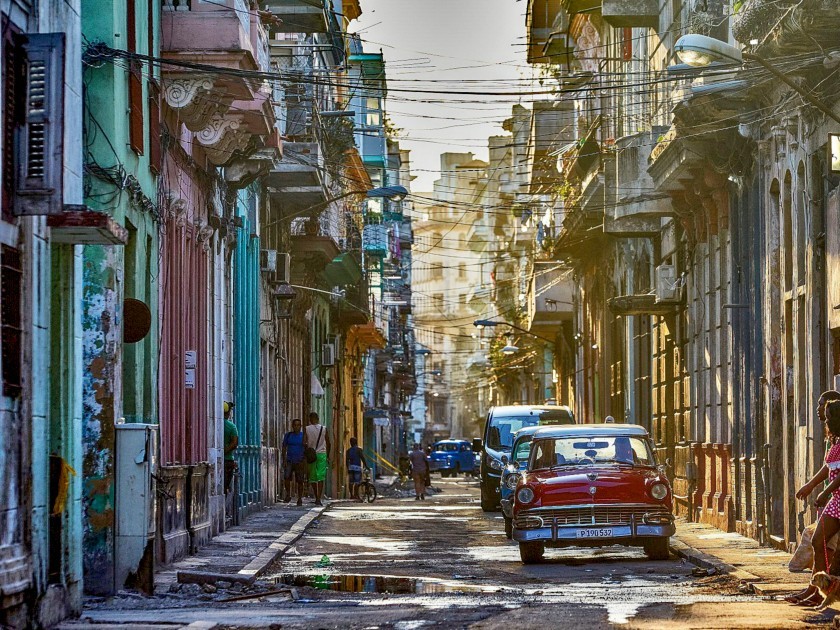 My Amer­i­can, Jew­ish, and Cuban iden­ti­ties are stitched into Asylum's nar­ra­tive. The hyphens that con­nect my Cuban-Amer­i­can-Jew­ish iden­ti­ty dan­gle. Who am I? I wrote a book to find answers to that ques­tion. My family's lan­guages are some of the more promi­nent fea­tures of Asy­lum: A Mem­oir of Fam­i­ly Secrets. There is a quin­tet of them — Eng­lish, Span­ish, Ladi­no, Yid­dish, and more recent­ly Spang­lish. They come togeth­er in a thick alpha­bet soup.
Here is what I know: I am los­ing my Span­ish, once the lan­guage of rau­cous hol­i­days with the Cuban side of my fam­i­ly. ​"Next year in Havana!" we shout­ed on Passover. Our arroz y fri­joles Thanks­giv­ing was mul­ti­cul­tur­al before the term was in com­mon use. Maria the land­la­dy, who lived above my aunt, banged her broom on the floor when our cel­e­bra­tions spilled out of my aunt's apart­ment. When we ignored her one too many times, Maria pound­ed on the door and screamed, ​"Why are you peo­ple so damn loud?"
I am los­ing my Span­ish. My moth­er is los­ing her mem­o­ry. Como se lla­ma tu hija? What is my daughter's name, she asks me. At the same time, she frets that los­ing the Span­ish she gave me is akin to los­ing my very soul. I, her first­born, was the only of her three chil­dren who spoke her lan­guage flu­ent­ly. Now when a Span­ish word starts to leave my brain, it's often trapped there and I can't utter it. I know it. I don't know it. I open my mouth, and a breath of my mother's queri­da idioma dis­si­pates in the air.
Los­ing my Span­ish is like los­ing my reli­gion, my bear­ings. My octo­ge­nar­i­an moth­er, who has con­sis­tent­ly spo­ken Eng­lish for almost sev­en decades, reverts to Span­ish in mid-sen­tence. I answer her with words that are half Eng­lish, half Span­ish; I speak Spang­lish to her. Cob­bling togeth­er a Spang­lish world is as easy as plac­ing a la or an el before a noun in Eng­lish. I default to it after a mighty strug­gle to speak my tetanus-rusty Span­ish. It feels impos­si­ble that I once trans­lat­ed entire soap opera episodes for my abuela.
I haven't been anyone's trans­la­tor for a long time.
That leads to anoth­er ques­tion: whose daugh­ter am I? My Amer­i­can father —a man who was so assim­i­lat­ed that I once described him as a WASPy Jew — was forged in the steely, flinty patri­o­tism of World War II. Much of Asy­lum por­trays not only my par­ents' cul­tur­al clash­es but also the gap­ing gen­er­a­tional chasm between them.
Los­ing my Span­ish is like los­ing my reli­gion, my bearings.
My father grad­u­at­ed in 1940 with a Yale degree and a naval com­mis­sion. He was twen­ty-one years old. That same year, Havana's Jews were still reel­ing after the St. Louis was turned away twice from Havana Har­bor in 1939. My moth­er lived near that har­bor. Although only four years old, she knew that her own par­ents' ner­vous­ness had metas­ta­sized into cold, drench­ing fear for the Jews on the ship. My abuela fran­ti­cal­ly tried to secure false bap­tismal cer­tifi­cates for our fam­i­ly. My abue­lo, almost cata­ton­ic, could not acknowl­edge that more than 900 Jews, most of them Ger­man refugees flee­ing the Nazis, were not allowed to dis­em­bark. The ship then head­ed to Flori­da and was so close to land that Miami's lights were in sight. The Jews were refused entry into the Unit­ed States as well and returned to the largest anti­se­mit­ic demon­stra­tion in Cuban history.
The ship final­ly returned to Ham­burg, where most of the pas­sen­gers per­ished in the Holocaust.
Twen­ty-one years lat­er, I was born in my father's home­town of New Haven, Con­necti­cut. Abuela came from Havana to care for my moth­er and me. Fam­i­ly lore has it that Abuela went back on one of the last direct flights from New York to Havana in the spring of 1961. Before she left she made my father promise to save my uncle, who would almost cer­tain­ly have been sent to cut sug­ar­cane in Cuba's interior.
My father arranged for my uncle to leave Cuba on a Pedro Pan flight — a CIA-orga­nized res­cue oper­a­tion in which des­per­ate Cuban par­ents sent their unac­com­pa­nied chil­dren to the Unit­ed States. A major plot point of Asy­lum con­cerns my father's mys­te­ri­ous gov­ern­men­tal con­nec­tions. At nine­teen, my uncle was old for a Pedro Pan kid. He was the first of my Cuban fam­i­ly to leave Havana as anoth­er sort of refugee.
So many of my fam­i­ly sto­ries are embroiled in mul­ti­lin­gual world his­to­ry — Cuban, Amer­i­can, Sephardic, Ashke­nazi. They tell of migra­tion upon migra­tion. I wor­ry that los­ing my Span­ish is akin to los­ing a piece of that his­to­ry. Spang­lish is the rick­ety life raft I board from a sink­ing ship. Spang­lish is what I have left of my Span­ish and my Lati­na identity.
Estas tra­ducien­do. My moth­er, always the lan­guage teacher, sens­es that I'm trans­lat­ing her Span­ish into Eng­lish in my head dur­ing one of my vis­its to her nurs­ing home. She detects it in my paus­es. For years she told her stu­dents they will know they are flu­ent in Span­ish the day they stop cal­cu­lat­ing from Eng­lish to Span­ish and back.
Entien­do todo, I insist. I under­stand every­thing. I tell my moth­er to put on Uni­visión. I can fol­low the noti­cias the shiny news anchors deliv­er. But it's eas­i­er to track the nov­el­i­tas — the Span­ish soaps — with their basic vocab­u­lary, their slow dic­tion in ser­vice to syrupy drama.
In Asy­lum , I point out that even at the height of my abil­i­ty to speak Span­ish, my ver­sion has always been as com­mon­place as the caf­feter­ra perched on my abue­los' stove­top brew­ing Cuban cof­fee. At my most flu­ent, I nev­er used the future tense. I spoke in the monot­o­nes of the present. When I made mis­takes using the past tense, my abue­los thought it was fun­ny. My uncle said my Span­ish was extraño, weird. My moth­er went beyond gram­mar and wor­ried I was los­ing my accent — the accent I hid behind as an imposter. With my mel­liflu­ous accent, sure­ly I must have appeared as a native speaker.
My moth­er lost her Cuba almost sev­en­ty years ago. Her yearn­ing to return to the house on la cal­lé Mer­céd was mes­sian­ic. Every Cuban I knew when I was a kid burned with the same fer­vor of recla­ma­tion. When I went there myself in 2012, my moth­er ini­tial­ly protest­ed. Lat­er, she was afraid to see the pic­tures I took of her patria, par­tic­u­lar­ly of her house in the neigh­bor­hood near the har­bor — the neigh­bor­hood aching­ly close to the phan­tas­magoric St. Louis and her doomed passengers.
I reclaimed my Span­ish in Cuba. After a few sun­ny days, I was speak­ing like a Cubana again. No inter­nal trans­lat­ing. No paus­ing. No hes­i­tan­cy. I was noth­ing less than Lat­inx. Taxi dri­vers rec­og­nized my accent as their own. Bien­veni­da a tu casa, they said.I was home.
But I am los­ing my Span­ish again. I am los­ing my moth­er. With whom will I speak the rem­nants of that lan­guage when she pass­es? Where will I hear my mother's deco­rous and ancient Ladino?
Who will stir my alpha­bet soup with me?
Judy Bolton-Fasman's essays and reviews have appeared in major news­pa­pers includ­ing the New York Times and the Boston Globe. Her work has appeared in essay antholo­gies and lit­er­ary mag­a­zines such as McSweeney's, Brevi­ty, Cat­a­pult, and Cognoscen­ti, She is the recip­i­ent of numer­ous writ­ing fel­low­ships and has won four Rock­ow­er Awards from the Amer­i­can Jew­ish Press Asso­ci­a­tion. Judy is the arts and cul­ture writer for Jew​ish​Boston​.com.