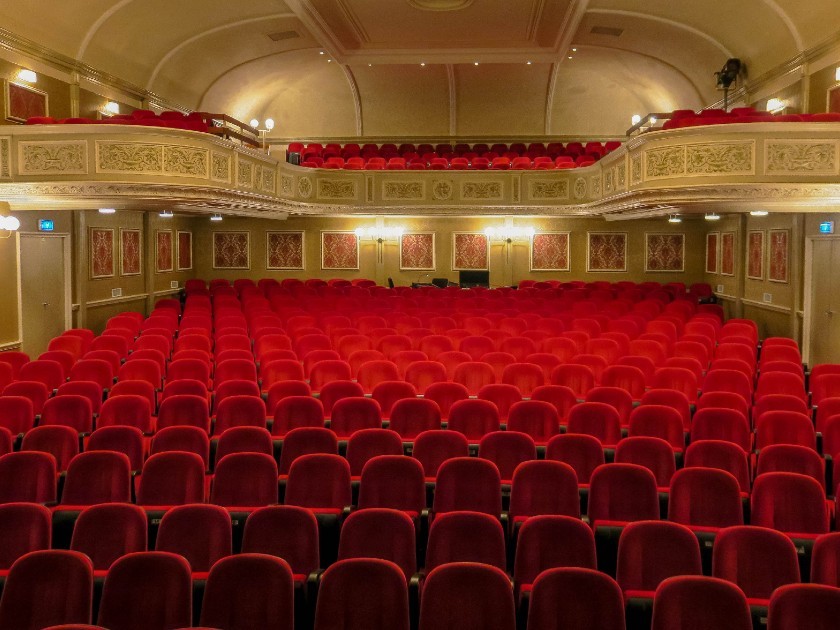 Play­wright David Adjmi's mem­oir, Lot Six, was pub­lished last June. His plays include Stun­ning, Marie Antoinette, 3C, Elec­tive Affini­ties, Strange Attrac­tors, and Caligu­la. He was inter­viewed in Sep­tem­ber by Bob Gold­farb, dis­cussing ear­ly influ­ences, soci­etal stric­tures, and upcom­ing works.
Bob Gold­farb: You've writ­ten a mem­oir with many inti­mate, per­son­al details about you­self. Does that make you self-conscious?
David Adj­mi: When I was a teenag­er I was like a walk­ing Ing­mar Bergman film. All I just want­ed to do was just rip myself open and get to the nit­ty-grit­ty with every sin­gle per­son I met. It's kind of a relief to lay my cards on the table.
There is a real feel­ing of relief in shar­ing your truth with peo­ple — and with hav­ing them respond. My biggest fear was that my sto­ry wasn't going to be per­ceived as uni­ver­sal and peo­ple would say, ​"You know, you real­ly are a weird guy."
BG: That feel­ing nev­er quite goes away, does it? On some lev­el it keeps com­ing back, the fear that peo­ple will think, ​"he's weird."
DA: I've expe­ri­enced rejec­tion for shar­ing my sto­ries and my feel­ings. And I have had that expe­ri­ence of peo­ple going, ​"What?! That's crazy." It scars you. You nev­er get over it. Some scars nev­er heal. That's just how it is.
BG: The lone­li­ness you describe isn't just about the things that have been done to you — it's also exis­ten­tial. You were born into cer­tain cir­cum­stances. You had the par­ents you had — the nar­cis­sis­tic moth­er, the father who was a liar and a con man. Some­how you had to fig­ure out how to live in that world.
DA: Absolute­ly. That was my ori­en­ta­tion to the world: as some­thing dis­ori­ent­ing. The ori­en­ta­tion and dis­ori­en­ta­tion became fused. I iden­ti­fy with Kaf­ka because of that: life as a dis­lo­cat­ing expe­ri­ence. I've always deeply felt that. It's both a gift and a curse.
BG: There are peo­ple who aren't self-aware and go through life not think­ing about who they are or what it means. They don't ana­lyze it, they just live their lives. It must be hard for them to under­stand you.
DA: It's not a pathol­o­gy. I just feel like I'm an extrater­res­tri­al sit­u­at­ed here…but I don't have anoth­er home plan­et. The dif­fer­ence between me and E.T. is that he got to go back to his planet.
BG: In the mem­oir, it seems you already knew as a child you didn't fit in. You didn't know how to find friends, how to be a friend, what to do on a play­date. You had no mod­els for that — like being an extrater­res­tri­al who can't fig­ure out why peo­ple are doing what they do.
DA: Deep inside myself I knew, ​"I don't like any of this." But I was scared of reject­ing it, because that was my world — it was all I knew of life.
BG: When you met your child­hood friend Howie, you may not have known what was going on, but he was on the same wave­length. He was also an out­sider, but he had an active way of deal­ing with it, by mock­ing it. Here was some­one who seemed to be from your home planet.
DA: He felt very free about shar­ing with me how he felt, and the free­dom of it was intox­i­cat­ing to me. I nev­er knew who I could express my feel­ings to, so I didn't express them. It was only lat­er in my life that I real­ized that friend­ships like this are extreme­ly rare, and I was very lucky to have him as a friend. It was like a mir­a­cle that I found this person.
BG: He turned out to be gay. Is that a coincidence?
DA: I didn't know that gay peo­ple were a real thing. I thought it was a joke, because that's what I learned from TV. There's some­thing about his sen­si­bil­i­ty that's a very gay, camp sen­si­bil­i­ty — more than mine, actu­al­ly. It def­i­nite­ly had to do with the sen­si­bil­i­ty that goes with being gay. But it was all very sub­merged, repressed.
BG: At an ear­ly age you were daz­zled by the the­ater. How old were you when you saw Sweeney Todd?
DA: Sev­en or eight. There was a craze about hor­ror films at that time, and I could not deal with that. But Sweeney Todd was gor­geous — and it was also very fun­ny. Howie's sen­si­bil­i­ty encom­passed this — that the world is dark and crazy, but it's also com­plete­ly hilar­i­ous. Tog­gling hilar­i­ty and dark­ness felt inge­nious to me. It's not hor­ror — it's real­ly about exam­in­ing social forces and what they do to peo­ple. And it's real­ly pro­found when art can do that.
BG: When you write about your life after leav­ing Brook­lyn, it seems that you're still fig­ur­ing out whether the blondes and the jocks you meet in Los Ange­les are reg­u­lar peo­ple. Then, at Sarah Lawrence Col­lege, you're with anoth­er kind of stu­dent, the kind who spon­ta­neous­ly quotes Schopenhauer.
DA: I told myself that I was born into a strange enclave, but the world had coher­ence and a ​"right­ness" which I could even­tu­al­ly appre­hend and inter­nal­ize. Then, I imag­ined, I would tran­scend my back­ground, which was a strange acci­dent, and find real­i­ty and my place in it. Of course there is no such thing. It was a fan­ta­sy. But I held onto it because I thought it would save me. When I real­ized the world is basi­cal­ly unknow­able, that's when I start­ed to mature as a person.
As I get old­er it becomes more salient to me that my job is to trans­form what's hap­pen­ing to me, or in the world — trans­form it into art. To take the ini­tia­tive not to become a vic­tim of my dis­com­fort or pain or social forces, but again and again to insist on cir­cum­scrib­ing them into a frame as my sub­ject. That's what I'm here to do. If I cease to be trou­bled, I cease to be engaged with my world and my pur­pose. It doesn't make me hap­py or com­fort­able, but my com­fort is not real­ly the point. It's not why I'm incar­nat­ed on this earth, to be comfortable.
If I cease to be trou­bled, I cease to be engaged with my world and my pur­pose. It doesn't make me hap­py or com­fort­able, but my com­fort is not real­ly the point.
Amer­i­ca teach­es us to be com­fort­able, to relax. But beau­ty is ter­ri­ble — as in Yeats' poem, ​"a ter­ri­ble beau­ty is born." Kant's notion of the sub­lime is that it will oblit­er­ate you. That reg­is­ter of beau­ty teach­es me about my pur­pose: to find the sub­lime, the most poignant, pro­found things that con­nect me to my deep­est self. That's what I pur­sue, and that's my pur­pose in the world.
BG: Beau­ty, or any kind of per­fec­tion, exists in rela­tion to the per­son who expe­ri­ences it. As an abstrac­tion, in a Pla­ton­ic exis­tence, it becomes inhu­man. Human beings can't live with per­fec­tion; peo­ple need pur­pose. It's not the attain­ment of love or beau­ty or truth that gives life mean­ing, it's the pur­suit of them.
DA: Beau­ty exists in ten­sion for me. It's dis­com­fort that cre­ates an impres­sion of a cer­tain kind of beau­ty, what Kant called the sub­lime. That's what I felt in Sweeney Todd. To me, it's the most pro­found expe­ri­ence you can have.
BG: It's unusu­al to find a work of prose by a play­wright with the extra­or­di­nar­i­ly rich metaphors and evoca­tive lan­guage that you bring to your mem­oir. Are you think­ing of anoth­er prose project, per­haps a novel?
DA: I start­ed writ­ing a new book, and I'll prob­a­bly fin­ish it. It's so hard to write long-form prose, at least for me. I have a com­pul­sion to phrase things exact­ly — which I didn't know I had, because I don't do this kind of thing as a play­wright. When I fin­ished the mem­oir I was exhaust­ed and I thought, ​"This just isn't worth the trou­ble." But then, of course, I start­ed some­thing new right away!
BG: I haven't seen any of your plays, I've only read about them. One thing that struck me, from descrip­tions I've seen, is that sev­er­al of your plays seem to have strong and/​or out­landish women in them. It remind­ed me of your ref­er­ences to Joan Craw­ford in the memoir.
DA: I have dif­fer­ent arche­types that I draw from. I'm sure so much of it is root­ed in my rela­tion­ship with my moth­er, a very out­sized per­son. I was very absorbed in her dra­mas as an observ­er, and as a sym­pa­thet­ic per­son. You then mythol­o­gize that in your work, uncon­scious­ly. So I write about those women, but it's real­ly diverse. I have a lot of hys­ter­i­cal men in my plays too.
One pro­duc­tion that real­ly affect­ed me ear­ly on was an O'Neill play at New York The­ater Work­shop called More State­ly Man­sions, direct­ed by Ivan van Hove — ear­ly, the first thing he did in New York. It was insane! It's about a man who is com­plete­ly unsta­ble. His moth­er want­ed to pos­sess him and his wife want­ed to pos­sess him, and he has a com­plete break­down on stage. That gave me a mod­el, as did Ten­nessee Williams. I need­ed to process my own feel­ings of hys­te­ria and pan­ic and crazi­ness and put my stamp on it as my experience.
My ear­ly plays came from a wound­ed place. With my new play, Stereo­phon­ic—which was to go to Broad­way in the spring — I feel as though I'm in com­plete con­trol of my pow­ers as an artist and as a per­son. It doesn't have any of my old arche­types and tropes.
I have anoth­er play I've just fin­ished, called The Stum­ble, which will be excerpt­ed in the Paris Review in Decem­ber. It's about the insane rela­tion­ship between Oscar Lev­ant and George Gersh­win. Lev­ant is more up my alley because he's a male hys­teric who implodes sev­er­al times dur­ing his life. He may have been doing for peo­ple what Sweeney Todd did for me — allow­ing them to access very dan­ger­ous feel­ings and emo­tions that the cul­ture was per­haps encour­ag­ing them to repress. He was a Renais­sance man: he'd read every­thing, he knew every­thing, he was a post­mod­ern kind of guy before that was the fash­ion. I just adore him.
Bob Gold­farb is pres­i­dent of Jew­ish Cre­ativ­i­ty International.