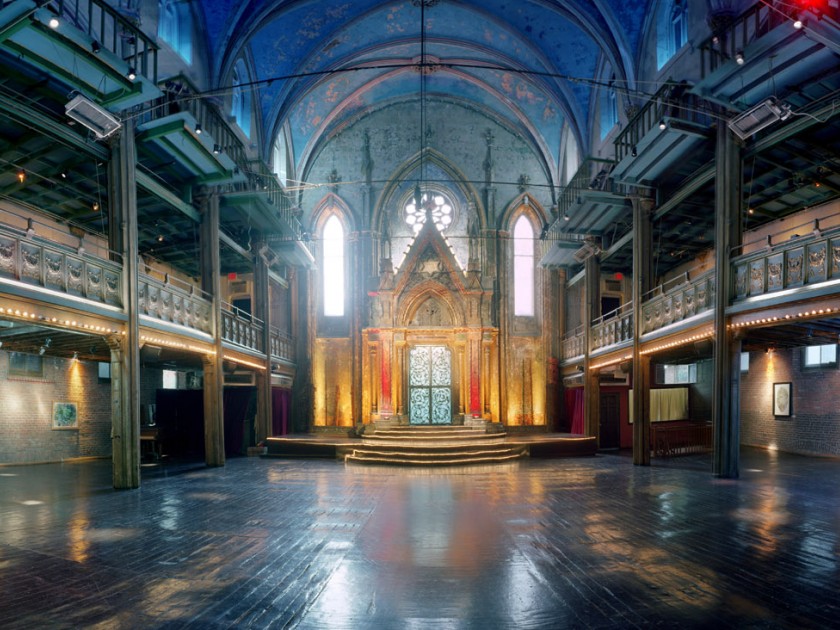 I live on the Low­er East Side. No, I lived there — for over forty years. The neigh­bor­hood was the first place that real­ly felt like home since my ear­ly child­hood in a com­mu­ni­ty of immi­grant and refugee chick­en farm­ers in Farm­ing­dale, New Jer­sey. I loved its chang­ing mix: the jos­tle of old­er and new­ly arrived pop­u­la­tions — espe­cial­ly full of Jew­ish traces. It retained enough Jew­ish life for my wife, Elis­sa, and I to feel that we could still be part of a liv­ing, warm, and argu­men­ta­tive local Jew­ish com­mu­ni­ty. I felt like I belonged there, and at the same time there were end­less pos­si­bil­i­ties for explor­ing Jew­ish iden­ti­ty and expression.
I could wait on line for round chal­lahs at Moshe's Bak­ery on the day before Rosh Hashanah, and be scold­ed by a cranky Jew­ish elder for — alleged­ly — cut­ting the line (to this day I real­ly think I didn't). I could come back anoth­er day, lat­er in the win­ter, and find to my sur­prise the shelves once again full of round chal­lahs. Sarah, the elder­ly woman born in Bel­gium who worked at Moshe's and on the side sold eggs to raise mon­ey for Hadas­sah, was at the counter. She explained to me that they were for the Ukrain­ian New Year. ​"For the Ukrain­ian New Year?" I repeat­ed, since this was entire­ly new to me. ​"Sure," she retort­ed, ​"The Jews have a New Year, the Chi­nese have a New Year, why shouldn't the Ukraini­ans have one, too?"
As soon as I moved in, dur­ing the late 1970s, I dis­cov­ered the B&H Dairy Restau­rant, a block up from the bak­ery. It's still there in 2020, bat­tered by a series of forced clo­sures and now by the COVID-19 pan­dem­ic, the last Jew­ish dairy restau­rant in New York City. Back when I first moved in Leo and Dave were work­ing there; Leo was dour, and peo­ple joked about whether the ​"LEO omelet" was named after him or for its ingre­di­ents of lox, eggs, and onions. And Dave was tough. I asked him why the restau­rant didn't car­ry Eng­lish muffins and he growled, ​"The Thomas's deliv­ery man is an anti­semite." Once when I sat at the nar­row counter, a young cou­ple appeared in the door­way. Dave looked at the young woman, then said to her com­pan­ion, ​"That's the nicest look­ing girl you came in here with yet!"
And I found a shul, then more than one. First the old Eighth Street Shul, east of Tomp­kins Square Park, where I was instant­ly wel­comed and count­ed in the minyan — the quo­rum of ten required for a Jew­ish prayer ser­vice — with no ques­tions asked about my lev­el of learn­ing or Ortho­doxy. Eighth Street was per­haps the first part of the Low­er East Side to which I turned my anthropologist's gaze, writ­ing in the 1980s about the unlike­ly com­bi­na­tion of tra­di­tion and mar­gin­al­i­ty that afford­ed me entrée into what might in oth­er places have been an insu­lar Ortho­dox Jew­ish world.
When the Eighth Street con­gre­ga­tion final­ly col­lapsed, the build­ing was sold, and I began reg­u­lar­ly attend­ing the syn­a­gogue a few blocks to the south that was then called, ​"Rab­bi Singer's shul" — after the tsad­dik who kept it going and saw to it that his small con­gre­ga­tion was fed and warm. In time, and not with­out con­tention, Rab­bi Singer moved on, and the place became known sim­ply as the Stan­ton Street Shul. For years I want­ed to write a book about it, but its mem­ber­ship and hence the entire sen­si­bil­i­ty of the place kept chang­ing so fast that at one point I called it, ​"The shul that wouldn't sit still for its ethno­graph­ic por­trait." Even­tu­al­ly I hit on the expe­di­ent of doc­u­ment­ing one sum­mer in the life of the shul's dai­ly morn­ing ser­vices, and Ford­ham Uni­ver­si­ty Press pub­lished my book Morn­ings at the Stan­ton Street Shul: A Low­er East Side Sum­mer. The account I pro­duced seems decep­tive­ly casu­al: the anec­dotes I recount there actu­al­ly reflect thir­ty years of watch­ing the con­gre­ga­tion shift, and even more years of think­ing about the dynam­ics of dias­poric or ​"minor" cul­tur­al forms, those that don't fit in neat­ly with the dom­i­nant iden­ti­ties of nation-states.
I could wait on line for round chal­lahs at Moshe's Bak­ery on the day before Rosh Hashanah, and be scold­ed by a cranky Jew­ish elder for — alleged­ly — cut­ting the line.
What drew me ini­tial­ly to the Low­er East Side was its her­itage of Yid­dish arts and cul­ture, for indeed Yid­dish was the aspect of Jew­ish stud­ies that I loved first and best. But I always knew I want­ed to become a more lit­er­ate stu­dent of rab­binic lit­er­a­ture as well. And for that, as ear­ly as 1984 I was direct­ed to the large beis medresh (study hall) at Mesivtha Tifer­eth Jerusalem (MTJ), at this point the only yeshi­va on the Low­er East Side. I imme­di­ate­ly fit in with the group of young adult begin­ners there, being tutored an hour each day in Pen­ta­teuch and Tal­mud. Even­tu­al­ly I was inspired to write an arti­cle for a schol­ar­ly jour­nal in my field, about the spe­cial char­ac­ter­is­tics of read­ing as a ful­ly social activ­i­ty in the yeshiva.
Although I stayed in the neigh­bor­hood, I bare­ly stepped into MTJ after the 1980s, until one Sab­bath morn­ing I explained to a fel­low con­gre­gant that I had a term of leave com­ing up from my aca­d­e­m­ic job, and wasn't sure how I would spend it. ​"Why don't you go to the shi­ur [les­son] that the Rosh Yeshi­va [head of the yeshi­va] gives every morn­ing at 11:00?" I decid­ed that was a great idea — and that's how I came to spend a year study­ing at MTJ in 2012, to con­tin­ue going there when­ev­er I got the chance after­ward, and now, to pub­lish a book about what it's like to study there and why I love the place so much (Yeshi­va Days: Learn­ing on the Low­er East Side, Prince­ton Uni­ver­si­ty Press). It took me a long time to write the book, because I knew I want­ed to keep it short — and even more, because I was deter­mined to write an account that I could bring back into the beis medresh and share with my fel­low stu­dents there, not just more grist for the aca­d­e­m­ic mill.
My first copy of Yeshi­va Days arrived in the mail today, in Itha­ca, where I teach. Mean­while much has changed: the Rosh Yeshiva's shi­ur stopped in March when all of New York's insti­tu­tion­al life was put on pause, and it's not clear when it will be resumed. My wife and I decid­ed it was time to move to high­er ground, so we sold our apart­ment and bought a place in Wash­ing­ton Heights. I don't know when she and I will con­sid­er it med­ical­ly safe for me to trav­el down­town reg­u­lar­ly, or to sit for hours with oth­ers at the long tables in the beis medresh. It's nice to have a book about MTJ, and it's even nicer that I'm the one who wrote it. But it would be — will be? — even nicer to be sit­ting and learn­ing there again.
Jonathan Boyarin is the Diann G. and Thomas A. Mann Pro­fes­sor of Mod­ern Jew­ish Stud­ies at Cor­nell Uni­ver­si­ty. His books include Jew­ish Fam­i­lies, Morn­ings at the Stan­ton Street Shul: A Sum­mer on the Low­er East Side, and The Uncon­vert­ed Self: Jews, Indi­ans, and the Iden­ti­ty of Chris­t­ian Europe.