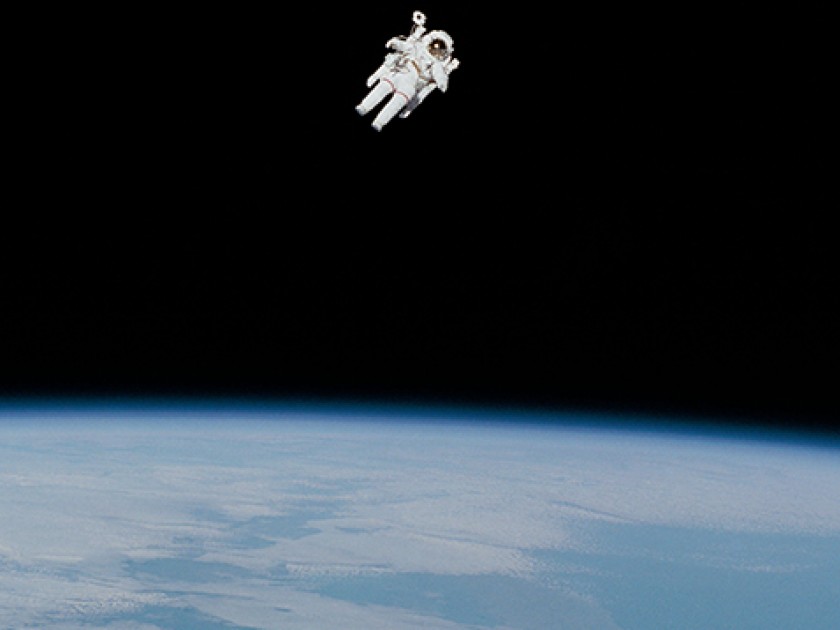 It was 2003, and Ilan Ramon, the first Israeli astro­naut, had died in the Space Shut­tle Colum­bia dis­as­ter. I was struck, as I'm sure many were, by the fact that both Ramon and Judith Resnik, the first Jew­ish Amer­i­can in space, suf­fered the same ter­ri­ble fate in two sep­a­rate shut­tle acci­dents. It felt like more than just a sad coin­ci­dence or very bad luck. It felt like an atavis­tic curse: ​"Let there be no escape." In one of those inef­fa­ble moments of uncon­scious thought we might call inspi­ra­tion, I remem­bered the MS St. Louis, the Ger­man ocean lin­er that, in 1939, car­ried Jew­ish refugees from port to port in des­per­ate search of safe har­bor from the grow­ing men­ace in Europe. Instead of find­ing the wel­com­ing light of the Stat­ue of Lib­er­ty, they found the gold­en door slammed shut by the dark and big­ot­ed immi­gra­tion poli­cies of the era. For many of those refugees, the denial of entry was a death war­rant. No escape, no shel­ter. Into this swirl of reflec­tion flashed the scene from The Ten Com­mand­ments where Joshua (John Derek) learns that Moses (Charl­ton Hes­ton) will not lead his peo­ple across the Jor­dan Riv­er. God's pun­ish­ment: You may gaze upon the promised land but may nev­er enter.
Escap­ing, wan­der­ing, the eter­nal (and per­haps impos­si­ble) return home, and the elu­sive­ness of sanc­tu­ary — all of these con­cepts coa­lesced in my mind. Then the notion that ​"flight" con­tained ele­ments of both adven­ture and escape took hold. If the exo­dus sto­ry can serve as a metaphor for lib­er­a­tion of the oppressed, could the unique, peri­patet­ic sto­ry of the Jews serve as a metaphor for the future of human­i­ty in space? Are we explor­ing the cos­mos as mere intel­lec­tu­al pas­time or because we know that anoth­er exo­dus will be needed?
It was more than enough to get me start­ed. To that oft-quot­ed, end­less­ly inter­pret­ed mantra ​"write what you know," I would add this vari­a­tion: Write what won't go. I was hooked. I began devour­ing books on the his­to­ry and future of space explo­ration, which led me to the white­washed past of Oper­a­tion Paper­clip, the Unit­ed States military's recruit­ment of Ger­man rock­et engi­neers and sci­en­tists after World War II. In the last decade, sev­er­al excel­lent non­fic­tion books have been pub­lished expos­ing the details of this secret pro­gram. Though fre­quent­ly described as inno­cent bystanders dur­ing the war, some of our promi­nent Third Reich recruits — who end­ed up as lead­ers at NASA — were Nazi par­ty mem­bers, SS offi­cers, and in some cas­es, like­ly war criminals.
In my nov­el, The Astro­naut's Son, Jonathan Stein, an Israeli Amer­i­can and the grand­son of a Holo­caust sur­vivor, attempts rec­on­cil­i­a­tion of the past and the future in a very per­son­al way as he pre­pares to trav­el to the moon at the dawn of the twen­ty-first cen­tu­ry. His father, an Israeli fight­er pilot spe­cial­ly cho­sen for the fic­ti­tious Apol­lo 18 crew, died mys­te­ri­ous­ly two days before launch. It was the ear­ly 1970s, when the Oper­a­tion Paper­clip Nazi rock­et engi­neers, like Wern­her von Braun, were still alive and work­ing at NASA. Was there foul play? Did his father die as the last, belat­ed vic­tim of the Shoah? Or was he cursed? Did the curse of no escape dic­tate his father's death? When Jonathan receives the diag­no­sis of a heart con­di­tion at the book's open, he fears that the ances­tral curse has been passed down and that the moon will like­wise remain beyond his reach. Jonathan wres­tles with ghosts, hop­ing to end the mul­ti-gen­er­a­tional hex, and, in that strug­gle, asks him­self what sac­ri­fices can and should be made for the sake of not just tech­no­log­i­cal but moral progress.
How much grav­i­ty must be left behind to reach escape veloc­i­ty? What bal­last is need­ed to keep our tra­jec­to­ry true? Space may be a blank slate, an unpromised fron­tier of unknown poten­tial, but we always bring bag­gage, every ship both ark and archive. We've sent probes into deep space with uni­ver­sal mes­sages of math, music and lan­guage meant to com­mu­ni­cate, but when we humans go forth to our next home, we will car­ry with us those things we want to pre­serve. The strug­gle of how to bal­ance the weight of the past with the weight­less­ness and lim­it­less­ness of space con­sumes Jonathan as we fol­low him on an emo­tion­al trek to the stars.
I was born in St. Louis, stud­ied Eng­lish Lit­er­a­ture at Wash­ing­ton Uni­ver­si­ty and law at the Uni­ver­si­ty of Michi­gan. I was Chief of the Jus­tice Depart­men­t's Orga­nized Crime Strike Force in Brook­lyn, where I pros­e­cut­ed high-rank­ing mem­bers of La Cosa Nos­tra. After twen­ty years as a lit­i­ga­tor, I earned an MFA in cre­ative writ­ing from Fair­field University.