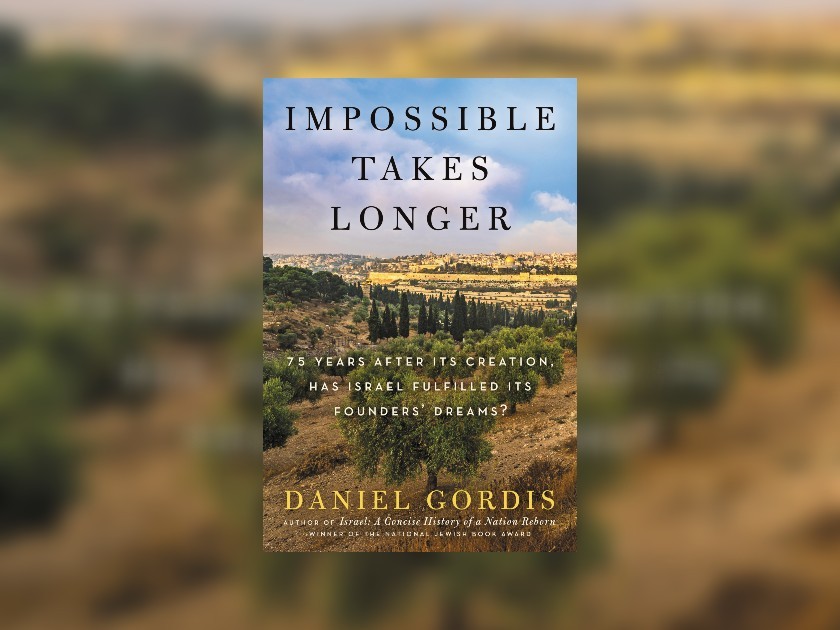 Is Israel a success?
It would be hard to imag­ine a more con­tentious ques­tion. Israel is a dizzy­ing array of con­tra­dic­tions. It is the most hat­ed nation in the world, but also the most beloved. It is a com­bi­na­tion of unex­pect­ed suc­cess­es and mad­den­ing dis­ap­point­ments. It is a sto­ry of unprece­dent­ed human tri­umph, but also a sto­ry of great suf­fer­ing. Israel's sto­ry has enchant­ed and inspired the world, yet it also enrages many. It is a coun­try that brings Jews every­where a deep pride in nation­al rebirth and accom­plish­ment, but all too often, for some, it is also a source of shame. Israel's founders want­ed the Jews to be, at long last, a nation like any oth­er, yet they cre­at­ed what may be the most unique coun­try in the world. Though many peo­ple com­mon­ly think of Israel as a very young coun­try, it is, in fact, old­er than about two-thirds of the coun­tries in the Unit­ed Nations.
Per­haps these con­tra­dic­tions help explain why Israel is sub­ject­ed to scruti­ny that, mea­sured by pop­u­la­tion, no oth­er coun­try in the world expe­ri­ences. Israel is ranked by the Unit­ed Nations as the hun­dredth-largest coun­try in the world, but in terms of cov­er­age in news sites around the globe it ranks sixth. (Pales­tine ranks third in terms of news cov­er­age, and since much of the cov­er­age of Pales­tine is about its rela­tion­ship with Israel, scruti­ny of Israel is even more intense than ​"sixth place" might sug­gest.) Why does a coun­try the size of New Jer­sey with a pop­u­la­tion close to that of Man­hat­tan get more atten­tion than most of the nine­ty-nine coun­tries that have greater pop­u­la­tions? Why does Israel get more atten­tion in inter­na­tion­al cov­er­age than the UK, France, or Ger­many? More than North Korea and Iran, too.
Why does a coun­try the size of New Jer­sey with a pop­u­la­tion close to that of Man­hat­tan get more atten­tion than most of the nine­ty-nine coun­tries that have greater populations?
The most com­mon expla­na­tion is ​"the con­flict." Israel is cov­ered so close­ly, many say, because peo­ple around the world are deeply con­cerned about the fate of the Pales­tin­ian people.
The fate of the Pales­tin­ian peo­ple is a pro­found­ly impor­tant moral issue, but still, that answer doesn't ful­ly explain the inter­na­tion­al community's sin­gu­lar focus on Israel. After all, what about the civ­il war in Syr­ia, which has tak­en five times more lives in just the past few years than has the entire Israeli-Arab con­flict in a cen­tu­ry? Or what about human rights atroc­i­ties in North Korea? Iran? Egypt? Yemen? Is there a rea­son the Pales­tini­ans and their quest for sov­er­eign­ty gar­ner so much more cov­er­age than sim­i­lar lib­er­a­tion move­ments by the Kurds, the Basques? Is the con­flict with the Pales­tini­ans a more press­ing moral issue than the oppres­sive civ­il rights denial in Chi­na, the treat­ment of gays and les­bians through­out the Arab world (among oth­er regions), and Sau­di Arabia's mur­der­ous regime and its hor­rif­ic treat­ment of women?
As crit­i­cal and painful as Israel's con­flict is, why is this the one that remains in the spotlight?
Oth­ers respond, a bit more cyn­i­cal­ly, ​"Because it's a Jew­ish state." By that they mean that many peo­ple enjoy look­ing for flaws in Jews or in the Jew­ish state. There's some truth to that, too, but it is still not a suf­fi­cient answer. After all, many Jews in the Dias­po­ra are pro­found­ly dis­turbed by Israel, some­times divorc­ing them­selves from it or even becom­ing some of its most bit­ter crit­ics. And many of these peo­ple are not look­ing to dis­par­age the Jew­ish people.
We need a bet­ter explanation.
Copy­right © 2023 by Daniel Gordis. Pub­lished with Per­mis­sion of Harp­er Collins.
Daniel Gordis is the Koret Dis­tin­guished Fel­low at Shalem Col­lege — Israel's first lib­er­al arts col­lege — which he helped found in 2007. The author of numer­ous books on Jew­ish thought and polit­i­cal cur­rents in Israel, he has twice won the Nation­al Jew­ish Book Award, includ­ing the prize for Book of the Year for Israel: A Con­cise His­to­ry of a Nation Reborn. Raised and edu­cat­ed in the Unit­ed States, he has been liv­ing in Jerusalem since 1998.