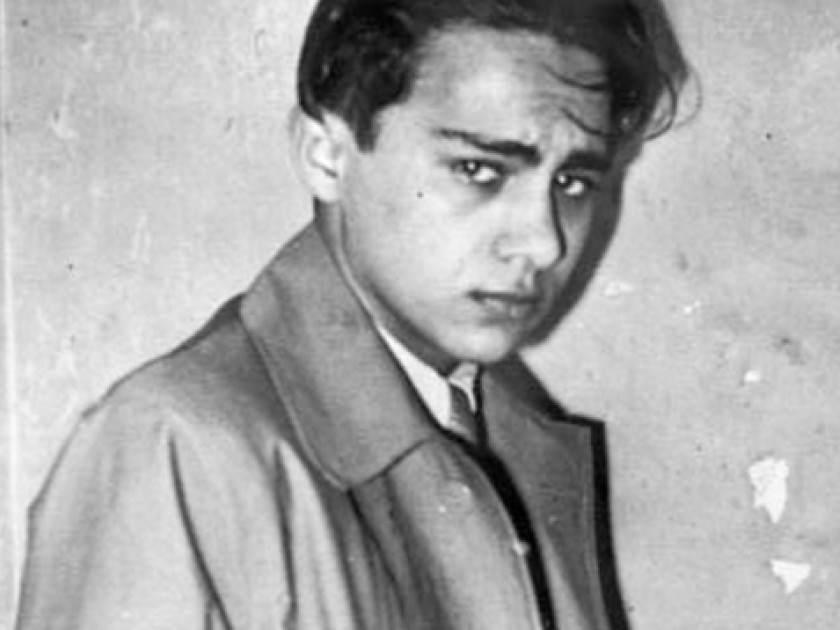 Every­one called him ​"the child."
Whether speak­ing in Yid­dish or Ger­man, Her­schel Grynszpan's moth­er and father nat­u­ral­ly spoke of their youngest as das Kind. When das Kind was fif­teen, Sendel and Riv­ka Gryn­sz­pan (pro­nounced ​"Greenspan") got their son out of Hitler's reach by send­ing him to live in Paris, where his Uncle Abra­ham and Aunt Chawa called their res­cued nephew l'enfant. Two years after that, as the French police hus­tled this diminu­tive threat to Euro­pean peace through a gaunt­let of blaz­ing flash­bulbs and swarm­ing press, reporters not­ed that the boy assas­sin looked clos­er to thir­teen than sev­en­teen. Lat­er, Herschel's French lawyers — antifas­cists vaunt­ed as the best legal minds in France — always referred to their young client as le petit. When she formed a legal defense fund to advo­cate for ​"the lit­tle one's" essen­tial (albeit not lit­er­al) inno­cence, Dorothy Thomp­son, then the fore­most anti-Nazi jour­nal­ist in the Eng­lish lan­guage, called him ​"this boy." Even Adolf Eich­mann him­self — after inter­ro­gat­ing Her­schel in Berlin with a view to the pro­pa­gan­da sur­round­ing the Holo­caust — referred to him as der Knabe: the lad.
—
He was small, like many a pawn, and cursed with a baby face. He became famous on the cusp of matu­ri­ty: In some pho­tographs he looks like a fright­ened child; in oth­ers he is quite hand­some, almost sul­try, albeit in a boy­ish way. He had large, expres­sive, dark eyes and wore his black hair slicked back in the style of 1930s ado­les­cence. He was frail. When he turned sev­en­teen, he weighed just under a hun­dred pounds and stood a frac­tion of an inch taller than five feet one. His health was nev­er good; as a child he may have had rick­ets. In ear­ly ado­les­cence, there had been an appen­dec­to­my. Worst of all, he suf­fered from some sort of life­long gas­tric prob­lem — per­haps an ulcer — that was inter­mit­tent­ly ago­niz­ing. Even in prison, he was a reg­u­lar vis­i­tor to the infirmary.
He was clever with his hands and had a yen for sports; his main pas­sion was for soc­cer, fol­lowed by Ping-Pong, which he played with the speed of an ace. Accord­ing to most adults around him, he was ​"a gen­tle, self-effac­ing, oblig­ing, and affec­tion­ate young man," albeit moody. He may have been on the bipo­lar spec­trum. He was sub­ject to recur­ring depres­sions and sud­den hot-blood­ed rages, even fist­fights, on and off the soc­cer field.
But views of Herschel's tem­pera­ment vary. Among his con­tem­po­raries on the soc­cer field and at school, he was known as ​"the Hun king" because he was ​"dark-com­plect­ed and very hot-tem­pered." ​"Some who knew him in child­hood remem­bered the boy as a quar­rel­er." Mean­while, his broth­er, Morde­cai, recalled his kid broth­er as a wit and a skilled and dev­as­tat­ing mim­ic, whose imi­ta­tions of pom­pos­i­ty could crack up a room­ful of adults. There was some­thing else: Both Morde­cai and the lawyer who knew him best, Serge Weill-Goud­chaux, used the same word to describe the boy. He was, they thought, fearless.
Her­schel had grown up with Hitler's con­sol­i­da­tion of the Nazi tyran­ny. In 1933, when Hitler became chan­cel­lor, Her­schel was eleven. In 1935, when the anti-Semit­ic Nurem­berg Laws were passed, he was four­teen and a stu­dent learn­ing Hebrew in a Zion­ist yeshi­va in Frank­furt, hop­ing to emi­grate to Israel. When he was fif­teen, his fam­i­ly sent Her­schel to Paris to escape an increas­ing­ly dan­ger­ous Reich. When Her­schel was six­teen, Adolf Eich­mann sent Hitler a mem­o­ran­dum argu­ing that mere legal per­se­cu­tion would nev­er force Germany's Jews to leave the coun­try and sur­ren­der every­thing they pos­sessed to the klep­toc­ra­cy. Eich­mann rec­om­mend­ed more per­sua­sive mea­sures such as law­less mass ter­ror: a nation­wide pogrom. This pro­pos­al fore­shad­owed the Kristall­nacht. When Her­schel was sev­en­teen, Hitler sum­mar­i­ly deport­ed more than eigh­teen thou­sand Pol­ish Jews liv­ing in Ger­many — among them Herschel's moth­er, father, sis­ter, and broth­er — stole all their mon­ey and world­ly goods, and dumped them, pen­ni­less, on the Pol­ish border.
It was when Her­schel heard about his family's depor­ta­tion that he decid­ed what he had to do and acquired what he had nev­er so much as touched before: a gun.
Excerpt­ed from Hitler's Pawn: The Boy Assas­sin and the Holo­caust, copy­right © 2019 by Stephen Koch. Reprint­ed by per­mis­sion of Coun­ter­point Press.
Stephen Koch is the author of two nov­els and many books of non­fic­tion on sub­jects rang­ing from Andy Warhol to World War II. After serv­ing as chair­man of the Cre­ative Writ­ing Divi­sion in the School of the Arts at Colum­bia Uni­ver­si­ty he wrote a clas­sic text on writ­ing, The Mod­ern Library Writ­ers' Work­shop. The direc­tor of the Peter Hujar Archive he lives with his wife in New York and has one daughter.