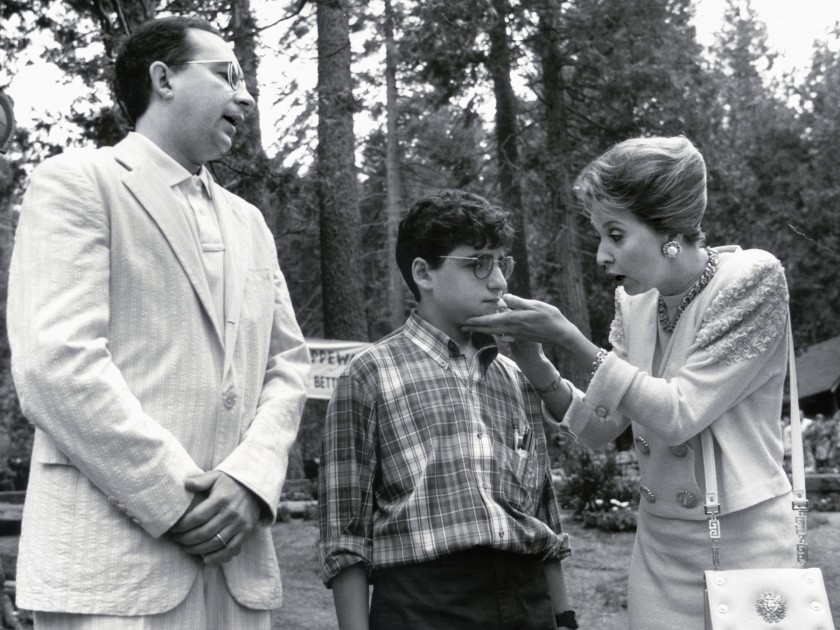 CHAP­TER 8: A VERY SPE­CIAL BAR MITZVAH
Every Mon­day and Wednes­day after­noon, from three to six, between the time I was 11 until two weeks before my April 2nd Bar Mitz­vah at the age of 13, I was at Ken­ny Morrison's apartment.
Ken­ny nev­er won­dered why I was hang­ing out with him after school on those two week­days, instead of with the kids in my build­ing. That was until one after­noon when Ken­ny and I were hud­dled togeth­er in his bed­room, sneak­ing peeks at his father's Play­boy. The door opened and, unan­nounced, my father, who had nev­er left work this ear­ly except the day he passed a kid­ney stone, looked down at me and said, ​"Come on, Bar­ry. Let's go."
For almost two sol­id years I had been play­ing hooky from Hebrew school.
There are three lev­els of Jew­ish tribes: Reformed, Con­ser­v­a­tive, and Ortho­dox. My father was raised Ortho­dox. One of sev­en chil­dren, he was Kosher until he was draft­ed. My moth­er was raised as a con­ser­v­a­tive, although she nev­er prac­ticed. I was a cul­tur­al Jew, not a reli­gious one, hav­ing no inter­est in what seemed to be a pet­ty, vin­dic­tive, and inse­cure old tes­ta­ment God.
In my case, what made Judaism par­tic­u­lar­ly painful was that Hebrew school was taught twice a week by Rab­bi Baul­mal, a bald man with a huge black wart below his left nos­tril. He was also blessed by God with bag­gy eyes and a bird's nest com­ing out of his nose and each ear. He looked more French bull­dog than Rabbi.
Hebrew School met in a win­dow­less room in the base­ment of Tem­ple Beth Shalom. The Rab­bi smoked white owl cig­ars in a ven­ti­la­tion-free fire trap sur­round­ed by kids under the age of 13. We learned how to read the Hebrew alpha­bet and to pho­net­i­cal­ly speak the words. We didn't study what any of the words meant. When I say we, I mean every­one who didn't play hooky for two years. I couldn't stand it. Couldn't take the smell or tedium.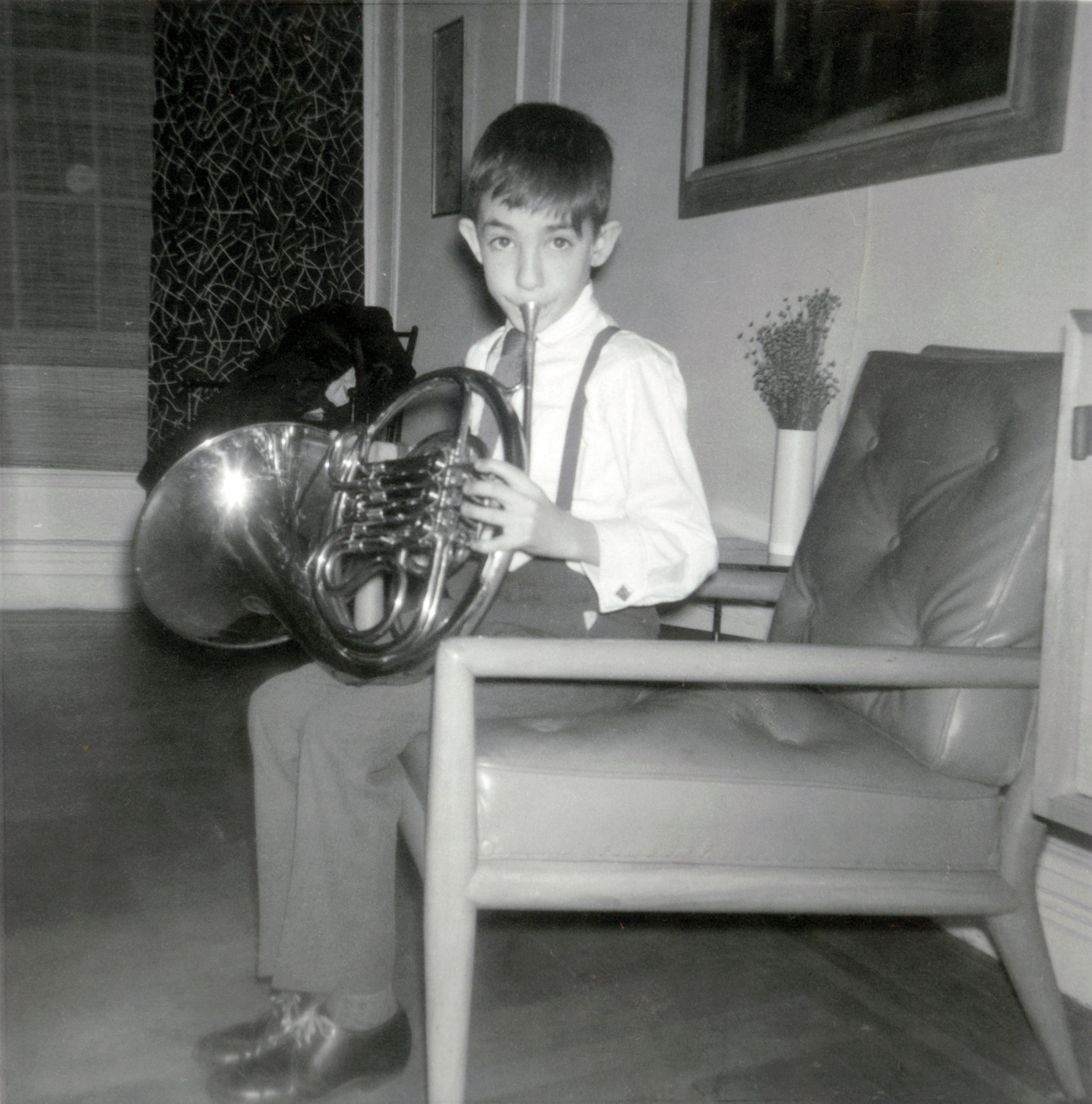 Three times a year my father and I went to Shul: Rosh Hashanah, Yom Kip­pur, and Passover. Yom Kip­pur is the hol­i­day that Jews fast for twen­ty-four hours — from sun­set to sun­set. Accord­ing to my moth­er the rules didn't apply to females.
The time at Tem­ple con­sist­ed pri­mar­i­ly of old Jew­ish men hock­ing up phlegm.
The hol­i­day was espe­cial­ly tedious due to the hours of holy time spent rais­ing mon­ey for the new Tem­ple. Beth Shalom was about to break ground on a mod­ern Holy Shrine to replace our old, nar­row, non-air-con­di­tioned place.
As if the annu­al dues, tick­ets for High Hol­i­day ser­vices, and the Synagogue's tax free sta­tus weren't enough, and after the Rabbi's end­less finan­cial plea dis­guised as a ser­mon, every mem­ber of Beth Shalom was called out to con­tribute mon­ey for the new building.
The finan­cial­ly chal­lenged would yell ​"same," mean­ing they were pledg­ing a sim­i­lar amount as last year. The big spenders would proud­ly boom ​"plus ten" which meant they were giv­ing ten per­cent more than the pre­vi­ous Yom Kip­per. I tensed up when the Rab­bi got to Nat Schac­ter, who, alpha­bet­i­cal­ly was a cou­ple of names before Nathan J. ​"Son­ny" Son­nen­feld. Schac­ter would phleg­mish­ly clear his throat before call­ing out, for all the con­gre­ga­tion to admire, ​"Plus ten!"
Dad always found a trail to the bath­room a few names before Schac­ter, and I would sit, crouched low in the hard back break­ing pew, hear­ing, ​"Nathan J. Sonnenfeld!"
Silence.
"Nathan J. Sonnenfeld?
Silence.
"Mar­vin Spitzer?"
"Plus ten."
The last day I attend­ed Hebrew school was a windy, bit­ter­ly cold after­noon. Rab­bi Baul­mal walked into his dun­geon-like class­room smok­ing a cig­ar, his left arm ban­daged from his elbow to his hand.
The Rab­bi lived in Riverdale, about a fif­teen-minute dri­ve up the West Side High­way from Wash­ing­ton Heights.
Two things hap­pened the day before our les­son, both of which con­spired to send the Rabbi's left arm up in flames.
A toll booth had been installed on the Riverdale side of the Hen­ry Hud­son Bridge. It cost a dime. On the very same day, the Rab­bi bought a new Buick; his first car with a seat belt.
The Rab­bi stopped his Riv­iera at the new toll gate and, real­iz­ing he need­ed a dime, reached under­neath his seat belt into his left pants pock­et, where­upon he felt both some change, and a pock­et­ful of strike any­where match­es for his White Owls.
As he strug­gled to get a dime out of his pants, his hand stuck under­neath his con­fus­ing and nev­er before worn seat­belt, Baul­mal became very con­scious of the trail of cars honk­ing behind him. The pan­icked Rab­bi made the soon to be hos­pi­tal-vis­i­ta­tion-induc­ing mis­take of rub­bing some of the strike any­wheres togeth­er inside the dark, claus­tro­pho­bic pock­et of his slacks.
I can imag­ine the fas­ci­nat­ed look on the toll taker's face, as he watched the Rabbi's left side start to smol­der and final­ly flame up, the reli­gious leader's hand trapped in his trousers. I must say, it was so hilar­i­ous­ly grue­some, that it almost made me believe there was a God.
A cou­ple of weeks before my bar mitz­vah, the Rab­bi real­ized he was about to be embar­rassed that I didn't know a word of my haftorah.
He called my parents.
Bust­ed.
Dad took me from Kenny's apart­ment right to Beth Shalom. The class was over and the base­ment room stunk of Baulmal's stale White Owls. As we peered through stri­a­tions of smoke and stench, I heard Baul­mal say,
"What are we going to do with you, young man?"
"You mean about me not being able to read Hebrew and my being bar mitzvah'd in two weeks?"
"Pre­cise­ly."
"I guess I shouldn't get bar mitzvah'd?"
"Bar­ry," said my father, ​"we've already invit­ed peo­ple and paid a cater­er. You'll be get­ting gifts and besides, your moth­er expects you to be bar mitzvah'd. That's not an option."
The evening of my bar mitz­vah I would dis­cov­er the real rea­son my father want­ed me to go through with the charade.
"Well, why don't I bring in my 3M Wol­len­sak reel-to-reel tape recorder, the Rab­bi can read my Haftorah into it, and I'll mem­o­rize it."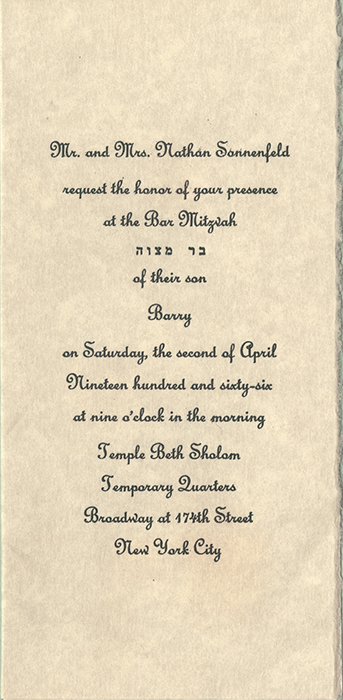 Which is what I did.
Here's where the event went a lit­tle south. Beth Shalom, by this point, was almost fin­ished with their new build­ing. They would be cel­e­brat­ing the first Sab­bath in their fan­cy air-con­di­tioned tem­ple on Sat­ur­day April 9. How­ev­er, they had already sold their old build­ing to an ortho­dox sect, which was mov­ing in Sat­ur­day the 2nd, and they didn't want us there.
The solu­tion, and I know this sounds too good to be true, was that I was Bar Mitzvah'd across the street from my apart­ment build­ing in Beth Shalom's ​"Tem­po­rary Quar­ters" — which was a Catholic Church. The Rab­bi and Can­tor entered the Church the night of April Fools — yes, my birth­day — and placed large burlap bags over the end­less dis­plays of cross­es and cru­ci­fix­es that looked down on the congregation.
Var­i­ous peo­ple are giv­en the hon­or of being called up to the podi­um to read pas­sages from the Torah at a Bar Mitz­vah. Usu­al­ly the fam­i­ly picks uncles or fathers, or spe­cial friends. They check with the lucky par­tic­i­pants ahead of time.
My par­ents went a dif­fer­ent way.
"And now we would like Joe Rabi­nowitz to come up and read the next por­tion of the Torah."
"No," called out a sur­prised Joe, who lived in apart­ment 6C and was the father of Amy, who had been in class with me from kinder­garten through, as it would turn out, high school.
"Joe Rabi­nowitz. Please come up to the front of this uh…"
The Rab­bi hes­i­tat­ed to find the right word, as he glanced around the burlap wrapped crucifixes.
"…room."
"No," said Joe.
"You can't say no," bel­lowed the blus­ter­ing Baulmal.
"No. Thank you," said Joe.
"That doesn't work either. You are required, when you are called, to come up and read this pas­sage. It's an honor."
"Not for me it isn't."
My moth­er walked back to Joe. They had a whis­pered con­ver­sa­tion, dur­ing which Kel­ly was informed that Joe didn't read Hebrew.
The Rab­bi see­ing this was going nowhere, left the podi­um and walked up to Joe. After a heat­ed dis­cus­sion, and a promise that Joe could read the words in Eng­lish, Joe caved but was — with good rea­son — pissed.
After pre­tend­ing to read/​sing my por­tion of the Torah, which was total­ly by rote, I then gave my bar mitz­vah speech to the assem­bled guests, which was, and this is April 1966, a plea to end the war in Viet­nam. It was ghost writ­ten by my moth­er. I can't imag­ine any­one thought the words were mine.
Although the new and improved Tem­ple Beth Shalom's main floor wasn't ready for my Bar Mitz­vah cer­e­mo­ny, the base­ment was fin­ished enough for my big, cheap par­ty as long as we didn't mind the spack­le tape and kraft paper cov­er­ing the floor. The event was in the evening, hours after my Catholic Church appear­ance. It was an eight block walk from my apart­ment to the new tem­ple, but mom's legs were ​"both­er­ing her," so Son­ny drove.
Kel­ly insist­ed I sit on her lap.
When we arrived at the shul, I jumped off mom's lap as quick­ly as pos­si­ble, since real­ly, if a bar mitz­vah rep­re­sents a Jew­ish boy becom­ing a man, rid­ing to his man­ly par­ty on his mother's lap was just wrong.
I opened the Pontiac's door, for­got mom hadn't got­ten out yet and slammed the door on her leg.
She should have walked.
For the entire par­ty, my moth­er sat with her leg up on a chair, bags of ice taped around her ankle and calf. She was as much in heav­en play­ing the role of injured mar­tyr as I was in hell, play­ing the role of bar mitz­vah boy.
My suit was shiny blue with a hint of green, as if lit by a mer­cury vapor lamp. The jack­et had two inside breast pock­ets, and as the evening went on, they start­ed to bulge as more and more envelopes with E bonds or twen­ty-five-dol­lar checks filled them. My pecs were start­ing to look Schwarzenegger-esque.
When we arrived home, Son­ny and I sat on my bed, count­ing the loot. Over thir­teen hun­dred bucks. A nice stash for a cam­era and an enlarger.
I would nev­er see that mon­ey again. Dad took it, telling me we'd open a bank account the fol­low­ing Sat­ur­day. Unfor­tu­nate­ly, he ​"lost" the mani­la enve­lope he had put the mon­ey in for safe keep­ing. Coin­ci­den­tal­ly, we could once again shop at Lou the butch­er, and we no longer owed sev­er­al month's back rent.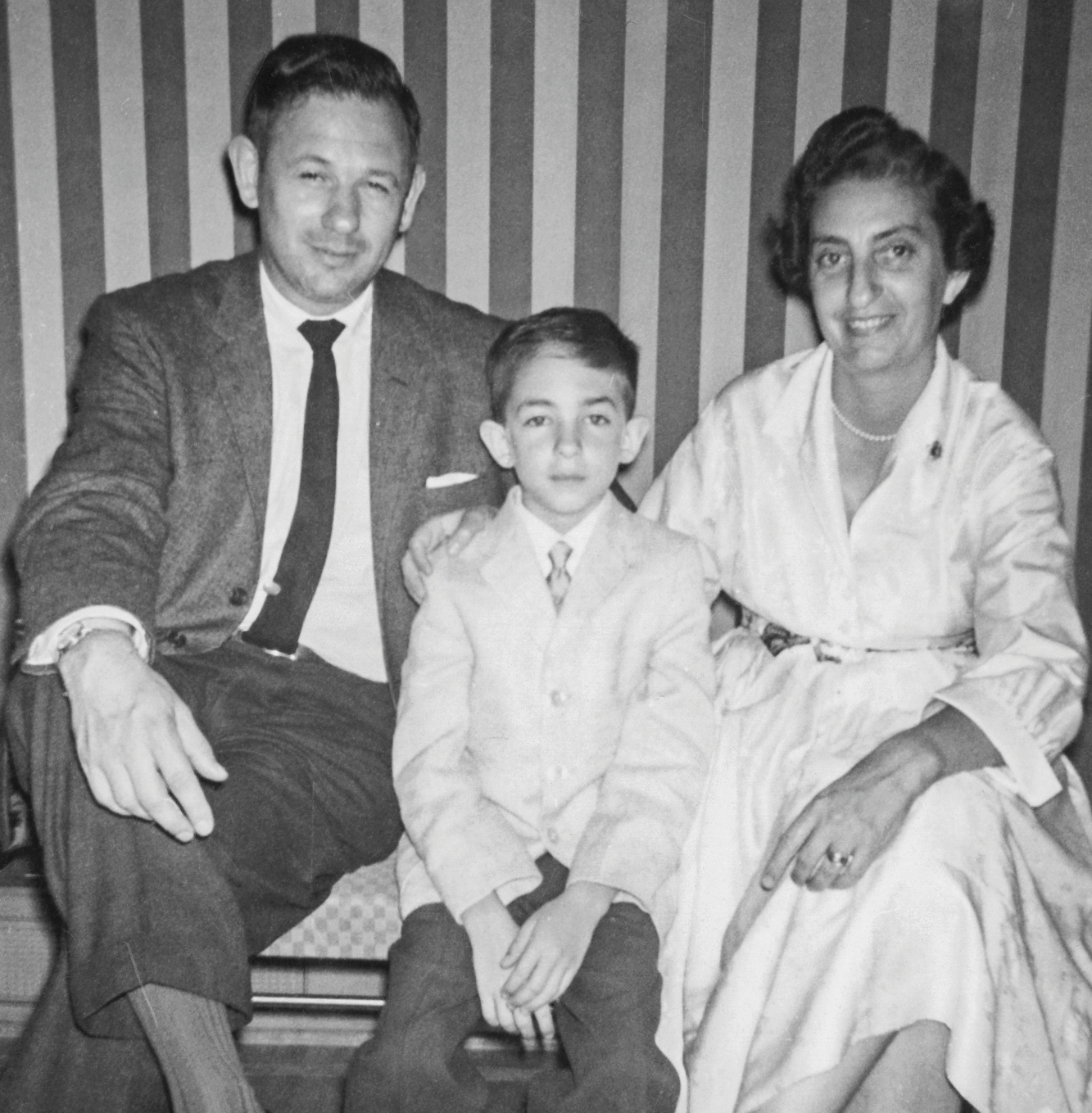 Bar­ry Son­nen­feld is a film­mak­er and writer who broke into the film indus­try as the cin­e­matog­ra­ph­er on the Coen Broth­ers' first three films: Blood Sim­ple, Rais­ing Ari­zona, and Miller's Cross­ing. He also was the direc­tor of pho­tog­ra­phy on Throw Mam­ma from the Train, Big, When Har­ry Met Sal­ly, and Mis­ery. Son­nen­feld made his direc­to­r­i­al debut with The Addams Fam­i­ly in 1991, and has gone on to direct a num­ber of films includ­ing Addams Fam­i­ly Val­ues, Get Shorty, and the first three Men in Blacks. His tele­vi­sion cred­its include Push­ing Daisies, for which he won an Emmy, and most recent­ly Net­flix's A Series of Unfor­tu­nate Events.