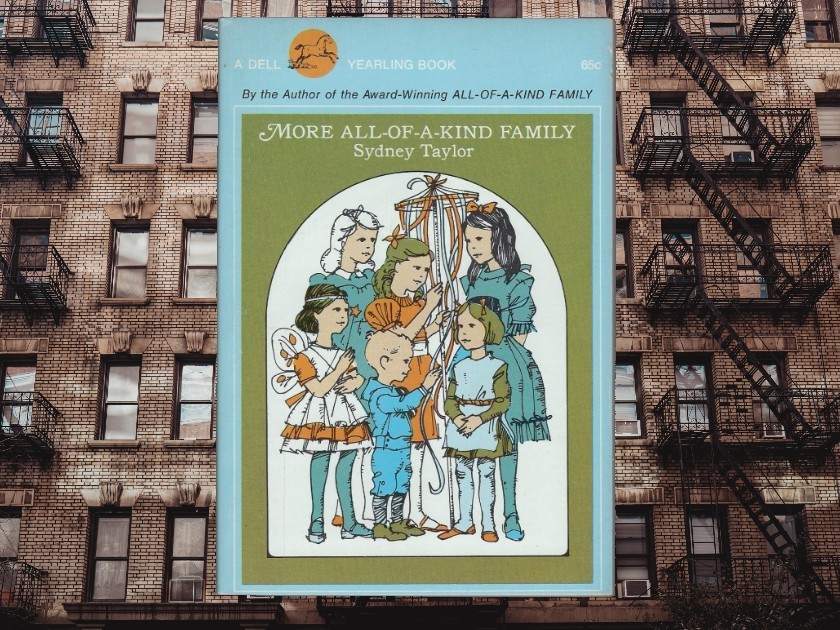 Sum­mer has his­tor­i­cal­ly been a time of both leisure and per­il for chil­dren, and the same is true in the world of children's lit­er­a­ture. Fright­ened at the pos­si­bil­i­ty of expo­sure to dan­ger­ous dis­eases, par­ents were often forced to bal­ance phys­i­cal health and emo­tion­al well­be­ing when car­ing for their chil­dren. Although many peo­ple may have had the priv­i­lege of pri­or­i­tiz­ing free­dom of action over fear of dis­ease, that is no longer true in our times. Wear­ing masks and social dis­tanc­ing today echo the same anx­i­eties of ear­li­er eras, when dis­eases with no cure and no means of pre­ven­tion were ram­pant. In Syd­ney Taylor's More All-of-a-Kind Fam­i­ly (1954), the loom­ing threat was polio, a ter­ri­fy­ing plague which seemed to strike at ran­dom but usu­al­ly tar­get­ed the young. Those who sur­vived were often left with per­ma­nent phys­i­cal dis­abil­i­ties, as well as emo­tion­al scars. Crowd­ed urban com­mu­ni­ties were usu­al­ly seen as a high­er risk zone, but no one was safe. In today's dis­cus­sions about the need for more diverse rep­re­sen­ta­tion in Jew­ish-themed children's books, peo­ple with dis­abil­i­ties are assumed to have been invis­i­ble in books of the past, yet there are notable exceptions.
In Taylor's sto­ry of Jew­ish life on the Low­er East Side of New York in the ear­ly twen­ti­eth cen­tu­ry, the author con­fronts dis­ease and its mul­ti-faceted con­se­quences with sen­si­tiv­i­ty and real­ism, encour­ag­ing dis­cus­sion with­in the frame­work of Jew­ish val­ues. Jew­ish tra­di­tion has many reminders of the val­ue of human life and of the oblig­a­tion to judge peo­ple not by their exter­nal appear­ance but by their inner qual­i­ties. As the Pirkei Avot (Ethics of the Fathers) teach­es, ​"Do not look at the con­tain­er, but at that which is in it." Yet the real­i­ty of cop­ing with changes wrought on the human body by dis­ease is not resolved eas­i­ly, even with­in a sup­port­ive Jew­ish community.
In the chap­ter enti­tled ​"Epi­dem­ic in the City," Tay­lor describes the sense of fore­bod­ing in 1916, when an epi­dem­ic struck New York, killing more than two thou­sand peo­ple and dis­abling many more. Par­ents resort­ed to what­ev­er resources gave them some con­fi­dence — not masks or hand san­i­tiz­er — but prayer, small bags of cam­phor placed around children's necks, and, if at all pos­si­ble, a trip to the coun­try. Tay­lor intones omi­nous­ly, ​"Soon there were emp­ty seats in the class­rooms, and the clang of an ambu­lance bell was heard more and more fre­quent­ly." The fear of con­ta­gious dis­ease was nev­er far away in the era before vac­cines or antibi­otics; in the first book of the series, scar­let fever (strep infec­tion) forces the fam­i­ly to quar­an­tine dur­ing Passover. Yet the polio virus raised the specter of both mor­tal­i­ty and dis­abil­i­ty on a large scale.
When polio strikes the fam­i­ly, it is not the chil­dren, but their Uncle Hyman's fiancée, Lena, who is its unex­pect­ed vic­tim; just as today, when data about COVID-19 points to age and under­ly­ing med­ical and socioe­co­nom­ic con­di­tions as risk fac­tors, when indi­vid­u­als out­side of those high­er risk groups become ill peo­ple can be shock as well. The fam­i­ly is incred­u­lous: "'Lena, a grown woman! How is it pos­si­ble?' Mama asked, ​'Infan­tile paral­y­sis is a children's dis­ease!'" Although the book takes place pri­or to World War I, Tay­lor (1904−1978) was an adult dur­ing the pres­i­den­cy of Franklin Delano Roo­sevelt, who had con­tract­ed the dis­ease as a healthy thir­ty-nine-year-old. Although an unwrit­ten agree­ment with pho­tog­ra­phers meant that most Amer­i­cans were not aware of the full extent of his dis­abil­i­ty, they knew that his expe­ri­ence was atyp­i­cal and, there­fore, even more frightening.
Jew­ish tra­di­tion has many reminders of the val­ue of human life and of the oblig­a­tion to judge peo­ple not by their exter­nal appear­ance but by their inner qualities.
Soon, the family's life is desta­bi­lized by grief and inse­cu­ri­ty. The com­ing sim­cha of a wed­ding is replaced by Uncle Hyman's sad­ness and fear: ​"Like a wan­der­ing ghost, he plod­ded back and forth from the hos­pi­tal to the house, his face pale, his hair all mat­ted on his fore­head, and his eyes red-rimmed." Final­ly, Mama and Uncle Hyman come home with — con­sid­er­ing worse pos­si­ble out­comes — good news. Lena will indeed recov­er, although she has lost the use of her left leg. Giv­en the pos­si­ble effects of the dis­ease, this prog­no­sis is deemed lucky. The effects of ill­ness on the fam­i­ly spread out in unpre­dictable ways, bring­ing anger, resent­ment, and frus­tra­tion, as well as loss. Lena calls off the engage­ment, con­vinced that Hyman will now only mar­ry her out of pity, and be bur­dened for the rest of his life at a time when the idea of accom­mo­da­tions for those with dis­abil­i­ties were far in the future.
Even before Lena becomes ill, her courtship with Uncle Hyman has been fraught with ten­sion. Hyman is, even in the affec­tion­ate view of Mama — his sis­ter — a schlumper, phys­i­cal­ly unkempt and social­ly awk­ward. He wash­es loud­ly at the kitchen sink, ​"grunt­ing and sput­ter­ing all the while." His child­like enjoy­ment of food is less than ele­gant, and he seems com­plete­ly unaware of ordi­nary man­ners. Yet Hyman is kind and affec­tion­ate, offer­ing exact­ly the kind of exam­ple which the Pirkei Avot sug­gests in cau­tion­ing Jews to eval­u­ate peo­ple accord­ing to their souls, not their out­fits. He first meets Lena at his sister's home; ​"Lena the Greena" is a ​"green­horn," a recent immi­grant to Amer­i­ca, who has lost her fam­i­ly in Europe and is work­ing in a fac­to­ry to sup­port her­self. In spite of her pover­ty and her imper­fect Eng­lish, Lena is fas­tid­i­ous and polite, care­ful of social norms, and eager to assim­i­late into her new coun­try. While they would seem to be some­thing of an odd cou­ple, Hyman falls in love with her, uncon­cerned with her sta­tus as a poor orphan.
When Hyman shows up late to escort her to the Sec­ond Avenue (Yid­dish) the­ater, unshaven and wear­ing dirty clothes, she is furi­ous. All her pent-up anger at the com­pro­mis­es she has made seems to erupt as she accus­es Hyman of dis­re­spect­ing her: ​"For you it's all right to take a girl to the the­ater look­ing like a schlep­per so every­body should talk…I thought you were begin­ning to be dif­fer­ent – to take care a lit­tle of your­self. But I made a big mis­take. Once a schlep­per, always a schlep­per!" Hyman's con­fu­sion at her reac­tion is gen­uine; he might well be quot­ing the rab­binic source when he responds to her: ​"So you see me in my work­ing clothes. Is that so ter­ri­ble? After all, peo­ple should like each oth­er for them­selves and not — " Only to have Lena accuse him of believ­ing that ​"peo­ple should go around look­ing like pigs," a strong com­par­i­son for an obser­vant Jew. After his sis­ter and nieces con­vince him to get cleaned up and try again, he and Lena become engaged.
When Lena sus­tains her dis­abil­i­ty, her rela­tion­ship with Hyman is com­plete­ly altered — at least from her per­spec­tive. While before she had tol­er­at­ed his lack of exter­nal beau­ty, now she is sure that he will nev­er be able to tol­er­ate her altered phys­i­cal appear­ance. In addi­tion, she has become depressed, her mind as affect­ed by trau­ma as her body. Mary Stevens' black and white line draw­ing depicts the young woman as pre­ma­ture­ly aged, with deep wrin­kles and unkempt hair. Pre­vi­ous­ly so fas­tid­i­ous, she sits by the win­dow with a shawl care­less­ly safe­ty-pinned around her shoul­ders. Hyman embod­ies the Jew­ish prin­ci­ple of accep­tance and under­stand­ing of human dig­ni­ty. He has already assured Mama that Lena's dis­abil­i­ty is irrel­e­vant to him: ​"Who's pity­ing her? So she won't be able to run and jump around! What do I care?…All I know is I love her, and I want her to be my wife."
When Lena sus­tains her dis­abil­i­ty, her rela­tion­ship with Hyman is com­plete­ly altered — at least from her perspective.
Dur­ing their trip to Far Rock­away to remove the chil­dren from the epi­dem­ic and to aid in Lena's recov­ery, Mama final­ly shocks Lena back into real­i­ty, point­ing out that she has allowed her feel­ings of loss to con­sume her, com­plete­ly ignor­ing her for­mer fiancé's own sense of loss and his uncon­di­tion­al love for her. Mama's approach may seem harsh by con­tem­po­rary stan­dards; today, val­i­dat­ing Lena's sense of loss would seem more com­pas­sion­ate. Her plea may seem sen­ti­men­tal, but it reflects Jew­ish val­ues and Hyman's deep and uncom­pro­mis­ing love: ​"Don't you know Hyman would rather have you with a bad leg than any­one else in the whole world?" Lena admits that she still loves Hyman and will mar­ry him. Their rela­tion­ship will have a new basis of equal­i­ty, each see­ing the oth­er as the per­son with­in, not just the ​"con­tain­er."
Hyman and Lena's wed­ding is a con­trast of exter­nal appear­ances and inner real­i­ties. Hyman's ele­gant starched shirt is uncom­fort­ably restric­tive, but he under­stands that it is a tem­po­rary acknowl­edge­ment of a spe­cial day: ​"It's a good thing I don't have to be dressed like this every day," he com­ments. The guests rel­ish the exag­ger­at­ed ele­gance of the wed­ding hall, an impor­tant indi­ca­tor for immi­grants and new Amer­i­cans that they have suc­ceed­ed, at least for a day. ​"Arti­fi­cial flowers…worn red plush seats," and a mir­ror with ​"a large irreg­u­lar crack run­ning down the cen­ter," seem almost com­i­cal exam­ples of lux­u­ry. While appear­ances may be ulti­mate­ly less impor­tant in Jew­ish tra­di­tion, they do have a role, par­tic­u­lar­ly in the Jew­ish ide­al of hid­dur mitz­vah, beau­ti­fy­ing a reli­gious oblig­a­tion to empha­size its impor­tance. Lena's bout with polio will not exclude her from this expe­ri­ence. When she begins to walk towards the hup­pah (mar­riage canopy), the real­i­ty of her dis­abil­i­ty reasserts itself: ​"Slow­ly, halt­ing­ly, she began the long walk. The guests looked on sym­pa­thet­i­cal­ly as, some­what clum­si­ly, she dragged her lame leg. But Lena was unaware of any­one. Her head was high and proud." Guests sig­nal to the musi­cians to slow their pace and they do so.
Lena and Hyman in Syd­ney Taylor's More All-of-a-Kind Fam­i­ly are forced to nego­ti­ate a new rela­tion­ship in the after­math of her illness.
When an epi­dem­ic strikes, human vul­ner­a­bil­i­ty becomes acute­ly obvi­ous. Lena and Hyman in Syd­ney Taylor's More All-of-a-Kind Fam­i­ly are forced to nego­ti­ate a new rela­tion­ship in the after­math of her ill­ness. Tay­lor looks at indi­vid­u­als in one com­mu­ni­ty and ana­lyzes how their per­son­al­i­ties and inter­per­son­al con­flicts inter­act with nor­ma­tive Jew­ish val­ues, enabling them to move for­ward in their lives. Lena will nev­er be exact­ly the same, but her ulti­mate worth is unchanged, accord­ing to the pre­cept of Pirkei Avot, ​"Do not despise any man, and do not dis­crim­i­nate against any­thing, for there is no man who has not his hour, and there is no thing that has not its place." Con­tem­po­rary Jew­ish-themed books for chil­dren can con­tin­ue to offer greater inclu­sion of peo­ple with dis­abil­i­ties. Taylor's fic­tion, through care­ful­ly drawn char­ac­ters and skill­ful nar­ra­tive, offers a reminder that some old­er works do reflect this fun­da­men­tal Jew­ish val­ue, in a way which young read­ers will nev­er forget.
Emi­ly Schnei­der writes about lit­er­a­ture, fem­i­nism, and cul­ture for Tablet, The For­ward, The Horn Book, and oth­er pub­li­ca­tions, and writes about chil­dren's books on her blog. She has a Ph.D. in Romance Lan­guages and Literatures.