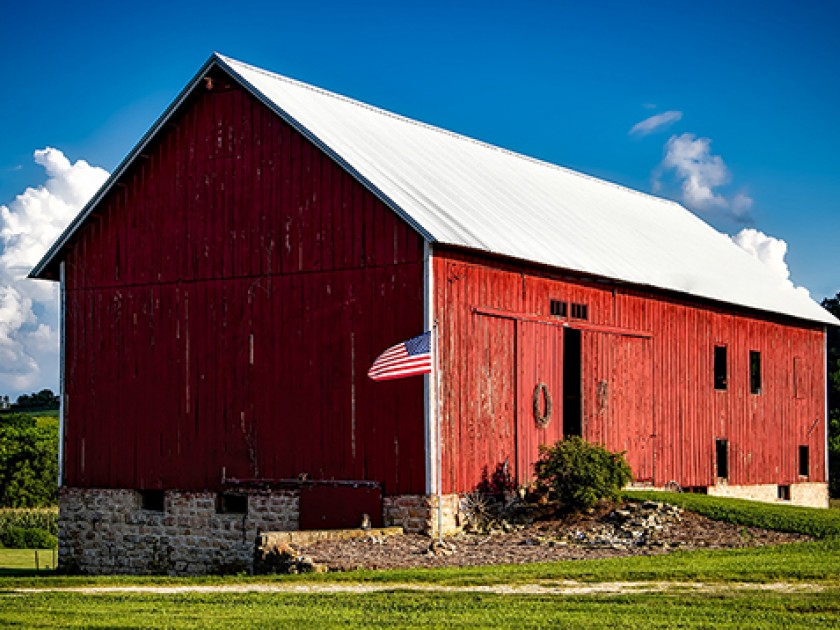 Deb­bie Born­stein Holin­stat is the co-author of Sur­vivors Club, an account of her father's ear­ly child­hood at Auschwitz. Deb­bie is guest blog­ging for the Jew­ish Book Coun­cil all week as part of the Vis­it­ing Scribe series here on The ProsenPeo­ple.
You know you've moved to a town where you're in the minor­i­ty when even the hand­ful of Jew­ish peo­ple you meet are sur­prised you're Jew­ish — after you've intro­duced your­self with the last name Born­stein. In Ottumwa, Iowa, there aren't even enough Jews for any­one to rec­og­nize pat­terns in last names. I lived in that small Iowa ham­let for one year of my life, report­ing for the local ABC affil­i­ate; my first job out of col­lege. I was there to hone my jour­nal­ism chops, but I end­ed up learn­ing just as much about Judaism and the need for con­nec­tion as I did about infor­ma­tion gath­er­ing and lin­ear edits.
The biggest les­son came on Yom Kip­pur, in a moment that left me hor­ri­fied and sad­dened, but it also woke me up.
A soft-voiced, aged Rab­bi wel­comed about ten con­gre­gants and me. I had hoped to return home for the hol­i­day but my work sched­ule didn't jive with the flight sched­ule so here I was, enter­ing Ottumwa's mod­est syn­a­gogue for the first time. ​"We see you on TV every morn­ing! You're Jew­ish? Real­ly?" I signed off every news report with my name, first and last. I was floored no one guessed that a ​"Deb­bie Born­stein" was Jew­ish. The group was most­ly seniors, their chil­dren all grown, and I was touched that they invit­ed me to a break-fast din­ner at one congregant's home lat­er that evening.
The morn­ing ser­vice was longer than I'm accus­tomed to, but love­ly. When it end­ed every­one filed out to their cars in the des­o­late park­ing lot. I noticed that one woman stayed back. She was sit­ting alone in a bench and seemed to be set­tling in with a book. ​"Do you need a ride?" I asked. She told me she stayed until min­cha, the after­noon ser­vice. ​"That's sil­ly!" I said. ​"I'll bring you home and pick you back up for min­cha. There's no rea­son to sit here all day."
The woman, whose name I can't remem­ber but whose sto­ry I'll nev­er for­get, told me that every year, on the High Hol­i­days, her hus­band drops her off at the syn­a­gogue very ear­ly. Then he picks her up after sun­down. He didn't want any­one to know that she was Jew­ish. It embar­rassed him. Even this woman's own chil­dren didn't know she was Jew­ish — or that they are Jew­ish, too.
I thought about open­ing my mouth. I thought about telling her to march proud­ly out of the syn­a­gogue in broad day­light, to tell her hus­band she's nev­er going to hide her reli­gion, to call her kids and tell them they are among God's ​"Cho­sen Peo­ple". Oh, I had plen­ty of thoughts run­ning through my med­dle­some mind. But I didn't say a word. My face might have spo­ken for me, but my lips were zipped. At the age of 22, I didn't feel it was my place to inter­fere in a person's pri­vate fam­i­ly dynam­ic. I just sat with her a while instead. After some time, it was clear she was enjoy­ing her book and her silence so I shuf­fled home, stom­ach growl­ing, mind swirling.
I'd like to tell you that the woman I left behind at syn­a­gogue that fall of 1996 was read­ing Midrash or Tal­mu­dic analy­sis or even Judaism for Dum­mies. I think it might have been a Danielle Steele nov­el. My take­away remains the same though. There are peo­ple liv­ing right here in this diverse coun­try who still have obsta­cles con­nect­ing to Jew­ish life. Few things can change that in a town where there are more eggs in a car­ton, than there are Jews at High Hol­i­day services.
But Jew­ish books can fix that. If some­one nev­er has the oppor­tu­ni­ty to learn how to pre­pare a prop­er Passover Seder, she can learn about it in books. If an elder­ly man fears that no one in his com­mu­ni­ty will know to arrange shi­va, the Jew­ish mourn­ing rit­u­al, when he pass­es, he can learn more about the sig­nif­i­cance of shi­va and share it with friends — through books. Jew­ish phi­los­o­phy on life and love, par­ent­ing and pass­ing are all avail­able these days with a swipe of a but­ton on mobile phones or a quick stop at the book­store, and if some­one has nev­er had the oppor­tu­ni­ty to hear first­hand accounts of the Holo­caust from a liv­ing sur­vivor, they can still read their stories.
I am immense­ly proud to know that some­one in Ottumwa, Iowa, or a town like it, may now be able to pick up Sur­vivors Club andlearn about the atroc­i­ties of Auschwitz from my dad's sto­ry, and about the faith that endured from Auschwitz to Amer­i­ca. There is infi­nite val­ue in Jew­ish con­nec­tion, and if we have writ­ten a book that adds one more link, then I am a hap­py for­mer Ottumwa resident.
Deb­bie Born­stein Holin­stat is Sur­vivor's Club co-author Michael Holinstat's third of four chil­dren. A pro­duc­er for NBC and MSNBC News, she lives in North Cald­well, New Jer­sey. She also vis­its schools with her father, and has been work­ing with him for two years, help­ing him research and write his mem­oir, although she has grown up hear­ing many of these sto­ries her entire life.