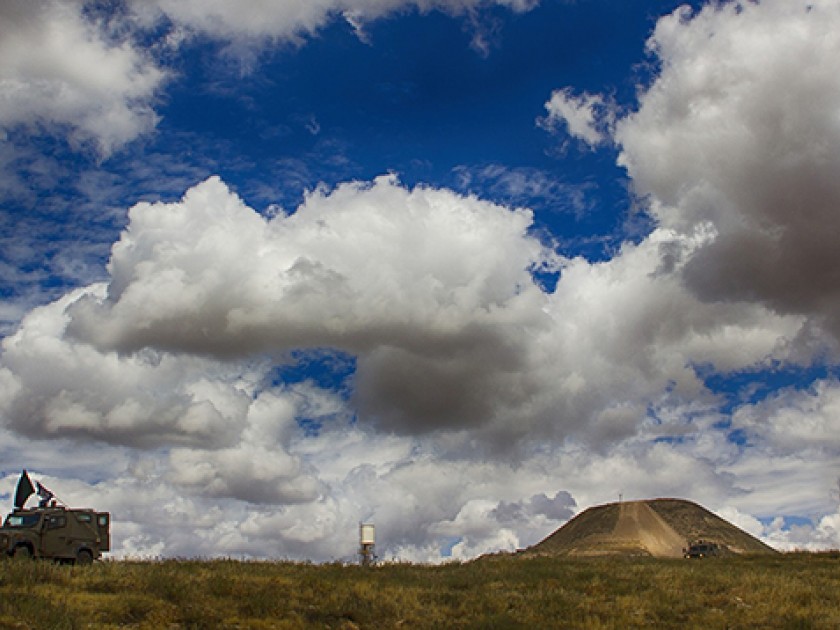 Ear­li­er this week, George Prochnik wrote about when Ger­shom Scholem dis­cov­ered Zion­ism, when Ger­shom Scholem dis­cov­ered Kab­bal­ah, and nav­i­gat­ing the con­tin­u­ous trans­for­ma­tions of Judaism and claim­ing Zion­ism as Jew­ish spir­i­tu­al prac­tice. With the release of his new book Stranger in a Strange Land: Search­ing for Ger­shom Scholem in Jerusalem, George is guest blog­ging for the Jew­ish Book Coun­cil all week as part of the Vis­it­ing Scribe series here on The ProsenPeo­ple.
After leav­ing Jerusalem it was near­ly ten years before I returned. Mem­o­ries of the life I'd tried to build there were too raw and painful. But when I final­ly did make the jour­ney, just to see friends, and take a few walks through my old haunts I had no real expec­ta­tions. Per­haps because I had so harsh­ly sup­pressed all thoughts of Jerusalem in the inter­ven­ing years, the place struck me with a pro­found, sen­su­al force when I returned. I couldn't believe how beau­ti­ful the phys­i­cal nature of the place was. This recog­ni­tion was imme­di­ate, and didn't at first change my think­ing about the city. But for years after­ward I went back and back, try­ing in effect to under­stand what it was that kept pulling me to return. I spoke with peo­ple in young pro­gres­sive polit­i­cal move­ments and arts groups, Israeli and Pales­tin­ian. I vis­it­ed libraries — at the Dome of the Rock as well as in West Jerusalem. I went to reli­gious neigh­bor­hoods and ser­vices. All of it was inter­est­ing, but none of it got to the heart of my response to the place.
On each of these trips back to the land, it became my habit to take a walk in one of the parks or nature reserves around Jerusalem with an old friend who is both a nat­u­ral­ist and a per­son of the the­ater, a direc­tor, pup­pet mak­er, and clown. We would talk a lit­tle about the abid­ing prob­lems in the coun­try, but most­ly about the land itself that we were walk­ing through: the plants we saw, the ani­mals, the deep­er geol­o­gy and vis­i­ble land­scape, the smells, the sounds. Grad­u­al­ly the recog­ni­tion began to draw on me that this in fact more than any­thing else was what had made liv­ing in Jerusalem so pow­er­ful: the press­ing immi­nence of an extra­or­di­nary nat­ur­al world from which dif­fer­ent reli­gions and even his­tor­i­cal move­ments had tak­en inspi­ra­tion. Iron­i­cal­ly, the inspi­ra­tion tak­en from the nature of Jerusalem invari­ably end­ed up turn­ing Jerusalem itself first into a kind of stage-set back­ground, then into a the­o­log­i­cal or ide­o­log­i­cal abstrac­tion. But what would it mean to take what had been back­ground and switch that into the fore­front of think­ing about the city? What would it mean to take hints from Ger­shom Scholem's own writ­ing that the poet­ry of Walt Whit­man (an unex­pect­ed, deep pas­sion of Scholem's), with his nat­u­ral­is­tic pan­the­ism, might hold clues both to a new lex­i­con of kab­bal­is­tic sym­bol­ism and a fresh polit­i­cal approach to the Land? What if the end­less invo­ca­tions of the Land by the mys­tics were tak­en out of the metaphor­i­cal realm and read as a guide to treat­ing the phys­i­cal place as a sacred charge? What if the deep mys­ti­cal notion of tikkun olam today were tak­en as an injunc­tion to lit­er­al­ly ​"repair" or heal the earth — not for the sake of mak­ing the land yield a liveli­hood, but for the sake of the sur­vival of the phys­i­cal place?
For decades we've been hear­ing that the last moment for the two-state solu­tion may have come and gone. At this point, it could be that this option has tru­ly expired, and no state can sur­vive any length of time in this place that does not ful­ly enfran­chise all its inhab­i­tants. Per­haps the only hope at a moment when the effects of cli­mate change have already begun play­ing out aggres­sive­ly in the region — and the two peo­ples are already coex­ist­ing and some­times even ​"co-resist­ing" in the land, if in a crazy, inequitable patch­work — is to re-frame the polit­i­cal debate so that the focus turns to the land as a com­mon trust.
Scholem always main­tained that Judaism has no fixed essence — that it con­sists of what­ev­er Jews say it is. If Zion­ism was the next phase of Kab­bal­ah, per­haps an eco­log­i­cal plu­ral­ism ris­ing out of Jerusalem must became the next chap­ter of Zionism.
George Prochnik's essays, poet­ry, and fic­tion have appeared in numer­ous jour­nals. He has taught Eng­lish and Amer­i­can lit­er­a­ture at Hebrew Uni­ver­si­ty in Jerusalem, is edi­tor-at-large for Cab­i­net mag­a­zine, and is the author of In Pur­suit of Silence: Lis­ten­ing for Mean­ing in a World of Noise and Put­nam Camp. He lives in New York City.