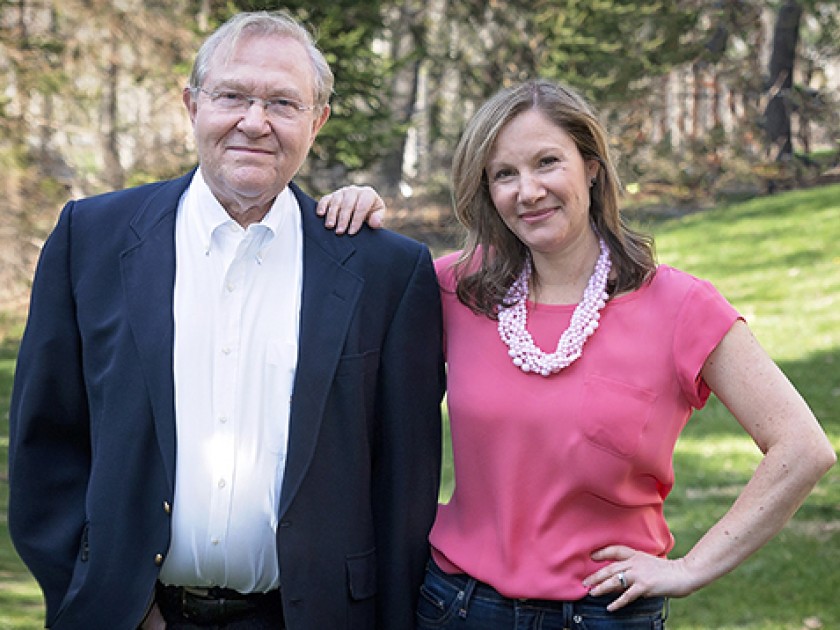 Ear­li­er this week, Sur­vivors Club coau­thor Deb­bie Born­stein Holin­stat wrote about dis­cov­er­ing the pow­er of Jew­ish books in Ottumwa, Iowa. Deb­bie is guest blog­ging for the Jew­ish Book Coun­cil all week as part of the Vis­it­ing Scribe series here on The ProsenPeo­ple.
If my father had his way, my last name would nev­er have been Born­stein" It would have been Bourne or maybe Borns, he tells me, some­thing far less obvi­ous­ly Jew­ish. For­tu­nate­ly, like in all good Jew­ish mar­riages, my mom has final veto pow­er. My sur­name didn't change until the day I walked down the aisle and said, ​"I do."
You might think it's crazythat a man who sur­vived the Auschwitz death camp as a four-year-old pris­on­er of war would decide as an adult in the safe­ty of Amer­i­ca, to hide his reli­gion. Far from life in the Pol­ish ghet­to where he was born, my father insist­ed that my broth­er turn his soc­cer jer­sey inside-out for all ​"trav­el" games so that his tell­tale Jew­ish name did not draw atten­tion. It was easy for my sib­lings and me to judge. ​"Dad! You're absurd! No one cares if we're Jew­ish! Be proud!"
I don't want you to think my father isn't proud of his reli­gion. He val­ues Judaism with his entire heart and finds immense com­fort in light­ing the Hanukkah can­dles or lead­ing the Passover seder. But it has tak­en me 42 years and the process of writ­ing a book along­side my father to real­ly under­stand why he wor­ried about the things he did and pro­tect­ed us with such ferocity.
To be hon­est, I'm embar­rassed. I didn't know half of what my father endured until we sat down to co-write Sur­vivors Club: The True Sto­ry of a Very Young Pris­on­er of Auschwitz. Some of it, even he didn't know. But it was all there to be found — in rel­a­tives' audio­taped inter­views, in exhumed muse­um doc­u­ments, and in the ques­tions the fam­i­ly nev­er asked. I didn't need to write a book to learn my father's his­to­ry and some­times, I'm ashamed that that is what it took.
Had I known the ruth­less bul­ly­ing and unspeak­able assault my father endured in Ger­many after the war, I wouldn't have resent­ed his heli­copter par­ent­ing. If I knew he shared one help­ing of cold, smelly soup each day, among dozens of starv­ing chil­dren who lapped from a bowl like kit­tens, I wouldn't have laughed at his need to clear every last morsel off a restau­rant plate. I know I would nev­er have point­ed an accus­ing fin­ger when he stock­piled free hotel-size sham­poo bot­tles in a cab­i­net, just in case sup­plies ran low.
Despite the five-char­ac­ter tat­too inked on his fore­arm, my dad was the stereo­typ­i­cal hard­work­ing, home­work-help­ing, soc­cer-coach­ing father to four hap­py kids in sub­ur­ban Indi­anapo­lis. We nev­er thought less of him for his Holo­caust-inspired idio­syn­crasies. But I'm sure we would have under­stood him more had we pushed to hear his sto­ry soon­er rather than accept­ing ​"I real­ly don't like to talk about it" as an answer.
My sib­lings and I have learned a lot dur­ing the book writ­ing process. We learned that our grand­fa­ther, my father's father, bribed a Nazi guard (takes chutz­pah, right?!) to make liv­ing con­di­tions more bear­able in the ghet­to where he served as Juden­rat pres­i­dent. We learned that a pre­cise­ly-timed ill­ness helped my father avoid the Death March at Auschwitz. We learned that of the 3,400 Jews who lived in my dad's home­town of Zar­ki before the war, only about 27 returned home. Most of those sur­vivors were my relatives.
Yet maybe the most impor­tant les­son we learned along the way is that ​"I don't want to talk about it," isn't always a final answer. Some­times, it's worth ask­ing again. I am hard­ly the only child of a sur­vivor walk­ing around today, and the Holo­caust is just one of many his­to­ry lessons that can't be for­got­ten. If I could have a do-over, I would have dug for the true sto­ry of my father's sur­vival years ago. I didn't need to write a book, and nei­ther does any­one else. If you want your family's his­to­ry to be remem­bered, just ask. Ask again.
It turns out my father is glad we did. Encour­aged by new find­ings at a muse­um and new fears about Holo­caust deniers, at the age of 76 he is speak­ing open­ly at schools, syn­a­gogues, church­es, and char­i­ty func­tions. He is tour­ing the coun­try, trav­el­ing to D.C., Illi­nois, Min­neso­ta, Philadel­phia, New York, New Jer­sey, Flori­da, Indi­anapo­lis, and Iowa to speak about Sur­vivors Club, and stand­ing up at a time when anti­semitism is on the rise and dis­crim­i­na­tion seems new­ly tol­er­at­ed. With the name ​"Born­stein" print­ed across the spine of our book, he is adding his sto­ry to the record. And with a new under­stand­ing of where he's been and how far he's come, I stand with my sib­lings and my moth­er in say­ing, there is clo­sure, relief, and pride in the journey.
Deb­bie Born­stein Holin­stat is Sur­vivor's Club co-author Michael Holinstat's third of four chil­dren. A pro­duc­er for NBC and MSNBC News, she lives in North Cald­well, New Jer­sey. She also vis­its schools with her father, and has been work­ing with him for two years, help­ing him research and write his mem­oir, although she has grown up hear­ing many of these sto­ries her entire life.