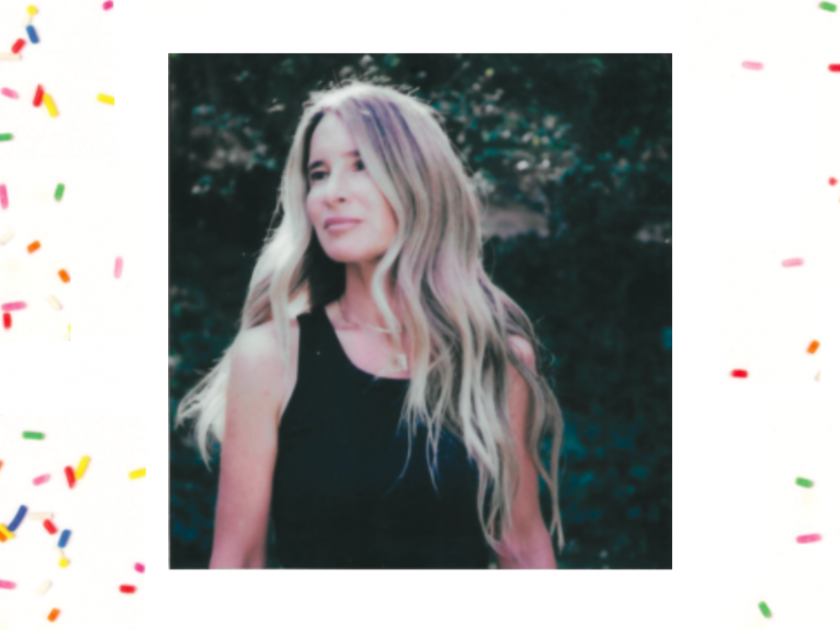 Wild, pro­found, and utter­ly unique, Melis­sa Broder's sec­ond nov­el, Milk Fed, intro­duces us to Rachel: a woman in her mid-twen­ties with a judg­men­tal moth­er, a soul­less job at a Los Ange­les tal­ent agency, and a fix­a­tion on mon­i­tor­ing her calo­rie intake and remain­ing thin. At her therapist's behest, Rachel makes a bulky clay fig­ure to rep­re­sent her worst fears for her body. The next day, the fig­ure seems to come to life in the form of Miri­am, a ​"zaftig" Ortho­dox woman who has start­ed to work at Rachel's favorite frozen yogurt shop. Instead of being repulsed, Rachel feels unex­pect­ed­ly … lust­ful. In con­ver­sa­tion with JBC edi­to­r­i­al direc­tor Bec­ca Kan­tor, Broder dis­cuss­es the impos­si­bil­i­ty of sep­a­rat­ing the spir­i­tu­al and the phys­i­cal, the true mean­ing of per­fec­tion, and how she uses a ​"can­dy coat­ing of humor" to reveal her deep­est vulnerabilities.
Bec­ca Kan­tor: Let's start with the title. ​"Milk fed" seems to sum up so much about Rachel's long­ings for dif­fer­ent types of nourishment.
Melis­sa Broder: Milk Fed is real­ly a sto­ry of appetite: there's phys­i­cal hunger, sex­u­al desire, spir­i­tu­al long­ing, and famil­ial yearn­ing. And it's a look at the ways that we as humans — par­tic­u­lar­ly as women — attempt to con­trol and com­part­men­tal­ize these inter­de­pen­dent instincts. ​"Milk fed" refers to phys­i­cal hunger. It refers to mater­nal love. It also alludes to milk and hon­ey — Rachel's ques­tions about her rela­tion­ship, as an Amer­i­can Jew, to Israel.
BK: You weave the golem myth into your explo­ration of all of those desires through Rachel's clay sculp­ture. What does this reveal about the inter­play of all of Rachel's fan­tasies and reality?
MB: For each of us, real­i­ty is mal­leable. After I wrote my nov­el The Pisces, peo­ple would often ask me if Theo, the mer­man char­ac­ter, was real. And I always said, Well, how real is any­one that we are ever in love with? How much is our per­cep­tion of them, and how much is who they are? I often think that who we love is just as much a reflec­tion of us as it is of the actu­al per­son. In some ways, any beloved can be a golem of sorts because there's a lay­er that we cre­ate. That's not to say that our beloved isn't a real, func­tion­ing per­son in the world. But there are always those ele­ments of projection.
BK: I was struck by how sim­i­lar many of Rachel's child­hood expe­ri­ences are to those you describe in your col­lec­tion of per­son­al essays, So Sad Today. In that book, you also men­tion fan­tasies that become real­i­ties for Rachel. In Milk Fed, we learn that a golem can be ​"a metaphor for that which is sought in the life of its cre­ator." Is your writ­ing also a way of explor­ing dif­fer­ent pos­si­bil­i­ties in or alter­nate ver­sions of your own life?
MB: Rachel is not me. How­ev­er, I am her cre­ator. And I think, like with any moth­er and daugh­ter, Rachel is going to have a lot of my attrib­ut­es via nur­ture. She's also going to have a lot of my attrib­ut­es via DNA — sim­ply the fact that she was born from me. I don't see her as an avatar as much as a daugh­ter. Or maybe like a clip­ping tak­en from a tree that has grown into its own tree.
BK: That moth­er-daugh­ter dynam­ic is a cen­tral theme in Milk Fed. How did your own expe­ri­ences inform Rachel's rela­tion­ship with her mother?
MB: Our par­ents are our first gods, and this may be par­tic­u­lar­ly true of moth­ers. Milk Fed is very much a book that ques­tions cer­ti­tude: What are we being fed? Who has fed it to us? What were they fed — psy­cho­log­i­cal­ly, cul­tur­al­ly, and spir­i­tu­al­ly? Like Rachel, I have had moments when I looked at my thoughts and beliefs, and was stunned to dis­cov­er that they weren't mono­lith­ic truths — they were beliefs. I have had to ask myself: Are these even mine? How would I begin to dis­man­tle them? Do I even want to dis­man­tle them? What's on the oth­er side? The answers tend to fluc­tu­ate, but the ques­tions are very good.
Our par­ents are our first gods, and this may be par­tic­u­lar­ly true of mothers.
BK: Milk Fed shows how eas­i­ly our per­cep­tions of beau­ty can change. Could you talk about the fine line between what can be seen as repel­lent about the human body, and what is thought of as attractive?
MB: Miri­am embod­ies a beau­ty that Rachel did­n't know she would find beau­ti­ful. Rachel can­not give that beau­ty to her­self, but she can admire it in Miri­am. It's a case of what we fear most is what we desire most. Rachel also can't give her­self Miriam's free­dom of con­sump­tion, but in Miri­am, she finds it fab­u­lous. And even more fab­u­lous because she is so afraid to give it to herself.
BK: Speak­ing of appear­ances, Rachel thinks of Los Ange­les as only sur­face deep, a ​"Hol­ly­wood bull­shit fac­to­ry." But for Miriam's moth­er, LA is the city where she could be her most authen­tic self — where she could start her own busi­ness with­out being judged by the ultra-Ortho­dox com­mu­ni­ty. Do you see your book as a com­men­tary on LA? If so, what is that commentary?
MB: Los Ange­les does have roots in the enter­tain­ment indus­try, and there is a lot invest­ed here in the fake. How­ev­er, I don't know that in the twen­ty-first cen­tu­ry, LA is that much more fake than any oth­er place. The first time I moved to Cal­i­for­nia — in my ear­ly twen­ties — I def­i­nite­ly had the Cal­i­for­nia dream of, I'm going to go there and I'm going to learn to be chill and I will become a dif­fer­ent per­son. And what I learned, of course, is that we take our­selves with us.
Rachel also brings her­self to LA. She was already quite focused on her appear­ance before she came here. That said, for read­ers who don't have the issues that Rachel has with body dys­mor­phia, LA serves as a good place to exter­nal­ize that con­flict. So much about appear­ances is mon­e­tized and is asso­ci­at­ed with the per­for­ma­tive in LA sim­ply by the nature of the indus­tries that thrive here.
Miriam's moth­er, Mrs. Schwebel, does lib­er­ate her­self from some ele­ments of her reli­gious back­ground, but there are oth­ers she does­n't leave behind. She does­n't even know why a per­son would want to free them­self from cer­tain prej­u­dices, cer­tain ideas. I think free­dom often comes in dif­fer­ent areas. At first Rachel per­ceives Miri­am as very free, because Miri­am is free in ways that Rachel isn't. How­ev­er, as Rachel gets to know Miri­am she dis­cov­ers that Miri­am has her own limitations.
BK: Maybe most fun­da­men­tal­ly, Rachel comes to real­ize that Mrs. Schwebel would nev­er accept the idea of Miri­am being in a rela­tion­ship with anoth­er woman. How did you go about cre­at­ing the Schwebels? Are they based on real people?
MB: The Schwebels were actu­al­ly inspired by my expe­ri­ence of the Ortho­dox com­mu­ni­ty. Grow­ing up, I went to a Reform syn­a­gogue like Rachel. Before I was bat mitz­va­hed, we did an exchange pro­gram with Ortho­dox Jews in Brook­lyn; we went to them, they didn't come to us, because our hous­es weren't kosher. I was very ner­vous about going, but I went. And I loved it. The food, the fam­i­ly, the humor. I was embraced.
Rachel's impres­sion of the Schwebels, espe­cial­ly upon first meet­ing them, mir­rors that feel­ing of being wel­comed. But then Rachel starts to ques­tion, What if I was­n't Jew­ish? Would they still be so wel­com­ing? She has moral and eth­i­cal ques­tions, par­tic­u­lar­ly regard­ing Israel, that she finds more dif­fi­cult to cast aside. But the joy and the warmth that she expe­ri­ences real­ly reflect the time that I spent with the Ortho­dox com­mu­ni­ty. While the Schwebels are all fic­tion­al, the cholent, the chal­lah, the warmth, the laugh­ter are not.
When I was with my host fam­i­ly in Brook­lyn, I did­n't take into con­sid­er­a­tion the idea that I was wel­comed because I was Jew­ish. And I was­n't talk­ing about my sex­u­al­i­ty. I was cer­tain­ly think­ing about my sex­u­al­i­ty at that age — in mid­dle school, I was already roman­ti­cal­ly obsessed. But my host sis­ter, who was a few years old­er than me, was­n't even allowed to hold hands with a boy. She was­n't dat­ing. So those issues real­ly weren't com­ing into play.
I loved the inno­cence of it all. It was very Edenic for me, and it is only in ret­ro­spect that I think about the lim­i­ta­tions of that world. And not even in the con­text of the Brook­lyn fam­i­ly I stayed with — I've let that be just a beau­ti­ful experience.
BK: Rachel has a recur­ring fan­ta­sy of a shtetl that is also quite Edenic. How does that ide­al serve as a foil to the world around her?
MB: Rachel is obvi­ous­ly aware of pogroms and the pover­ty and the restric­tions on women that were very much a part of shtetl life. How­ev­er, I think that Rachel's shtetl fan­ta­sy is a desire to go inward — to get back to some sort of fun­da­men­tal earth­i­ness, and to feel rather than to per­form. That desire gets sub­li­mat­ed into the shtetl as a sym­bol of real­ness and earth­i­ness, a deep expe­ri­en­tial feeling.
While the Schwebels are all fic­tion­al, the cholent, the chal­lah, the warmth, the laugh­ter are not.
LA is a very easy place to be a Jew in the twen­ty-first cen­tu­ry. There aren't any pogroms. There are flour­ish­ing Jew­ish com­mu­ni­ties. You're not deal­ing with the snows of Rus­sia or the cold of Poland. But at the same time, we can feel dis­con­nect­ed from our inner worlds and from one anoth­er, espe­cial­ly giv­en the nature of all of our tech­nol­o­gy. So there can be a back-to-the-earth fan­ta­sy of a ver­sion of a place that might nev­er have actu­al­ly exist­ed, but exists in our hearts.
BK: Espe­cial­ly because you first became known through your Twit­ter account So Sad Today, it's inter­est­ing that Rachel's rela­tion­ship with Miri­am seems to exist in a space where social media and mod­ern tech­nol­o­gy are com­plete­ly absent. And when mod­ern tech­nol­o­gy does enter the sto­ry, it has an arti­fi­cial or even tox­ic asso­ci­a­tion for Rachel.
MB: I think the inter­net, like reli­gion — like any­thing — con­tains poten­tial for great beau­ty and for great dis­rup­tion. Because Rachel is so dis­con­nect­ed from the phys­i­cal expe­ri­ence of hunger, her body has become like a prod­uct for her. The relief of meet­ing Miri­am and the Schwebels is very much about feel­ing and the inter­nal. While the inter­net cer­tain­ly can engen­der dopamine rush­es and a lot of feel­ings, it is a very per­for­ma­tive place. Part of what draws Rachel to the Schwebels and to Miri­am is that their life seems ground­ed in the phys­i­cal and the earth and food. Like when Rachel is at their Shab­bat din­ner table and she starts to think about the jour­ney that the veg­eta­bles took to make it to the cholent. A pota­to grow­ing in the ground — is that the oppo­site of the inter­net? I'm not sure, but to Rachel, it feels like the opposite.
BK: Rachel has a side gig as a stand-up come­di­an, and you do a fan­tas­tic job of inte­grat­ing humor into her voice. Even though we only read a few lines from her sets, we ful­ly believe in her abil­i­ty just because the nar­ra­tion itself is so fun­ny. In So Sad Today, you describe using humor as a mask to hide behind. Do you feel that applies to Rachel, too?
MB: A smile is very dis­arm­ing. A smile can invite peo­ple in. But a smile can also be used as a shield. Like, I'm okay. Don't ask ques­tions. For Rachel, com­e­dy serves mul­ti­ple pur­pos­es. There's the quest for val­i­da­tion, there's the quest to be seen for who she real­ly is, but at the same time, there's still a defense. When you're telling a joke or describ­ing your pain in a fun­ny way, you're con­trol­ling the narrative.
I've always felt a desire to con­nect with peo­ple on a deep lev­el. If I'm hav­ing a con­ver­sa­tion and it does­n't go to death, sex, and what's real­ly going on with­in fif­teen min­utes, I'm kind of like, Oh, this is exhaust­ing. At the same time, I don't have the con­fi­dence to just lay it all out there with­out giv­ing it a bit of a can­dy coat­ing because when you are being vul­ner­a­ble, there is a fear of rejec­tion. If I give you this can­dy coat­ing, I can talk about these things, but you're not going to feel com­pelled to try to solve them. This is about reveal­ing rather than a cry for help. Rachel feels com­pelled to reveal her­self, but at the same time, she does­n't have the con­fi­dence to do so with­out the can­dy coat­ing of humor.
I like to write in places where I'm not sup­posed to be writ­ing — I don't like writ­ing at a desk.
BK: In addi­tion to your nov­els and essay col­lec­tion, you've writ­ten four col­lec­tions of poet­ry. How does your back­ground as a poet influ­ence your nar­ra­tive voice in fiction?
MB: One of the biggest chal­lenges for me in writ­ing fic­tion is the expan­sion of it. In poet­ry, every­thing is so con­cen­trat­ed. It took me a while to under­stand why I would say in two hun­dred pages what I could say in a two-page poem. In the end, it came down to the joy of spend­ing time in a sto­ry. I love to read fic­tion, and in my nov­els I'm cre­at­ing a longer expe­ri­ence for my read­ers — a world to get lost in for longer, the abil­i­ty to spend more time away from their own real­i­ty. The way that my poet­ry back­ground comes into my edi­to­r­i­al process is that I read and edit my work rhyth­mi­cal­ly. There are cer­tain things I've learned from writ­ing poet­ry about rhythm, white space, and breath that I apply when I edit my novels.
BK: I feel like that empha­sis on the spo­ken word relates to Rachel's stand-up rou­tine and nar­ra­tive voice, too.
MB: Yes. I always dic­tate my first drafts of any work. That start­ed as a func­tion­al thing. I like to write in places where I'm not sup­posed to be writ­ing — I don't like writ­ing at a desk. When I lived in New York and I was writ­ing poet­ry, I would write on the sub­way. And when I moved to LA, I began dic­tat­ing in my car because I could­n't type and dri­ve. Milk Fed went through so many rounds of edits that there's prob­a­bly not all that much of the first draft left in there, but I think the con­ver­sa­tion­al nature of my process def­i­nite­ly has an influ­ence on the way my char­ac­ters speak.
BK: In Milk Fed, Rachel uses Hebrew prayers almost as incan­ta­tions. How does prayer func­tion for you?
MB: I don't pray to change the world; I pray to accept the world and to be able to stand with­in the universe's will. In that way, I'm real­ly pray­ing to change myself. And then per­haps I can have some impact on the world. I don't know if Rachel wills a golem into being — that's up to the read­er — but cer­tain­ly Rachel wills per­son­al trans­for­ma­tion, which allows her to per­ceive the world in a dif­fer­ent way. I like the idea that a mir­a­cle is not nec­es­sar­i­ly turn­ing water into wine. It does­n't have to be an actu­al burn­ing bush. It can be a shift in our own perception.
A mir­a­cle is not nec­es­sar­i­ly turn­ing water into wine. It does­n't have to be an actu­al burn­ing bush. It can be a shift in our own perception.
BK: What should read­ers ulti­mate­ly take from Rachel's spir­i­tu­al journey?
MB: Every char­ac­ter in Milk Fed prob­a­bly has more than one reli­gion, but their denom­i­na­tions stray from the the­o­log­i­cal. If you look through­out the book, gods are made of famil­ial approval, love, desire, the illu­sion of con­trol. I think that all of us, even athe­ists, have gods. It's just a ques­tion of what are you mak­ing your high­er power.
When I was in my twen­ties like Rachel, I real­ly believed that the answer was out­side of me, and I was like a hun­gry ghost in search of it. I felt I had to fig­ure it out with my head, and that any psy­chic-slash-astrologer-slash-new-age-priest­ess knew more than I did. Rachel is still search­ing dogged­ly for answers out­side of herself.
Over the years, I've come to under­stand that every­thing I need is actu­al­ly already with­in me. It's just a ques­tion of being still enough to access it. Recent­ly I was look­ing at all dif­fer­ent def­i­n­i­tions of per­fec­tion, and I found one that was ​"lack­ing noth­ing essen­tial to the whole." Like Rachel, my idea of per­fec­tion — whether that's spir­i­tu­al per­fec­tion, or a syn­thet­ic phys­i­cal per­fec­tion — has often been based on an idea of lack and the neces­si­ty of striv­ing for com­ple­tion. But when I think about per­fec­tion as lack­ing noth­ing essen­tial to the whole …Well, I don't lack any­thing essen­tial. I have all I need. So in a way, we are all already perfect.
Bec­ca Kan­tor is the edi­to­r­i­al direc­tor of Jew­ish Book Coun­cil and its annu­al print lit­er­ary jour­nal, Paper Brigade. She received an MA in cre­ative writ­ing from the Uni­ver­si­ty of East Anglia. Bec­ca spent a year in Esto­nia on a Ful­bright schol­ar­ship, writ­ing and study­ing the coun­try's Jew­ish his­to­ry, and anoth­er year in Ger­many vol­un­teer­ing at the Neuengamme Con­cen­tra­tion Camp Memo­r­i­al. She lives in Brooklyn.