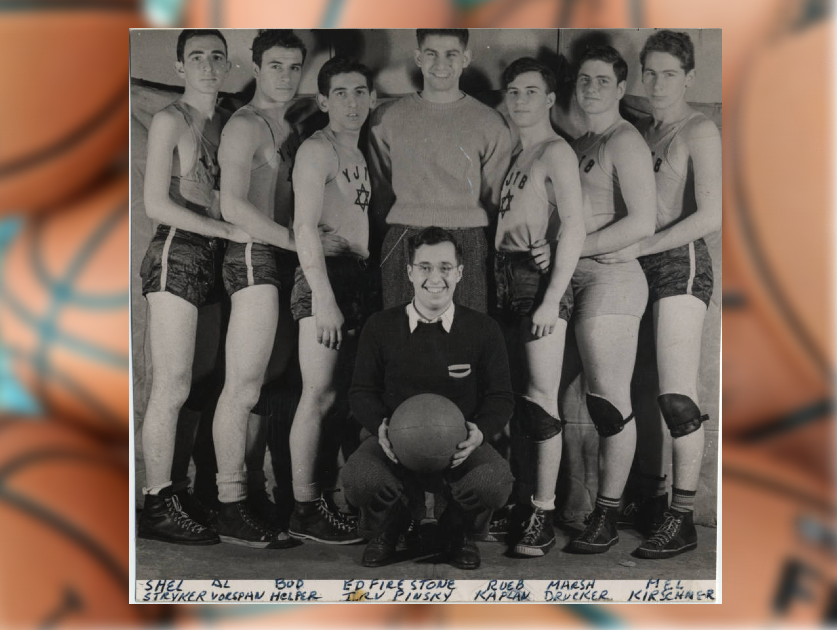 They first made an excep­tion for my broth­er Andy. He was the first Jew­ish kid allowed to play for our local CYO team — he was that good. Then, a new rule allowed the team to accept three non-Catholic play­ers per year. That's why I was able to join three years later.
Bas­ket­ball has always been about belong­ing. That's what James Nai­smith intended.
In 1891, when Nai­smith invent­ed bas­ket­ball, he was think­ing about immi­gra­tion. He was an immi­grant him­self, new to an Amer­i­ca that was expe­ri­enc­ing its as yet largest influx of immi­grants. Sure, Nai­smith was from Cana­da, so he looked and sound­ed much like the major­i­ty white Anglo Amer­i­cans who feared and resent­ed the many immi­grants from East­ern and South­ern Europe and Chi­na. Out­sider and insid­er: per­haps being both at once placed him in a unique position.
All the while, Nai­smith had prob­lems to solve. On a micro-lev­el, he need­ed to come up with an engag­ing game that phys-ed stu­dents could play in a con­fined, indoor space dur­ing the win­ter. But on a larg­er lev­el, he was, in devis­ing this new game, serv­ing the greater Young Men's Chris­t­ian Association's mis­sion to ele­vate the mind, body, and spir­it of the urban Amer­i­can labor­er. He was think­ing of all the peo­ple liv­ing and work­ing in small, cramped spaces, in ten­e­ment apart­ments and over­crowd­ed fac­to­ries. And while the YMCA spread the game to its Chris­t­ian mem­ber­ship from city to city, it did not wel­come, and often exclud­ed, mil­lions of immi­grant new­com­ers — pri­mar­i­ly, East­ern Euro­pean Jews and South­ern Euro­pean Catholics. For­tu­nate­ly, bas­ket­ball itself was acces­si­ble, and these groups found it an ide­al way to demon­strate their assim­i­la­tion. For the next half-cen­tu­ry, then, the game became the ani­mat­ing force for new and first-gen­er­a­tion urban Amer­i­cans to Amer­i­can­ize — to prove that they belonged. In a coun­try where the burn­ing issue was how to ​"deal" with immi­grants, Naismith's solu­tion worked like noth­ing else.
Bas­ket­ball has always been about belonging.
Jews, in fact, pio­neered orga­nized bas­ket­ball in the Unit­ed States. Hun­dreds of thou­sands fled per­se­cu­tion in East­ern Europe, mak­ing their way to cities like Boston, Cleve­land, Seat­tle, Chica­go, and Philadel­phia. By 1920, half the Jews liv­ing in the US were in New York City. But even here, they were met with crude insti­tu­tion­al anti­semitism. The New York City police com­mis­sion­er declared that half the city's crim­i­nals were Jews. Har­vard pres­i­dent Charles Eliot chimed in and stat­ed that Jews were over­ly intel­lec­tu­al, crafty, phys­i­cal­ly infe­ri­or, and should not be per­mit­ted to inter­mar­ry. And barred from access­ing field sports due to cost and dis­crim­i­na­tion, the Jew­ish com­mu­ni­ty built par­al­lel indoor ath­let­ic facil­i­ties at com­mu­ni­ty cen­ters, such as the Young Men's Hebrew Asso­ci­a­tions and set­tle­ment hous­es. Chief among these facil­i­ties was the Uni­ver­si­ty Set­tle­ment House, which cre­at­ed a ​"bas­ket­ball fac­ul­ty" led by Har­ry Braun. Braun's inno­va­tion ele­vat­ed the sport entire­ly. Bor­row­ing from lacrosse, he cre­at­ed the fun­da­men­tals of up-tem­po play: quick short pass­es, mov­ing with­out the ball, keep­ing your head up, and always look­ing for an open team­mate. His fig­ure-eight style of con­stant move­ment came to be called ​"Jew Ball," which served as the basis for suc­cess­ful motion offens­es of NBA cham­pi­ons like the Knicks in the sev­en­ties, the Lak­ers in the eight­ies, the Bulls in the nineties, the Spurs in the 2000s, and the War­riors in the 2010s. The set­tle­ment-house bas­ket­ball teams had become some of the best in New York City. Uni­ver­si­ty Set­tle­ment won the Inter-Set­tle­ment League cham­pi­onship in 1903, 1904, and 1905; in 1907, it swept the Senior and Junior Divi­sion cham­pi­onship titles in both the Inter-Set­tle­ment League and the Ama­teur Ath­let­ic Union (AAU). The ear­li­est pro­fes­sion­al leagues were dom­i­nat­ed by Jews, includ­ing Hall of Famers Dolph Schayes, Bar­ney Sedran, Har­ry Brill, and Nat Holman.
Sim­i­lar­ly, Catholics com­ing from Ire­land, Italy, Poland, and Croa­t­ia were labeled as crim­i­nals, anar­chists, and social­ists who would ruin the Unit­ed States. Dem­a­gog­ic politi­cians said that the way to stamp out their Catholi­cism was to put them through the pub­lic school sys­tem. To pre­serve their reli­gion and cul­ture, the Catholic com­mu­ni­ty cre­at­ed a sep­a­rate edu­ca­tion sys­tem. As poor as the com­mu­ni­ties they served, but eager to prove they belonged, these schools need­ed a sport that required lit­tle equip­ment and no grass. They land­ed on bas­ket­ball. It was through this sys­tem that an inno­v­a­tive first-year coach— Ray Mey­er at DePaul Uni­ver­si­ty in Chica­go in 1942 — pegged a gawky, bespec­ta­cled six-foot-ten George Mikan as the future of the game, train­ing the big man to move like a lit­tle man, which rev­o­lu­tion­ized the game. Mikan ush­ered in the birth of the NBA, and Catholic school bas­ket­ball became an Amer­i­can trea­sure, with its high schools and col­leges serv­ing as peren­ni­al twen­ti­eth- and twen­ty-first cen­tu­ry powerhouses.
As the Noto­ri­ous B.I.G. observed of dire urban con­di­tions, ​"the streets is a short stop / either you're slin­gin, crack rock or you got a wicked jump shot." Options were sim­i­lar­ly lim­it­ed for urban eth­nic minori­ties in the ear­ly twen­ti­eth cen­tu­ry. The ear­li­est teams front­ed eth­nic labels. There were Jew­ish teams from Michi­gan like House of David and Chi­nese teams from San Fran­cis­co like Hong Wah Kues. The New York Celtics were made up of Irish, Dutch, and Ger­man immi­grants. And although they were still legal­ly and social­ly seg­re­gat­ed, Black Amer­i­cans had formed suc­cess­ful teams known as the Black Fives, like the Harlem Rens. These teams appealed to in-group fans but also gave the mar­gin­al­ized new­com­ers pub­lic plat­forms for pride and cul­tur­al assim­i­la­tion. Forty years into his inven­tion, and through two gen­er­a­tions of the Unit­ed States's most robust and social­ly frac­tious peri­od of immi­gra­tion, Naismith's bas­ket­ball had become a means of redefin­ing who was Amer­i­can — and a pow­er­ful tool for nation­al cohesion.
Last year, my NYU class joined the peo­ple of a small moun­tain vil­lage in Italy, and, on Good Fri­day of 2022, we helped con­vince the Pope to rec­og­nize the first-ever Patron Saint of Bas­ket­ball — the first patron saint of any team sport. I guess it took a Jew to make a Saint.
Nai­smith once wrote: ​"I seek to serve god … wher­ev­er that may be." What he cre­at­ed was an acces­si­ble space where all of us, if only tem­porar­i­ly, could feel the joy of belong­ing and com­mu­ni­ty. Amen to that.
Read David Hol­lan­der's How Bas­ket­ball Can Save the World: 13 Guid­ing Prin­ci­ples for Reimag­in­ing What's Pos­si­ble.
David Hol­lan­der, JD, is an assis­tant dean and clin­i­cal pro­fes­sor with the Tisch Insti­tute for Glob­al Sport at New York Uni­ver­si­ty and received NYU's high­est fac­ul­ty hon­or, the Dis­tin­guished Teach­ing Award. He sits on the advi­so­ry boards for esp­nW, the Earl Mon­roe New Renais­sance Bas­ket­ball School, and the NYU Entre­pre­neur­ial Insti­tute. He holds his high school's record for most tech­ni­cal fouls in a sea­son and a career.