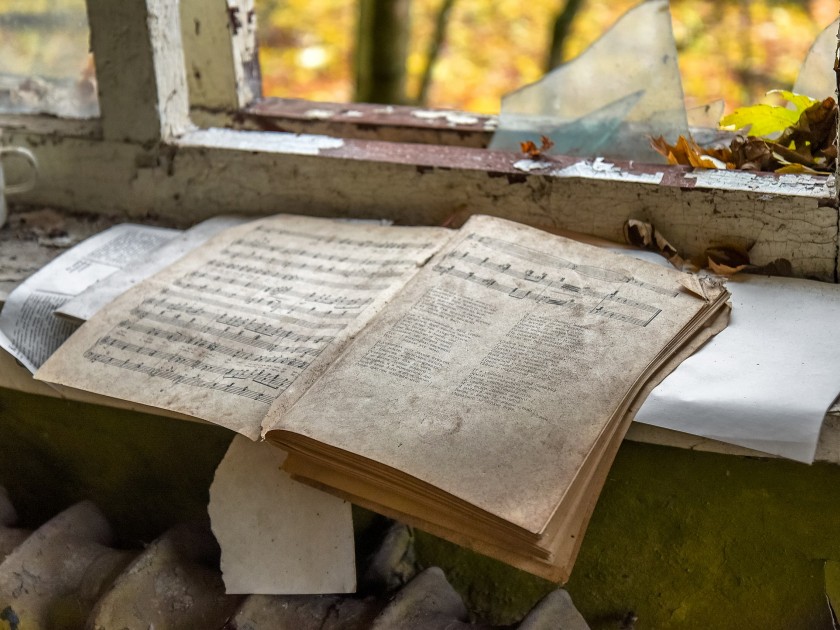 Every sec­tion of my lat­est nov­el, Atom­ic Anna, begins with an epi­graph from Pirkei Avot. This is because the text has chal­lenged me for years.
I first encoun­tered Pirkei Avot—an ancient col­lec­tion of Jew­ish eth­i­cal teach­ings— the year after I grad­u­at­ed from Har­vard. I had won a fel­low­ship to study in Israel for a year, and there I attend­ed a week­ly sem­i­nar on Jew­ish phi­los­o­phy. Pirkei Avot was one of our first assigned texts and I was excit­ed to dig in.
I cracked the spine and saw Pirkei Avot starts with a warn­ing: ​"Be patient in judg­ment." I wasn't pre­pared for that. The last thing I want­ed to be was patient. I was ner­vous and scared for my future, try­ing to fig­ure out how I'd fit into the world. I tried to read slow­ly, to be patient, but I couldn't. The text asked ques­tion after ques­tion and offered very few answers. Fin­ish­ing it was a slog.
When I showed up at the sem­i­nar, my dis­like grew; the pro­fes­sor sug­gest­ed the point of the text was to pose ques­tions with­out easy answers. We had to be patient and think through the ideas, be will­ing to change our minds. There was that word, again — patience. The idea was infu­ri­at­ing, and yet I couldn't stop think­ing about it or the ques­tions posed in the text.
Nor can I stop now.
In the same way I wres­tled (and still wres­tle) with the eth­i­cal ques­tions from Pirkei Avot, the char­ac­ters in Atom­ic Anna wres­tle, too. While the nov­el is about love, sci­ence, and Jew­ish life in the Sovi­et Union and Amer­i­ca, it is also about war and the dead­liest weapon ever imag­ined. My char­ac­ters wres­tle with the eth­i­cal dilem­mas around fight­ing and how far is too far to push.
The nar­ra­tive begins at Cher­nobyl, in Ukraine, the site of the worst acci­dent in his­to­ry. This isn't by chance: I want to point to the death and destruc­tion all that pow­er wreaked. Should the pow­er plant have ever been built? It's a ques­tion inspired by Pirkei Avot.
Like my char­ac­ters, I've wres­tled with the appar­ent con­tra­dic­tion of need­ing to press for­ward while also being patient.
Atom­ic Anna fol­lows a grand­moth­er, a moth­er, and a daugh­ter who work togeth­er to stop the Cher­nobyl dis­as­ter and save their fam­i­ly by build­ing a time machine. Anna is a nuclear sci­en­tist. Mol­ly is a com­ic artist. And Raisa is a math­e­mati­cian. On the sur­face, these three Jew­ish women are bril­liant and pol­ished, but under­neath they are flawed and wound­ed by their past mis­takes. They think they can heal by fix­ing the past, but as they get clos­er to their goal of fin­ish­ing the time machine, they real­ize they are build­ing the most dead­ly and hor­rif­ic weapon imag­in­able. A time machine would be worse even than a nuclear weapon because it would enable them to go back and erase lives, entire gen­er­a­tions, and his­tor­i­cal tra­jec­to­ries with­out any­one know­ing. Who are they to decide how to use this power?
This ques­tion leads direct­ly to anoth­er ques­tion from Pirkei Avot that my char­ac­ters face: ​"If not now, when?" Anna, Mol­ly, and Raisa have a fierce love for one anoth­er and for their work, and they want to time trav­el quick­ly to fix every­thing. But the sci­ence required to build a time machine takes decades to devel­op. My char­ac­ters have to be patient even as they push. There it is again — patience.
Like my char­ac­ters, I've wres­tled with the appar­ent con­tra­dic­tion of need­ing to press for­ward while also being patient. Pub­lish­ing a book is a per­fect exam­ple of some­thing that requires this strug­gle. Even when I write with urgency, it takes years to see my words print­ed on the page . So how can we rec­on­cile the two, and simul­ta­ne­ous­ly push and wait?
There's an old Hasidic tale about Rab­bi Zusha of Hanipol that I think helps us find a way. The tale is short. It recounts that while the Rab­bi was on his deathbed, sur­round­ed by stu­dents and loved ones, he was cry­ing and incon­solable. When they asked him why he was so upset, he replied, ​"When I get to Heav­en, I will not be asked ​'Why weren't you like Moses?', or ​'Why weren't you like Abra­ham?' They will ask, ​'Why weren't you like Zusha?'"
This sto­ry teach­es us that the gift we all have is free will. It's easy to float through day-to-day life check­ing off the box­es of things to do: brush our teeth, pay our rent, make sure our chil­dren make it to school. We can live going through these motions with­out ever real­ly being awake — with­out ask­ing our­selves: Why weren't you like you today? Or, said anoth­er way, just because I can live this way, does it mean I should? The answer only comes when we open our eyes and take a long, hard look in the mir­ror. We must both push to find our­selves and be patient while we search. This is life.
And so this is what I force my char­ac­ters to do in Atom­ic Anna—to look into the mir­ror. Hold­ing the pow­er of a time machine, stand­ing in the shad­ow of the Cher­nobyl dis­as­ter, my three pro­tag­o­nists must con­front their own choic­es and pow­er and under­stand they can't set a course for­ward for any­one but them­selves. They don't have the right to choose for oth­ers. But this real­iza­tion is hard, and they strug­gle with it. We all would and do.
Now that Putin has invad­ed Ukraine and seized the Cher­nobyl com­pound, an actu­al doomed pow­er source, I can only hope he'll see the wreck­age as an exam­ple of the same — that just because he can take it, doesn't mean he should. There is a bet­ter way forward.
After all these years, ques­tions from Pirkei Avot still haunt me. But instead of dis­lik­ing the text, it has become one of my favorites. I now love the fact that I don't have answers. Ques­tions are the point. For me and for my char­ac­ters, that patience and pause, the will­ing­ness to ques­tion and change means every­thing as we take our next step forward.
Rachel's debut nov­el is A Bend In The Stars. It has been named a New York Times Sum­mer Read­ing Selec­tion and a Barnes & Noble Dis­cov­er Great New Writ­ers selec­tion. It is also a Boston Globe Best­seller. Rachel's sec­ond nov­el, Atom­ic Anna, is forth­com­ing from Grand Cen­tral (2022). Rachel is a pro­lif­ic writer and review­er for the LA Review of Books, the Tel Aviv Review of Books and Dead­Dar­lings. She is an Hon­orary Research Asso­ciate at the Hadas­sah-Bran­deis Insti­tute and a grad­u­ate of GrubStreet's Nov­el Incu­ba­tor. She is also the founder of Debut Spot­light and the Debut Edi­tor at A Mighty Blaze. In a for­mer life, she was a hedge fund man­ag­er and a spin instruc­tor. She has degrees from Har­vard in Busi­ness, and Lit­er­a­ture and Phi­los­o­phy. She lives in Brook­line, MA.