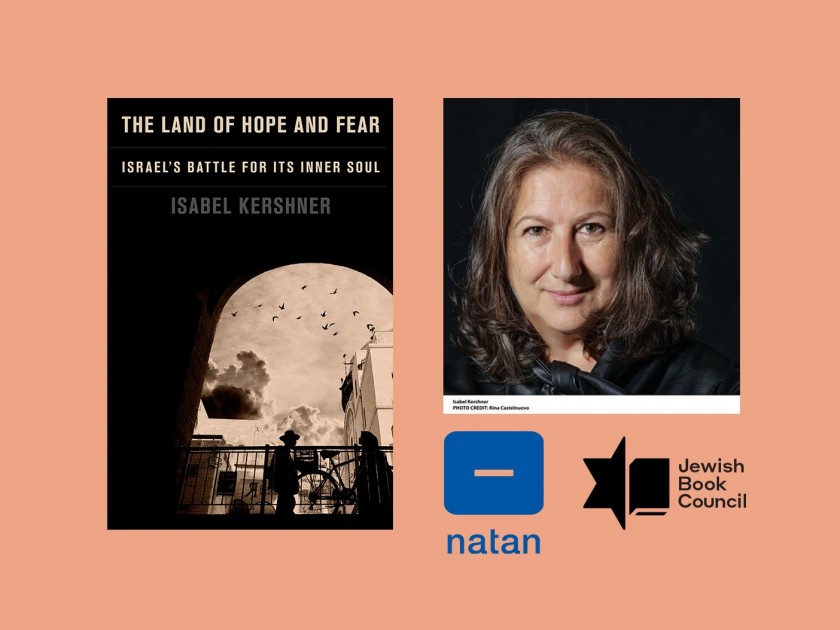 Natan and the Jew­ish Book Coun­cil are thrilled to announce the Spring 2023 Natan Notable Book: The Land of Hope and Fear: Israel's Bat­tle for Its Inner Soul by Isabel Ker­sh­n­er (Alfred A. Knopf, May 2023).
Twice a year, Natan Notable Books rec­og­nizes recent­ly pub­lished or about-to-be-pub­lished non-fic­tion books that promise to cat­alyze con­ver­sa­tions aligned with the themes of Natan's grant­mak­ing: rein­vent­ing Jew­ish life and com­mu­ni­ty for the twen­ty-first cen­tu­ry, shift­ing notions of indi­vid­ual and col­lec­tive Jew­ish iden­ti­ty, the his­to­ry and future of Israel, under­stand­ing and con­fronting con­tem­po­rary forms of anti­semitism, and the evolv­ing rela­tion­ship between Israel and world Jewry.
In The Land of Hope and Fear, Ker­sh­n­er reflects on both the his­to­ry and future of the state of Israel by delv­ing into the present and illu­mi­nat­ing what is and always has been the soul of Israel: its peo­ple. In chap­ters that take the read­er into vil­lages and cities and right up to the doorstep of Israelis of all kinds – Jews, Arabs, reli­gious and sec­u­lar, on the polit­i­cal left and right – Ker­sh­n­er uses her many years as a jour­nal­ist to bring out the sto­ries that shape the Israeli nar­ra­tive. As Israel strug­gles with both exter­nal and inter­nal con­flicts and divi­sions, all too often we see head­lines and news fea­tures that deliv­er a mono­lith­ic pro­nounce­ment on ​"the Israelis". Ker­sh­n­er under­stands the need for a nuanced por­tray­al that seeks to answer the ques­tion: who are Israelis and what do they aspire to?
With the cel­e­bra­tions and con­sid­er­a­tions around Israel's 75th anniver­sary and the cur­rent polit­i­cal sit­u­a­tions, the Natan Notable Books judges were impressed with Kershner's abil­i­ty to cap­ture the pas­sion, dri­ve and ded­i­ca­tion that have both cat­a­pult­ed Israelis for­ward and locked them into webs of tur­moil. Alex Katz, one of the judges, com­ment­ed ​"The Land of Hope and Fear details the bit­ter civ­il war for the future of Israel's soul. Sev­en­ty-five years after the birth of mod­ern Israel, Isabel Kershner's book illus­trates how the polit­i­cal and social con­flicts that shaped the nation's found­ing have per­sist­ed, if not deep­ened. Ker­sh­n­er builds upon Pres­i­dent Reuven Rivlin's 2015 ​'Four Tribes' speech with vivid por­traits of life in Israel's frac­tured soci­ety. In a crowd­ed land­scape of writ­ing about Israel, Kershner's new book is an essen­tial con­tri­bu­tion. The Land of Hope and Fear is a wor­thy win­ner of Natan Notable Book recog­ni­tion, as it will spark crit­i­cal con­ver­sa­tion about the his­to­ry and future of Israel."
The author will receive a $5,000 cash prize, as well as cus­tomized sup­port for pro­mot­ing the book and its ideas, draw­ing on Natan's and Jew­ish Book Council's exten­sive net­works through­out the Jew­ish phil­an­thropic and com­mu­nal worlds.
For those inter­est­ed in sub­mit­ting a recent or soon-to-come non-fic­tion title, the dead­line for sub­mis­sion for Fall 2023 Natan Notable Books is Octo­ber 2, 2023. Titles must have a pub­li­ca­tion date between April 1, 2023 and March 31, 2024. Inquiries can be direct­ed to natannotable@​jewishbooks.​org.
For more infor­ma­tion on the award and eli­gi­bil­i­ty or to sub­mit a title, go to https://​www​.jew​ish​book​coun​cil​.org/​a​w​a​r​d​s​/​n​a​t​a​n​-​n​o​t​a​b​l​e​-​books.
Natan Notable Books at the Jew­ish Book Coun­cil has pre­vi­ous­ly been award­ed to Bari Weiss' How to Fight Anti-Semi­tism (2019), Susie Linfield's The Lion's Den (2019), Ilan Sta­vans' The Sev­enth Heav­en (2020), Nan­cy Sinkoff's From Left to Right (2020), Dara Horn's Peo­ple Love Dead Jews (2021), Michael Frank's One Hun­dred Sat­ur­days: Stel­la Levi and the Search for a Lost World (2022), and Feed­ing Women of the Tal­mud, Feed­ing Our­selves: Uplift­ing the Voic­es of Tal­mu­dic Hero­ines and Hon­or­ing Them with Sim­ple, Veg­an Recipes edit­ed by Kenden Alfond (2022). Natan Notable Books is an evo­lu­tion of the Natan Book Award, which was pre­vi­ous­ly award­ed to Mat­ti Friedman's Spies of No Coun­try (2018) and Ari Shavit's My Promised Land (2013).
About Natan
Natan cat­alyzes emerg­ing phil­an­thropists to become active­ly engaged in build­ing the Jew­ish future by giv­ing col­lab­o­ra­tive­ly to cut­ting-edge ini­tia­tives in Israel and in Jew­ish com­mu­ni­ties around the world, and by build­ing an inter­con­nect­ed com­mu­ni­ty of givers through grant­mak­ing, events and oth­er pro­grams. Natan believes that engaged and entre­pre­neur­ial phil­an­thropy can trans­form givers, grant recip­i­ents, and the fields in which Natan invests.
About Jew­ish Book Council
Jew­ish Book Coun­cil is a non­prof­it orga­ni­za­tion ded­i­cat­ed to edu­cat­ing, enrich­ing, and strength­en­ing the Jew­ish com­mu­ni­ty through Jew­ish inter­est lit­er­a­ture. With over 270 tour­ing authors each year; over 2,500 book clubs; 1,400 events; its annu­al print pub­li­ca­tion, Paper Brigade; the Nation­al Jew­ish Book Awards; Natan Notable Books; its pop­u­lar lit­er­ary series Unpack­ing the Book: Jew­ish Writ­ers in con­ver­sa­tion; and a vibrant dig­i­tal pres­ence, JBC ensures that Jew­ish-inter­est authors have a plat­form, and that read­ers are able to find these books and have the tools to dis­cuss them with their community.