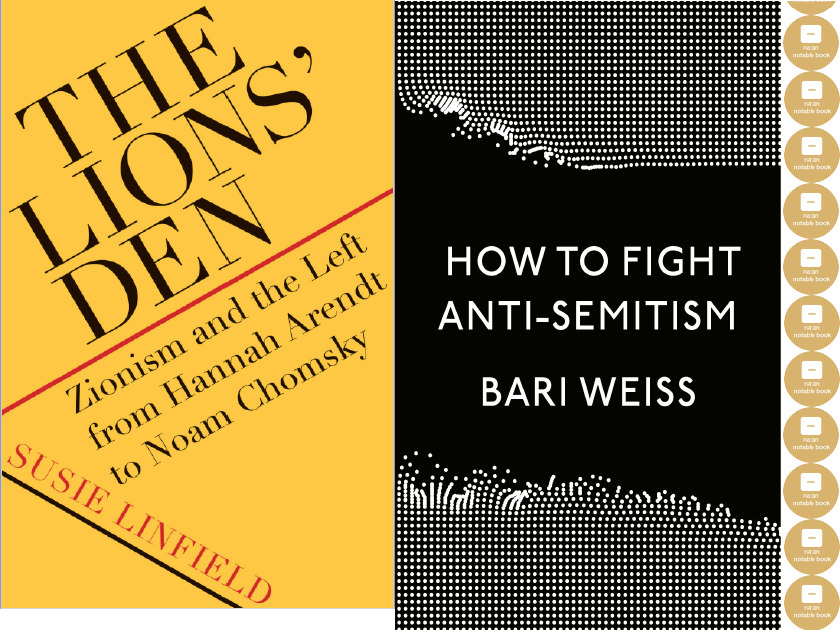 Natan and the Jew­ish Book Coun­cil are thrilled to announce two Fall 2019 Natan Notable Books: Susie Linfield's The Lions' Den: Zion­ism and the Left from Han­nah Arendt to Noam Chom­sky (Yale Uni­ver­si­ty Press, 2019) and Bari Weiss's How to Fight Anti-Semi­tism (Crown, 2019).
Natan Notable Books at the Jew­ish Book Coun­cil is an evo­lu­tion of the Natan Book Award, which was pre­vi­ous­ly award­ed to Mat­ti Friedman's Spies of No Coun­try (2018) and Ari Shavit's My Promised Land (2013). Twice a year, Natan Notable Books rec­og­nizes recent­ly-pub­lished or about-to-be-pub­lished non-fic­tion books that promise to cat­alyze con­ver­sa­tions aligned with the themes of Natan's grant­mak­ing: rein­vent­ing Jew­ish life and com­mu­ni­ty for the twen­ty-first cen­tu­ry, shift­ing notions of indi­vid­ual and col­lec­tive Jew­ish iden­ti­ty, the his­to­ry and future of Israel, under­stand­ing and con­fronting con­tem­po­rary forms of anti­semitism, and the evolv­ing rela­tion­ship between Israel and world Jewry.
The Fall 2019 win­ners are books that res­onate deeply not only with Natan's grant­mak­ing, but also with each oth­er. In How to Fight Anti-Semi­tism, Bari Weiss explores the per­mu­ta­tions of con­tem­po­rary anti­semitism — on the right, the left, and in rad­i­cal Islam, each of which has a dif­fer­ent kind of inten­si­ty and char­ac­ter and none of which can afford to be over­looked. In The Lion's Den, Susie Lin­field untan­gles the intel­lec­tu­al knots which some promi­nent twen­ti­eth cen­tu­ry thinkers on the Left have twist­ed to dis­par­age and demo­nize Israel and Zionism.
"The books are in fruit­ful dia­logue with each oth­er," says Franklin Foer, co-chair of the Natan Notable Books com­mit­tee. ​"Weiss's analy­sis of con­tem­po­rary anti­semitism from the Left shows some of the effects of Linfield's sub­jects' writ­ing and teach­ing about Zion­ism. That the thinkers in Linfield's study also dealt with mur­der­ous anti­semitism from fas­cism or as the­o­log­i­cal­ly- and polit­i­cal­ly-based anti­semitism in Mus­lim coun­tries reminds us that anti­semitism has always been, as both writ­ers clear­ly demon­strate, a mul­ti-head­ed beast."
Con­nect­ing the books, too, is their authors' insis­tence on acknowl­edg­ing the com­plex­i­ties of the real world and their clear-eyed, ratio­nal analy­sis of trou­bling and com­pli­cat­ed phe­nom­e­na. ​"At a time when many peo­ple grav­i­tate toward Tweet­able over­sim­pli­fi­ca­tions of com­plex prob­lems and to ide­al­is­tic visions that fail to account for con­text, his­to­ry, or the neces­si­ties of realpoli­tik," says com­mit­tee co-chair Tali Rosen­blatt-Cohen, ​"both authors remind us that real life is messy and dif­fi­cult to under­stand, often requir­ing peo­ple to hold mul­ti­ple com­pet­ing ideas in their heads at once."
Each author will receive a $5,000 cash prize, as well as cus­tomized sup­port for pro­mot­ing the book and its ideas, draw­ing on Natan's and Jew­ish Book Council's exten­sive net­works through­out the Jew­ish phil­an­thropic and com­mu­nal worlds.
The dead­line for sub­mis­sion for Spring 2020 Natan Notable Books is Jan­u­ary 1. For more infor­ma­tion or to sub­mit a title, go to https://​www​.jew​ish​book​coun​cil​.org/​a​w​a​r​d​s​/​n​a​t​a​n​-​n​o​t​a​b​l​e​-​books. Inquiries can be direct­ed to natannotable@​jewishbooks.​org.
About Natan
Natan cat­alyzes emerg­ing phil­an­thropists to become active­ly engaged in build­ing the Jew­ish future by giv­ing col­lab­o­ra­tive­ly to cut­ting-edge ini­tia­tives in Israel and in Jew­ish com­mu­ni­ties around the world, and by build­ing an inter­con­nect­ed com­mu­ni­ty of givers through grant­mak­ing, events and oth­er pro­grams. Natan believes that engaged and entre­pre­neur­ial phil­an­thropy can trans­form givers, grant recip­i­ents, and the fields in which Natan invests.
About Jew­ish Book Council
Jew­ish Book Coun­cil is a non­prof­it orga­ni­za­tion ded­i­cat­ed to edu­cat­ing and enrich­ing the Jew­ish com­mu­ni­ty through Jew­ish inter­est lit­er­a­ture. With over 270 tour­ing authors each year; over 1,900 book clubs; 1,200 events; its annu­al print pub­li­ca­tion, Paper Brigade; the Nation­al Jew­ish Book Awards; Natan Notable Books; its pop­u­lar lit­er­ary series Unpack­ing the Book: Jew­ish Writ­ers in con­ver­sa­tion; and a vibrant dig­i­tal pres­ence, JBC ensures that Jew­ish-inter­est authors have a plat­form, and that read­ers are able to find these books and have the tools to dis­cuss them with their community.