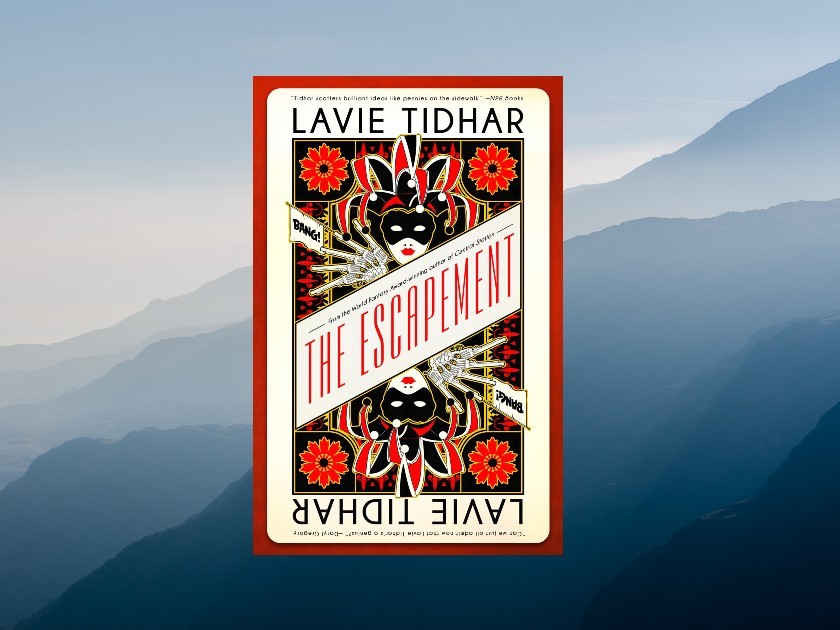 After a string of pret­ty Jew­ish books—A Man Lies Dream­ing, Unholy Land, Cen­tral Sta­tion (the only nov­el, I think, to fea­ture a detailed bris car­ried out by a robot mohel) — it felt like a relief to write some­thing that was very, hon­est my Lord, total­ly not Jew­ish in any way like The Escape­ment.
Only I'm not sure that's quite right.
The fairy tale I was inspired by is called ​"The Flower of the Gold­en Heart." It's a fairy tale about a boy whose moth­er is ill and he goes in search of a flower far away — behind the dis­tant moun­tains —which is the only thing that can cure her (in my ver­sion of the sto­ry, a father goes rid­ing in search of a flower for his ail­ing son). It's an incred­i­bly well-known fairy­tale in Israel and, like many oth­ers, I'd have assumed it orig­i­nat­ed in Europe some­where, per­haps writ­ten by Ander­sen. The catch is that it wasn't. Detec­tive work will tell you it was com­posed by a fair­ly obscure Hebrew writer, Shlo­mo Zal­man Ariel. Sim­i­lar­ly, the Moun­tains of Dark­ness — behind which I placed my myth­i­cal flower — were inspired by the Alexan­dri­an tales of the Tal­mud, which were favourites of my grand­fa­ther. If you don't know them, they are a col­lec­tion of leg­ends about Alexan­der the Great, told by Chazal.
But The Escape­ment is a nov­el that owes as much a debt to the Marx Broth­ers and Har­ry Hou­di­ni as to fairy tales of old. A con­jur­er is one of the main play­ers in the nov­el, and I have a love of stage and per­for­mance mag­ic that goes back years. I have a con­vic­tion that Har­ry Hou­di­ni (born Erich Weisz) and I are relat­ed. The Weisz fam­i­ly were Hun­gar­i­an, and my grand­fa­ther as a young man bore a strik­ing resem­blance to the young Erich Weisz. Please do not dis­abuse me of the notion.
I have a con­vic­tion that Har­ry Hou­di­ni (born Erich Weisz) and I are relat­ed. The Weisz fam­i­ly were Hun­gar­i­an, and my grand­fa­ther as a young man bore a strik­ing resem­blance to the young Erich Weisz.
Jews made their way to enter­tain­ment — to vaude­ville and then the nascent film indus­try — part­ly by neces­si­ty, I think. It was a pro­fes­sion open to new immi­grants to the Unit­ed States in a way that oth­er avenues weren't.
So the world I pop­u­lat­ed for my hero to trav­el in is a world of clowns, stage magi­cians, and come­di­ans. A world of cir­cus­es and enter­tain­ers. Noth­ing Jew­ish about that…
There's a place on the Escape­ment called Geller's Bend, in homage to the magi­cian Uri Geller. There's a place called the Cop­per Fields, named for anoth­er famous magi­cian. There's the Cha­grin riv­er, named for the British-Israeli mime Julian Cha­grin. There's a town named Bozoburg; TV's first Bozo the Clown was Frank Avruch, and he must have been the hard­est work­ing Jew­ish clown in the world.
My oth­er 2021 nov­el, The Hood, just came out in Eng­land. It was part­ly inspired by dis­cov­er­ing the fig­ure of Rebec­ca and her father, Isaac of York, in the clas­sic Robin Hood nov­el Ivan­hoe by Wal­ter Scott; I realised there real­ly were Jews in Medieval Not­ting­ham. What were Jews doing in Not­ting­ham in the twelfth cen­tu­ry? As it turns out, they were brought over to Eng­land from France by William the Con­queror and served as the king's money­len­ders. They were legal­ly defined as ​"prop­er­ty of the king." It was not exact­ly an easy life. But I got some mileage out of hav­ing a Jew­ish char­ac­ter stuck in a Robin Hood sto­ry while know­ing she had no place in it— and rather hat­ing the whole thing!
But I digress.
Of course, digres­sion is itself a part of the fab­ric of The Escape­ment; a part, too, of Judaism. In The Escape­ment, the Stranger's path to the Moun­tains of Dark­ness is not a lin­ear one. Like one of my grandfather's sto­ries, it takes rather a while to get there. For Jews as sto­ry-tellers, the joy is in the twists and turns, the side quests, and the blind alleys. And so the Stranger, like a Wan­der­ing Jew, is doomed to fol­low the paths of the maze. ​"The Stranger had been trav­el­ling for a long time, and was to trav­el for a long time more," the Escape­ment​'s nar­ra­tor keeps remind­ing us. Mazes form a part of the world of the Escape­ment— how to nav­i­gate them and how to escape become a refrain in itself. Just as the ques­tion of escape into the imag­i­na­tion keeps run­ning like a refrain through my work.
And then, of course, there is the mat­ter of the clowns. Hat­ed, per­se­cut­ed, grotesque in their appear­ance: they are loathed by every­one on the Escape­ment but for the Stranger. It's hard, in hind­sight, not to see they could stand in for the per­se­cut­ed Jews, aliens wher­ev­er they go, pre­sent­ed as grotesque car­i­ca­tures. Is The Escape­ment about that? I don't know. Are the clowns Jew­ish, just as Jews were clowns? Only recent­ly I came across the very strange 1953 film The Jug­gler, about a Holo­caust sur­vivor and for­mer per­former on the run in Israel— the first Hol­ly­wood film ever made there.
I start­ed out writ­ing this piece con­vinced there was noth­ing Jew­ish about this nov­el, but hav­ing reached the end, I'm not so sure it's true.
I am curi­ous to know what read­ers think.
Lavie Tid­har (A Man Lies Dream­ing, Unholy Land) is an acclaimed author of lit­er­a­ture, sci­ence fic­tion, fan­ta­sy, graph­ic nov­els, and mid­dle grade fic­tion. Tid­har received the Camp­bell and Neukom Lit­er­ary awards for his break­out nov­el Cen­tral Sta­tion, which has been trans­lat­ed into more than ten lan­guages. He has also received the British Sci­ence Fic­tion, British Fan­ta­sy, and World Fan­ta­sy Awards. Tid­har's recent books include the Arthuri­an satire By Force Alone, and the series Adler. He is a book colum­nist for the Wash­ing­ton Post, and recent­ly edit­ed the Best of World SF anthol­o­gy. Tid­har has lived all over the world, includ­ing Israel, Van­u­atu, Laos, and South Africa, and he cur­rent­ly resides with his fam­i­ly in London.