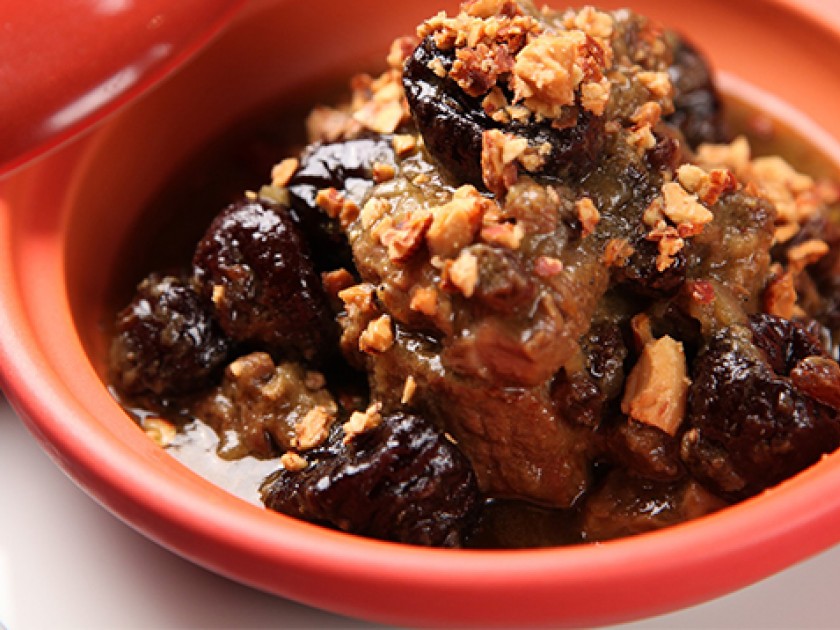 I hard­ly expect­ed to trav­el halfway around the world to encounter my grandmother's ghost, but that is what hap­pened to me a few years ago in Tang­iers. Or at least that is how I've come to think of that moment. It was, for me, as if she had come back from the dead.
We had been trav­el­ing for two days across the ocean to Madrid, by train to Mála­ga, across the Straits of Gibral­tar and now Tang­iers. It was late, and we were starv­ing. When had we last eat­en? Cof­fee that morn­ing in Mála­ga? A cheese sand­wich on the fer­ry? But that was hours ago. Now we were mak­ing our way to an old Moroc­can restau­rant I'd cir­cled in the guidebook.
In the wind­ing alley­ways, stores were shut­ter­ing their win­dows. Moroc­can women in kaf­tans, heads cov­ered, scur­ried along on last minute errands. In a café, men in pink and green djellabas sat, sip­ping mint tea. Oth­er men, hood­ed, pushed past us. A don­key cart filled with wood almost pinned us to the wall in the nar­row maze of street. I asked a group of boys direc­tions and, laugh­ing, they sent us the wrong way.
Soon we found our­selves hope­less­ly lost. A shop­keep­er who spoke French drew us a map. Half an hour lat­er we were climb­ing the stone steps that led to our restau­rant. But the minute we stepped inside, I was uncer­tain. It looked like a place for tourists. The wait­ers wore fezzes and there were four musi­cians sit­ting with a tip jar in front of them. The only oth­er peo­ple in the restau­rant were a large French fam­i­ly who seemed to be cel­e­brat­ing somebody's birthday.
I was hop­ing for some­thing funki­er, but the place was clean, the peo­ple seemed nice, and we were exhaust­ed. When the wait­er asked if I'd like a drink, I decid­ed to take a chance. ​"Do you have any wine?" He shook his head sad­ly. I'm sure it's not the first time he'd heard the question.
"We have fresh apri­cot and pome­gran­ate juice," he told me. I ordered the pome­gran­ate juice and lamb tagine; Lar­ry ordered chick­en cous­cous. The music was live­ly and we were enjoy­ing the place. It wasn't long before our food arrived, and, as the wait­er lift­ed the lid of my tagine, the steam­ing aro­mas revived me. I took a bite. The lamb was moist and ten­der, cooked with prunes. I could smell the cin­na­mon, the gin­ger, the turmer­ic. Slow­ly the fla­vor seeped into my mouth. I put my fork down. ​"Is it all right?" Lar­ry asked, concerned.
Tears came to my eyes.
"What is it?" Lar­ry asked, fear­ing that some­thing was wrong with the food. How could I explain this to him? I felt as if I was eat­ing in my grandmother's kitchen. My grand­moth­er died in 1973 and, as far as I knew, her recipes died with her. How was it pos­si­ble that in a restau­rant in North Africa I was tast­ing a meal that my Russ­ian-born Jew­ish grand­moth­er made for me in Chica­go, when I was a girl?
"My grand­moth­er made this dish," I said.
"You mean she made some­thing like this?"
I shook my head. ​"No, this is her recipe."
This dish of lamb with prunes sent me on an odyssey that led to the writ­ing of my new nov­el, Gate­way to the Moon. Part of my jour­ney had to do with the his­to­ry of food. What I learned didn't sur­prise me, but it was some­thing I had nev­er thought of before. Food can have its own dias­po­ra. Recipes migrate with the peo­ple who cook them. I had no idea where to find my ances­tors until lamb with prunes showed me the way. It was my first clue and it became an inte­gral part of the story.
Five hun­dred years ago the Span­ish expelled its Mus­lim and Jew­ish pop­u­la­tions. Not only did they ban­ish the people&dashthey ban­ished their food. Spices such as cin­na­mon, gin­ger and cumin dis­ap­peared. In Andalu­sia they killed the sheep and goats and brought in pigs by the thou­sands, because they knew that those Jews and Mus­lims who held onto their rit­u­als in secret would nev­er eat their pork. The Jews who were expelled went in many dif­fer­ent direc­tions — some to Por­tu­gal, where they would all be forcibly con­vert­ed. Oth­ers found their way to France. Some made it to the Ottoman Empire. And oth­ers went to North Africa.
If my fam­i­ly was ban­ished from Spain, it is pos­si­ble they went to North Africa. From there you can go direct­ly up the Aegean, up the Dar­d­anelles, to the Sea of Mar­mara and up the Bospho­rus to the Black Sea, which is where I know they came from. A vil­lage not far from Kiev. By water it is a straight shot.
I've always felt at home in the Mediter­ranean. It is a feel­ing that's hard to describe. The water, the air, the way the sun touch­es my skin. My hus­band has com­ment­ed on it over the years. ​"It's as if you belong here," he likes to say. And so now I think about it. Maybe I do.
Mary Mor­ris is the author of numer­ous works of fic­tion — includ­ing the nov­els Gate­way to the Moon, The Jazz Palace, A Moth­er's Love, and House Arrest—and of non­fic­tion. She is a recip­i­ent of the Rome Prize in lit­er­a­ture and the 2016 Anis­field-Wolf Book Award for Fic­tion. Mor­ris lives in Brook­lyn, New York.