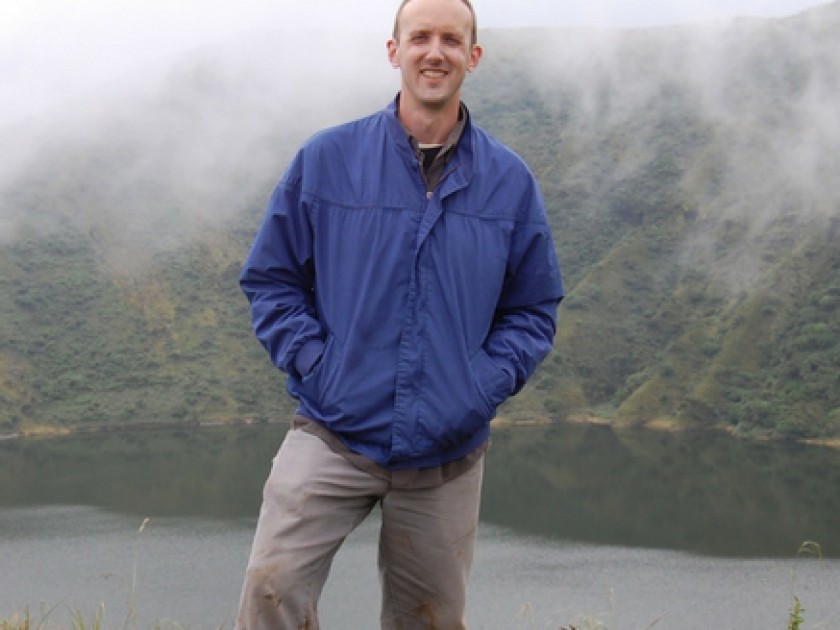 A world expert on African Jew­ish com­mu­ni­ties, Nathan Devir is assis­tant pro­fes­sor of Jew­ish Stud­ies and direc­tor of the Mid­dle East Cen­ter at the Uni­ver­si­ty of Utah. His acclaimed first book, New Chil­dren of Israel: Emerg­ing Jew­ish Com­mu­ni­ties in an Era of Glob­al­iza­tion, describes groups who are claim­ing — or reclaim­ing — their Jew­ish iden­ti­ty in the devel­op­ing world. Devir's read­able schol­ar­ship takes read­ers on a fas­ci­nat­ing jour­ney of dis­cov­ery to Jew­ish com­mu­ni­ties across Africa and the Indi­an subcontinent.
Adam Rovn­er: Your book focus­es on ​"emerg­ing Jew­ish com­mu­ni­ties." Can you explain what that means?
Nathan Devir: ​"Emerg­ing" is an imper­fect term, some­times used along­side qual­i­fiers such as ​"Judaiz­ing" or ​"neo-Jew­ish." These words indi­cate that a com­mu­ni­ty is not part of a con­ven­tion­al­ly-rec­og­nized sec­tor of klal yis­rael, the world­wide Jew­ish peo­ple. Because Jews are such good record keep­ers, and because cor­re­spon­dence between diver­gent com­mu­ni­ties about mat­ters of halacha has been part and par­cel of post-exil­ic Jew­ish life, we have a pret­ty good idea about where Jews have set­tled. But it's the com­mu­ni­ties that fall out­side of that rubric — whether they claim to be part of the Ten Lost Tribes or of oth­er ​"van­ished" com­mu­ni­ties, or whether they've only recent­ly adopt­ed the Jew­ish faith — that are fre­quent­ly labeled as ​"emerg­ing." I don't intend any den­i­gra­tion what­so­ev­er of these com­mu­ni­ties' his­to­ries or valid­i­ty by the use of such terms. I only employ them to demar­cate the lines between com­mu­ni­ties that are con­ven­tion­al­ly accept­ed and known about, and those that are not.
AR: In what ways are the ​"Judaiz­ing" com­mu­ni­ties in your book dif­fer­ent from main­stream Jew­ish com­mu­ni­ties in the diaspora?
ND: It depends. Many com­mu­ni­ties claim that they've been miss­ing from the fold since 722 BCE, when the Ten Lost Tribes were sup­pos­ed­ly scat­tered. These groups have a Jew­ish world­view that is pre-rab­binic, and often based on a lit­er­al­ist inter­pre­ta­tion of the Hebrew Scrip­tures. So, in addi­tion to the stan­dard cus­toms that Jews the world over fol­low, such as cir­cum­ci­sion, food and hygiene taboos, and Sat­ur­day Sab­bath, they often prac­tice things that are con­sid­ered bizarre to mod­ern Jews: polygamy, ani­mal sac­ri­fice, Levi­rate mar­riage, or liba­tion-pour­ing. Almost with­out excep­tion, they no longer have any knowl­edge of Hebrew. They're often clos­er to Samar­i­tans or to Karaites than they are to any nor­ma­tive Jew­ish denom­i­na­tion. The trend seems to be that when they become aware of how rab­binic Judaism works, they wish to fol­low that stream since it's the norm for the Jew­ish world now. Inter­est­ing­ly, there's no casu­al ​"eth­no­cul­tur­al" or sec­u­lar iden­ti­fi­ca­tion with one's Jew­ish roots among such com­mu­ni­ties. They want to fol­low the Law to the let­ter, and they can't under­stand how Jews in Israel or the West could ever lead sec­u­lar lifestyles and still call them­selves Jewish.
AR: What attract­ed you to the phe­nom­e­non of self-iden­ti­fied Jew­ish groups in the devel­op­ing world?
ND: As ear­ly as the 1990s, when I was liv­ing in Israel, I was fas­ci­nat­ed by the sto­ries of my Ethiopi­an friends who had recent­ly arrived there. I got to know a lot about them, but I nev­er thought I'd use any of that knowl­edge in my pro­fes­sion­al life. Then, before I fin­ished my PhD, I dis­cov­ered the work of Tudor Parfitt, who was the first West­ern aca­d­e­m­ic to seri­ous­ly inves­ti­gate the her­itage nar­ra­tives and claims of Judaiz­ing groups in Africa. His ground­break­ing work on his­to­ry, reli­gion, and cul­ture cap­tured my imag­i­na­tion and inspired me to fol­low his lead.
AR: As a schol­ar orig­i­nal­ly of Jew­ish lit­er­a­ture, why did you move from the study of texts to the study of culture?
ND: As much as I love lit­er­a­ture, I need­ed more on-the-ground inter­ac­tion with peo­ple than lit­er­ary stud­ies afford­ed me. Books and archives are great, but trav­el­ing to new and excit­ing places, and meet­ing new peo­ple who are eager to share their sto­ries — that's just so much more reward­ing for me. Also, it enables me to inter­act with aca­d­e­mics from oth­er dis­ci­plines that I find fas­ci­nat­ing — soci­ol­o­gy, anthro­pol­o­gy, reli­gious stud­ies, folk­lore, polit­i­cal sci­ence. I feel like this move cre­at­ed a sea change in my intel­lec­tu­al per­spec­tives on a whole range of sub­jects, and I'm grate­ful to my col­leagues for allow­ing me the flexibility.
AR: What lessons might emerg­ing Jew­ish com­mu­ni­ties hold for estab­lished Jew­ish com­mu­ni­ties in the diaspora?
ND: I think it's mov­ing to see what so many of these peo­ple are ready to give up in order to lead Jew­ish lives. For those of us who live in devel­oped and rel­a­tive­ly sta­ble coun­tries, we can live as Jews with­out hav­ing to draw much unwant­ed atten­tion to our­selves, or with­out hav­ing to sac­ri­fice major com­po­nents of our liveli­hoods — the occa­sion­al anti-Semit­ic instance notwith­stand­ing. But for some­one who lives in a devel­op­ing coun­try where eking out a liv­ing is a con­stant strug­gle, being will­ing to give up a day's wages because one won't work on a Sat­ur­day rep­re­sents a sac­ri­fice that most of us are no longer faced with. Not to men­tion, of course, the dan­ger of self-iden­ti­fy­ing as Jew­ish in locales where Islamist ter­ror cells are present, or where Euro­pean-derived anti-Semit­ic blood libels are rife. So, I think the com­mit­ment among emerg­ing com­mu­ni­ties to pre­serv­ing their iden­ti­ty can gal­va­nize those of us in estab­lished coun­tries to reflect on what kind of priv­i­leges we've been afforded.
AR: How might Jew­ish com­mu­ni­ties in North Amer­i­ca sup­port the ​"new chil­dren of Israel" your book describes?
ND: There are sev­er­al key ways. First, I would rec­om­mend get­ting to know about the activ­i­ties of the orga­ni­za­tion called Kulanu, which sup­ports iso­lat­ed and emerg­ing Jew­ish com­mu­ni­ties around the world. Kulanu has many edu­ca­tion­al and vol­un­teer oppor­tu­ni­ties that can be mean­ing­ful for those who wish to sup­port these ​"new chil­dren of Israel." Sec­ond, I would sug­gest that syn­a­gogues, Jew­ish com­mu­ni­ty cen­ters, Hil­lel groups, and oth­er Jew­ish venues con­sid­er host­ing some­one from an emerg­ing com­mu­ni­ty, whether as a speak­er, as a schol­ar-in-res­i­dence, or just as a guest. Such face-to-face encoun­ters chal­lenge pre-exist­ing per­spec­tives and cre­ate life­long con­nec­tions that can be trans­for­ma­tive. Any­one who wish­es to do this should let me know — I'd be more than hap­py to make the shid­duch!
AR: Are you will­ing to haz­ard a pre­dic­tion about how main­stream Jew­ry in the dias­po­ra will receive emerg­ing Jew­ish com­mu­ni­ties a gen­er­a­tion from now?
ND: Yes, most def­i­nite­ly. I think that in coun­tries such as the U.S. and Cana­da, where the vast major­i­ty of Jews hold prin­ci­ples of inclu­sion and pro­gres­sive val­ues dear, there will be con­tin­ued efforts to engage mem­bers of emerg­ing Jew­ish com­mu­ni­ties. Many Jews in North Amer­i­ca are frus­trat­ed that they seem to be exclud­ed from cer­tain lib­er­al agen­das because of the per­cep­tion on the left that one can­not be a Zion­ist and a pro­gres­sive at the same time. And so, engag­ing with under­rep­re­sent­ed pop­u­la­tions with an eye toward bol­ster­ing Jew­ish diver­si­ty, doing work that high­lights social jus­tice and eco­nom­ic advance­ment, and broad­en­ing one's intel­lec­tu­al and cul­tur­al knowl­edge at the same time — these are things that many Jews in the dias­po­ra want as part of their projects of tikkun olam.
AR: And what about in Israel?
ND: With regard to Israel, I think it could go one of two ways. There are many in Israel who are in favor of engag­ing such groups — indeed, even of encour­ag­ing them to set­tle there — whether that stems from a wish to help Israel main­tain its Jew­ish demo­graph­ics and char­ac­ter, or whether it's relat­ed to mes­sian­ic expec­ta­tions about the ​"ingath­er­ing of the exiles." On the oth­er hand, there are many who fear an influx of eco­nom­i­cal­ly dis­ad­van­taged peo­ple whose Jew­ish­ness is in ques­tion. Such oppo­nents will there­fore take mea­sures to keep out even those who have legit­i­mate­ly con­vert­ed. But whether or not Israel decides to embrace this trend is ulti­mate­ly a moot point in my view. Because there are mil­lions of peo­ple from the devel­op­ing world who are claim­ing, or reclaim­ing, their Jew­ish roots (quite like­ly many more than the esti­mat­ed 15 mil­lion or so con­ven­tion­al­ly-accept­ed Jews), what Israel does or doesn't do will not make much dif­fer­ence. A gen­er­a­tion from now there will be so much inter­ac­tion because of glob­al­iza­tion, inter­na­tion­al migra­tion, and racial diver­si­ty, that this notion of ​"emerg­ing" might even be passé. It will sim­ply be the new face of glob­al Jewry.
Adam Rovn­er is Asso­ciate Pro­fes­sor of Eng­lish and Jew­ish Lit­er­a­ture at the Uni­ver­si­ty of Den­ver. His arti­cles, essays, trans­la­tions and inter­views have appeared in numer­ous schol­ar­ly jour­nals and gen­er­al inter­est pub­li­ca­tions. Rovn­er's short doc­u­men­tary on Jew­ish ter­ri­to­ri­al­ism, No Land With­out Heav­en, has been screened at exhi­bi­tions in New York, Paris, and Tel Aviv.