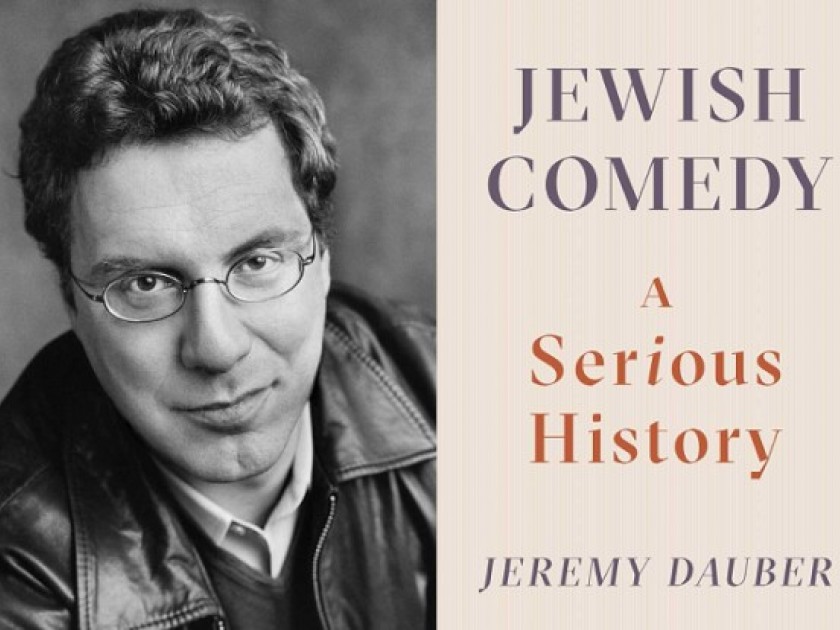 Jere­my Dauber is the author of Jew­ish Com­e­dy: A Seri­ous His­to­ry, out this week from W.W. Nor­ton & Com­pa­ny. He is blog­ging here all week as part of Jew­ish Book Coun­cil's Vis­it­ing Scribe series.
Writ­ing a his­to­ry of Jew­ish com­e­dy, try­ing to cov­er every­thing — or at least a rep­re­sen­ta­tive sam­ple of every­thing — from the Bible to Twit­ter, was a daunt­ing, though admit­ted­ly fun, task. One of the ques­tions I got asked most fre­quent­ly when I told peo­ple what I was work­ing on was, ​"What is Jew­ish humor, any­way?" Or, put anoth­er way, ​"What makes com­e­dy Jew­ish comedy?"
Luck­i­ly, now I have a pret­ty easy answer to that ques­tion — ​"I wrote a book giv­ing my best answer; feel free to pur­chase on Ama­zon or at local stores" — but over this week, as a Vis­it­ing Scribe™ for the Pros­en Peo­ple, I want­ed to try to give three dif­fer­ent per­spec­tives on that ques­tion. And I want­ed to do it through look­ing at three Jew­ish jokes: jokes that I find deeply, almost inef­fa­bly, Jew­ish, even though their ori­gins may come from else­where, or they could be eas­i­ly told in oth­er contexts.
So here goes, with joke num­ber one. It's set in medieval times.
An anti-Semit­ic king threat­ens the Jews in his king­dom with per­se­cu­tion and expul­sion. The Jew­ish com­mu­ni­ty sends their leader, a rab­bi renowned for his wis­dom, to meet with the king and plead their case. The rab­bi, accom­pa­nied by the kingdom's lead­ing cit­i­zens, stands before the king, seat­ed on his majes­tic throne, and says to him, after a moment's thought, ​"Your High­ness, I can't help but notice the mag­nif­i­cent mon­key perched next to you."
The king, puz­zled, but some­what bemused, nods.
"I assume it talks," the rab­bi continued.
The king's brow clouds. ​"Are you attempt­ing to mock me, Jew? Of course it does not talk. Mon­keys do not talk."
"I beg to dif­fer, Your High­ness. Many of them do not, but they can. If they have the right teacher." And the rab­bi bowed, slightly.
The king stared. ​"Do you mean to tell me that you, a sim­ple rab­bi, can accom­plish a feat beyond the imag­in­ings of the wis­est of my councilors?"
The rab­bi shrugged, mod­est­ly. ​"All I ask is the chance to please Your Majesty — and, of course, to help my people."
The king con­sid­ered. ​"All right," he said, at last. ​"Let us make an arrange­ment. If you can teach the mon­key to speak, your com­mu­ni­ty will be wel­come in my king­dom for as long as my reign shall last. If you can­not, how­ev­er, not only will you be ban­ished, but your prop­er­ty will be for­feit as well."
The rab­bi bowed, accept­ing the terms. ​"How­ev­er, there is one minor mat­ter," he said. ​"It is hard­ly fea­si­ble to accom­plish some­thing this note­wor­thy imme­di­ate­ly. It usu­al­ly takes me approx­i­mate­ly five years."
"Very well, very well," the king grum­bled. ​"We shall meet, in this room, five years from today. And for your sake — and for your people's — I hope to see results."
The rab­bi bowed once more, and left the room. His fel­low sages and com­mu­nal lead­ers turned to him. ​"Have you gone mad? You know very well you've promised some­thing impossible!"
The rab­bi turned to them and smiled. ​"I know. But a lot can hap­pen in five years. The king could die. The mon­key could die. And who knows? Maybe it'll even learn to talk."
This joke, I think, has a lot to say about Jew­ish life in — and expe­ri­ence of — the dias­po­ra over the cen­turies. Con­stant­ly fraught, bal­anced on a knife's edge, with the pos­si­bil­i­ty of sud­den per­se­cu­tion brought on by feck­less or irra­tional lead­ers always hov­er­ing in the air. What options are there? In a tra­di­tion­al mind­set that hopes for and expects the end to come with the mirac­u­lous sound of a mes­sian­ic ram's horn, maybe the alle­gor­i­cal prospect of a talk­ing mon­key seems like an act of faith, of trust in God's prov­i­dence. But for those who believe that the Redemp­tion may not come any time soon — or fear, at least, that it won't come soon enough — then the first part of the punch­line res­onates strong­ly, too. The Jews wait, and, in wait­ing, live and sur­vive. By their wits, as it turns out; the one advan­tage they have in their dis­em­pow­ered state. The rab­bi has bought his peo­ple five years, when pre­vi­ous­ly they faced imme­di­ate calami­ty, and there's noth­ing fun­ny about that.
Does this speak to the mod­ern Jew­ish con­di­tion as well as the medieval? What might Jew­ish com­e­dy have to offer the Jew faced with the prospect of eman­ci­pa­tion, accul­tur­a­tion, even accep­tance? Tune in next time for our sec­ond joke — wrapped inside one of the great­est Jew­ish sto­ries of all time — and find out.
Jere­my Dauber is the Atran Pro­fes­sor of Yid­dish Lan­guage, Lit­er­a­ture and Cul­ture at Colum­bia Uni­ver­si­ty. He is the author of sev­er­al books on Jew­ish lit­er­a­ture, includ­ing a biog­ra­phy of Sholem Ale­ichem that was a final­ist for the Nation­al Jew­ish Book Award. He lives in New York City.