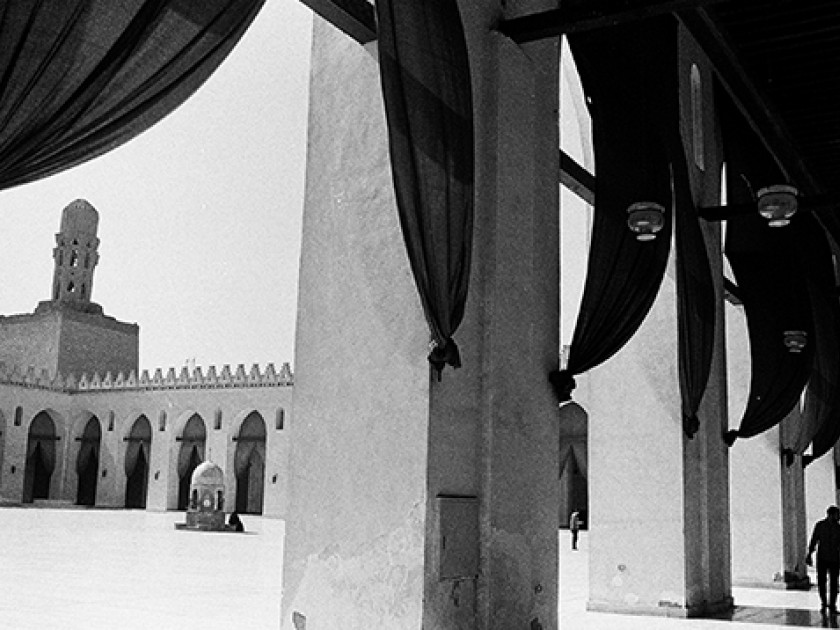 The fol­low­ing chap­ter is from Michael David Lukas's The Last Watch­man of Old Cairo. Here, we are intro­duced to the remark­able, real life twin sis­ters Agnes Smith Lewis and Mar­garet Dun­lop Gib­son. Born in Scot­land in 1843, they were world-renowned schol­ars and adven­tur­ers at a time when women could not attend Cam­bridge Uni­ver­si­ty. After being both wid­owed at an ear­ly age, they spent much of their time (and a good por­tion of their con­sid­er­able wealth) study­ing Semit­ic lan­guages, trav­el­ing around the Mid­dle East, and procur­ing ancient man­u­scripts. Their trip to Cairo in 1896 sparked a turn of events that would result in the ​"dis­cov­ery" of the Cairo Geniza in the attic of a syn­a­gogue in the old city. The fol­low­ing chap­ter details the twins' return to Cairo in Jan­u­ary 1897, after real­iz­ing the impor­tance of their find.
Mrs. Agnes Lewis and Mrs. Mar­garet Gib­son arrived in Cairo on the Two-fif­teen Express from Alexan­dria. This was how their timetable referred to it, the Two-fif­teen Express. Although in actu­al­i­ty the train was rather pon­der­ous. When they final­ly pulled into Cairo Sta­tion — hav­ing been delayed by high winds, flood­ing, a faulty track switch, and a fugi­tive cow rumi­nat­ing in the mid­dle of the tracks — it was already well past dusk. Agnes's pock­et watch showed 7:25, more than three hours behind schedule.
Tak­en alone, the tra­vails of the Two-fif­teen Express would not have been espe­cial­ly irri­tat­ing. But the twins had been trav­el­ing for six days straight, with­out prop­er rest or san­i­ta­tion, and they were both feel­ing rather crab­by. Fif­teen years ago, they might have rev­eled in the adven­ture of it all — the Chan­nel pas­sage, the train across France, the boat trip from Mar­seilles. Fif­teen years ago they might have over­looked the fleas and the damp and the motion sick­ness. They might have brushed all that aside as soon as the loom­ing hulk of the Citadel came into view. But this was not fif­teen years ago. It was the first month in the year of our Lord 1897. They had turned fifty-four just a few weeks ear­li­er, and felt every aching year of it. No mat­ter what might hap­pen, whether they found their doc­u­ments or not, this would most like­ly be their last trip to Egypt.
Agnes alight­ed first, fol­lowed by Mar­garet, and they stood side by side at the edge of the plat­form. From a dis­tance they were indis­tin­guish­able, both women of dis­tinc­tion, both wrapped in furs, both squat and sharp-eyed with stringy gray-brown hair wrapped in a loose bun. Clos­er scruti­ny would reveal Margaret's mole, the creak­i­ness of Agnes's gait, and a slight­ly dif­fer­ent shade of green in the eyes. For all intents and pur­pos­es, how­ev­er, they were per­fect repli­cas of each oth­er, an august pair of British wid­ows fringed with the scorch of Presbyterianism.
Undis­turbed by the tumult of the plat­form, Agnes and Mar­garet took in the arc of the station's new steel ceil­ing and the use­less clack of the arrival board. Green-tur­baned pashas brushed past half-naked steve­dores and dusty fel­la­heen laden with great bags of cot­ton. Two or three dark-veiled women haunt­ed the edges of the crowd, slip­ping through a brigade of British tourists tromp­ing, no doubt, to Shepheard's Hotel, lunch at the Gezi­ra Club, and a steam pack­et down the Nile. With a sub­tle tilt of her chin, Agnes indi­cat­ed an old Nubian porter smok­ing a cig­a­rette next to the news­stand, and they crossed the plat­form toward him.
"Excuse us," Mar­garet said, using her most mel­liflu­ous Ara­bic. ​"We have ten trunks on the Two-fif­teen from Alexan­dria, all marked with the names Lewis and Gib­son. We would be exceed­ing­ly grat­i­fied if you were to con­vey them to our car­riage outside."
The man hes­i­tat­ed for a moment to exam­ine them more close­ly. Then he extin­guished his cig­a­rette on the bot­tom of his san­dal and set off to col­lect their things.
"They're frag­ile," Agnes called after him, but he did not appear to hear.
Once their trunks were loaded and the porter paid, the car­riage dri­ver set off down Clot Bey Street toward the Hotel d'Angleterre. He took the long way, as Mar­garet request­ed, through the Ezbekiyya Gardens.
"It is a slight detour," she said, in antic­i­pa­tion of her sister's objec­tions, ​"but so much more pleas­ant. Don't you agree?"
"Yes," Agnes said, soft­en­ing into her seat. ​"I do."
For there was noth­ing quite like rid­ing through the gar­dens at twi­light. The shad­ow of over­hang­ing palms, the warm night air, the scrape of car­riage wheels on grav­el, it all brought back that same girl­ish excite­ment they had felt on their first vis­it to Cairo so many years ago. Under the yel­low flick­er of gas lamps, the old city appeared to be noth­ing more than an out­line, a quaint sprin­kling of minarets against the dark­ness. And when their hotel appeared, ris­ing up between a hedgerow and the gen­tly arched frond of a palm, it looked like an enor­mous pink cake.
This was not their first stay at the Hotel d'Angleterre, but in the past few years its decor had changed con­sid­er­ably. The lob­by had been draped in heavy teal cur­tains and some­one had seen fit to adorn the room with paint­ings of typ­i­cal Egypt­ian scenes, as if to imply that the Nile, the pyra­mids, Mount Sinai, and the Colos­sus of Abu Sim­bel were all wait­ing there on the oth­er side of the wall. As they fol­lowed the bell­hop across the lob­by, the sis­ters both glanced at a par­ty of pack­age tourists hud­dled around the grand fire­place, drink­ing cor­dials and talk­ing excit­ed­ly about the high qual­i­ty of per­fume to be found in the Khan el-Khalili. Mar­garet gave them a quick smile, pleas­ant almost to the point of invit­ing con­ver­sa­tion, but not quite.
"Your room, please," the bell­hop said, after lead­ing them up the stair­case. Agnes stepped up to the thresh­old of Room 327 and leaned in to get a bet­ter look.
"Your room," the bell­hop offered again, stiff­en­ing his arm to indi­cate that they should enter before him. The sis­ters exchanged a glance and Agnes stepped back into the hallway.
"Unfor­tu­nate­ly," she explained in Ara­bic, ​"this is not our room. We asked for a north-fac­ing room with two queen-sized beds and a bath. This room faces south and, I may be mis­tak­en, but I do not see a bath."
The boy looked to Mar­garet, who nod­ded her agreement.
"Please," he said in Eng­lish and, hold­ing up his index fin­ger, rushed back down to the lobby.
A few min­utes lat­er, he returned with the concierge, a large man with the aspect of an over­ripe and some­what bruised trop­i­cal fruit. Arriv­ing at the thresh­old of Room 327, he wiped his fore­head with a hand­ker­chief and looked inside.
"The ladies' room is not to their liking?"
"The room is nice enough," said Agnes. ​"Unfor­tu­nate­ly, it is not the ladies'."
While Mar­garet explained that they had request­ed a room with a north-fac­ing view, two queen-sized beds, and a bath, the concierge sucked at his mus­tache and watched his fin­gers walk around a cir­cle of prayer beads.
"There is one room I can offer," he said, ​"on this floor, very large, fac­ing north, with two queen beds."
Room 322 was across the hall. And indeed, it was quite a bit larg­er than 327, with a north-fac­ing view, two queen-sized beds, and a claw-foot tub in the bathroom.
"Of course," the concierge said, when he saw that the ladies found their new room to be sat­is­fac­to­ry, ​"this room is some­what more expensive."
"Of course," Mar­garet agreed, plac­ing a hand on her sister's forearm.
Trav­el­ing through­out the Near East, often with­out the for­ti­fi­ca­tion of male com­pan­ion­ship, Agnes and Mar­garet had, over the years, devel­oped a nose for swindlers and a stom­ach for bar­gain­ing that matched even the most tena­cious of shop­keep­ers in the Khan el-Khalili. Not that they need­ed to be fru­gal. Their dear father had left them enough mon­ey to be hap­pi­ly fleeced for the rest of their lives, and then some. For the twins, thrift was a point of pride. And more­over, every pound saved was anoth­er pound they could give to char­i­ty. In a very real sense, this smarmy concierge was attempt­ing to divert funds away from the assis­tance of war orphans, the res­cue of ancient doc­u­ments, and the estab­lish­ment of a new Pres­by­ter­ian Syn­od in Cambridge.
"We will glad­ly pay the price we agreed to last month," Mar­garet said. Reach­ing into her hand­bag, she pro­duced a let­ter from the own­er of the hotel, detail­ing the terms of their agree­ment. ​"Sev­en­ty pias­tres a night, I believe."
"Yes," the concierge said, with­out look­ing at the let­ter, ​"sev­en­ty pias­tres a night, plus tax­es and tips."
◆ ◆ ◆
After their trunks had been brought up and a round of bak­sheesh dis­pensed to every­one the least bit involved with the endeav­or, Agnes lay down for a moment while Mar­garet bus­ied her­self mak­ing cer­tain all their lug­gage had arrived in good con­di­tion. Between them, the twins had ten steam­er trunks. Four were filled with var­i­ous dress­es, pet­ti­coats, shoes, furs, hats, and oth­er sar­to­r­i­al items required for a jour­ney that would take them from the din­ing room of Shepheard's Hotel to the wilds of the Sinai Desert. Two trunks were crammed with dic­tio­nar­ies, Bibles, lex­i­cons, trav­el accounts, and sundry oth­er books essen­tial to the iden­ti­fi­ca­tion of ancient man­u­scripts. One trunk con­tained all the food­stuffs and med­i­cines they knew they could not pro­cure in Cairo. Anoth­er held their tri­pod, two hun­dred pho­to­graph­ic plates, and the cam­era itself, a trav­el­ing half-plate from Fal­low­field. There was a trunk filled with the chem­i­cal reagents and oth­er con­ser­va­tion equip­ment they would need for their trip to St. Catherine's. And the final trunk con­tained those items that Mrs. Schechter had asked them to deliv­er to her hus­band: a res­pi­ra­tor, its atten­dant spare parts, qui­nine, and a large mag­ni­fy­ing glass.
Once cer­tain every­thing was in good con­di­tion, Mar­garet unpacked their chess set from the sec­ond library trunk and began arrang­ing the board on a small side table. She was near­ly fin­ished set­ting up her own pieces when the bell­hop knocked and slid a note under the door.
"A let­ter?" Agnes asked, rais­ing her head from the pil­low to see what Mar­garet was holding.
"From Dr. Schechter," Mar­garet confirmed.
The twins had come to Cairo to assist Dr. Schechter in obtain­ing a cache of doc­u­ments cur­rent­ly housed in the attic of a syn­a­gogue in the old city. They had orig­i­nal­ly planned to trav­el with him. How­ev­er, at the last minute they had been detained in Cam­bridge by an urgent piece of busi­ness relat­ed to the estab­lish­ment of the Pres­by­ter­ian Syn­od, and every­one agreed that it would be best for Dr. Schechter to go ahead with­out them, so that he might begin secur­ing the nec­es­sary per­mis­sions from the Jew­ish com­mu­ni­ty. Giv­en the exi­gen­cies of trav­el and the sor­ry state of the postal sys­tem in Egypt, they hadn't heard from him since he left Cam­bridge, near­ly a month ear­li­er, and they were eager for his news.
"Will you read it?" Agnes asked.
Mar­garet glanced over the note, writ­ten in Dr. Schechter's broad and rather hasty scrawl, then seat­ed her­self on the edge of the bed and began read­ing aloud.
After the req­ui­site salu­ta­tions, wel­com­ing them to Cairo and ask­ing after their jour­ney, Dr. Schechter informed the twins that they would be very hap­py to hear of his progress with Rab­bi Ben Shi­mon. He was look­ing for­ward to dis­cussing these mat­ters in detail that fol­low­ing evening, when he hoped they would be able to join him­self and Miss de Witt for dinner.
"One sup­pos­es that Rab­bi Ben Shi­mon is the Chief Rab­bi of Cairo," Agnes said, once her sis­ter was fin­ished, ​"but who on earth is Miss de Witt?"
"I have no idea," Mar­garet said, ​"though it does appear that Dr. Schechter has been rather busy."
"Not sur­pris­ing."
"Not at all."
Agnes and Mar­garet had known Dr. Schechter for years. They were of the same set in Cam­bridge and often saw each oth­er at Dr. Taylor's house. In addi­tion to their shared inter­est in bib­li­cal schol­ar­ship, there was anoth­er unspo­ken bond between them as well: the some­what bit­ter knowl­edge that, in spite of their many schol­ar­ly accom­plish­ments, the three of them would always be rel­e­gat­ed to the out­skirts of Dr. Taylor's cir­cle and none of them would ever be allowed to join the per­ma­nent fac­ul­ty at Cam­bridge, Dr. Schechter because of his reli­gion and the twins because of their sex. This knowl­edge did not encour­age a deep­er rela­tion­ship, how­ev­er. If any­thing, it did the oppo­site. Occa­sion­al­ly, the twins had Dr. and Mrs. Schechter over for tea, as part of a larg­er group, but their con­nec­tion with him had nev­er pro­gressed much beyond this ini­tial stage of con­ge­nial­i­ty and shared resent­ment, at least not until recently.
One after­noon that past spring, Agnes and Mar­garet had invit­ed Dr. Schechter over to look through a pile of doc­u­ments brought back from a pre­vi­ous trip to Egypt. In their ini­tial perusal they had found more than a few intrigu­ing man­u­scripts, includ­ing a fif­teenth-cen­tu­ry prayer book and a clump of what looked to be ancient incan­ta­tions of some sort. When they had described the doc­u­ments to him a few days ear­li­er at Dr. Taylor's house, Dr. Schechter had been rather excit­ed. See­ing them for him­self, how­ev­er, he seemed unim­pressed. Shuf­fling through the gen­er­al hodge­podge of ancient let­ters and busi­ness con­tracts, he paused here and there to smile polite­ly or read a few words aloud. His gaze didn't rest on any item for more than a moment until, at the bot­tom of the pile, he came upon a seem­ing­ly unre­mark­able leaf from an ear­ly Hebrew codex. After star­ing down at it for a full three min­utes, Dr. Schechter asked whether he might remove the frag­ment for fur­ther inspec­tion. When he returned, lat­er that after­noon, he was in a state of what could only be described as hys­te­ria. The frag­ment, he had said, once he was able to calm him­self, appeared to be a leaf from the orig­i­nal Hebrew ver­sion of Ecclesiasticus.
The sis­ters exchanged a glance.
"The orig­i­nal Hebrew?"
"I believe so," Dr. Schechter said.
The impli­ca­tions were tremen­dous. If authen­ti­cat­ed, the frag­ment would estab­lish a reli­able source text for Eccle­si­as­ti­cus and might even prove Dr. Schechter's the­o­ry about the lan­guage of its com­po­si­tion. But what excit­ed him most was the idea that there might be more where this had come from. The con­di­tion of the frag­ment, its size, and the paper on which it was writ­ten, all these things led Dr. Schechter to sus­pect that this leaf from Eccle­si­as­ti­cus was, as he had put it, but a sin­gle petal in a great field of wild­flow­ers. Hands trem­bling so much he could bare­ly drink his tea, Dr. Schechter had tried unsuc­cess­ful­ly to explain the Jew­ish pro­hi­bi­tion against dis­card­ing Torah scrolls, prayer books, and any oth­er papers that might con­tain the name of God, how most con­gre­ga­tions buried these doc­u­ments in a spe­cial sec­tion of the grave­yard, but some chose to gath­er their god­ly texts in an attic or store­room, known as a geniza, until they could be dis­posed of properly.
Despite his inco­her­ence, the rea­son for his excite­ment was clear. Some­where in Old Cairo there was a syn­a­gogue, the attic of which was filled with ancient man­u­scripts that hadn't seen the light of day in hun­dreds of years. If they were able to secure these doc­u­ments and bring them back to Cam­bridge, it would be among the most sig­nif­i­cant dis­cov­er­ies of the past twen­ty years, with pro­found effects on litur­gy, lin­guis­tics, and bib­li­cal schol­ar­ship. But they need­ed to act quick­ly. For if Agnes and Mar­garet had been able to pur­chase this frag­ment from a com­mon man­u­script deal­er, it meant that oth­ers would be able to buy them, too. Some­one with access to the syn­a­gogue — a mem­ber of the Jew­ish com­mu­ni­ty, or per­haps one of its employ­ees — was sell­ing the doc­u­ments on the black mar­ket and, with­out their speedy inter­ces­sion, this trea­sure trove of man­u­scripts would soon be dis­persed to the four winds.
Agnes and Mar­garet had rea­son to believe that the syn­a­gogue might also con­tain an even greater trea­sure: the Ezra Scroll. That very morn­ing in fact, on their jour­ney from Alexan­dria to Cairo, Mar­garet had stum­bled upon a pas­sage in a sev­en­teenth-cen­tu­ry trav­el account, sug­gest­ing that the ark of the Ibn Ezra Syn­a­gogue pos­sessed a recess con­tain­ing a copy of the Mosa­ic law, writ­ten in the very hand of Ezra the Scribe him­self, of hap­py mem­o­ry. Upon read­ing those words, she had let out a small yelp of joy and showed the pas­sage to her sis­ter, who respond­ed in a sim­i­lar man­ner. The very notion of the Ezra Scroll — a per­fect copy of the Hebrew Scrip­tures writ­ten thou­sands of years ago by the prophet Ezra — was enough to make one's skin goose with antic­i­pa­tion. If it tru­ly exist­ed, if they found it, if they were able to bring it back to Cam­bridge, the impli­ca­tions tru­ly could not be greater. It was an idea almost too deli­cious to pon­der. An indis­putable source text for the Old Tes­ta­ment, with­out hint of error or inno­va­tion, the Ezra Scroll would be the great­est archae­o­log­i­cal dis­cov­ery of the cen­tu­ry, if not the mil­len­ni­um. Their names — Mrs. Agnes Lewis and Mrs. Mar­garet Gib­son — would be known to his­to­ry for years to come and, more impor­tant­ly, the scroll would serve to estab­lish the true word of God, a per­fect and unim­peach­able copy of the Hebrew Bible with­out inter­me­di­ary or innovation.
And so there they were, in Room 322 at the Hotel d'Angleterre, tired and some­what irri­ta­ble, their bones aching from near­ly a week of trav­el. They were both rather anx­ious to begin the search, but at the moment their exhaus­tion took precedence.
"Are you hun­gry?" Agnes asked, and Mar­garet shook her head.
"Not espe­cial­ly."
"Then I can see no rea­son why we shouldn't avail our­selves of sleep."
"No," Mar­garet agreed, ​"nei­ther can I."
After fin­ish­ing their night­ly exer­cis­es, they washed up and changed into their sleep­ing gowns.
"Would you mind, Meg­gie?" Agnes asked as she rolled onto her stomach.
"Of course not, Nestor."
In the trunk devot­ed to food­stuffs and med­i­cines, Mar­garet found a small bot­tle of the spe­cial­ly for­mu­lat­ed oint­ment that, although smelling of opi­um and chili pep­pers, did a great deal toward alle­vi­at­ing the pain of her sister's rheuma­tism. Rub­bing the oint­ment into her palms, she unbut­toned her sister's gown and began apply­ing a coat of it to her naked back.
It was just the two of them, and so it had been for some time. Margaret's beloved hus­band, Mr. James Gib­son, had passed away after only three years of mar­riage, and Agnes's dear Samuel had died less than five years lat­er. This wasn't the life they had imag­ined for them­selves — no hus­bands, no chil­dren, no domes­tic inter­ests — but it was a life well lived, in the pur­suit of knowl­edge and the gen­er­al well-being, and they both took some com­fort in know­ing that their hus­bands would have been proud of their accom­plish­ments. They had their caus­es, sup­port­ed their church, wrote let­ters to The Times, and, when they weren't trav­el­ing around the Near East, search­ing for ancient man­u­scripts that might shed light on the ori­gins of their faith, they spent most of their days in qui­et con­tent­ment, read­ing or study­ing Ara­bic gram­mar in the par­lor. Like any part­ner­ship, theirs was a nego­ti­a­tion, a care­ful­ly con­struct­ed edi­fice of favors and moods. They had dis­agree­ments, of course, but in large part they got on remark­ably well. For each knew the other's think­ing as well as her own.
At that par­tic­u­lar moment — Agnes lying on her stom­ach and Mar­garet rub­bing the oint­ment into her sister's back — they were think­ing, as they often did, of their beloved father. He had been dead now for years, but they could both very clear­ly recall him, bent over his writ­ing desk, rebuk­ing them for an exces­sive dis­play of pride, prais­ing a well-wrought translation.
Where would they be with­out the guid­ance of his steady and some­times chastis­ing hand? It was he who had giv­en them the gift of a prop­er edu­ca­tion, he who had sparked the light of their faith, he who had instilled in them the impor­tance of hard work and a curios­i­ty about the world beyond Glas­gow, Edin­burgh, and Lon­don. For although he dis­ap­proved of female edu­ca­tion in gen­er­al, he had seen their promise ear­ly and resolved to school them him­self, begin­ning when they were five with Latin and Greek, then mov­ing on to Hebrew, Ara­bic, and Ara­ma­ic. Six days a week, from break­fast until din­ner, Agnes and Mar­garet had worked side by side, dili­gent­ly trans­lat­ing Cicero, Exo­dus, and Ibn Sina. Their din­ner con­ver­sa­tions were pri­mar­i­ly of an instruc­tion­al nature, but every night after the table was cleared and the dish­es washed, their father would read aloud to them from the Odyssey or the Ara­bi­an Nights. And as they drift­ed off to sleep, the sound of his voice filled their dreams with wood­en ships, great mar­ble palaces, mag­ic lamps, and dark caves over­flow­ing with treasure.
That fol­low­ing evening — after a most­ly pleas­ant day spent read­ing, strolling through the gar­dens, and mak­ing inquiries with their friends at the antique book mar­ket — Agnes and Mar­garet took a car­riage to Dr. Schechter's hotel.
"So good to see you," he said, leap­ing up from his chair as they entered the lobby.
With his wild hair and his great sil­ver beard, Dr. Schechter looked as if he would be more at home among the monks of Mount Sinai than the tourists milling about the lob­by of a mod­ern hotel.
"It is so very good to see you both," he went on. ​"I must apol­o­gize for not writ­ing ear­li­er. But we have been hav­ing quite a bit of excite­ment here. I have been mak­ing great strides with Rab­bi Ben Shi­mon, great strides."
For the past six months, the already some­what fran­tic Dr. Schechter had been a man pos­sessed, mut­ter­ing to him­self on King's Parade or in the stacks of the Cam­bridge Uni­ver­si­ty Library, unwashed and disheveled, look­ing for all the world like a mad­man. Being in Cairo appar­ent­ly hadn't done much to calm his nerves, though it did look as if he had bought him­self a new suit.
"We have some excit­ing news," he told the twins, ​"very exciting."
"We?" Agnes glanced at the rather pret­ty young lady with whom Dr. Schechter had been sitting.
"Excuse me," he said with a slight blush. ​"Please allow me to intro­duce Miss Emi­ly de Witt, from Gir­ton Col­lege. Did I not men­tion I had a stu­dent along to help with the transcriptions?"
"I can't say I remem­ber any­thing about a stu­dent," Agnes said. ​"But then again, I can hard­ly remem­ber the name of my own dog."
Mar­garet smiled for her sister.
"It is a plea­sure to meet you, Miss de Witt."
"The plea­sure is all mine," she said, and gave a slight, but very win­ning, curtsey.
"We have some excit­ing news," Dr. Schechter repeat­ed as he led them into the din­ing room of the hotel. ​"I have been mak­ing great strides with Rab­bi Ben Shimon."
It was slight­ly vex­ing how Dr. Schechter spoke about the project. Over the past few months, he had assumed de fac­to own­er­ship over the expe­di­tion, refer­ring to the doc­u­ments as ​"my find" and repeat­ed­ly thank­ing the sis­ters for their assis­tance. Of course, they had enjoyed more than their share of acco­lades a few years ear­li­er, after their dis­cov­ery of the codex at St. Catherine's Monastery. Agnes had been invit­ed to address the Roy­al Asi­at­ic Soci­ety, and Margaret's account of the dis­cov­ery was praised in news­pa­pers around the world. Many said it was one of the most sig­nif­i­cant such finds since the Codex Sinaiti­cus. But fame was only a by-prod­uct. If their expe­ri­ence — uncov­er­ing the codex, bring­ing it home, hav­ing their names briefly trum­pet­ed about — had taught them any­thing, it was to remind them of what their father had often said. The text was what mat­tered, not the author. The true pur­pose of their work, of any schol­ar­ly endeav­or, was not recog­ni­tion. It was the steady accu­mu­la­tion of knowl­edge, the illu­mi­na­tion of an ancient tex­tu­al vari­ant, the rev­e­la­tion curled upon itself in a dusty palimpsest.
"Great strides," Dr. Schechter said again.
Unable to con­tain him­self any longer, he dove into a dra­mat­ic account of his time in Cairo, detail­ing a series of meet­ings with the Chief Rab­bi and oth­er notable mem­bers of the Jew­ish com­mu­ni­ty. There was a Mr. Bechor, a Mr. Mosseri, and three or four oth­ers who, along with Rab­bi Ben Shi­mon, con­sti­tut­ed an infor­mal gov­ern­ing coun­cil. Know­ing some­thing of the Ori­en­tal char­ac­ter, Dr. Schechter had invest­ed most of the past two weeks in frat­er­niza­tion, drink­ing cof­fee, smok­ing cig­a­rettes, and tour­ing around the city. At times, he had to admit, it all seemed like noth­ing more than a grand diver­sion. Then, three days ago, his hard work had paid its div­i­dend. Rab­bi Ben Shi­mon had grant­ed them full access to the geniza and inti­mat­ed that he would sup­port the idea of safe­keep­ing the entire­ty of the col­lec­tion at the Cam­bridge Uni­ver­si­ty Library.
"What does he want in exchange?" Agnes asked.
Hav­ing dealt with all man­ner of Egyp­tians, from Bedouin camel traders to Cop­tic patri­archs, she had a dif­fi­cult time believ­ing that Rab­bi Ben Shi­mon would give up such a valu­able cache of doc­u­ments with­out compensation.
"Noth­ing," Dr. Schechter said, ​"at least not as far as I can tell. Rab­bi Ben Shi­mon under­stands the great schol­ar­ly val­ue of the geniza doc­u­ments and I have been able to con­vince him that they will be well looked after in Cam­bridge. He is a love­ly man and very learned. When you meet him, I am sure you will agree."
"I am sure we will," Mar­garet said, though she shared her sister's sus­pi­cions. In their expe­ri­ence, the shrewdest of char­ac­ters were often those who seemed, at first, to lack an ulte­ri­or motive.
"I've vis­it­ed the syn­a­gogue twice," Dr. Schechter said, redi­rect­ing the course of con­ver­sa­tion. ​"And tru­ly, the geniza is beyond any­thing I could have imagined."
Paus­ing to cough while the wait­er served their din­ner — beef Welling­ton for the ladies and, for the gen­tle­man, a kosher meal pro­vid­ed through the gen­eros­i­ty of the gov­ern­ing coun­cil — Dr. Schechter went on to describe a vast bat­tle­field of paper, books, and let­ters, dust every­where and all of it mashed togeth­er with­out any order what­so­ev­er. Most of the doc­u­ments held lit­tle schol­ar­ly inter­est — busi­ness and mar­riage con­tracts, deeds, the pro­ceed­ings of the reli­gious court — but there were gems to be found amidst the rub­ble, gems of a most aston­ish­ing nature. In just two vis­its he had already uncov­ered a num­ber of invalu­able doc­u­ments: a page from a four­teenth-cen­tu­ry Passover Hag­gadah and the first half of a let­ter writ­ten by the great poet and schol­ar Samuel ha-Nagid.
"Samuel ha-Nagid," Agnes mar­veled, but before she could for­mu­late a ques­tion about the let­ter, Dr. Schechter was over­come by anoth­er fit of coughing.
"It's the geniza," he said. ​"I've nev­er seen such dust."
He con­tin­ued cough­ing until Miss de Witt hand­ed him a glass of water.
"We left your res­pi­ra­tor at the front desk," Mar­garet offered. ​"If we had known the need was so urgent, we would have brought it with us."
Agnes glanced at Miss de Witt, who was watch­ing Dr. Schechter with a con­cern that bor­dered on exces­sive familiarity.
"Mrs. Schechter sent along a few oth­er things as well."
"Thank you," Dr. Schechter said and, recov­er­ing him­self, steered the con­ver­sa­tion back to the geniza. ​"All that filth, it makes one feel less like a schol­ar than a house­maid, dust­ing out the attic of History."
"We are eager to help in what­ev­er capac­i­ty you deem most use­ful," Mar­garet said. ​"As you know, my sis­ter and I are not above dust­ing, and our Ara­bic is quite passable."
"It's quite good, real­ly," Dr. Schechter said, miss­ing her irony entire­ly. ​"But first, we must secure Rab­bi Ben Shimon's per­mis­sion to remove the doc­u­ments. He has agreed in prin­ci­ple, but such things take time."
"If you think it would be at all pos­si­ble," Agnes put in, ​"we would be thrilled to vis­it the synagogue."
They were both rather curi­ous to see the geniza for them­selves. They had come halfway around the world. And, after hear­ing Dr. Schechter describe its con­tents, they felt an even greater urgency to get on with their work, secur­ing the geniza and pro­tect­ing these invalu­able doc­u­ments from who­ev­er was sell­ing them off.
"Yes, of course," Dr. Schechter said. He paused for a moment and tapped the side of his head, like a school­boy try­ing to recall the exact word­ing of a dif­fi­cult recita­tion. ​"The only trou­ble is, Mr. Bechor offered to take us all out on a tour of the city tomor­row. He is an impor­tant mem­ber of the gov­ern­ing coun­cil. Per­haps we can vis­it the syn­a­gogue the fol­low­ing afternoon?"
As much as they want­ed to get on with their work — and as lit­tle as they want­ed to be led around on a tour of a city they had vis­it­ed near­ly a dozen times — the twins knew bet­ter than to refuse an invi­ta­tion from an impor­tant mem­ber of the gov­ern­ing coun­cil. So they agreed, reluc­tant­ly, to meet that next morn­ing in the lob­by of their hotel.
After dessert, the twins bade Dr. Schechter and Miss de Witt a good evening and took an open car­riage back to their hotel. It was a dark night, clear and cold, and the stars shone like inflamed grains of sand.
"She is rather pret­ty," Mar­garet said after a few min­utes of silence.
"Cer­tain­ly not who I imag­ined when Dr. Schechter said he was bring­ing along a research assistant."
"Maybe she has some Hebrew."
"I doubt she has much of any­thing, apart from her charms." Mar­garet let this bit of nas­ti­ness dis­si­pate before she spoke again.
"And Rab­bi Ben Shi­mon," she asked, ​"what do you sup­pose he wants?"
"Mon­ey," Agnes said, trou­bling a loose flap of the seat next to her. ​"It's usu­al­ly mon­ey, isn't it?"
"Nine times out of ten."
"Or maybe a polit­i­cal favor, pro­tec­tion from the vagaries of Abbas II."
"Per­haps he doesn't care about the doc­u­ments at all," Mar­garet spec­u­lat­ed. ​"Per­haps he thinks they're noth­ing but rub­bish and we're fools for chas­ing after them."
"Or maybe he does care, very much, and tru­ly believes they will be bet­ter cared for in Cambridge."
"Which they will be."
"It doesn't real­ly mat­ter, does it? So long as he's will­ing to grant us the nec­es­sary permissions."
"And soon," Mar­garet added.
"And soon."
They were silent for the remain­der of the ride, think­ing about Rab­bi Ben Shi­mon and Mr. Bechor, the pos­si­bil­i­ty of the Ezra Scroll and Dr. Schechter's unfor­tu­nate will­ing­ness to trust in the good inten­tions of oth­ers. Being grant­ed access to the geniza was cer­tain­ly some­thing, but there was still a great deal of work to be done. The twins were both quite cer­tain now that there was a leak in the geniza. Some­one was sell­ing off the doc­u­ments piece by piece and who­ev­er it was — a mem­ber of the gov­ern­ing coun­cil, the syn­a­gogue watch­man, Rab­bi Ben Shi­mon, or some­one else entire­ly — the twins wouldn't stop until the doc­u­ments were removed to a safer loca­tion. Until then, until the prover­bial bird was in their hands, the geniza would con­tin­ue to be parceled out and sold in the stalls of the antique book mar­ket. One of the great­est dis­cov­er­ies of the cen­tu­ry, thou­sands of poten­tial­ly invalu­able doc­u­ments, would be dis­persed among the curios­i­ty cab­i­nets of plea­sure tourists who couldn't tell the dif­fer­ence between Syr­i­ac and Aramaic.
Excerpt­ed from The Last Watch­man of Old Cairo by Michael David Lukas. Pub­lished by Spiegel & Grau. Copy­right © 2018 by Michael David Lukas. All rights reserved.
Image of Al-Hakim Mosque via Wiki­me­dia Com­mons. Post­card of Cairo at night via the British Muse­um.
Author of The Last Watch­man of Old Cairo and The Ora­cle of Stam­boul, Michael David Lukas has been a Ful­bright Schol­ar in Turkey, a stu­dent at the Amer­i­can Uni­ver­si­ty of Cairo, and a night-shift proof­read­er in Tel Aviv. A recip­i­ent of the Nation­al Jew­ish Book Award, the Sami Rohr Prize for Jew­ish Lit­er­a­ture, the Sophie Brody Medal, and a Nation­al Endow­ment for the Arts Fel­low­ship, his writ­ing has appeared in The New York Times and The Wall Street Jour­nal. He teach­es at San Fran­cis­co State Uni­ver­si­ty and lives in Oak­land, Cal­i­for­nia. He's very close to fin­ish­ing his third nov­el, a post-apoc­a­lyp­tic retelling of the bib­li­cal Book of Esther called Scroll of Stars.