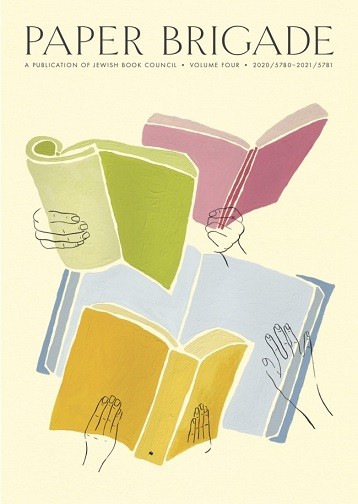 Paper Brigade Vol­ume Four
Fea­tur­ing inter­views with Natasha Díaz, André Aci­man, T Kira Mad­den, and Dani Shapiro, a Jew­ish lit­er­ary map of Egypt, an anno­tat­ed read­ing list on friend­ship by Lau­ren Mech­ling, and more. At check­out, you will be giv­en an option to a add a gift note to this order.
$25.00
Jacques and Jacque­line Groag
Fac­ing Sur­vival
David Kas­san
Kvetch­ers in the Rye
Ken Krim­stein
Rab­bits, Tigers, and Col­ored Pen­cils
Joan­na Carey
Beyond the Shad­ows
Judy Glick­man Lauder
A Brief Note on Artemisia Gentileschi's Esther
Kei­th Christiansen
Audac­i­ties of Col­or
LaN­i­tra M. Berger
Fic­tion
Basia Wino­grad
Abi­gail Weaver
Trans­la­tion
North­ern Lights
Yoy­sef Ker­ler, trans­lat­ed by Maia Evrona
Mox Nox
Shi­mon Adaf, trans­lat­ed by Philip Simpson
The World Stops at the Edge of the Word
Yonit Naa­man, trans­lat­ed by Ayelet Tsabari
To Our Readers
Pro­grams & Publications
Index of Book Reviews
2019/2020 Net­work Authors
2020/​2021NetworkAuthors
JBC Net­work Communities
2018 Nation­al Jew­ish Book Awards
2019 Nation­al Jew­ish Book Awards
Natan Notable Books
There are a mul­ti­tude of Jew­ish expe­ri­ences," Natasha Díaz observes in this issue of Paper Brigade. This sen­ti­ment, which has been deeply under­scored in the past year, also speaks to the essence of our journal.
In these pages, we aim to high­light the diver­si­ty of Jew­ish lives and books. Díaz dis­cuss­es the com­plex­i­ty of racial and reli­gious iden­ti­ty, which is also reflect­ed in her debut YA nov­el. Poet Diane Mehta describes carv­ing out a place for her own spir­i­tu­al­i­ty after strug­gling to rec­on­cile the Jew­ish and Jain tra­di­tions of her par­ents. Oth­er authors reflect on sci­en­tif­ic advances that have made our con­cept of her­itage more nuanced — the results of DNA tests under­pin mem­oirs by Dani Shapiro and T Kira Mad­den as well as a new wave of lit­er­a­ture reclaim­ing the lega­cy of crypto-Jews.
While many Jew­ish expe­ri­ences have only recent­ly been acknowl­edged, they have always exist­ed. Today, many writ­ers are bring­ing mar­gin­al­ized fig­ures of the past into the canon. Sarah Blake reimag­ines the sto­ry of Noah's ark as a queer nar­ra­tive, and an excerpt from Ste­fan Hertmans's nov­el The Con­vert details the strug­gles of an actu­al eleventh-cen­tu­ry woman who con­vert­ed to Judaism. LaN­i­tra M. Berg­er explores a moral­ly com­plex chap­ter of Jew­ish his­to­ry through the apartheid-era paint­ings of Irma Stern.
This year, many of us have felt iso­lat­ed. Books show us that we're not alone — in fact, they can bring us togeth­er on an ever-widen­ing scale. One need look no fur­ther than an excerpt from Michael Zapata's debut nov­el, in which two boys of dif­fer­ent back­grounds bond over their shared love of a work of sci­ence fic­tion. As Boris Fish­man notes in an inter­view, ​"Kin­ship can come from shared ideas and feel­ings, not just from shared expe­ri­ence." I hope you'll find your own sense of kin­ship in the fol­low­ing pages.
—Bec­ca Kan­tor, Edi­to­r­i­al Director
Could­n't make it to the vir­tu­al launch par­ty? Watch a record­ing of the event on Face­book or YouTube.