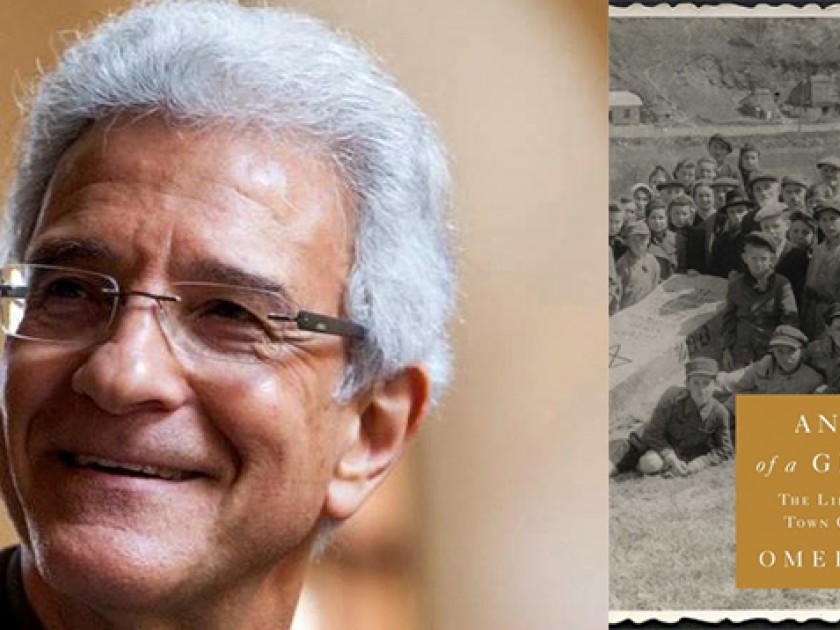 In advance of the 68th Annu­al Nation­al Jew­ish Book Awards cer­e­mo­ny on March 5th, 2019 (which you can buy tick­ets for here), Jew­ish Book Coun­cil is shar­ing short inter­views with the win­ners in each category.
Omer Bartov's Anato­my of a Geno­cide: The Life and Death of a Town Called Bucza­cz, is the win­ner of the 2018 Nation­al Jew­ish Book Award in Holo­caust Stud­ies in Mem­o­ry of Ernest W. Michel. Bartov's book explores how geno­cide took place in the East Euro­pean bor­der town of Bucza­cz, Poland (now Ukraine). The pan­el judges write: ​"Bartov's mono­graph demon­strates the his­tor­i­cal sig­nif­i­cance of towns and nar­ra­tives that might oth­er­wise be for­got­ten. It also helps us under­stand the com­plex­i­ty of intereth­nic con­flict, which con­tin­ues to trou­ble our world today."
Which three Jew­ish writ­ers, dead or alive, would you most like to have din­ner with?
Isaac Babel, mas­ter of the short sto­ry and her­ald of the twen­ti­eth century's hor­rors; Vasi­ly Gross­man, nar­ra­tor of the titan­ic strug­gle in Stal­in­grad; and Joseph Roth, chron­i­cler of Jewry's har­row­ing jour­ney to modernity.
What's your favorite book that no one else has heard of?
S.Y. Agnon's Ir u‑Melo'ah (A City in Its Full­ness), a Nobel Prize laureate's mas­ter­ful biog­ra­phy of his home­town Bucza­cz and the lost world of Jew­ish Galicia.
Which Jew­ish writ­ers work­ing today do you admire most?
Edmund de Waal, Jew­ish only by her­itage, whose Hare with Amber Eyes is an extra­or­di­nary tale of the rise and fall of a Jew­ish dynasty and Europe's descent into barbarism.
What are you read­ing right now?
Yael Neeman's Hyoh Hay­tah (Once There Was a Woman), a new Hebrew-lan­guage nov­el about the fleet­ing life of a gift­ed woman and vic­tim of her par­ents' Holo­caust victimhood.
What are your great­est cre­ative influ­ences (oth­er than books)?
Trav­el lib­er­ates me from my desk and books; con­ver­sa­tions with strangers remind me of the vast­ness and famil­iar­i­ty of human experience.
What do you hope read­ers will take away from your book?
The book illus­trates that the thin crust of social order can eas­i­ly crack once we iden­ti­fy cer­tain groups in our midst as out­side the uni­verse of human sol­i­dar­i­ty, and how quick­ly the forces of law and order can be turned against us.