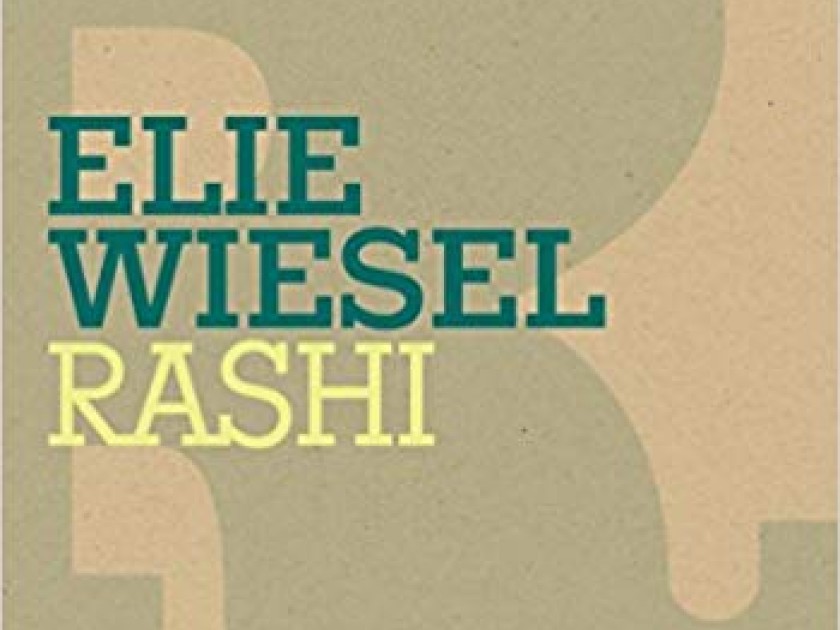 Mag­gie Anton, the author of the Rashi's Daugh­ters tril­o­gy, reviews Elie Wiesel's Rashi. The final book in the Rashi's Daugh­ters series, Rachel: A Nov­el of Love and the Tal­mud in Medieval France, was just released.
I haven't looked for­ward to a book's release so much since the final install­ment of Har­ry Pot­ter. Here is a new biog­ra­phy of Rashi [1040 – 1105], part of Nextbook's Jew­ish Encounter series, writ­ten by one of Judaism's most revered liv­ing authors, Nobel lau­re­ate Elie Wiesel. Who bet­ter to write about Rashi, the French Tal­mud schol­ar, than Wiesel, who attend­ed yeshi­va as a youth, found asy­lum in France after sur­viv­ing Auschwitz, and went on to study at the Sorbonne?
Wiesel's Rashi, orig­i­nal­ly writ­ten in French, is a love sto­ry between the author and Rashi, who lived and died in Troyes, cap­i­tal of the province of Cham­pagne. Rashi, an acronym for Rab­bi Shlo­mo ben Isaac, wrote com­men­taries on the entire Hebrew Bible and near­ly the entire Tal­mud. The great­est of Jew­ish schol­ars, more Jews study his words every day than all the oth­er schol­ars put together.
But Rashi isn't just words on a page; he was a writer whose per­son­al­i­ty and opin­ions per­me­ate his works, a father with three learned daugh­ters in a time when women were for­bid­den to study the holy texts, and a teacher who attract­ed a cadre of dis­ci­ples who wrote devot­ed­ly of the teach­ings they'd ​"received from his mouth."
In this slim vol­ume, Wiesel writes a ​'stream-of-con­scious­ness' remem­brance begin­ning with what he learned from Rashi as a child, then expand­ed with leg­ends, mus­ings about Rashi's com­men­tary on Gen­e­sis, and final­ly, com­par­isons between the First Cru­sade, which took place towards the end of Rashi's life, and the Holo­caust, which stole Wiesel's youth and became the force behind his own prodi­gious writ­ings. Through­out the book, Wiesel asks ques­tions about the medieval schol­ar who so influ­enced his child­hood. Yet not all his ques­tions get answered. Like Rashi, Wiesel admits that there are things he doesn't know.
There are only four chap­ters, less than 80 pages of text. The first chap­ter, titled ​"Impres­sions," recounts Rashi's life and places him in a com­mu­ni­ty, coun­try, and his­tor­i­cal set­ting. Leg­ends abound, and Wiesel is care­ful to label them as such. Con­sid­er­ing his own his­to­ry, Wiesel can be for­giv­en for focus­ing so heav­i­ly on the adver­si­ties that Jews of Rashi's time suf­fered, yet he admits that ​"in the eleventh cen­tu­ry … Jews in Europe and in the Holy Land lived in rel­a­tive safety."
Dur­ing Rashi's life­time there were no ghet­tos, no Inqui­si­tion, no blood libels, and no restric­tions on Jews' occu­pa­tions – these come much lat­er. In fact, Rashi lived at the begin­ning of what is known as the twelfth-cen­tu­ry Renaissance.
Chap­ter Two, ​"Bib­li­cal Com­men­taries," opens with the first line of Gen­e­sis and Rashi's reply as to why the Bible begins with cre­ation and not with the first com­mand­ment. Wiesel then con­tin­ues with select­ed com­men­taries on the Gar­den of Eden, Noah, Abra­ham and the oth­er Patri­archs, through the death of Jacob in Egypt. I admit I was pleased to see that Wiesel includ­ed some of Rashi's rather ​"fem­i­nist" opin­ions, such as Adam bear­ing blame for eat­ing the for­bid­den fruit — because, by blam­ing Eve, ​"Adam showed his lack of grat­i­tude to God for giv­ing him the woman."
Rashi was not shy about dis­cussing sex­u­al mat­ters in Gen­e­sis, and Wiesel is not shy in shar­ing these. For exam­ple: what aroused the serpent's inter­est in Eve? ​"He saw man and woman unit­ed sex­u­al­ly, and this excit­ed him," he writes.
Chap­ter Three races through Rashi's com­men­tary on the rest of the Bible — oh, if Wiesel had only includ­ed more of Rashi's Tal­mud com­men­taries! — and con­cludes with some respon­sa, or legal queries sent to Rashi for judgment.
The fourth chap­ter, ​"Sad­ness and Mem­o­ry," returns to the mas­sacres of the First Cru­sade, some in rather grue­some detail. Only at the final page do we hear about Rashi's death, as it is men­tioned in two dif­fer­ent Tal­mud com­men­taries, one by his son-in-law and the oth­er by his grandson.
Obvi­ous­ly such a small vol­ume can­not pos­si­bly dis­cuss every detail of Rashi's life and work; even ten such books could not. What is impres­sive is how beau­ti­ful­ly Wiesel gives us a glimpse at what lies behind Rashi's great­ness, a taste of Rashi's eru­di­tion and vast cor­pus of work.
Some say that Rashi allows us to swim in the sea of Tal­mud, but Wiesel elo­quent­ly writes: ​"With­out him, I would have gone astray more than once in the gigan­tic labyrinth that is the Baby­lon­ian Tal­mud." How­ev­er one describes it, Rashi's com­men­tary is what keeps us from drown­ing or get­ting lost in this oth­er­wise opaque text. And since Judaism as we know it is based on the Tal­mud — how we cel­e­brate our hol­i­days, observe our life­cy­cle events, pre­pare our food, run our busi­ness­es, how we relate to our Cre­ator — if Rashi hasn't giv­en us the abil­i­ty to under­stand Tal­mud, Judaism today would either not exist or be a very dif­fer­ent religion.
Mag­gie Anton's newest book, Rashi's Daugh­ters, Book III: Rachel: A Nov­el of Love and the Tal­mud in Medieval France, is now avail­able. Vis­it http://​www​.rashis​daugh​ters​.com, her offi­cial website.
Mag­gie Anton is an award-win­ning author of his­tor­i­cal fic­tion, as well as a Tal­mud schol­ar with exper­tise in Jew­ish wom­en's his­to­ry. Intrigued that the great Jew­ish schol­ar Rashi had no sons, only daugh­ters, she researched the fam­i­ly and their com­mu­ni­ty. Thus the award-win­ning tril­o­gy, Rashi's Daugh­ters, was born. Since 2005, Anton has lec­tured about the research behind her sev­en books at hun­dreds of venues through­out North Amer­i­ca, Europe and Israel.