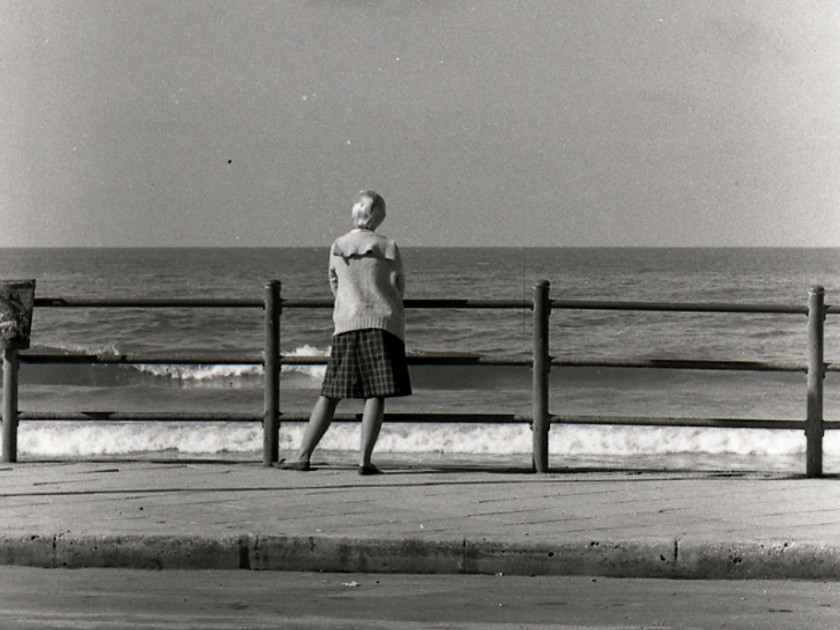 Con­tent warn­ing, there is a descrip­tion of a sui­cide attempt.
Like me, Lily didn't have any broth­ers or sis­ters. And worse still, she didn't even have par­ents, so not only was I an only child, but I didn't have a grand­moth­er or a grand­fa­ther on her side, or aunts or uncles or cousins, like all the oth­er chil­dren I knew. At least my father wasn't an orphan; at least on his side I had grand­par­ents. Even if I rarely saw them, because they irri­tat­ed Lily too.
Daddy's par­ents, Grand­ma and Grand­pa Zoref, lived on Shabazi Street in the Neve Tzedek neigh­bor­hood near the city of Jaf­fa by the sea, and my sole uncle, Shmu­lik, or Sam as he was now called, lived in Amer­i­ca, where he'd gone right after he'd fin­ished his army ser­vice. He'd mar­ried Ida, an Amer­i­can Jew­ish woman who Lily referred to as ​"Her High­ness." I'd nev­er met his chil­dren. This uncle would vis­it Israel once every two years, and every time he came, with or with­out Her High­ness, Lily would get angry with my father and my grand­par­ents for eager­ly antic­i­pat­ing his arrival.
"I won't lift a fin­ger for your Ameri-show-off broth­er," she would declare as Dad­dy did his best to pre­pare an extra-spe­cial fes­tive meal, and she demon­stra­tive­ly refused to set the table. And when my grand­par­ents and my uncle arrived for din­ner, she would sit there scowl­ing, and the more she scowled, the more I smiled. I was hap­py that final­ly it wasn't just the three of us. For a moment we were like all the oth­er fam­i­lies I knew, sit­ting around the table for sup­per, even if out of six peo­ple, five were adults and two of them real­ly old. Despite every­thing we were cheer­ful, except for Lily, who nar­rowed her eyes at my father and was silent most of the time, hard­ly respond­ing when some­one spoke to her.
Those vis­its were spe­cial occa­sions for me and a break from the sti­fling rou­tine that pre­vailed in my child­hood home. Each time he came, he took the fam­i­ly out for din­ner to Tziyon's Restau­rant in the Kerem HaTeiman­im neigh­bor­hood. Of course Lily would make her usu­al scene and say that he was flash­ing his dol­lars around as if he were some kind of Amer­i­can mil­lion­aire, when in fact he was noth­ing more than a garage own­er from Brooklyn.
My poor father, torn between Lily and Sam, would make futile efforts to calm her down. ​"For good­ness' sake, Lily, my broth­er only vis­its once every two years. Please don't force me to hurt his feel­ings for the two weeks he's here.
"I can't bear it when you make your­self into a door­mat for him," she would say, los­ing her tem­per. ​"I can't bear it that your moth­er behaves as if he's her only son. As if he even both­ers with her when he's in his pre­cious Amer­i­ca. It's you who runs all your par­ents' errands to the insur­ance insti­tute and the health fund and the bank. He hasn't even intro­duced her to his chil­dren, and to her he's the king of the world."
My heart con­tract­ed with envy when I saw oth­er fam­i­lies host­ing their rel­a­tives on the day of rest, Shab­bat, and for hol­i­day meals. And I hat­ed the New Year hol­i­day most of all. Through the open win­dows I heard the sounds of fam­i­lies chant­i­ng hol­i­day bless­ings and prayers, laugh­ter and com­mo­tion and the hap­py shrieks of chil­dren, while we were three silent peo­ple. The only way I could sur­vive that pathet­ic meal was to lose myself in a fan­ta­sy world where I was sur­round­ed by dot­ing rel­a­tives. I squeezed my eye­lids shut until Lily's voice roused me from my rever­ies. ​"Again you're dream­ing. Fin­ish what's on your plate and clear the table."
Until I was six, we spent hol­i­days with Grand­ma and Grand­pa Zoref. On the eve of the Passover Seder, Lily con­de­scend­ed to go to their house, and I would sit with the four adults, shy about declaim­ing the Four Ques­tions tra­di­tion­al­ly recit­ed by the youngest per­son present. I loved to vis­it them. I loved to go there because of the tight hug I always received from my grand­moth­er, who seemed over­joyed to see me, and the touch of my grandfather's warm hand on the top of my head as he kissed my fore­head and mur­mured a bless­ing. I espe­cial­ly loved being show­ered with presents. ​"Those toys aren't for a child her age," Lily would carp to my father, and ​"Those clothes are from the Carmel Mar­ket." I didn't care. I was so thrilled to receive gifts from peo­ple whose love for me was pal­pa­ble, so excit­ed to feel like a real fam­i­ly. I longed for my father to take me to Amer­i­ca to meet my cousins and to have some­one my age who wasn't just a friend but a rel­a­tive, a real mem­ber of my fam­i­ly, a cousin.
Once I asked, and my father laughed and said that as soon as he won the lot­tery, he'd take me to Amer­i­ca to see my cousins, who lived in a build­ing that almost reached the sky. All my father's dreams were chan­neled to the Mifal HaPais, the nation­al lot­tery, and mine were swept up in the same cur­rent. Every time I asked for some­thing he couldn't afford, he would promise that when he won the lot­tery, he would make my wish come true. We would trav­el to Amer­i­ca when he won the lot­tery; he would buy me a bicy­cle when he won the lot­tery; he would sign me up for bal­let lessons when he won the lot­tery. And every time I walked past the dilap­i­dat­ed lit­tle kiosk on Dizen­goff Street oppo­site the David's Palace Movie The­ater that sold lot­tery tick­ets, I couldn't under­stand how a place full of so much mon­ey could look so run down.
My heart con­tract­ed with envy when I saw oth­er fam­i­lies host­ing their rel­a­tives on the day of rest, Shab­bat, and for hol­i­day meals.
Now, I wished that when he final­ly won the lot­tery, my dad­dy would buy a machine that would turn me back into the per­son I had been before Ari. A promis­ing young stu­dent in the Depart­ment of Eng­lish Lit­er­a­ture at Tel Aviv Uni­ver­si­ty who dreamed of hav­ing a Fri­day-morn­ing radio show about authors and books.
Where were those dreams? What had hap­pened to me? How could I have mar­ried a man who con­trolled me exact­ly the same way my moth­er did my father? Lord in heav­en, I sud­den­ly real­ized, I'd mar­ried my mother.
My thoughts assailed me, pour­ing relent­less­ly into my mind. I could hear them pound­ing in my head, strain­ing my tem­ples. Any moment now they would be putting me in a strait­jack­et, send­ing me to the nut­house at Abar­banel. I couldn't endure the rag­ing tor­rent of thoughts, couldn't abide myself — some­one had to stop this dance of demon­ic images that was push­ing me to the edge, had to rip up the hor­ror movie play­ing in my head, dis­con­nect me from it, release me!
My father told me my screams brought him and Lily rac­ing to my room. ​"It was lucky," he said, ​"you didn't lock the door." They found me sit­ting on my bed, slic­ing at my wrists with a razor. Cut­ting and scream­ing, cut­ting and weep­ing. Lily, who in a cri­sis was always more quick wit­ted than my father, knocked the razor from my hand as I strug­gled with her, cry­ing and scream­ing. While my father called an ambu­lance, my moth­er held my wrists with her thumbs and man­aged to stem the flow of blood. By the time they car­ried me to the ambu­lance on a stretch­er, I had lost consciousness.
"My sweet­heart," I heard my father say as if from a dis­tance, ​"are you awake?" I opened my eyes and saw that I was lying in a hos­pi­tal bed, hooked up to an IV. I couldn't sit up. My wrists were ban­daged and painful, my mouth so dry that though I want­ed to answer my father, it was hard to speak.
"What hap­pened to me?" I whispered.
"Everything's fine now, dar­ling," my father said. ​"Rest. The most impor­tant thing is for you to rest."
"What hap­pened?" I whis­pered again.
"You tried to kill your­self — that's what hap­pened," Lily said curt­ly, pulling no punch­es, as usual.
"Go out­side, Lily." My father was unusu­al­ly firm and deci­sive. ​"Go get some cof­fee; you've had a rough night. I'll stay here with Eliya."
"Sweet­heart," my father said when Lily left the room, ​"let's wait for the doc­tor to come and talk to you. Then I'll tell you what happened."
"What­ev­er you say," I answered weari­ly, and I closed my eyes.
I was worn out, my heart beat­ing so fast that I could feel it puls­ing in my head. I kept my eyes closed. I couldn't even man­age to kill myself. I had failed at even that. Tears poured from my eyes again, and I sobbed and sobbed until I plunged into anoth­er deep sleep.
Hours lat­er, when I woke, my par­ents were stand­ing by my bed.
"You have to eat," said Lily in a busi­nesslike tone. ​"There's mashed pota­toes and some soup. Eat — it will make you stronger."
I pressed my lips togeth­er like an obsti­nate child and refused to open my mouth.
I saw their exchange of glances. Lily seemed to be at her wits' end. She was try­ing not to show it, but she was on the verge of tears, and I'd nev­er seen Lily with tears in her eyes.
I remem­bered hear­ing her voice from the oth­er side of my locked door, rep­ri­mand­ing my father and telling him to stop behav­ing like a dish tow­el. ​"You have to behave nor­mal­ly around her, even though she hasn't left her bed for months. Only then, when she sees that despite the fact that she won't get out of bed, the house­hold is still run­ning nor­mal­ly, will she pull her­self out of this state." How angry I had been when I'd heard what she'd said.
Now I detect­ed a fault in the foun­da­tion of Lily, who I'd always believed to be made of stone, and I was mes­mer­ized by this inti­ma­tion that she had what I had nev­er believed she pos­sessed — sen­si­tiv­i­ty. And maybe she was capa­ble of feel­ing fear. She looked frightened.
"I'm going to call the doc­tor," my father said, and he left the two of us alone.
Lily sat on the edge of the bed and took my hands in hers. ​"Look how thin they are, like chick­en feet." I wasn't used to demon­stra­tions of affec­tion from her. She brought my hands to her lips and kissed my palms, her tears falling on them. That day in the hos­pi­tal was the first time I saw her cry, and I think it was also the first time she kissed me. I'd nev­er felt so con­fused and bewil­dered. I wasn't sure whether I want­ed to grab back my hand or put my head on her breast and cry with her.
Excerpt­ed from The Woman Beyond The Sea by Sar­it Yishai-Levi. © 2023 Pub­lished by Ama­zon Cross­ing, March 21, 2023. All Rights Reserved.
Sar­it Yishai-Levi is a renowned Israeli jour­nal­ist and author. In 2016 she pub­lished her first book, The Beau­ty Queen of Jerusalem. It imme­di­ate­ly became a best­seller and gar­nered crit­i­cal acclaim. The book sold more than three hun­dred thou­sand copies in Israel, was trans­lat­ed into ten lan­guages, and was adapt­ed into a TV series that won the Israeli TV award for best dra­ma series. It also won the Pub­lish­ers Association's Gold, Plat­inum, and Dia­mond prizes; the Steimatzky Prize for best­selling book of the year in Israel; and the WIZO France Prize for best book trans­lat­ed into French.
Yishai-Levi's sec­ond book, The Woman Beyond the Sea, was pub­lished in 2019. It won the Pub­lish­ers Association's Gold and Plat­inum prizes and was adapt­ed for tele­vi­sion by Netflix.
Yishai-Levi was born in Jerusalem to a Sephardic fam­i­ly that has lived in the city for eight gen­er­a­tions. She's been liv­ing with her fam­i­ly in Tel Aviv since 1970.
Gilah Kahn-Hoff­mann moved from Mon­tre­al to Jerusalem after study­ing the­ater, lit­er­a­ture, and com­mu­ni­ca­tions at McGill Uni­ver­si­ty. Start­ing out as a free­lance jour­nal­ist, trans­la­tor, writer, and edi­tor, she became a fea­ture writer at the Jerusalem Post and, sub­se­quent­ly, edi­tor of the paper's youth mag­a­zines. Lat­er, dur­ing a stint as a writer at the Israel Cen­ter for the Treat­ment of Psy­chotrau­ma, she dis­cov­ered how ful­fill­ing it is to work for the ben­e­fit of oth­ers and moved to NGO work in East Jerusalem and the devel­op­ing world. In recent years, she's come full cir­cle to her first loves and spends her best hours immersed in lit­er­ary translation.